Neo12 – Maifield Podium Finish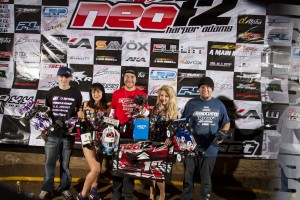 Over 4 days, 240 drivers from 32 countries took to the track at another exciting Neo Race.
Ryan Maifield was sitting third leading up to the Main Event on Monday however the planned Grid Shootout could have placed Ryan anywhere on the Grid for the Main. Rains came in heavy on Monday and due to clogged gutters on the building that helped protect the track, waterfalls formed and proceeded to take out the electrical systems including the lights and drivers stand PA. This delay had the organizers decide to cancel the Grid Shootout and use qualifying times to Grid the Main Event.
A somewhat clean start by all, the top 3 drivers soon separated themselves from the pack. Jared Tebo out front followed by Ty Tessman and Maifield in third. The tight track kept the speeds down but it came down to fuel management, Tebo was pitting every 12 minutes or so compared to Ryan and Ty's 10 minute fuel stops. Ryan had a great run and his JConcepts equipped Team Associated RC8.2 ended up third behind Tebo and Tessman.
Stay tuned for final updates from John with more photos and video.