NC Champ Series – Round 3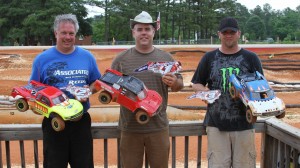 Coming into the halfway point of the NC Champ Series, consistency is a major part of any series, and there is one thing that has been consistent. Heavy rain. This round of storms produced not only rain, but hail, and tornadoes across the region. Round three of the series was at Cape Fear RC Raceway, just out side of Raleigh, NC. Despite the weather, Ninety Nine total entries were at the track Saturday morning looking at a very wet, saw dust covered race track, again.

Round one of qualifying was going to be the first laps on the track. Shane Weisner took all of his knowledge from countless ROAR State, and Regional Championships, thru the late 90's and 00's, to take the top spot. Shane has been missing for several years but has been back for the NC Series. As round two of the SCT rounds were coming up, drivers were looking at a drying track, and choosing tires for the changing conditions. While on the track, the change was unexpected. More rain. With the sloppy conditions, most of the first rounds stayed for main event spots.
Better weather, and a dryer track was in place for the SCT A main. Shane Weisner used his TQ spot to jump out front. For everyone else, the first lap was chaotic. Series leader, Max Fluer used this to salvage his poor, by his standards, qualifying effort and move towards the front and into second place. As the ten minute main started to get back to normal, Max was hunting down the leader. John Piant, and Steve Beasley, also with several Championships from the 90's 00's were moving thru the field and into 3rd and 4th. Fluer's terrible day continued, as he dropped out with motor problems. Giving the lead back to Shane. In the end, it was Shane Weisner taking the top spot, in second John Piant, and third Steve Beasley. All three running AE SC10, using JConcepts Double Dee's front and rear. JConcepts tires have been in control of the NC Champ Series.