Motown Showdown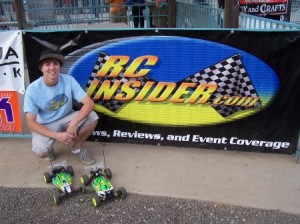 Event: Motown Showdown
Date: May 13-15, 2011
Track: Modesto R/C Raceway
Race Reporter: Zack Rogers
The first ever Motown Showdown in Modesto, California was held May 13-15 which capped off to have around 75 entries.
I placed myself in the 2wd and 4wd mod classes at the event hoping for a strong turnout in both. The 2wd class was the bigger of the two and had a bunch of fast guys looking to top the leader boards. The race was ran as rocket round qualifying and after TQing round one and three I found myself starting 2nd behind Cody Turner who set the fastest pace in round two, three seconds over myself. A Tekin teammate Derick Stephenson found himself starting 5th behind 3rd of Aaron Biner and 4th Cody Hughey. My second class which was 4wd was a light turnout but the few other drivers were fast NorCal guys. I TQ'd all three rounds and set track record for fast lap, 24.7.

With a good chance of rain on Sunday the plan was to have two A mains at 10 minutes each to see who would be crowned overall champion in each class. The 2wd main was up first and the weather had just given a sample of what was going to happen next. The tone went off and Cody Turner and I broke out to a huge lead. On lap two Cody bounced off a pipe allowing me to take the point, after following me for a few laps I had a crash that let Turner back by, but with a fast marshal job I was right back on his trail. We swapped positions 2 times after that in the next few laps but I was once again out front. The remaining time of the race I lead with Cody never more than a second and a half back. With two laps to go I got a little washed out due to the rain that had started pouring about 6 minutes into the race and Cody made a clean jump pass on me, I gave my all to make the move back but ran out of time finishing less than a full straight back in the 2nd spot. Teammate Derick found himself 4th overall after the long mud packed race.
Shortly after the 4wd main was up and I was more than ready as the track had dried out just a bit. The buzzer went off and I was gone. My Kyosho car was on rails all weekend and within three minutes I had already stretched a 3/4 track lead over 2nd place Cody Hughey. Then disaster struck as my slipper shaft broke going up the lip of a jump. I was more than disappointed but just kept my head up and went back to the pit to prepare for the A2 in 2wd. Just as the the race before ours was about to finish we got a downpour that was good enough to call the race over. So all in I had a good weekend showing I had the speed to stay at the front of the pack, I couldn't have done it without the support of all my sponsors! Along with having tons traction in the dry and muddy spots from my JConcepts Double Dees!
MOTOWN SHOWDOWN MOD BUGGY A1-MAIN from RC Insider on Vimeo.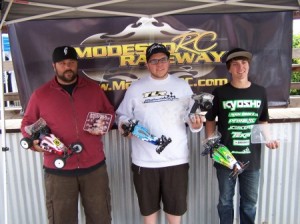 Photo Credit: RCInsider.com