Monsters of the Midwest Series – Round 4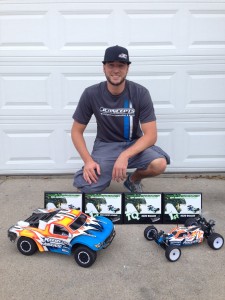 Round 4 of the Monsters of the Midwest series was "planned" to take place at JCP-RC Raceways massive outdoor location in Edinburgh, Indiana on August 30th, "planned" being the key word. Mother Nature had different "plans" however. Rain showers over the course of Saturday morning continued to threaten the event, leaving the series organizers one decision, go inside. JCP-RC Raceways primary Indianapolis location, located just 40 minutes north of the Edinburgh facility, plays host to one of the states largest indoor facilities. Having had to have rescheduled the opening round of the series already due to rain, the series organizers along with the racers felt it was a no brainer to take the 4th round of the series indoors.
Competing in the 2wd Buggy, and 2wd SCT classes, JConcepts Team Driver Ben Ellis was able to adjust quickly to the change of plans, and was able to secure the TQ and Win in both classes. JConcepts Dirt Webs in green compound kept Ben's B5M locked in, while Double Dee's in green compound gave his SC10.2 all the traction it needed.

Round 5 of the Monsters of the Midwest Series heads north to Stateline RC Raceway in Freemont, Indiana on Saturday September 13th.