Midwest Nitro Series – Round 3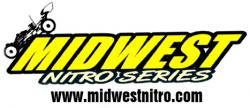 7/30/2012
By Mike Garrison
LiveRC.com
MWNS Race Report – Round 3
midwestnitro.com
The Midwest Nitro Series is now half way through its chase for its Midwest champ! Round 3 was held this past weekend at Cheese City Extreme in Monroe Wisconsin. The weekend before the event the MWNS crew went out and built a complete new layout along with the CCX club. During the week many of the club members helped each night watering and packing. Come Friday night a club race was ran with a great turnout, some were showing the talent and competition to expect for Saturday's round 3 event. Friday night the club and the Thunder Roads (Round 4's location) crew helped water and pack until 2am! With all the hard work that everyone put in, the track held up great and not one blown out section!

Come Saturday with 157 entries showing up and the temps high, engine tuning and tire choice was critical through the day. By the end of round 3 qualifying was complete with Michael Paige (AE/JConcepts) taking the TQ in Pro Buggy, Truggy and E-Buggy. Micheal Paige had some tough competition coming from Jimbo Kvidera (Serpent), Jeremy Whitting (Serpent), Zach Rose (Losi) and Talor Timmerman (Losi) through the day.
For the mains, Pro Truggy saw Michael Paige and Taylor Timmerman dropping out early handing over the win to Jeff Stanford from Team C racing. But It was a different story in Pro Buggy as Michael was able to make that TQ spot into a first place finish. Jimbo Kvidera and Zach Rose would come across the line to take the last two podium spots.
Please visit MidwestNitro.com for points, results and pictures. We always would like to thank all our sponsors, without you this wouldn't be fun! AKA,VP Fuel, Buku Racing Products, Advantage Racing, Team Associated, Boca Bearings, M2C Racing, PT Racing Oils, 92zero Designs, Triton RC, JConcepts, and Alpha!
Round 4 will be held August 18 (Rain date: 8/25) at Thunder-Road Hobbies in Moline, IL Thunder-RoadHobbies.com