May Week 1 – Team Update
We're almost halfway through 2018 and the motivation and competitiveness of the JConcepts team just keeps getting higher. One of the nice things about the weekly race results is that fact we can monitor the progress of our drivers over an extended period of time and join them on their RC adventures filled with highs and lows. It's with pride and honor to showcase the team's efforts as we celebrate #TeamThursday with week 1 JConcepts Team Update in May.
Club racing can only get you so far. It's a good way to stay sharp, but traveling the world to compete raises the RC experience to a whole new level. Not only are you testing your skills in a new environment and against better competition, it opens doors and your mind to the world. Aaron Dexter got a chance to attend the 2018 Philippine Masters and had a blast. He loved the track, fought his butt off in the 60-minute A-Final, and finished a solid 10th overall against some of the best drivers in the world. Keep it going Aaron!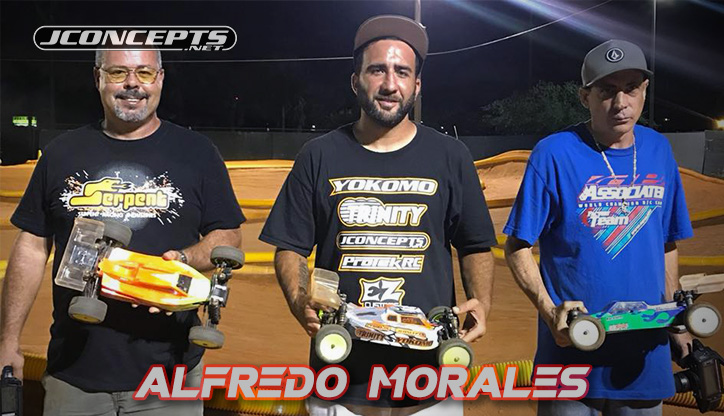 Alfredo Morales has been on some kind of roll lately and last week, he was able to take triple TQ and wins in the 17.5 2wd Stock class, 13.5 4wd class, and 4wd Modified class at Millspond's Battle at the Pond series point race. From the start of the year and up until now, Alfredo has gotten a lot faster and more knowledgeable with setup and tires. Alfredo straight slaying it!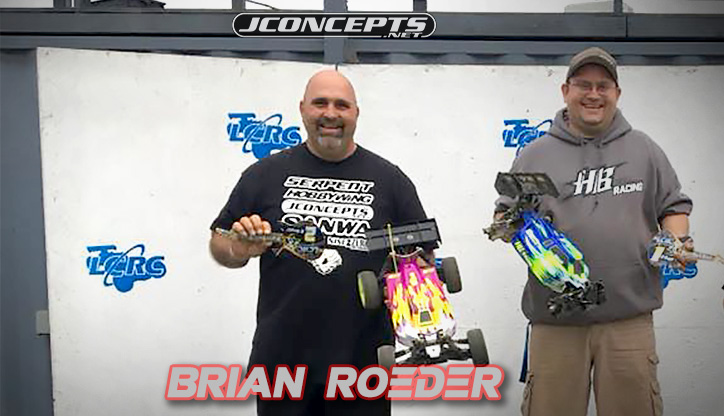 Thanks to Brian Roeder for sending in a little racing update. The Pennsylvania native attended the Party Rock Race at LCRC and had a terrific race finishing 2nd in Ebuggy on Lil Chasers for speed and grip. Well done Brian, well done!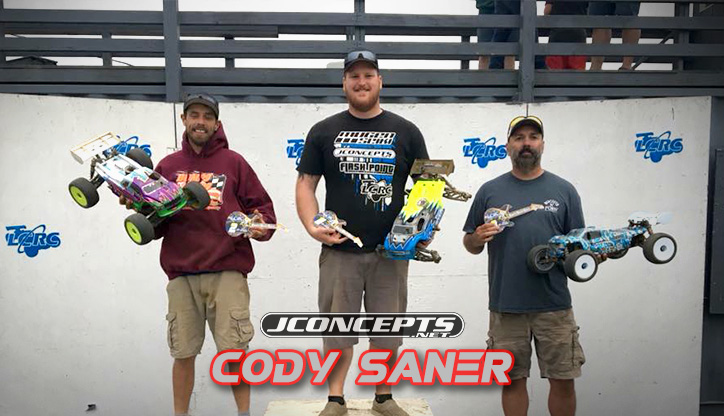 Last week, team driver Cody Saner also raced the Party Rock Race at LCRC where he competed in the Nitro Truggy class and come home with a victory. Amazing job by Cody using the blue compound Triple Dees to get the win! Doesn't Cody look awesome on the top step of the podium?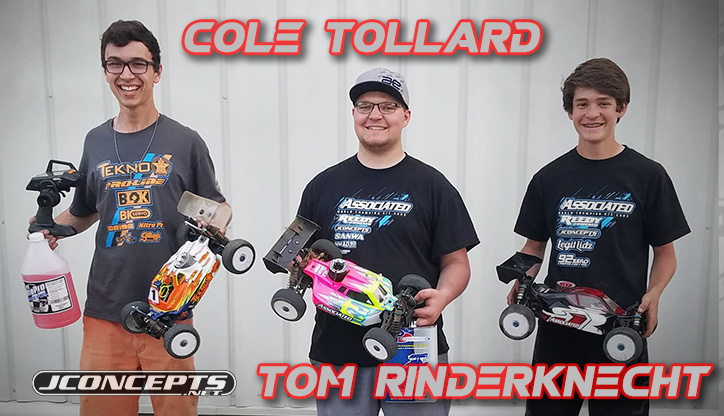 Now here's a dangerous duo, Cole Tollard and Tom Rinderknecht! Both the JConcepts elites racers attended the LRT points series race where Cole was able to finish 1st in both the Ebuggy and Nitro buggy class while Tom finished 3rd in the Nitro Class showing off his rarely seen nitro talent. Great work guys! Cole used the new Stalker tires and loved the awesome performance. Have you tried the new Stalkers yet?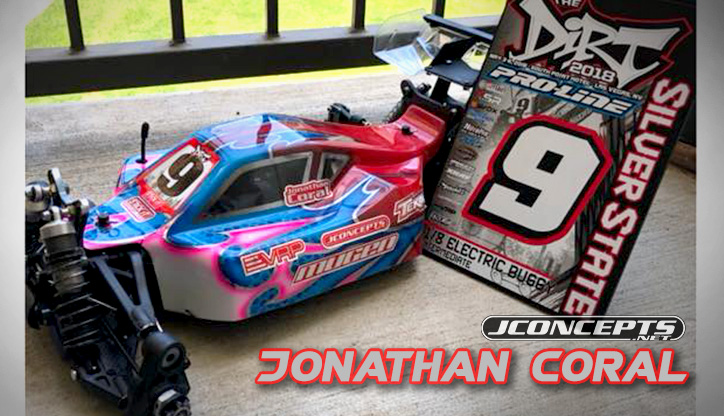 Tire choice in a long event is important since conditions are always changing in the 1/8th world. One of the best examples of changing track conditions was the 2018 Silver State race and here is Jonathan's helpful and informative report that can help others. "I ended my weekend at silver state with a 9th overall finish in intermediate Ebuggy. The track was constantly changing I was using green reflex and triple d's for qualifying and for my main I ended up using blue detox they gave me plenty of forward bite and allowed my buggy to slide over all of the ruts in the turns." Great job making the main at a HUGE event Jonathan!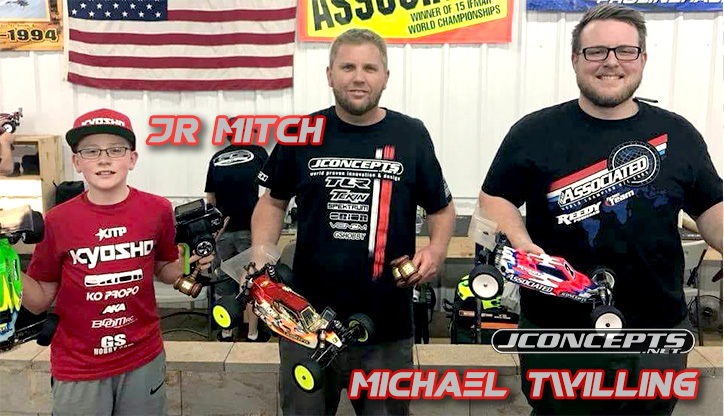 TLR // JConcepts' JR Mitch is no stranger to the winner's circle. The ferociously fast veteran was lights out at the 6th Annual Hangin' Judge Race hosted by GS Hobby in Arkansas. JR was able to take home the win in 2wd Modified and 4wd Modified completing a fantastic double win weekend. Also making both podiums and showing great speed was JConcepts' Michael Twilling, who placed 3rd in both 2wd and 4wd Modified classes. JConcepts getting it done in Arkansas!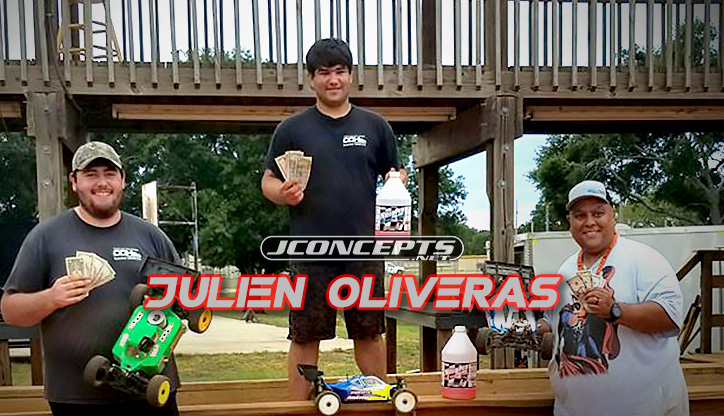 Julien Oliveras is the true definition of youth, speed, and talent. Attending the Cinco de Mayo race at Triple Nickle Raceway in Bartow, Florida, Julien was able to get the win in the 1/8th scale nitro class building confidence and getting practice for the upcoming Fuel Nationals in Florida.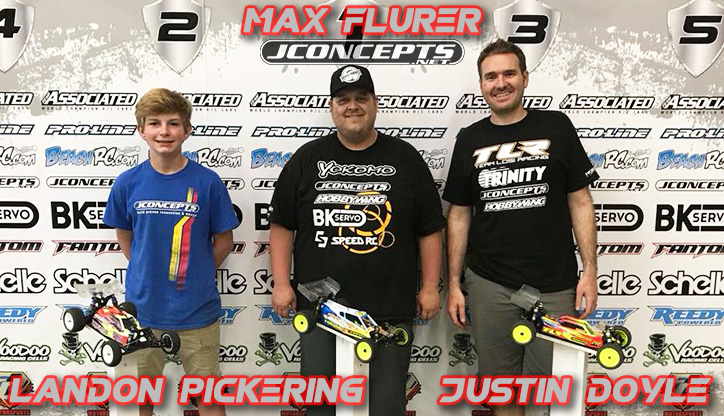 It's not often we're able to claim a podium sweep, but last week at Round 1 of Beach RC's Super Series race, Max Flurer, Landon Pickering, and Justin Doyle swept the podium in 2wd Modified and we're so stoked. Max went on to finish 1st, Landon 2nd, and Justin 3rd making it a JConcepts clean sweep using a combination of gold Dirt Webs and Space Bars. Thanks for holding it down for JConcepts on the east coast!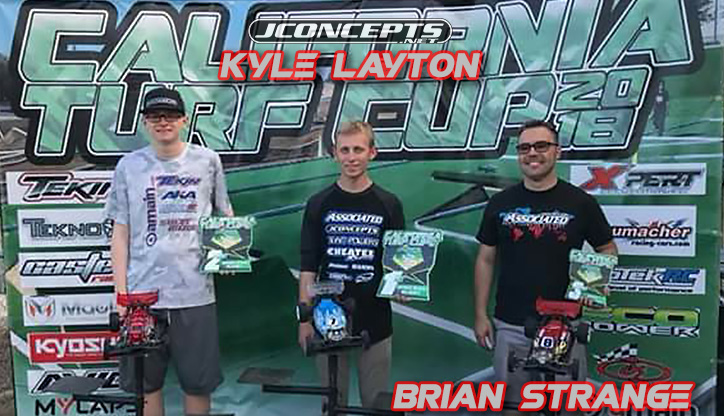 We're excited to see our Nothern California drivers, Kyle Layton and Brian Strange, hit the track as they're always impressive to watch and you know you're going to get some awesome results when they do. Both were able to attend the California Turf Cup at Amain Hobbies where Kyle qualified himself 2nd and took the win in the 8 minute main. Brian Strange put in a killer run and finished 3rd. Impressive for how little Brian actually races these days. Both used the JConcepts Swaggers and Pin Downs for traction and grip and the F2 and body for sharp looks and performance!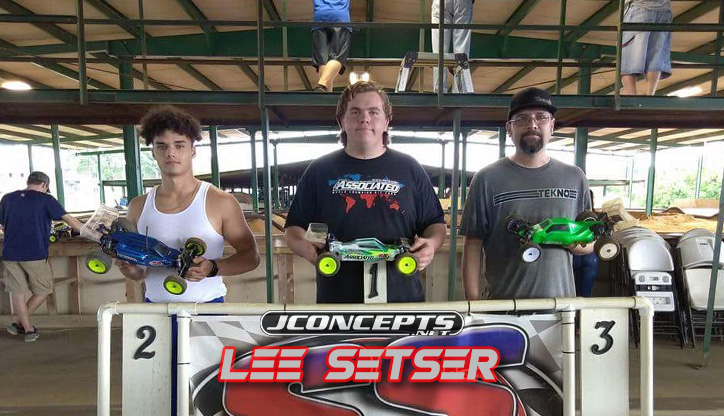 Lee Setser has been motivated as ever dedicating a lot of time to getting faster. Holding it down at the SS Raceway, Lee took the TQ and win in 2wd Modified using Dirt Webs, but was testing out the Dirt Maze tires and how they compared in drivability and speed. Lee liked both! Finishing off Lee's winning kit was the F2 body and S-Type Aero wing package.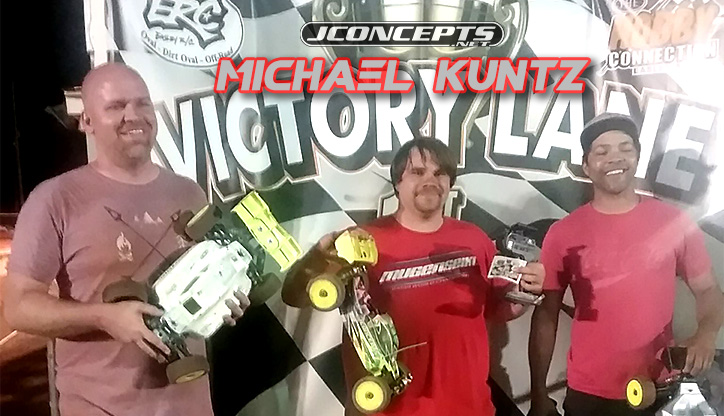 Having a great weekend at Hobby Connection located in Easley, South Carolina, team driver Michael Aaron Kuntz tore it up placing 2nd in Nitro Buggy and taking the win in Ebuggy. Excellent job Michael and keep up the good work!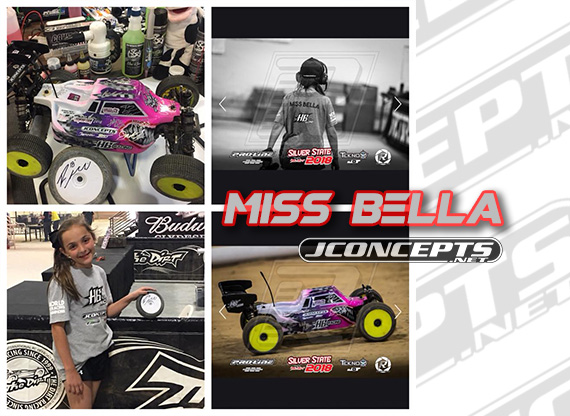 Miss Bella had this to say about her experience at the 2018 Silver State in Vegas, "This was one of the most amazing experiences of my life! I wish I had a good finishing position to include in this post but I don't, however I knew not to expect much in terms of where I would end up before I got there. This was a whole new experience for me as far as the dirt goes and the way the track developed bumps. With the small amount of time we had to practice I just couldn't get the right tires. When I would find something that worked, by my next run that didn't work anymore but hey that's racing. It was my very first time racing nitro and I loved it!! I can't wait to start running my own car. It was so exciting watching the pro's racing in the A-Main's, I hope to be that good one day." The energy, the excitement, the pure love… can't get enough and we look forward to hearing more from Miss Bella in the years to come.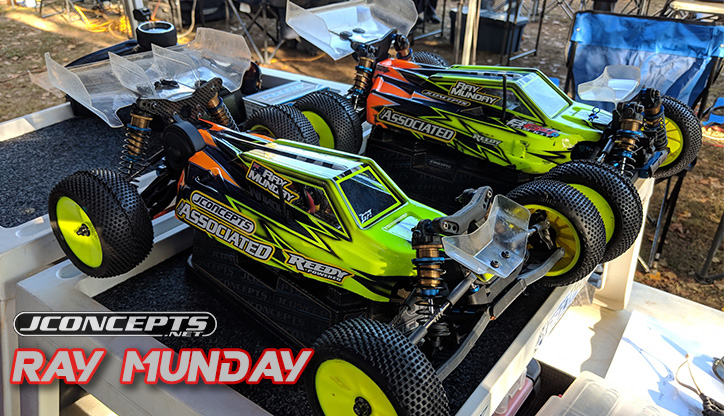 The speedy Australian, Ray Munday, had a flawless weekend at round 2 of the Victorian State race held in Wodonga, Australia, where tire choice is key. Being on the right tire at the right time is the difference between winning and losing and Ray chose to go on Double Dees during qualifying and Dirt Maze tires for the final when the track dried out. If you haven't checked out Rays Facebook page called "Ask Ray Munday," check it out for some insightful help, tips, and howtos! Great stuff Ray.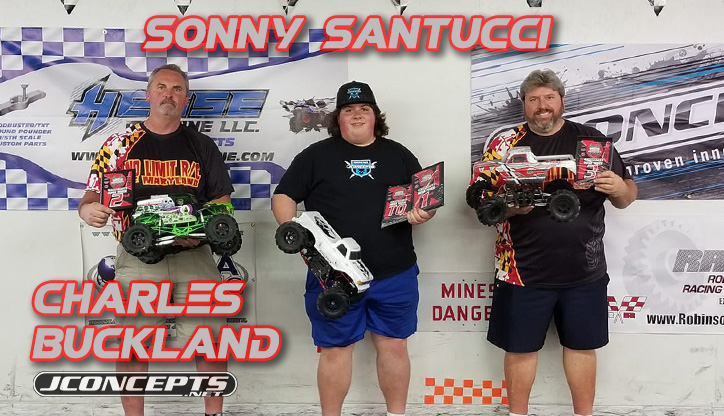 The 2018 JConcepts Monster Cross results are in and taking home a lot of hardware were these two class acts. Sonny Santucci and Charles Buckland represented in a lot of classes showing their love and talent for Monster Trucks! Sonny was able to podium in a lot of classes including a 1st in Mega Truck, 2nd in 2wd Tuff Truck, 1st in 2.2″ Shafty, 3rd in Stage 3 Shafty, 2nd in Stage 3 Clod Buster, and 2nd in Open Modified Stage 2!
Charles Buckland also racked up the podium finishes with a 2nd place finish in Mega Truck and a 2nd place finish in Open Modified Stage 2! Nice job guys and congrats on a job well done!