Malaysian Nationals Round 1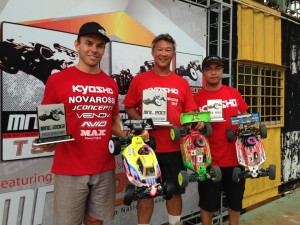 Malaysian Nationals Round 1 – RCC Kuala Lumpur, Malaysia February 23rd – 24th 2013
The Malaysian National League has steadily been growing in popularity and stature over the past couple of years with attendance by local drivers and international drivers from Singapore, Australia, Indonesia, Hong Kong and Brunei. 2013 started the year off with a huge 140 drivers from across the region.

Qualifying would be 4 rounds of 10-minute heats with the best 2 of 4 to count. TQ came down to a 2 way battle between last years fast drivers with David Lim (SWorkz/SWorkz/AKA) and Ben Panic (Kyosho/Novarossi/JConcepts) taking the first 3 rounds. Ben needed to take the final round in a fast time but that round would go to Didier Perrin (Mugen/Novarossi/AKA) who put down the fastest run of the weekend. So it was David who came away with the TQ after the 4 rounds. Racing was really close on the high speed track, getting a clean run was the biggest challenge for the drivers. Didier put in a perfect run in the last round and showed that he had the speed to challenge for the win this weekend.
Semi A was a close battle between Adrian Wicaksono (Kyosho/Novarossi/AKA) and David. They dropped the field and ran away with the semi, Adrian leading with a minute to go and pitting for fuel as a precaution. David finished just ahead of Adrian. Semi B was stacked with fast drivers and it crushed the hopes of drivers as they battled for a spot in the main over the 25 minutes. Ben would take the win ahead of AH Boy (Xray/Reds/Sweep) and David Aw (Hong Nor/RB/AKA). Didier suffered clutch failure as all 3 springs on his mugen broke. Devastating for Didier as he was battling with Ben when the clutch failed.
The final kicked off and it was Ben and Adrian stretching a gap on the field in their Kyosho/Novarossi rides. These two drivers pulled away and ran fast laps for the first 25 minutes no more than 2 seconds apart the whole time. Their Kyosho's looked comfortable and smooth on the fast flowing layout. In third was local driver Kelvin Yong (Kyosho/Novarossi/AKA) and by the 30 minute mark he had passed Adrian and was after Ben. By the 40-minute mark Ben had a nice half lap buffer and was in a good rhythm circulating quickly when disaster struck. A misunderstanding of his pitmans call saw him run out of fuel, which dropped him back to 4th place. Kelvin took the lead and drove superbly as he pulled away from the field. At this stage it was a battle for the podium as Adrian, Ben, Daniel Law (Losi/Picco/JConcepts) and Eric Lim (Prospeed MX-1/JS Racing/K II) all raced each other no more than 8 seconds apart. There were plenty of changes for the minor placing's as the guys stopped for fuel but it was Ben who emerged in second charging after Kelvin. With a 17 second lead and 10 minutes to go it was going to be a race to the line. Kelvin held his composure and Ben applied as much pressure as he could and ended up just 5 seconds behind Kelvin. Adrian took home a well-deserved 3rd place. On to round two….