Maifield Doubles at the AMS 9.0!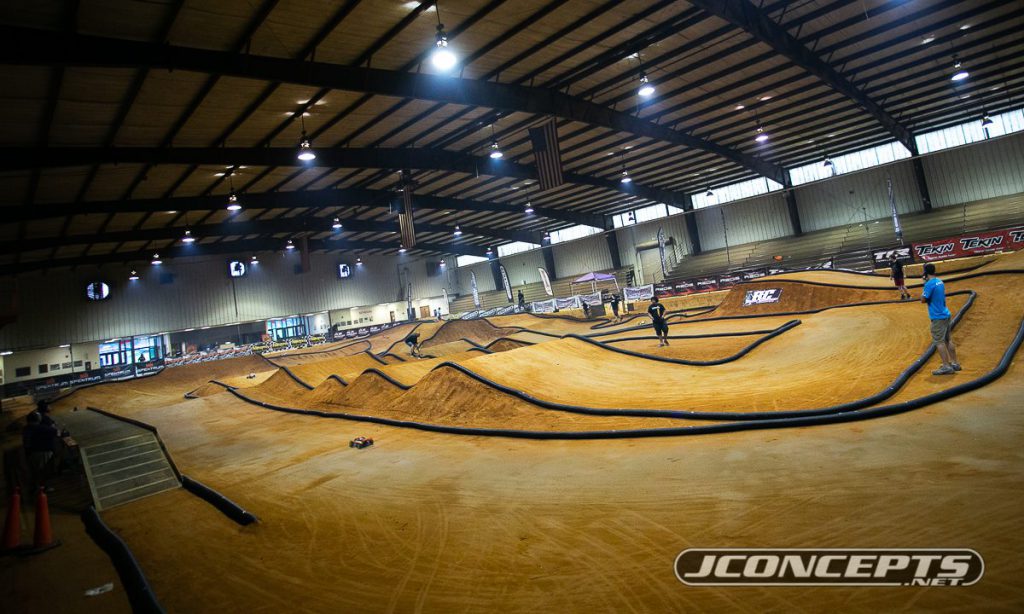 The 2018 Alabama Manufacturer Shootout is always a highly anticipated race known for its awesome reddish clay surface, technical track layouts, and fun atmosphere. Located in Cullman, Alabama, the AMS is now in its 9th year and organized by RaceTime Entertainment, who hosts some of the biggest nitro races on US soil like PNB and Wicked Weekend.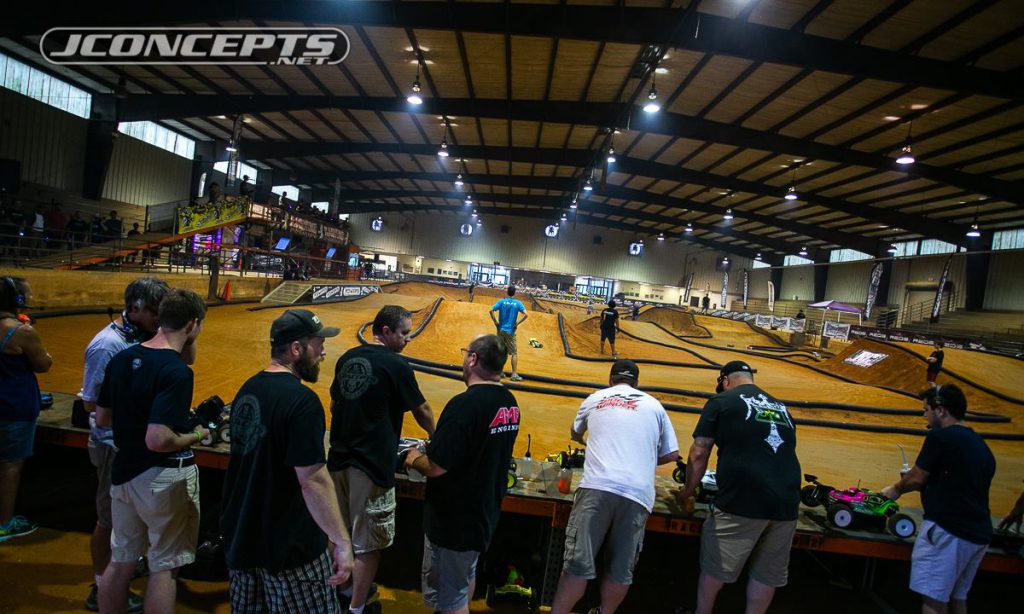 The covered complex is nothing short of amazing and with great ventilation, nitro indoor fumes was hardly an issue providing a secured, guaranteed racing venue regardless of rain or storm. Partnered up with R/C Trackmasters, the AMS 9.0 raised the bar with this year's layout being one of the most challenging layouts seen in a long time.

The layout was extremely fun. There was a lot of challenging elements including a cross-over to quad jump that was extremely difficult with a capital E. The step-up jumps were perfect and required precision throttle control to not overshoot. The double drop downs to chicane added fitness and accuracy that made for a wonderful challenge. Overall, the layout was unique and definitely fun. For those who like challenge and difficult tracks, this one was definitely for you.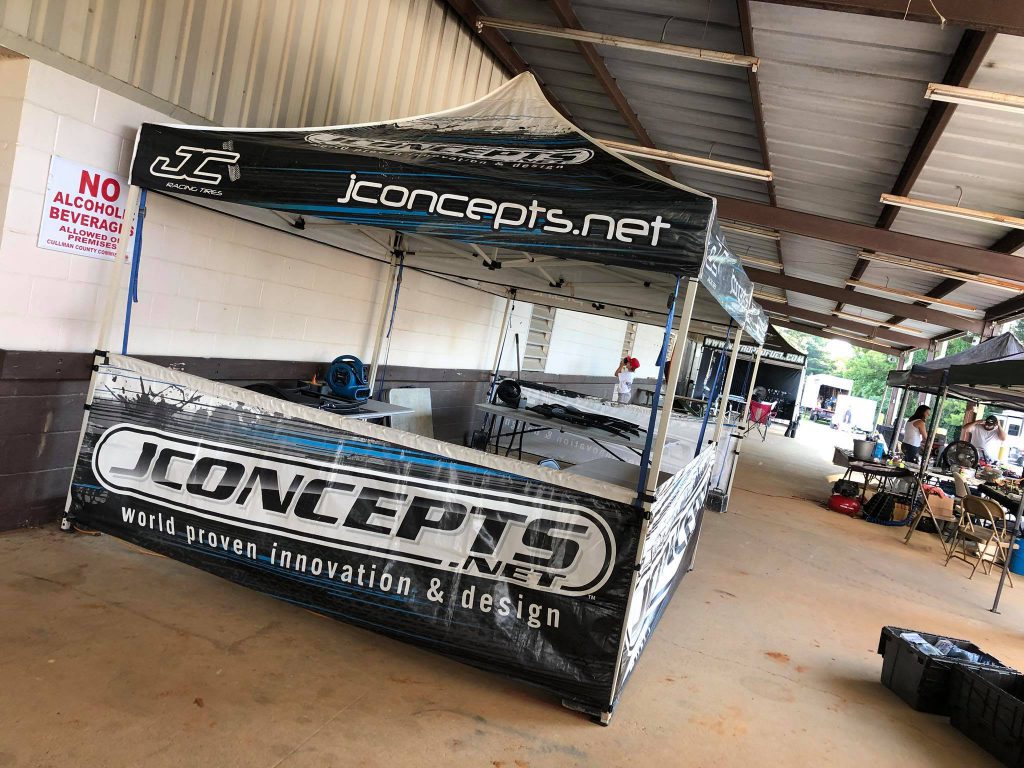 As always, JConcepts was on site to provide tire advice, tire support, and accessory needs. Being able to attend these events and watch our drivers succeed first hand is amazing as they are always progressing and giving maximum effort.
Here is a little video of JR Mitch and Thomas Tran giving out some tire selection advice while at AMS 9.0 to help unlock some speed from making the right tire selection at the races.
Pro Nitro Buggy
During the 30 minute A-Main in the Pro Nitro Buggy class, TQ Mugen/JConcepts' Ryan Maifield and AE/JConcepts' Spencer Rivkin, broke away from the pack making it a 2 car race for the lead. During their first pitstop, Maifield executed a perfect pit while Rivkin had a small issue on the in-lap. This gave Maifield a nice 3-second cushion to 2nd and the comfort to drive at his own pace and slowly pull away from his competitors. AE/JConcepts' Ryan Cavalieri put in a solid last half of the race to move his way up the field to finish 2nd. Kyosho's Jared Tebo finished 3rd with Rivkin 4th. Making the podium and showcasing his super speed, TLR/JConcepts' Tyler Jones took the final spot on the 5 man podium.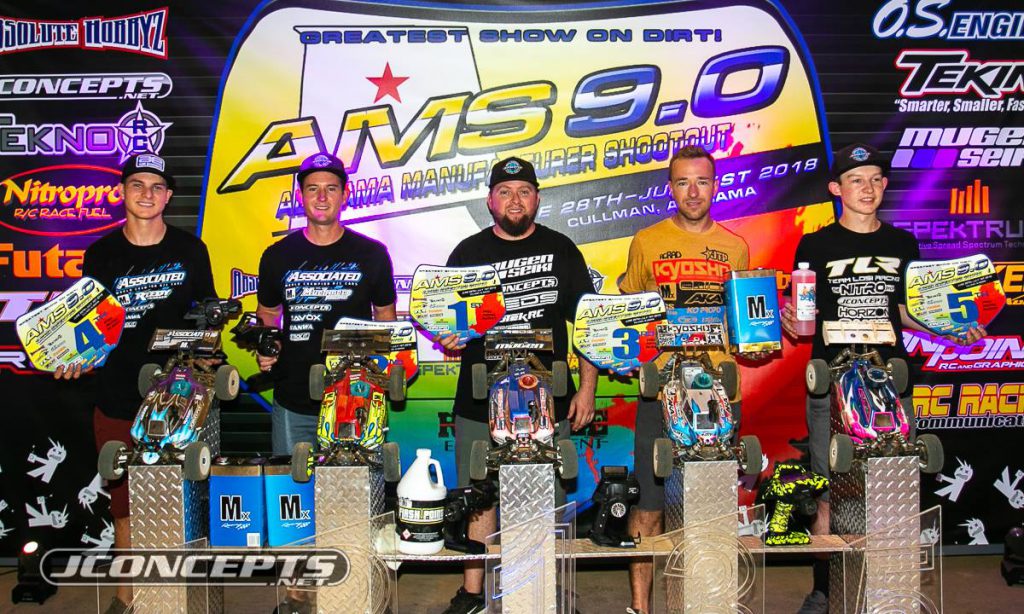 ** Results show Cavalieri on top, but the system had a glitch where a few drivers lost a lap on the same lap. Ryan Maifield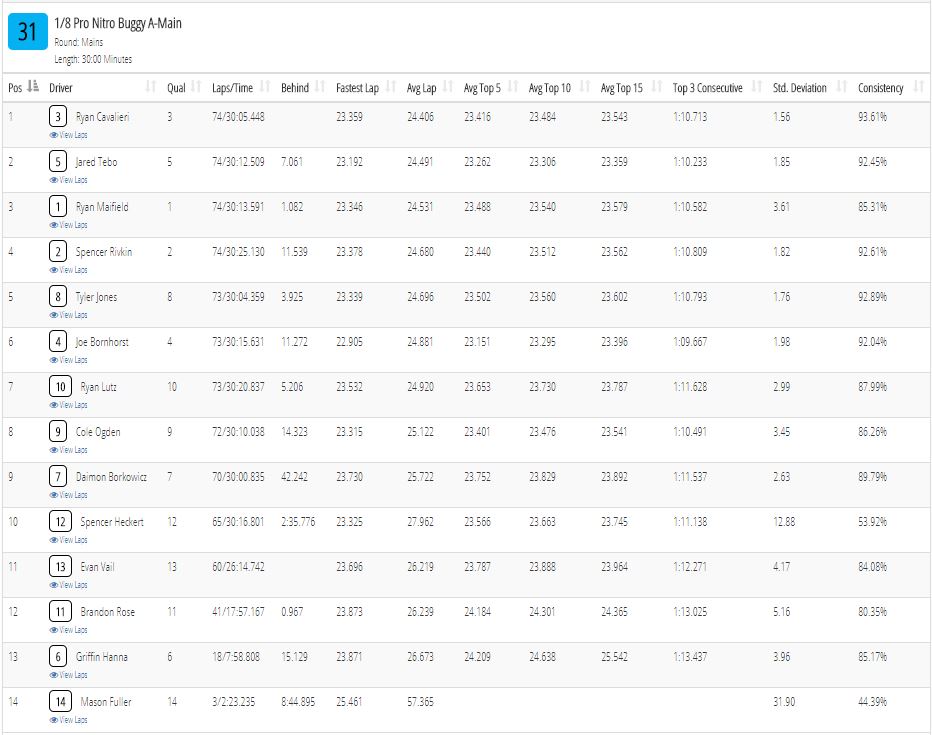 Pro Ebuggy
It was the usual suspects making the 5 man podium in Pro Ebuggy with Mugen/JConcepts' Ryan Maifield taking the win with his efforts from A1 setting the fastest time from either of the double mains. All of the electric classes ran a double A format with the fastest time from either run counting for each driver's overall. Kyosho's Jared Tebo had a shot at the overall as he was the winner of A2, but a small, late-race mistake saw his time slip below Maifield's A1 time by .9 seconds. AE/JConcepts' Ryan Cavalieri finished out in 3rd with Tekno's Joe Bornhorst 4th and AE/JConcepts' Spencer Rivkin rounding out the top 5.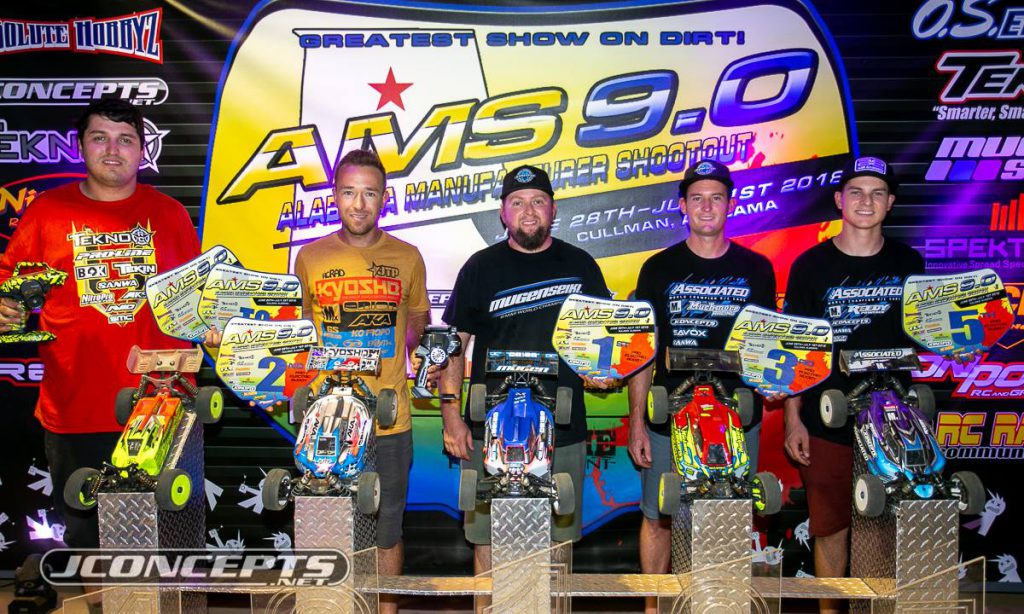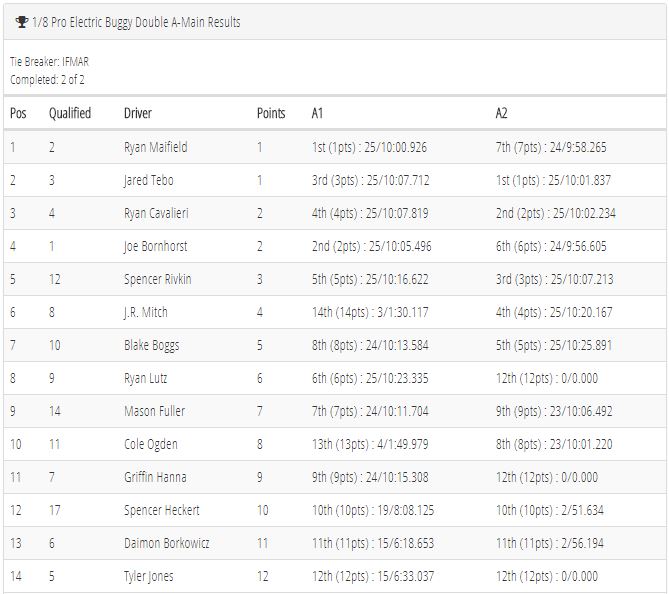 Pro Ebuggy A1
Pro Ebuggy A2 
Pro Nitro Truggy
It was a tremendous effort from Tekno's Joe Bornhorst as he was able to take the win from 2nd on the grid. Kyosho's Jared Tebo put himself 2nd on the podium showing his competitive speed once again. Tekno's Ryan Lutz placed himself 3rd after a close battle with Tebo. HB/JConcepts' Cole Ogden took home 4th and TLR/JConcepts' Tyler Jones making another top 5 with a 5th place finish. Unfortunately for the AE team, Spencer Rivkin retired early from a broken servo and Ryan Cavalieri suffered from a rear driveshaft failure.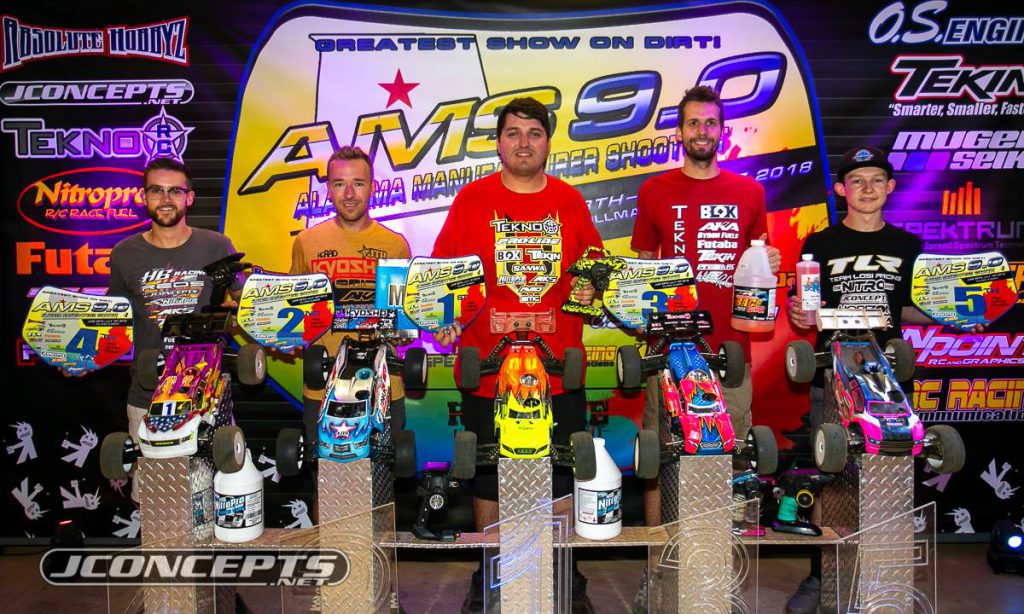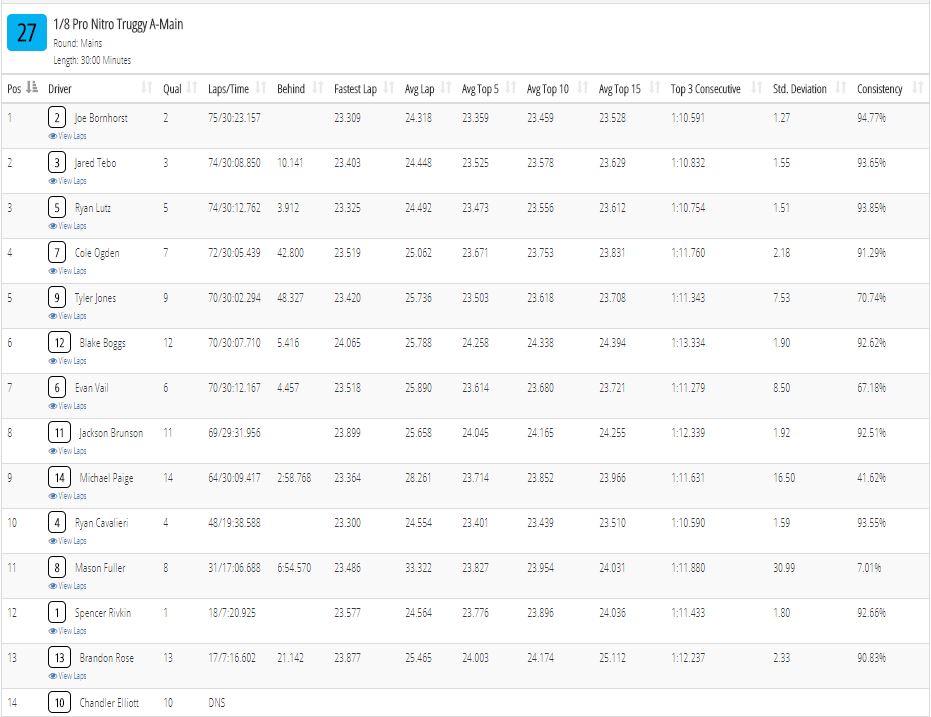 4wd SCT
What an amazing drive by Austin Hughes, who bumped up from the B-Main to take the win in 4×4 SCT. Tyler Heavner finished 2nd, Randall Carte Jr. 3rd, Jessee Davis 4th, and Britt Roshon 5th.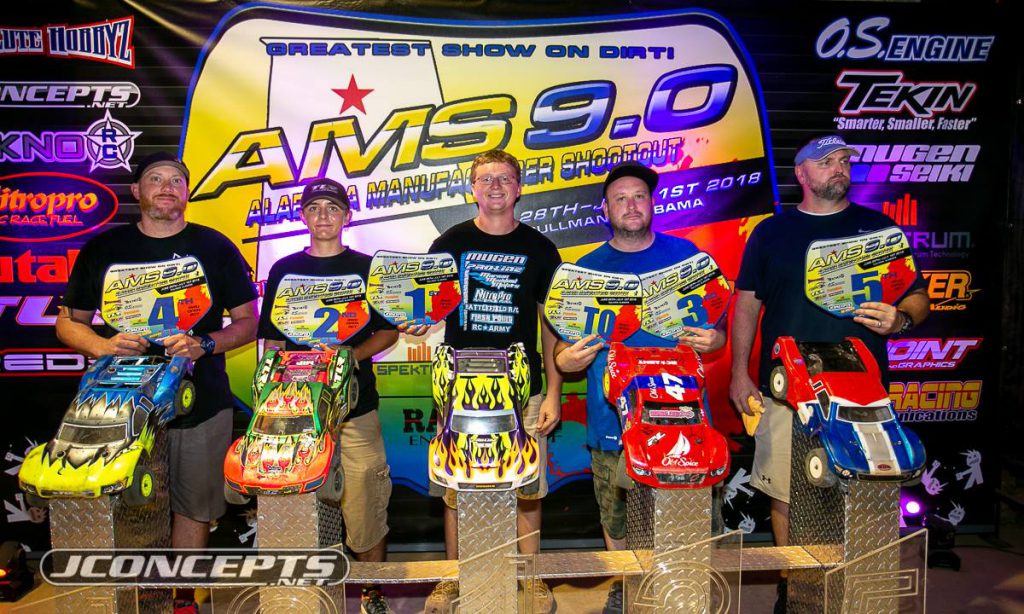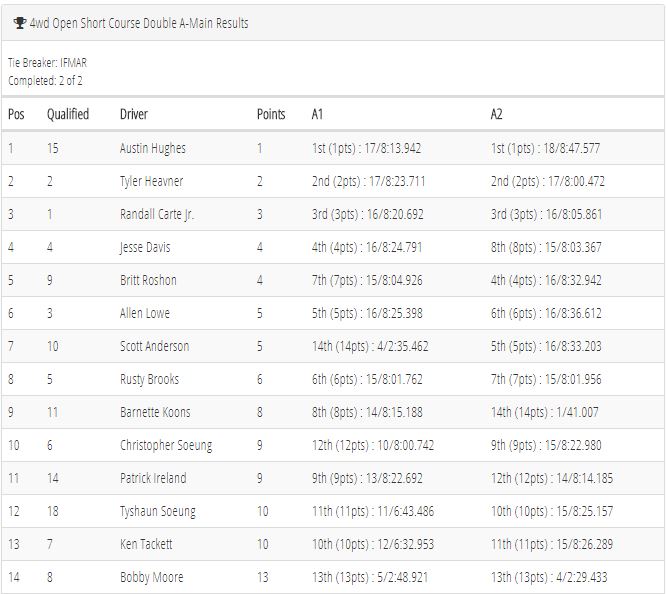 15U Nitro Buggy
It was a great race in the 15 and Under nitro buggy class with TLR/JConcepts' Mason Fuller taking a terrific comeback win. Mason had a great battle with Serpent's Kyle Phillips, but unfortunately, Phillips suffered a mechanical and then Mason suffered a flameout while in the lead. Mason was able to get back on the track in 3rd and powered his way to the front and finished 1st. HB's Kody Watson took 2nd, Chase Rhinerson 3rd, Kalob Johnstone 4th, and LJ Davis 5th.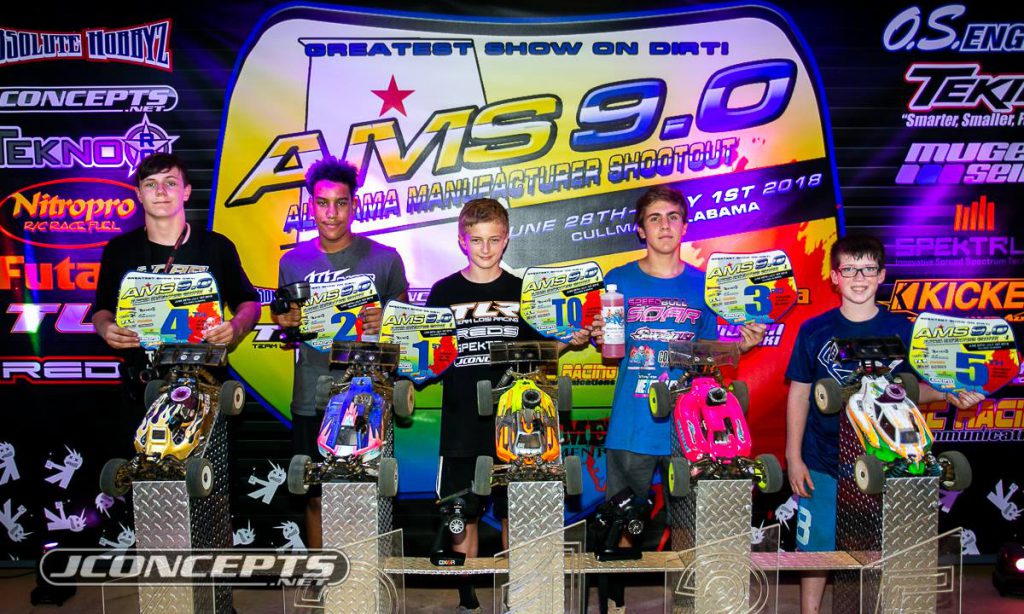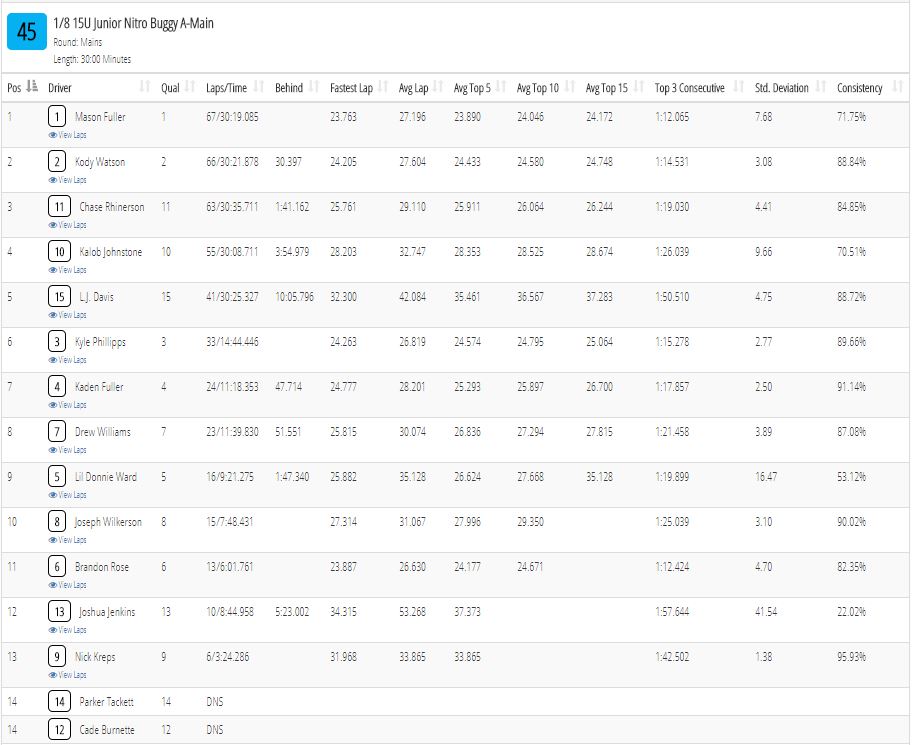 40+ Nitro Buggy
Congrats to Tekno/JConcepts' Jimbo Kvidera for finishing 2nd in the 40+ Nitro Buggy class, but it was HB's Gary Studt who took the win with Kevin Tomsovic 3rd, Mike Sontag 4th and Eddie Donaldson 5th.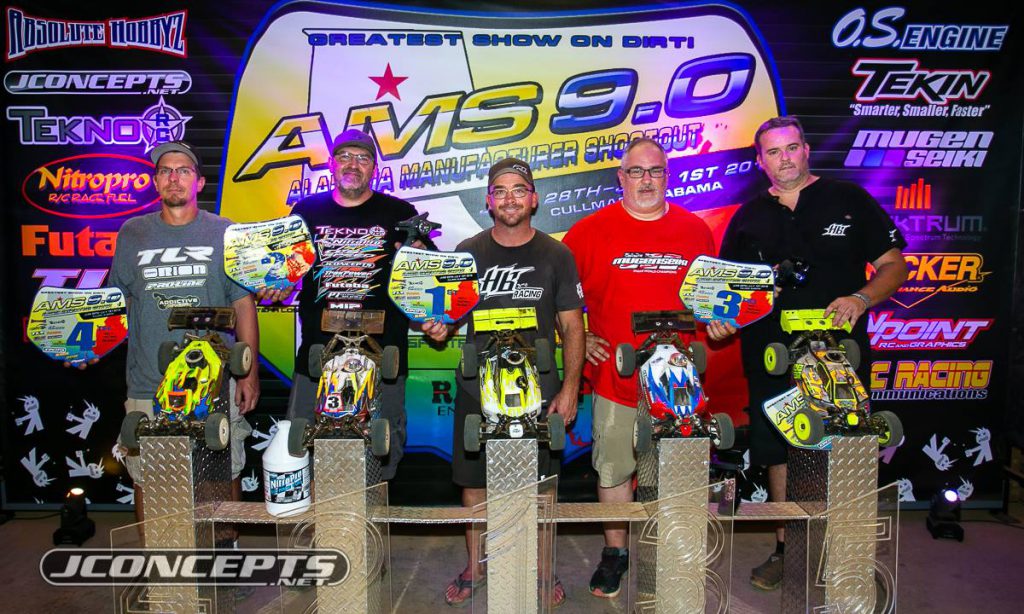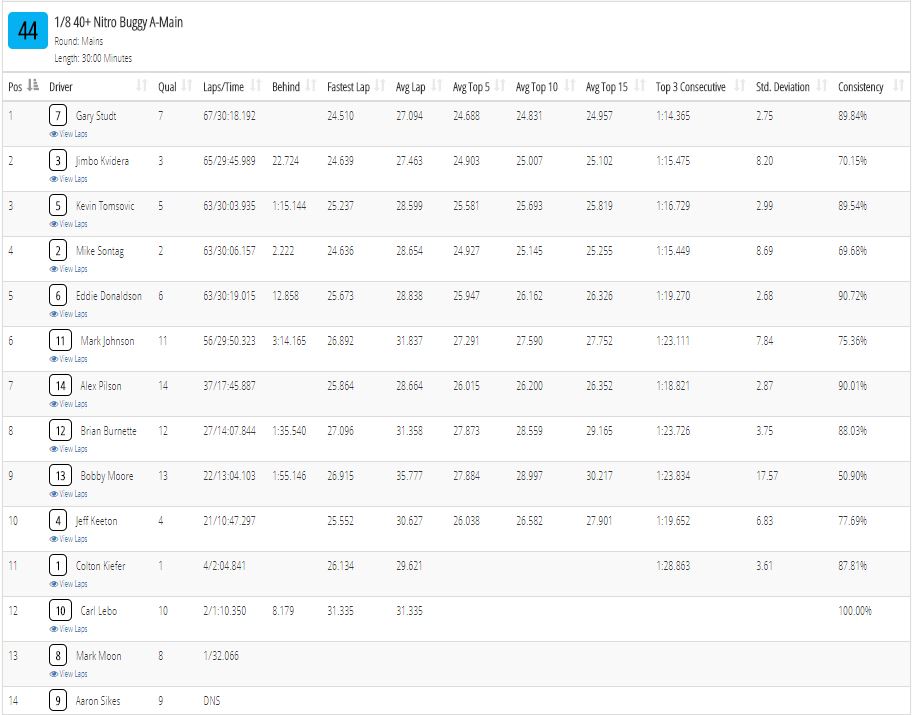 40+ Ebuggy
It was a good battle in the 40+ Ebuggy class with TJ Bradley winning the overall, Mark Moon 2nd, Gary Studt 3rd, Thomas Rogers 4th, and Brian Looper 5th.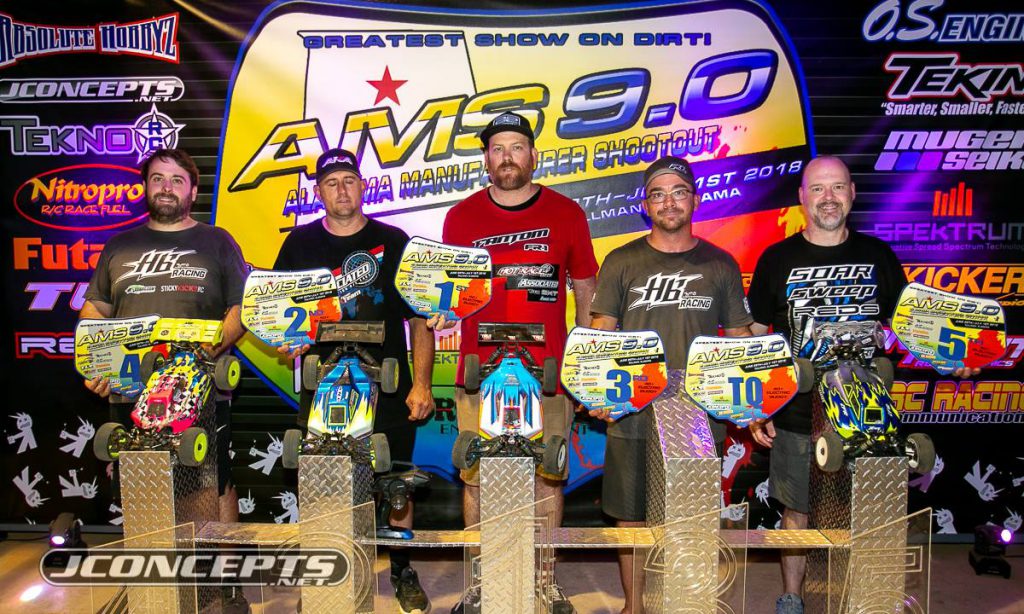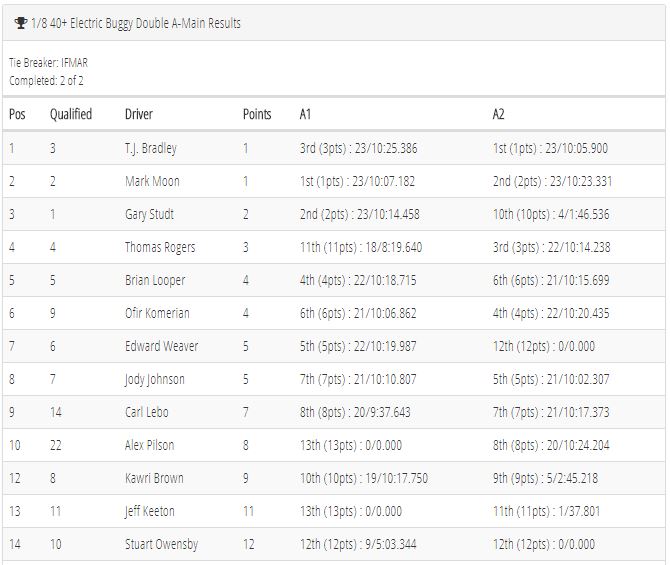 Sportsman Ebuggy
There were some fresh faces in the Sportsman Ebuggy class with Justin Vaughn taking the win, young HB/JConcepts' Miss Bella took home 2nd, Mark Thomas 3rd, Paul Rodman 4th, and Trevor Parrish 5th.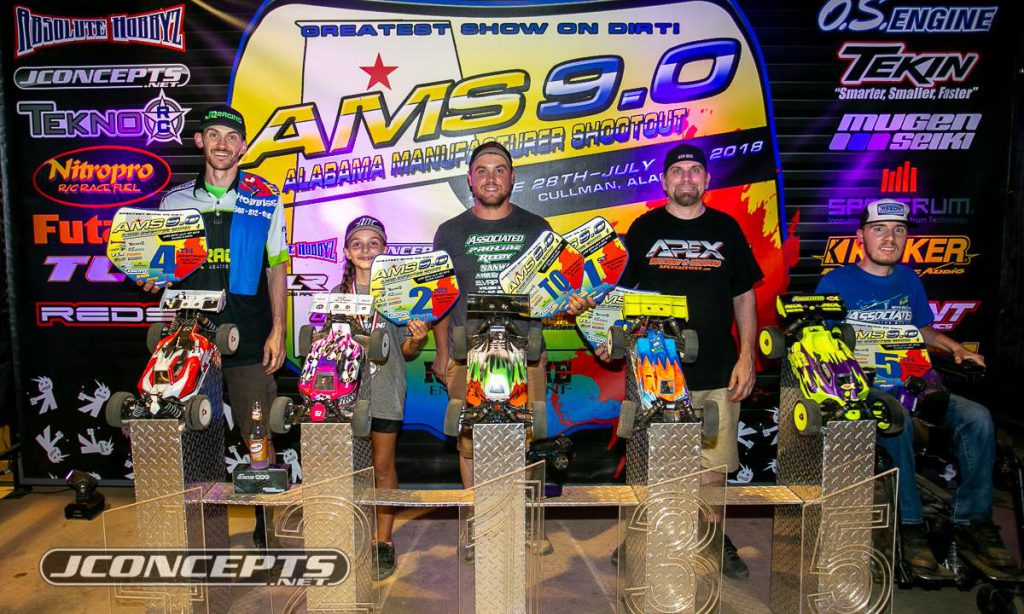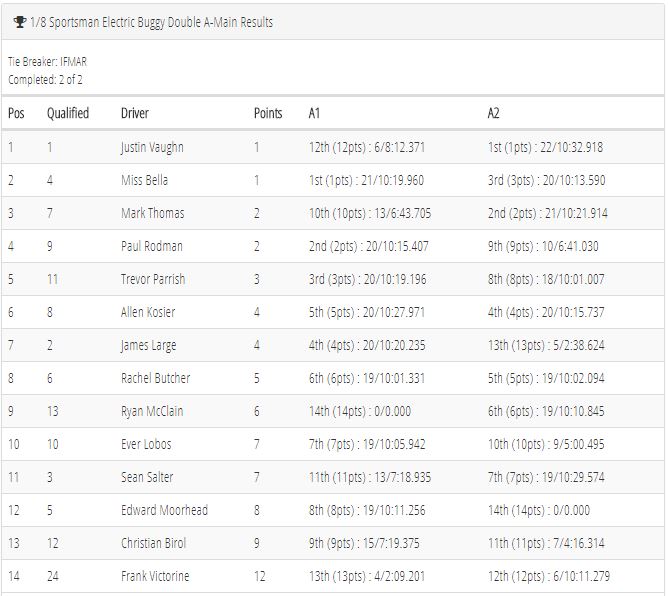 Sportsman Nitro Buggy
Phill Lorio took the win in the Sportsman Nitro Buggy class with Jack Pott 2nd, Phillip Stevens 3rd, Ryan McClain 4th, and Casey Summers 5th.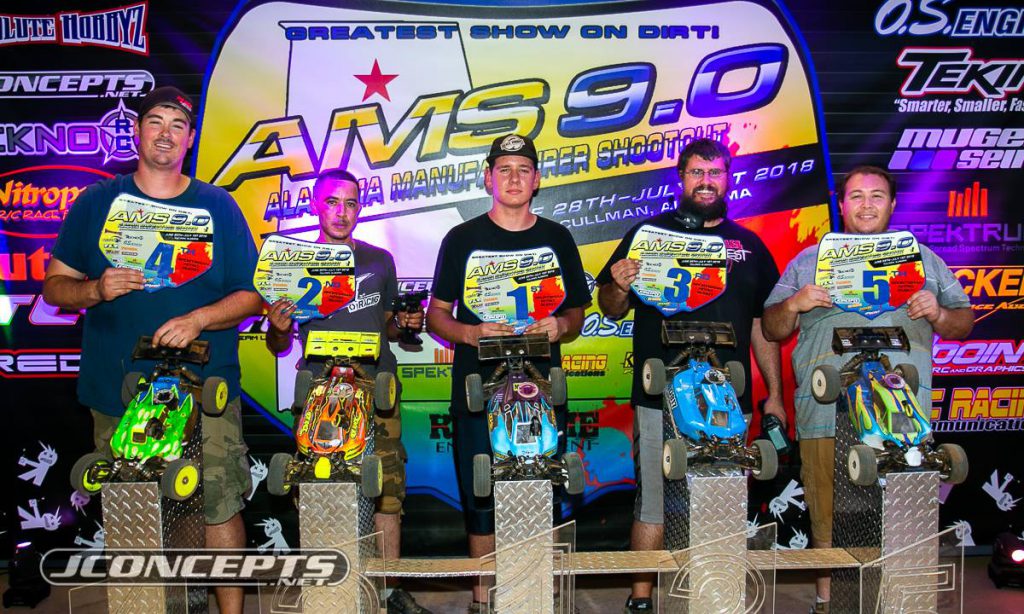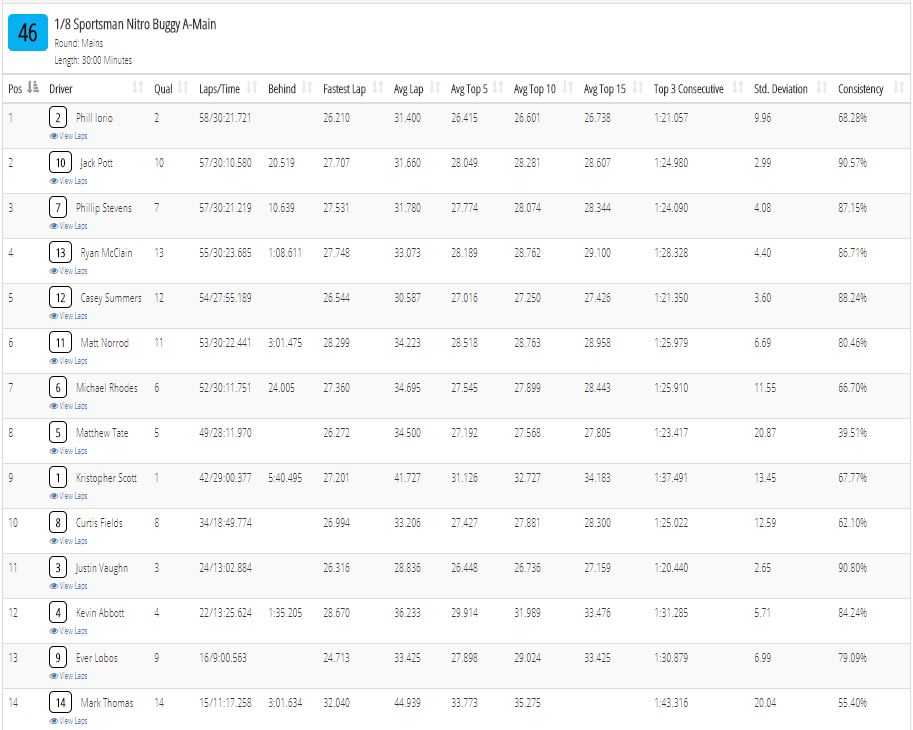 Sportsman Nitro Truggy
Once again, it was Phill Lorio taking his 2nd win, but this time in the Sportsman Nitro Truggy class. Ever Lobos finished 2nd, Tim Clapper 3rd, Nathan Rogers 4th, and Ryan McClain 5th.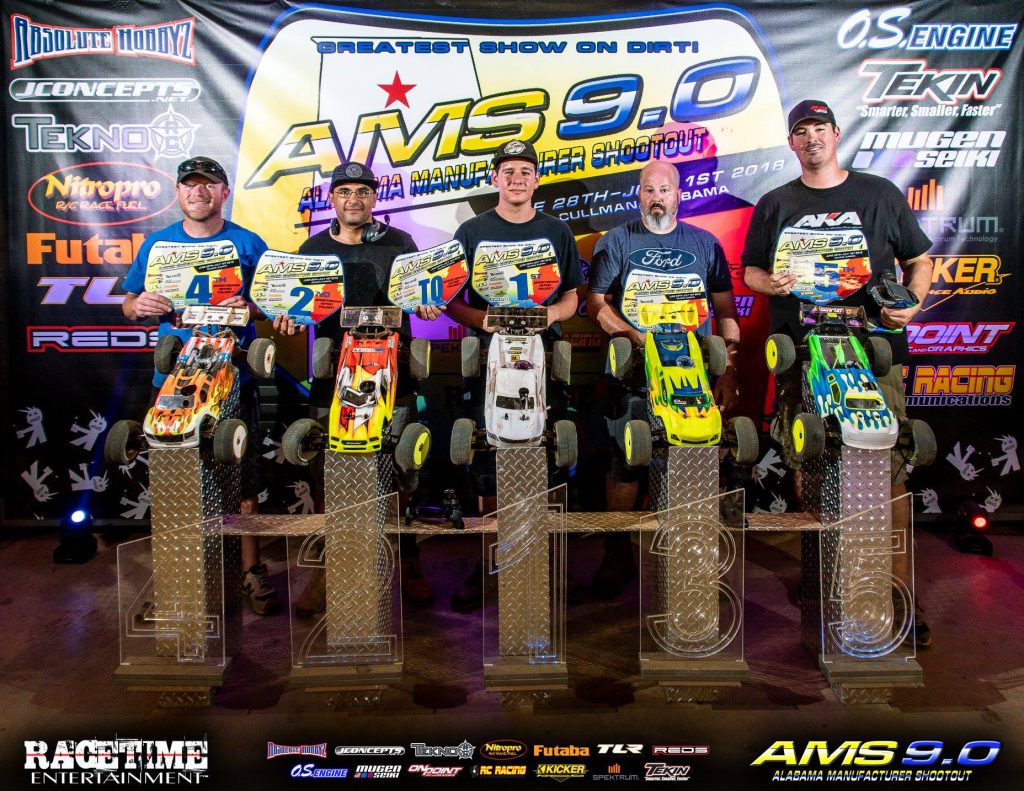 Etruggy
TLR's Brad Rippee showed some speed in the Etruggy class taking the win with Tekno/JConcepts' Patrick Rossiter 2nd, Jonathon Reeves 3rd, Tater Sontag 4th, and Izriah Osborne 5th.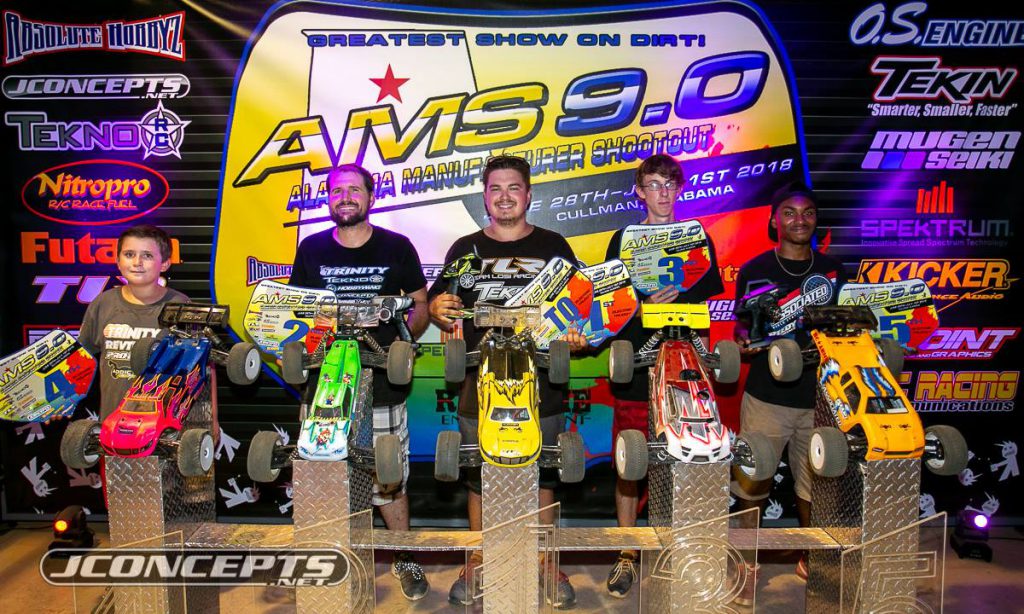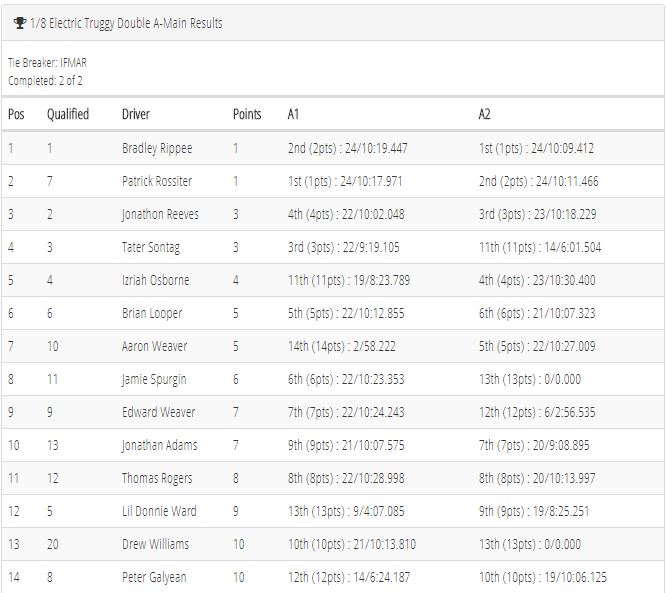 Open Ebuggy
JConcepts' Chris Rakus was on fire this weekend taking 3 wins in 3 classes. With a stellar time in A2, Rakus was able to win by tie-breaker of AE/JConcepts' AJ Marasco. Hal Martin finished 3rd, Tater Sontag 4th, and Jordan Singletary 5th.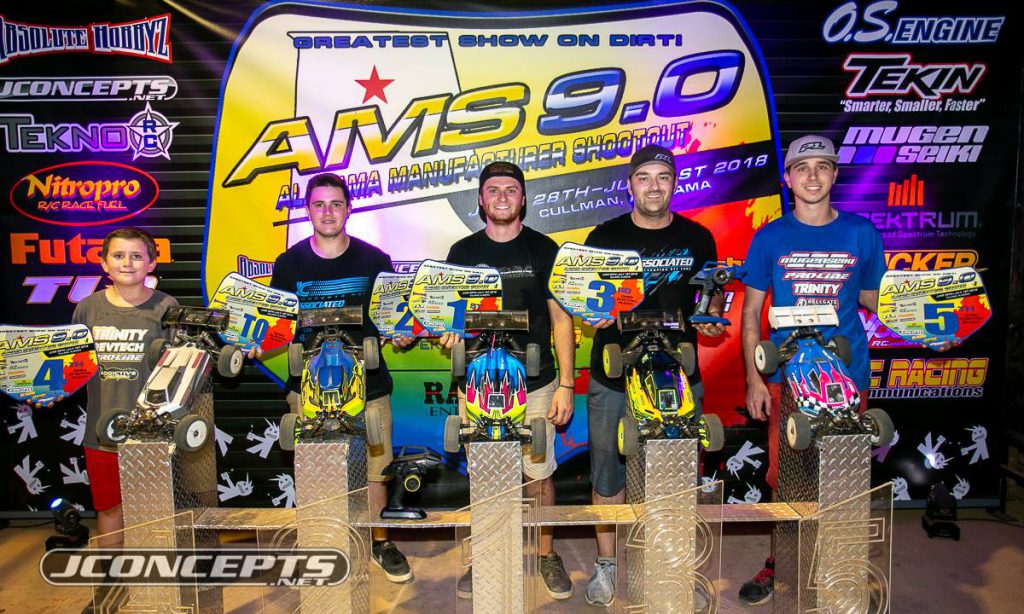 Open Nitro Buggy
The Open Nitro Buggy class saw JConcepts' Chris Rakus take a commanding win with Gary Studt 2nd, Jeremy Reid 3rd, Ben Pinover 4th, and Bobby Moore 5th.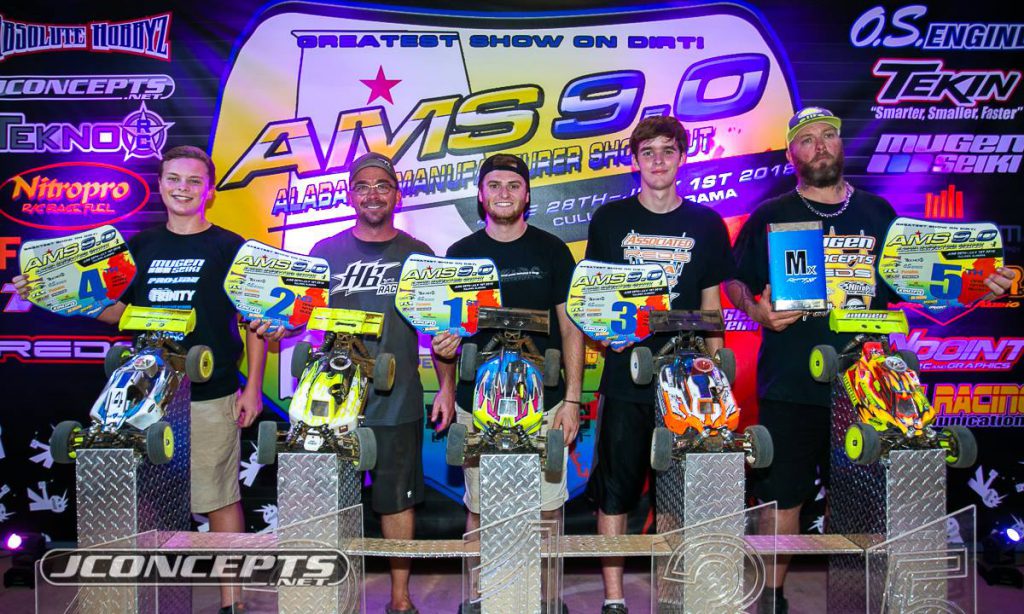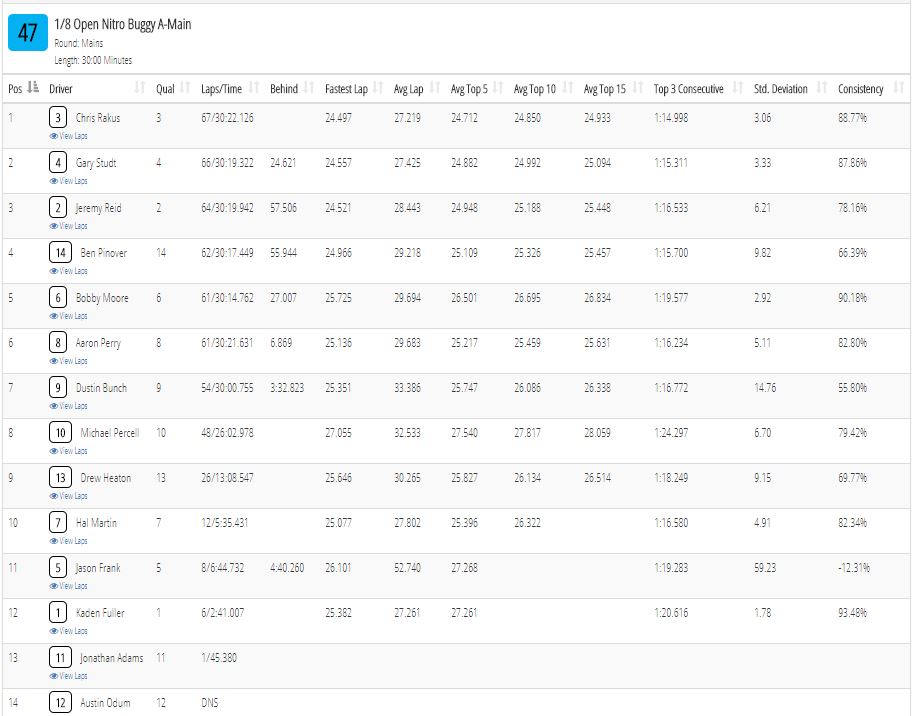 Open Nitro Truggy
It was JConcepts' Chris Rakus sweeping the open classes at AMS 9.0. Taking his 3rd win of the weekend, Chris won the Open Truggy class with Gary Studt 2nd, Michael Percell 3rd, Cole Whitehead 4th, and Brad Collins 5th.