Kinwald Wins Big at Southwest Indoor Grand Prix with JConcepts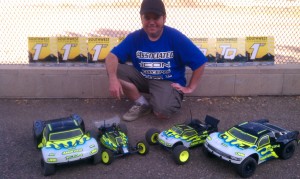 Brian Kinwald goes 4 for 4, winning big at Southwest Indoor Grand Prix with JConcepts. Billy Fischer wins 4wd modified.
Event: 2011 Southwest Indoor Grand Prix
Date: October 21-23 , 2011
Location: Competition Hobbies – Tucson, AZ
Competition Hobbies in Tucson, AZ holds the annual Southwest Indoor Grand Prix race each year and increased turnouts make each year a bigger and better event. Brian "Dirtinator" Kinwald jumped out and dominated qualifying early on taking TQ in 3 classes. (2wd modified, truck modified and 2wd Short Course classes.)

JConcepts teammates Billy Fischer and Richard Lake took down the 4wd modified, 4wd Short Course and 13.5 2wd TQ's respectively. Matt Trimmings took the TQ in the 17.5 stock class. The tires of choice during qualifying were JConcepts Bar Codes front and rear with profiled closed cell inserts. The drivers started on blue compound but worked toward orange compound as the grooved conditions started to take place or more specifically in the 4×4 Short Course class.
In the main events it was Kinwald once again taking charge jumping out front and holding his place atop the field in all 4 classes. Kinwald used his grid position to secure a great start and proceeded to use his driving savvy to dominate and take home the victory in 2wd modified, truck modified, 2wd modified SCT and 4×4 SCT.
Billy Fischer took off from the pole position with his JConcepts equipped Durango buggy in the 4wd modified class and never looked back on his way to victory.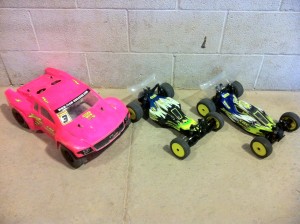 Richard Lake and Matt Trimmings dominated in the 13.5 and 17.5 classes respectively taking home 2 more coveted victories in the A-mains for the popular CH drivers.
A special thank you goes out to the racers making it a special event and Competition Hobbies and Richard Lake on hosting and running a superb race.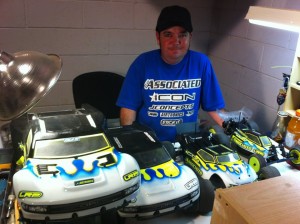 Products Used
· Finnisher +8mm B4.1 body
· Hi-Clearance wing
· Punisher T4.1 body
· Raptor X-Flow SCT body
· 3017-01 Bar Codes, blue compound
· 3033-01 Bar Codes, blue compound
· 3021-01 Bar Codes, blue compound
· 3044-04 Bar Codes, orange compound
· 3206-2 Profiled closed cell inserts
· 3217-1 Profiled closed cell SCT inserts
· 2043M Advanced Formulated Tire Glue
· 2081 12mm SCT hex adaptor
· 3332B Rulux 12mm hex wheel
· 3344B Hazard +3mm 12mm hex wheel
· 2076 8/32″ serrated wheel nuts
· 2090 4mm serrated wheel nuts
· 81 and 87 Silent Speed Spur Gears