King of the Monster Trucks – Highlights and Event Recap!
2018 kicked off brand new event for JConcepts that we're super excited about and for the first time ever, the JConcepts King of the Monster Trucks was held in Fenton, Missouri where some of the best Monster Truck racers and builders gathered on October 6th – 7th, 2018 for the ultimate Monster Truck showdown…. King of the Monster Trucks!
Our primary goal in helping to construct this event is to build a national caliber Monster Truck competition featuring the best in the business doing what they love. The King of the Monster Trucks event emphasized the excitement of creation, the adrenaline of racing, fueled by the awesome culture and genuine love for monster trucks. If you thought you can build custom RC monster trucks, think again. Race 1/10th scale at the track and think you're fast? Try heads-up racing going 1 on 1 versus the competition in bracket-style racing. Lose once, you're out!
Here is an overview of the event in parts 1 and parts 2 videos below. Jason also documents his journey to the King of the Monster Trucks with a nice Photo Epic taken throughout the event. Have a look at perhaps we'll see you at the next event!
The King of the Monster Trucks photo epic – by Jason Ruona.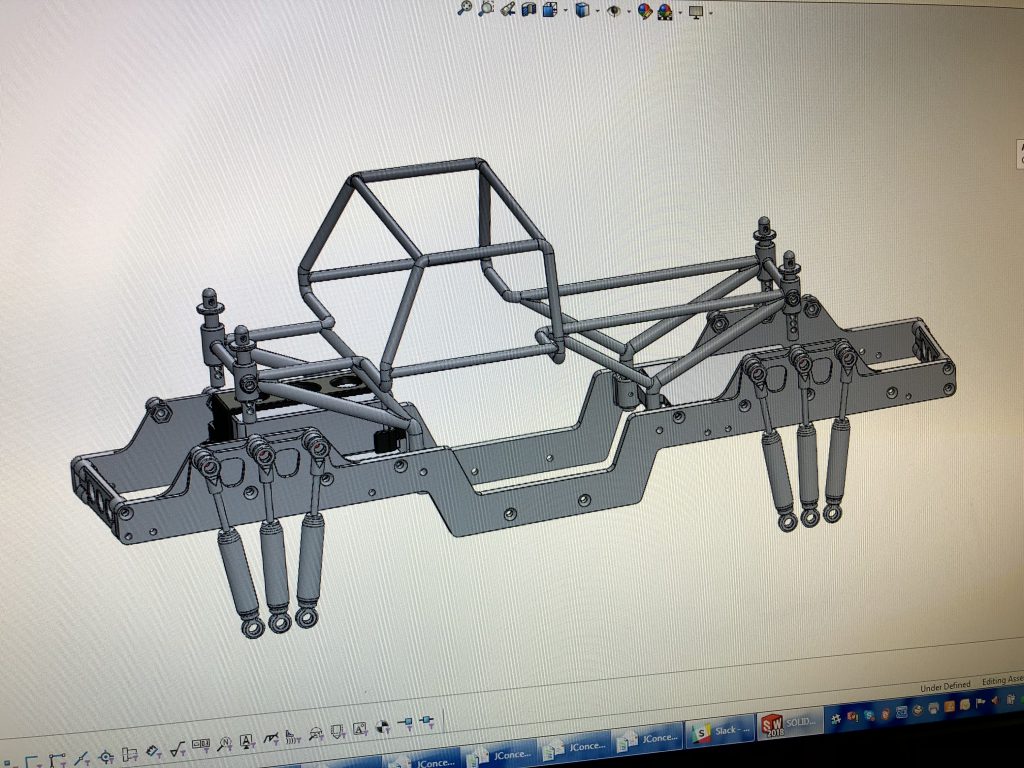 Building a truck the night before really brings it back full circle. Thanks to AJ for staying late to help tear down and build back up.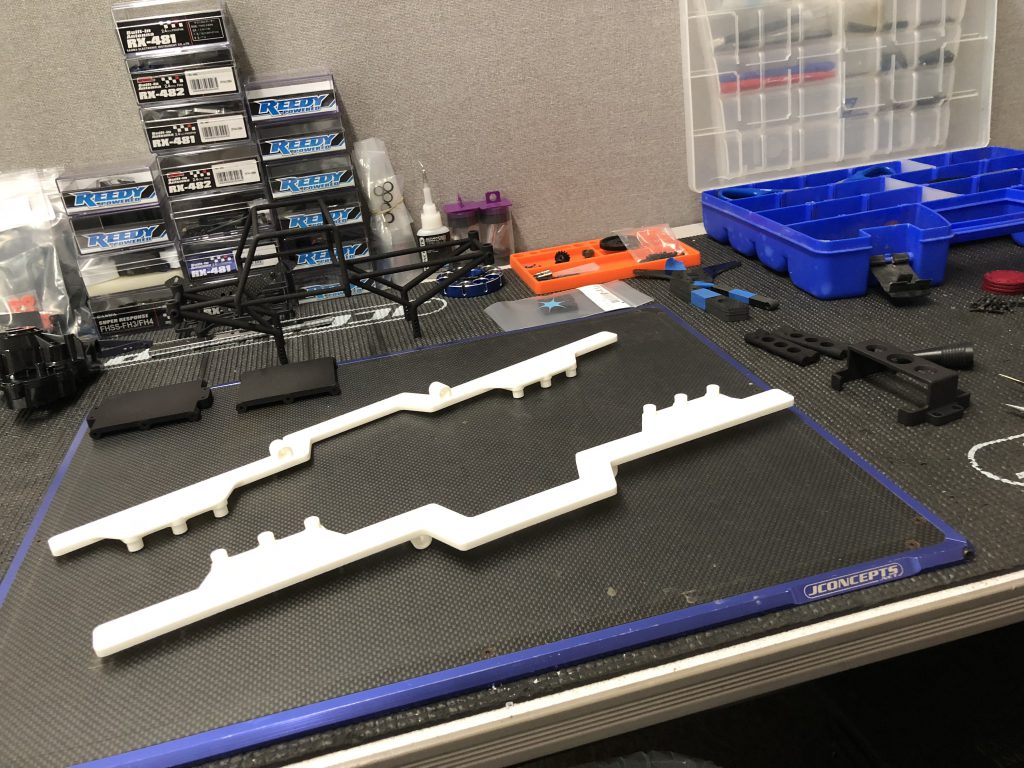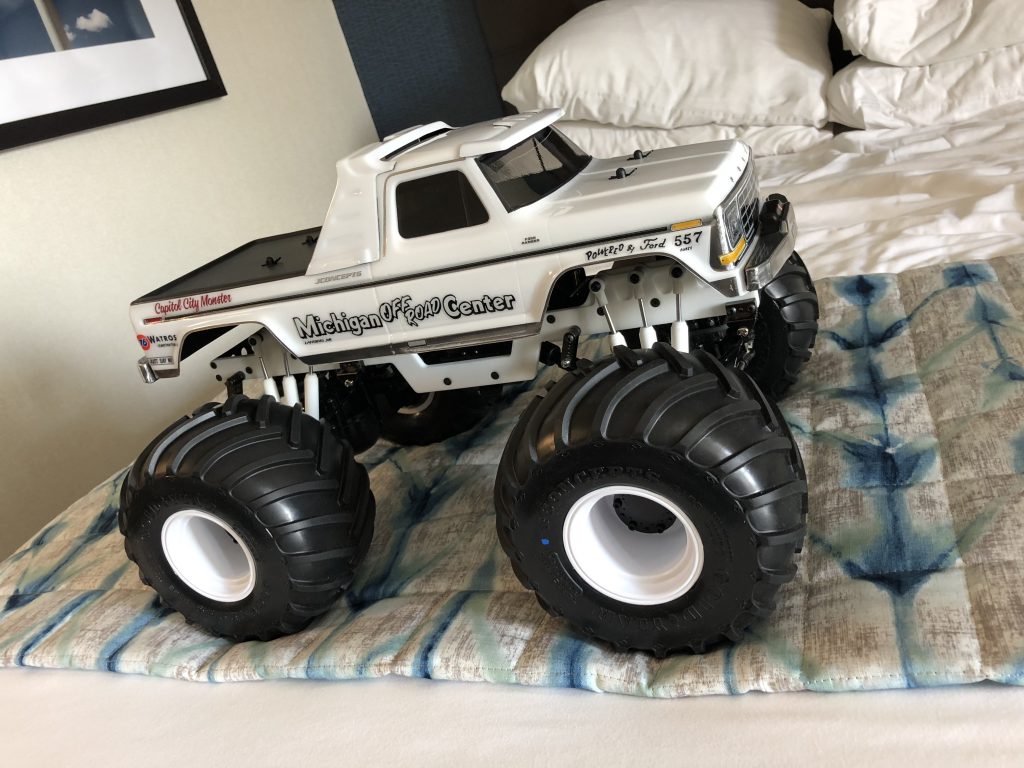 The Capitol City Monster came together very well. Had a great time doing some old school design work and fabrication.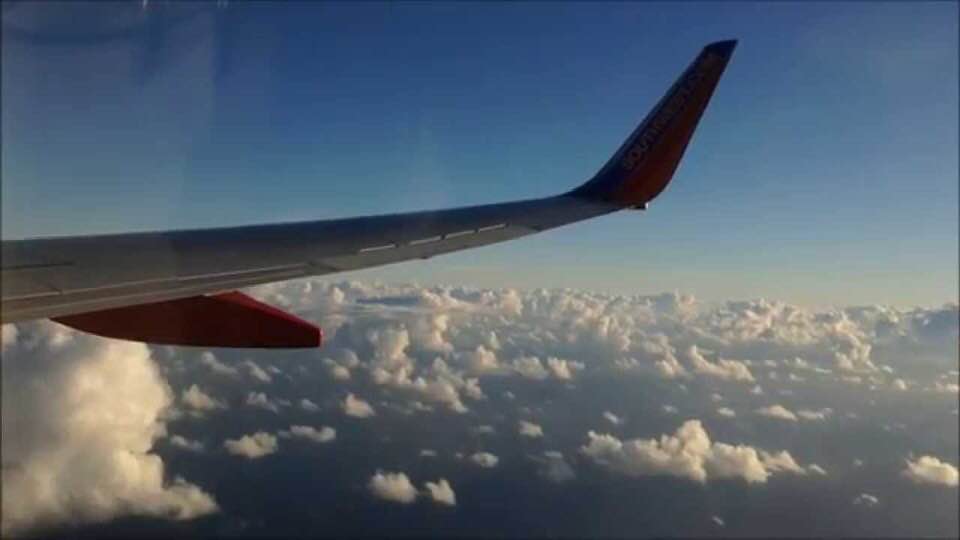 Early morning flights are a drag. Getting up at 5am is never my favorite thing to do.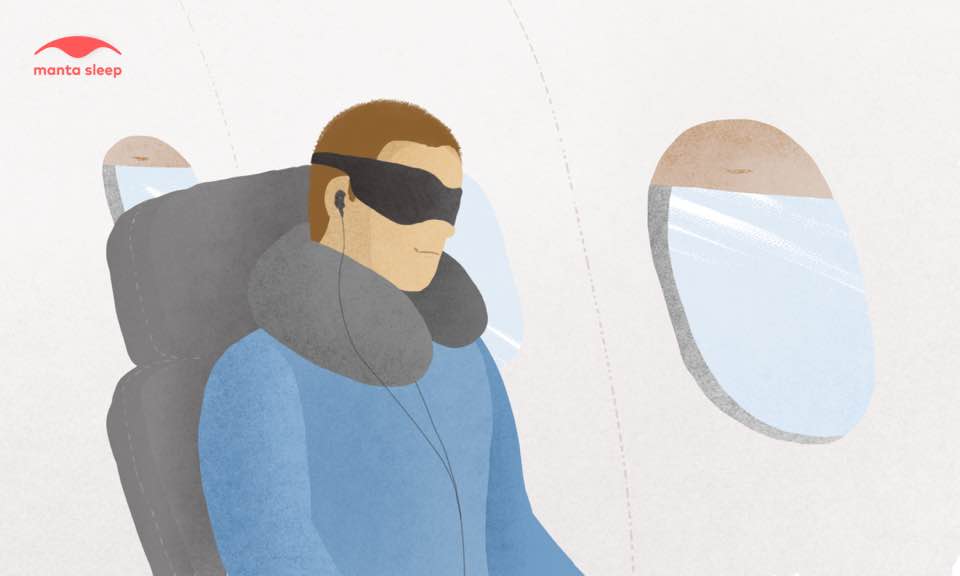 St. Louis is an easy 1 hour 55-minute flight from Florida. I was sleeping before takeoff.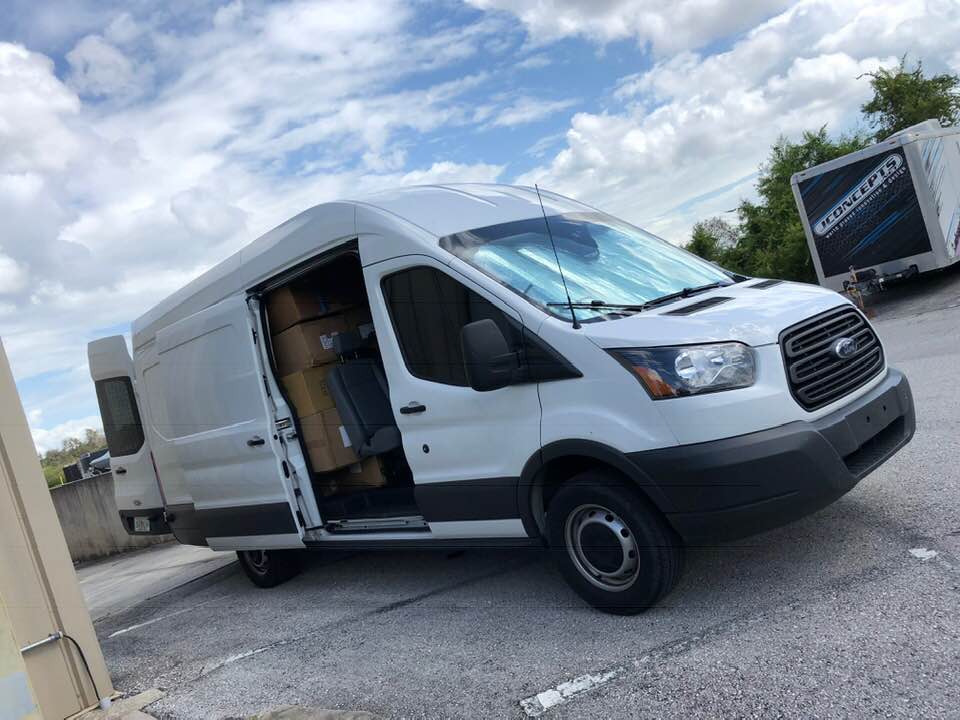 Driving, not quite as easy but Fred hammers it out like a Pro. 1000 miles in the Ford Transit.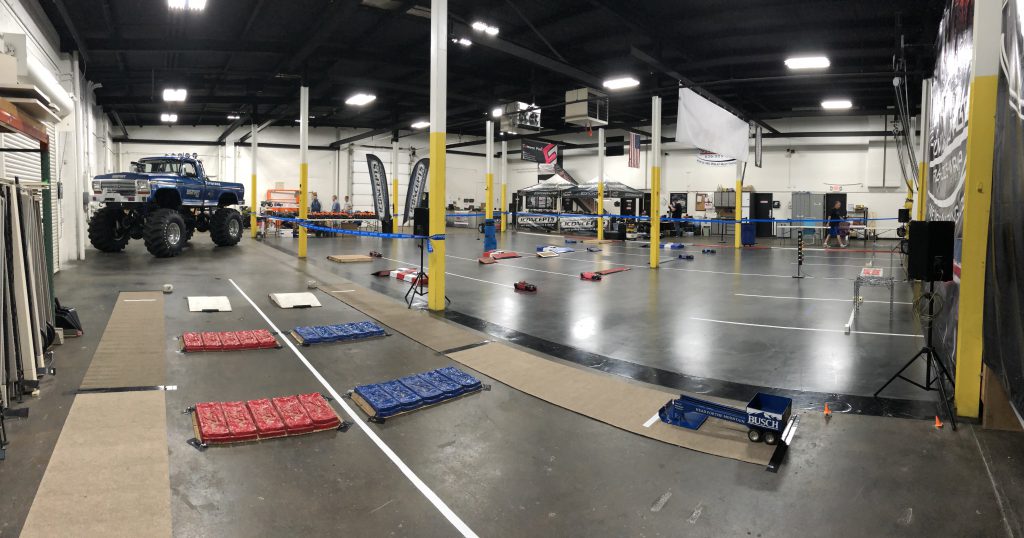 Vinyl Images, what a clean and organized facility. I would definitely have work done here.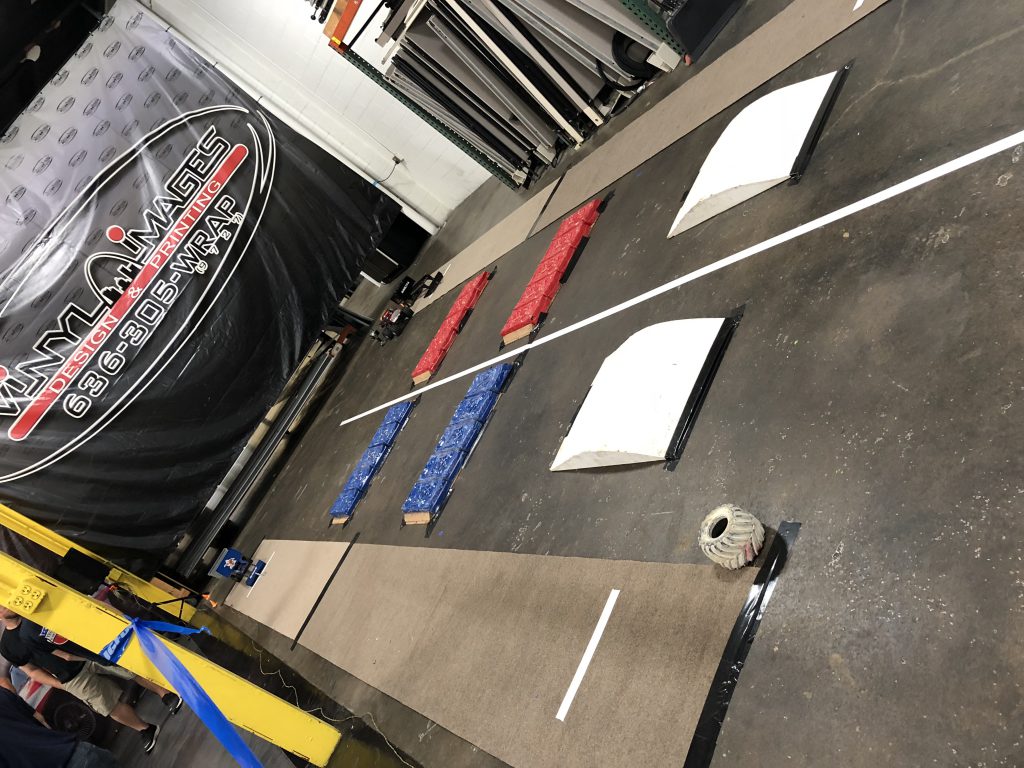 Trigger King crew had the track installed and ready to roll and the looks were fantastic.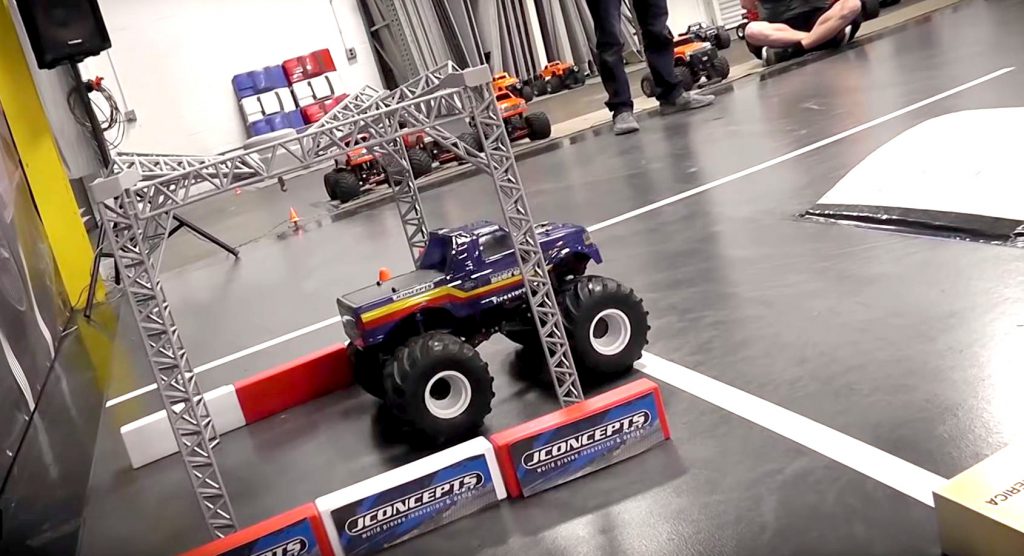 Fast Freestyle Fred brought in the timing equipment and once again completed a picture-perfect setup.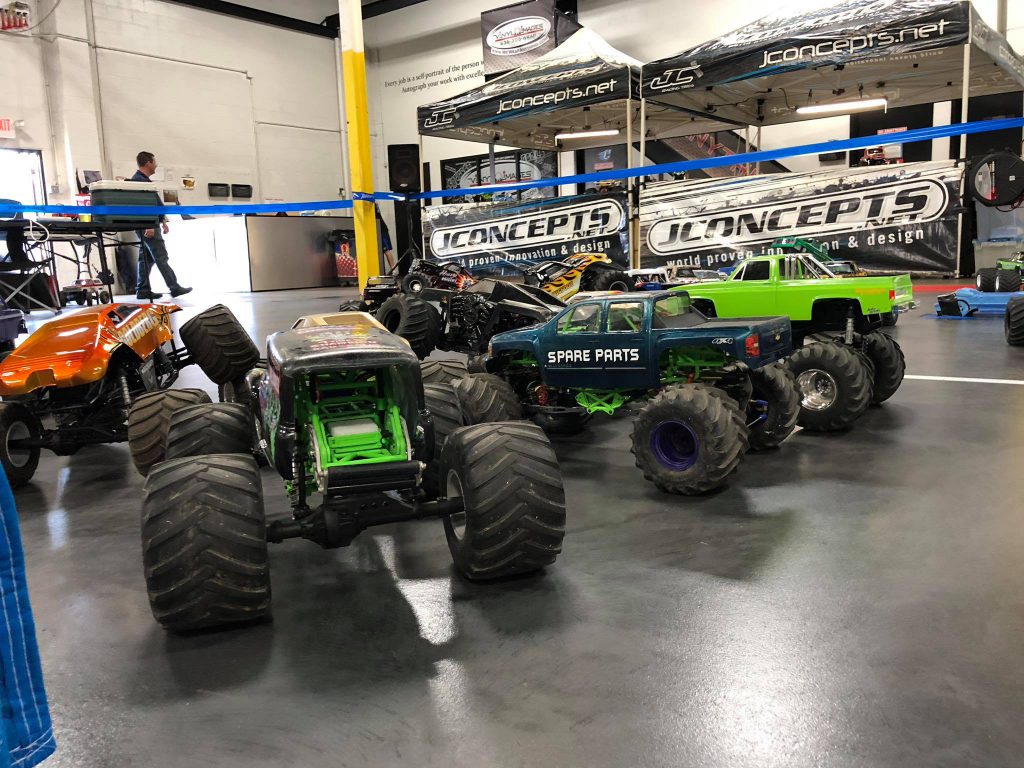 JConcepts pits were looking fresh and stacked with Monster Truck goodness. Thanks to all who helped set up and tear down during the weekend.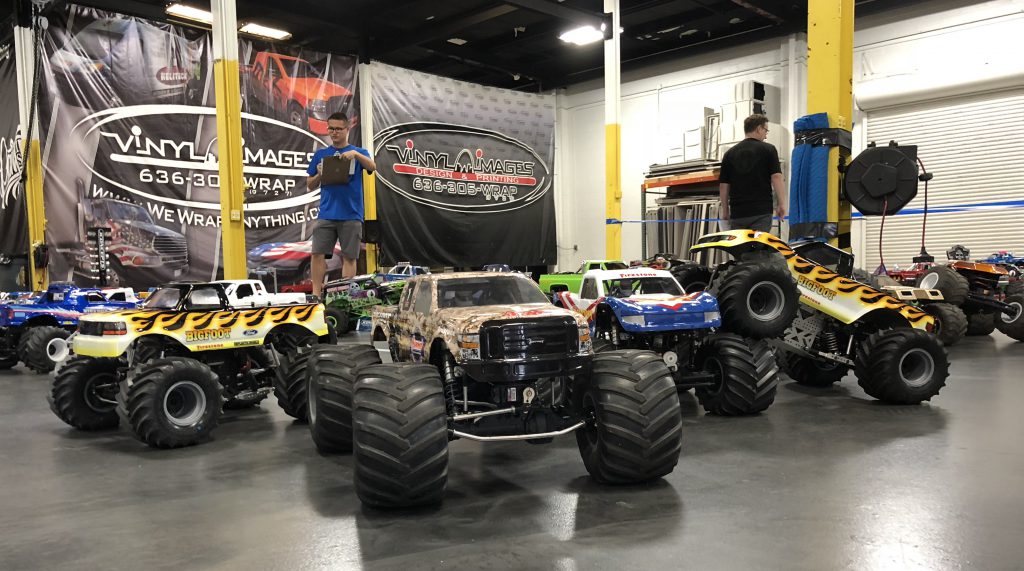 Show and shine was a success, it was great to see so many trucks out and with new themed or new schemes.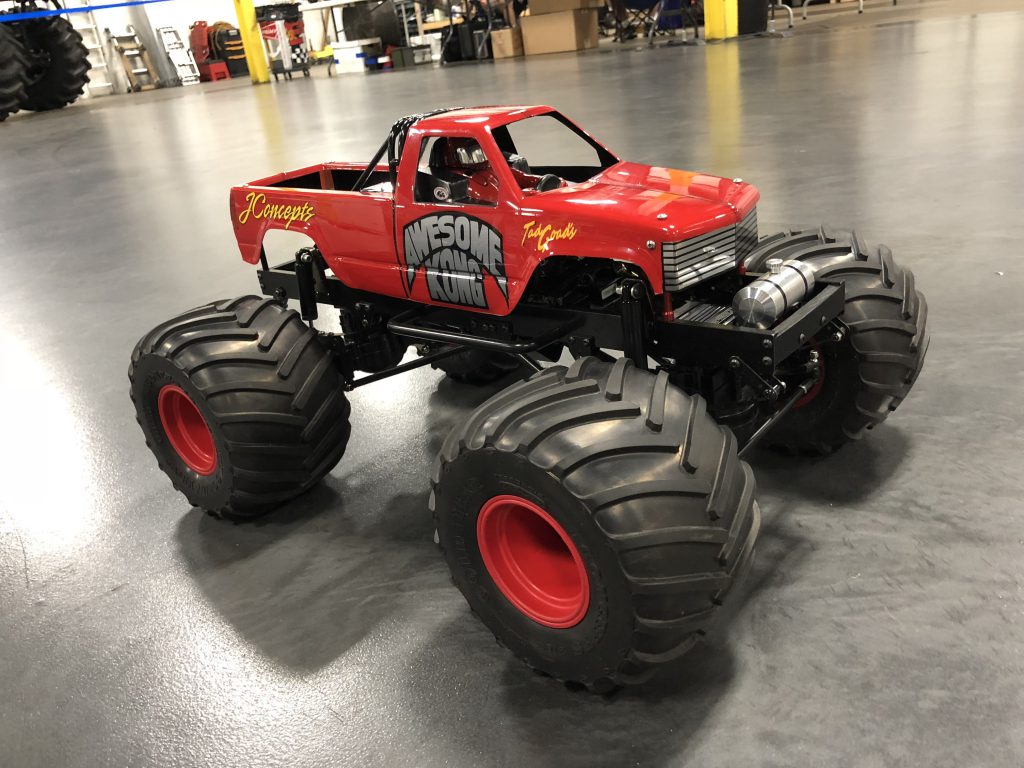 A few trucks stood out but Awesome Kong was the best on this day.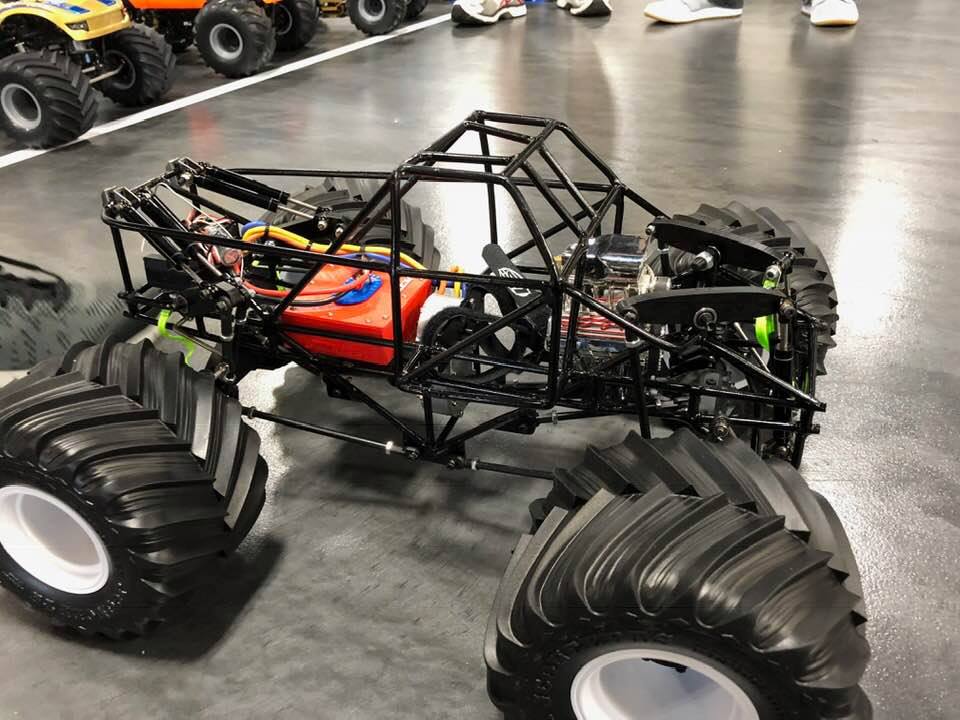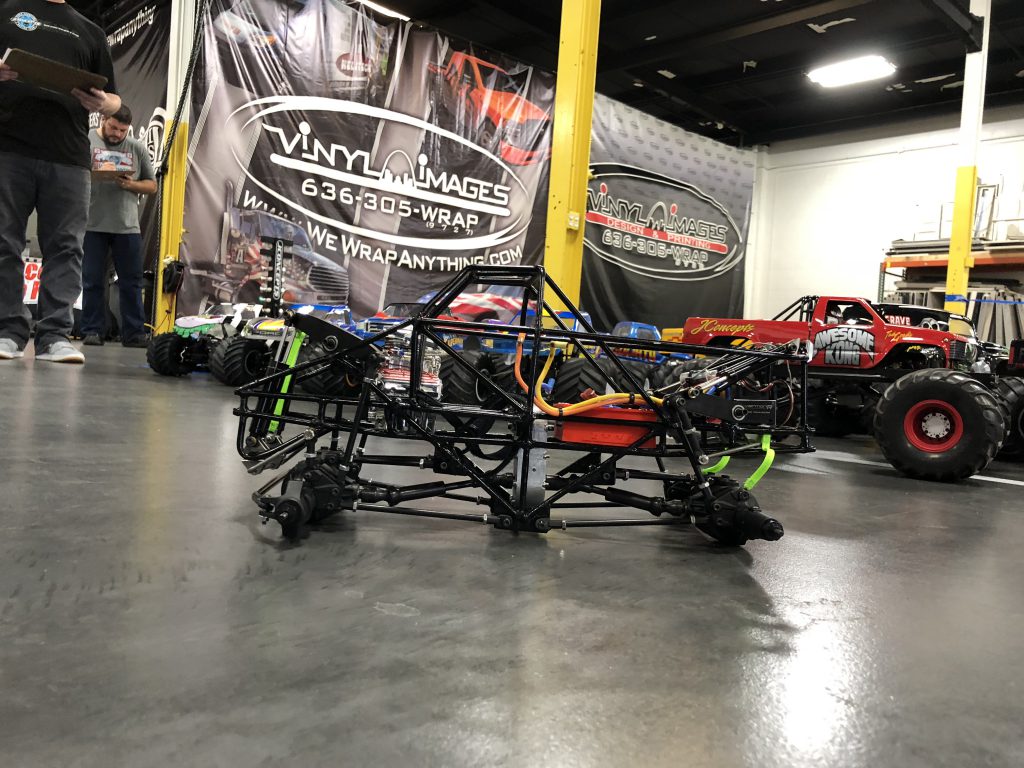 Bigfoot 8 by Michael Arndt was a head turner and got a lot of people talking at the event. Looking forward to seeing this truck in action.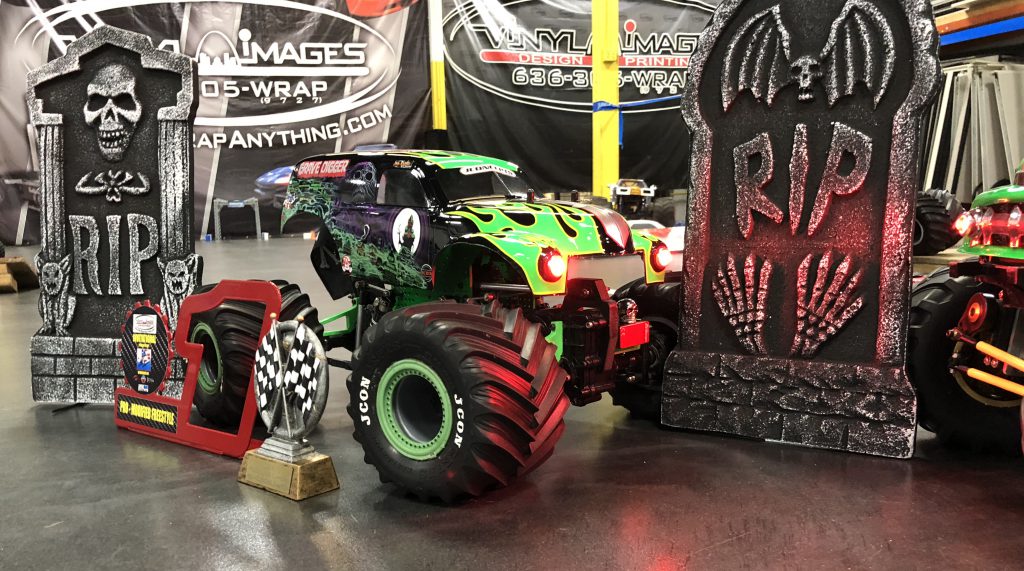 The Grave Digger Trucks were cool and especially the red lights and graveyard scene effects.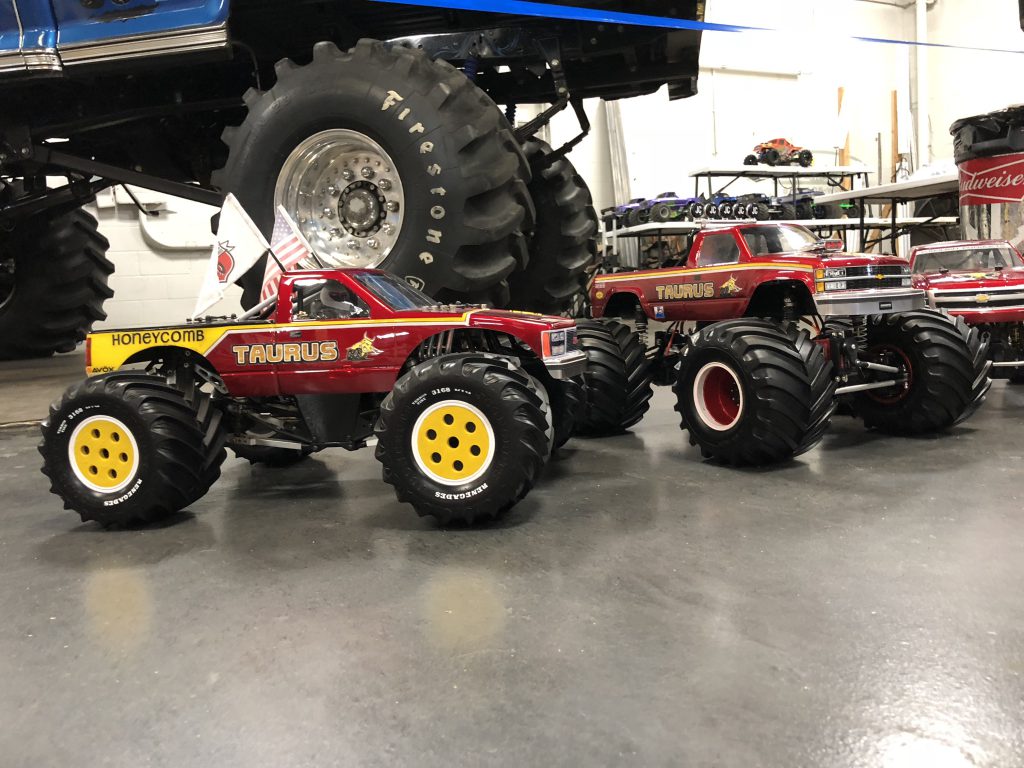 The Taurus line-up is always amazing. Love the Honeycomb Taurus.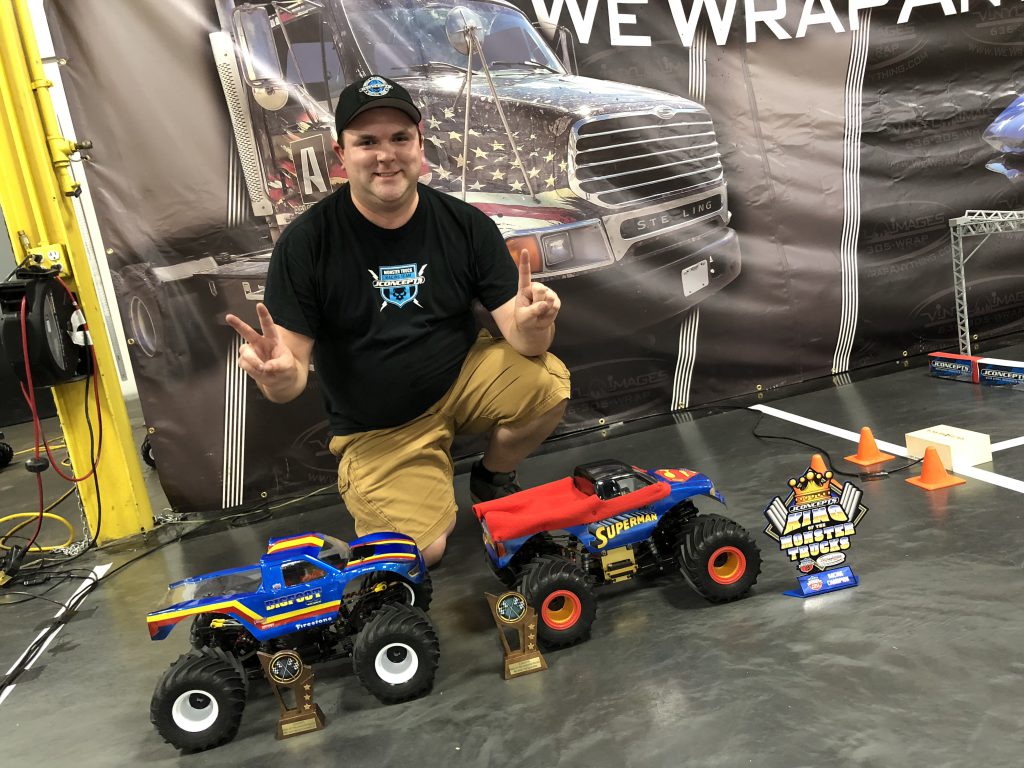 Superman is a really cool truck. I'm not the biggest fan of the comic book stuff but when this truck is on the track and hauling the mail, the cape is a waving.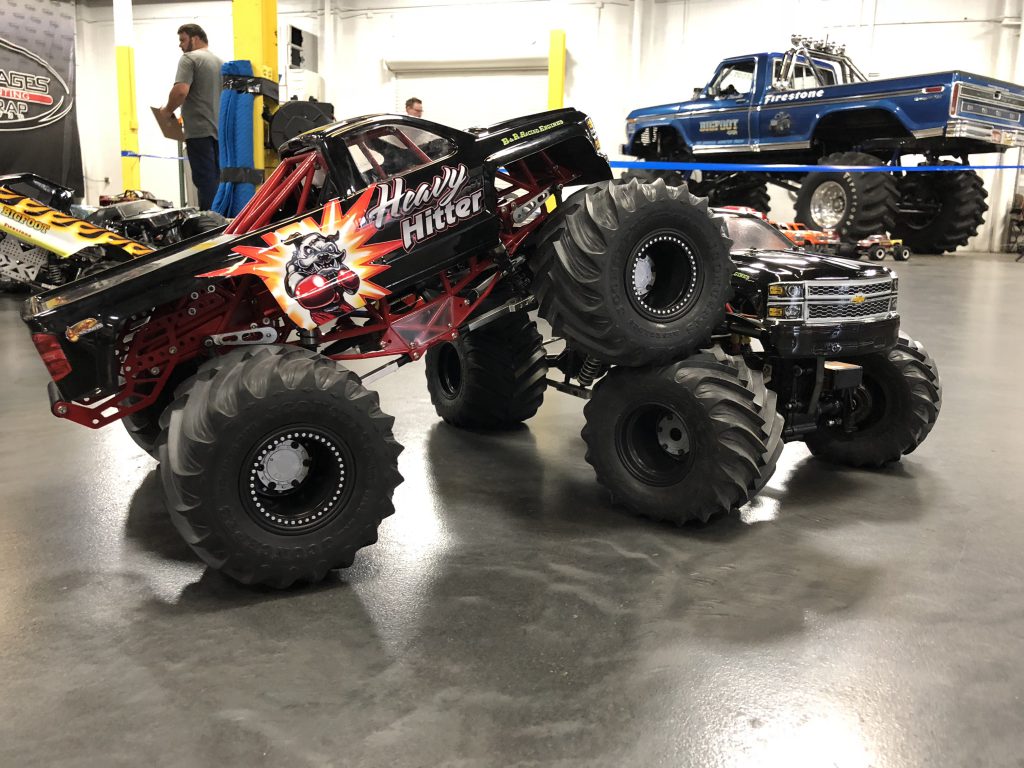 Heavy Hitter was sporting the 2014 Chevy body and decaled up right before Show and Shine. Nice truck!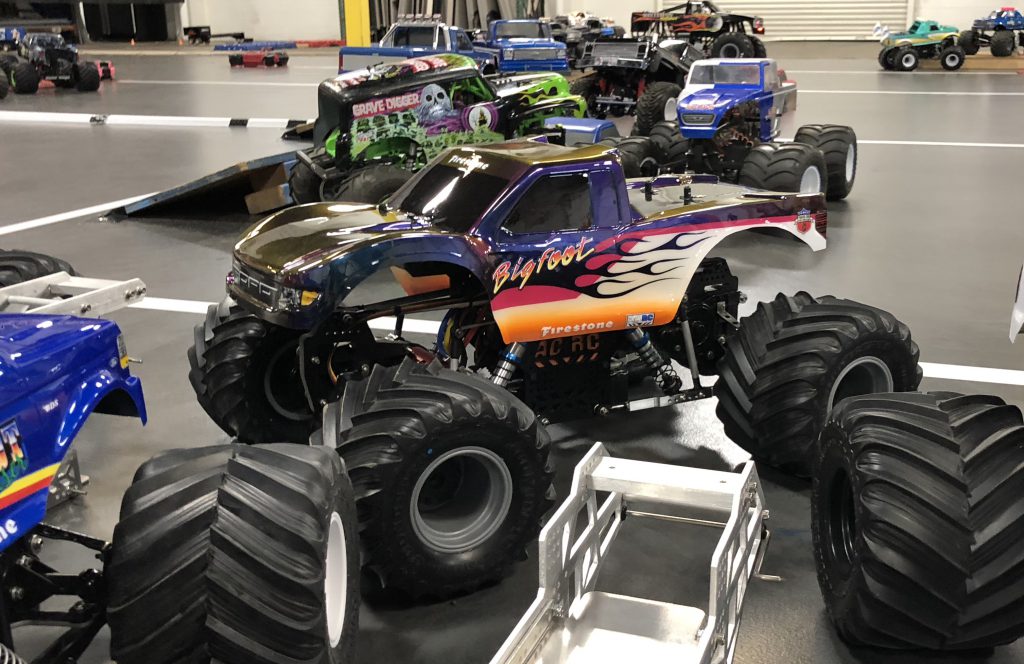 Chromalusion BIGFOOT had a great flair to it and really fit in well during the race and freestyle competition.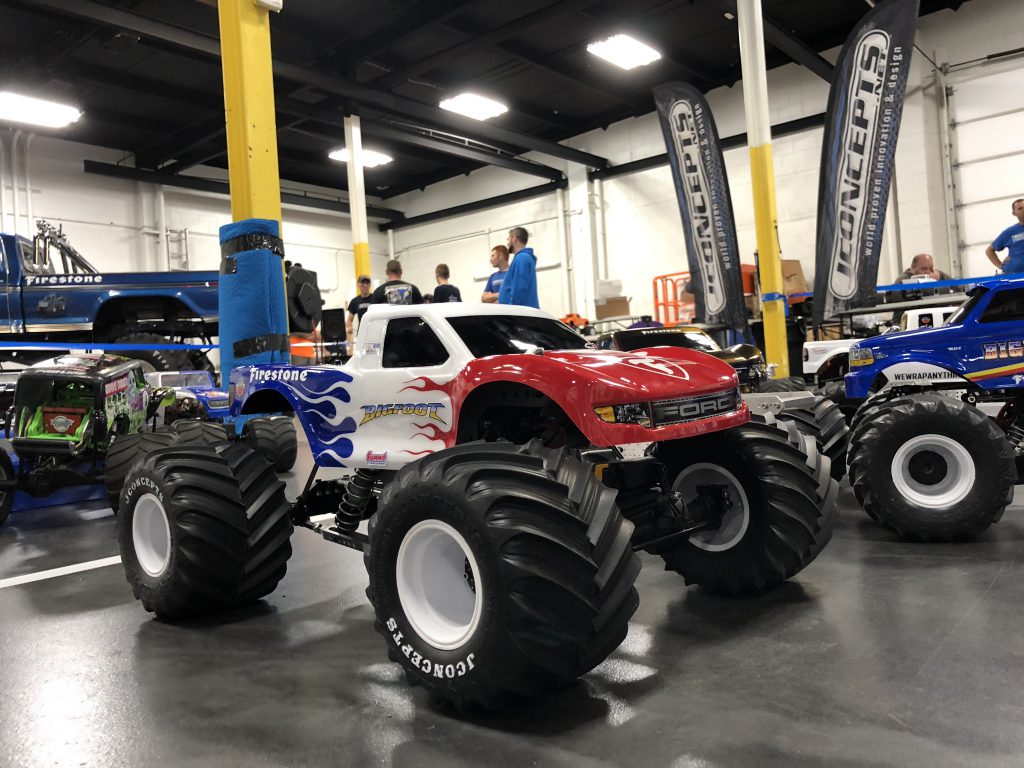 NewBright Bigfoot was a sweet looking new body as well. Great debut by Michael Arndt.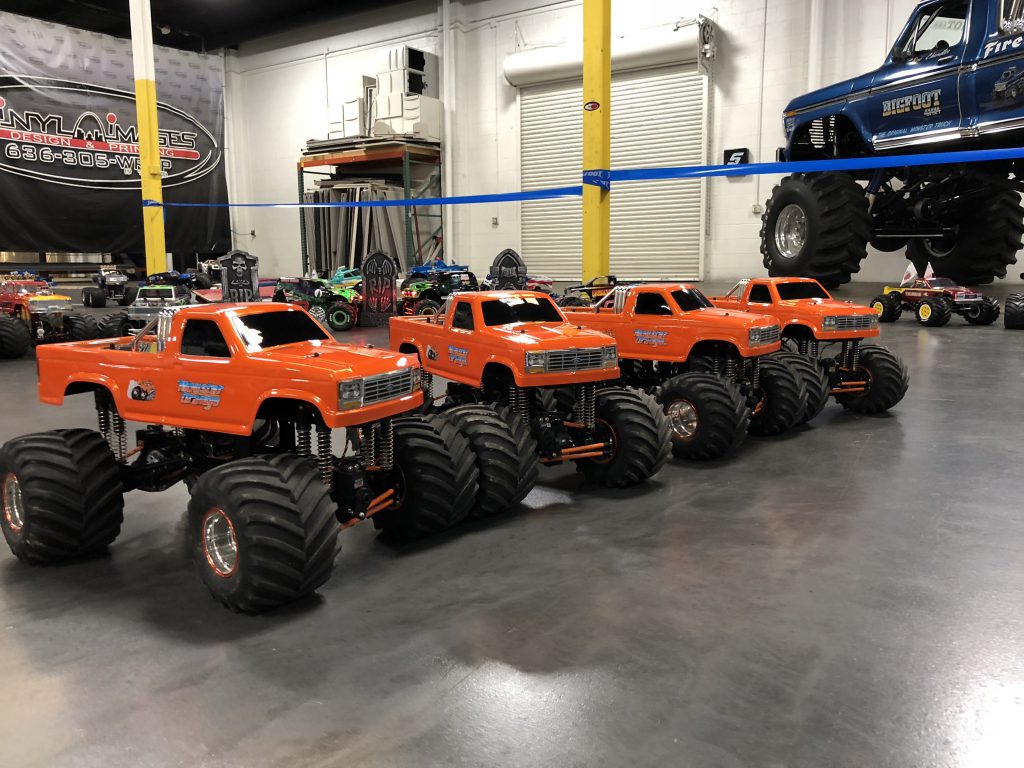 Chris Blank had the entire Orange Truck lineup in full force. This is a line-up that would make anyone jealous.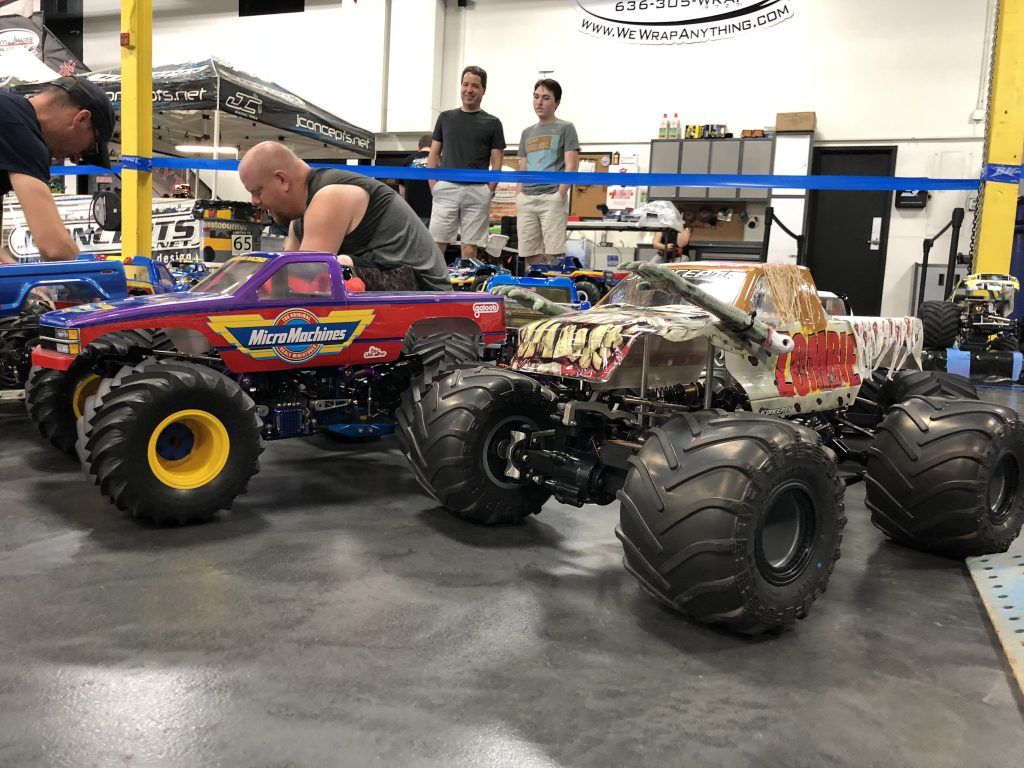 Zombie complete with arms. A++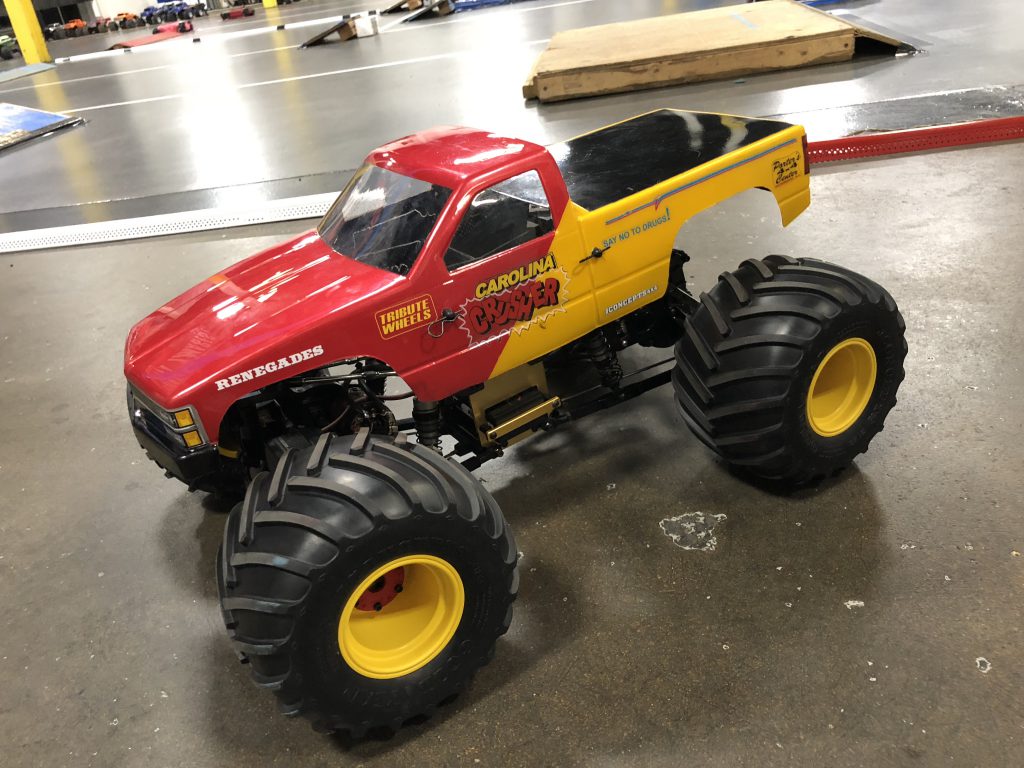 Love Carolina Crusher and Micro Machines by Tad Goad.
Turbo Lover, now that I understand. Is amazing!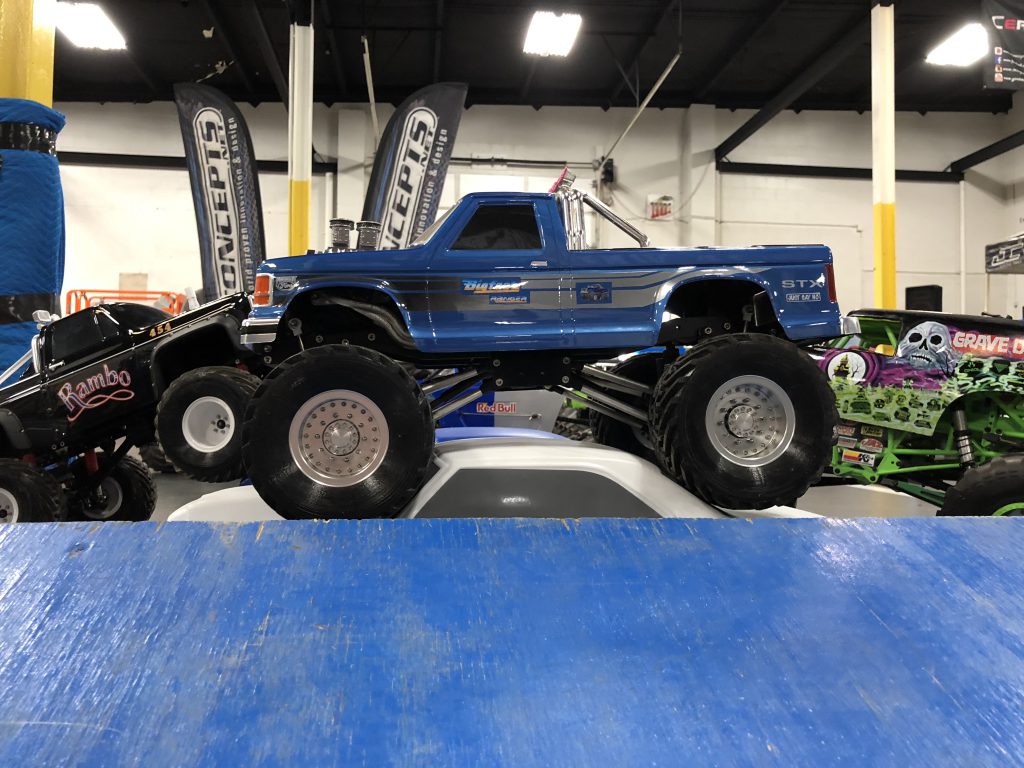 Bigfoot Ranger, Bigfoot Shuttle, of course, we like those!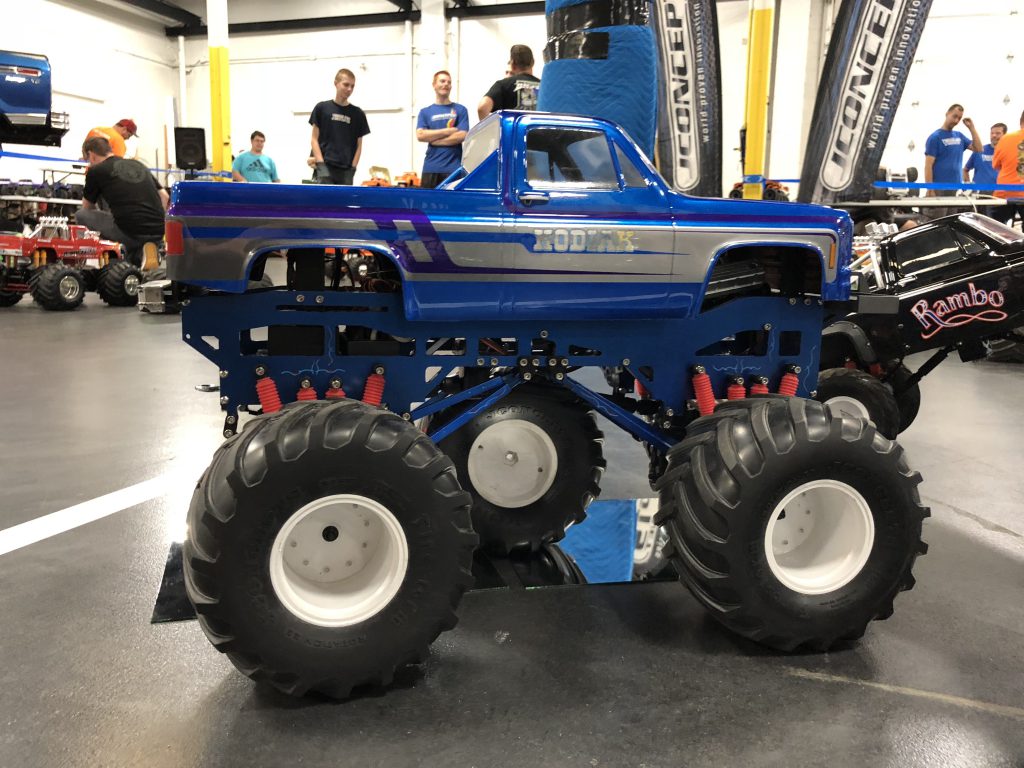 Kodiak, a strange looking real truck but a masterpiece by RH Designs in scale form.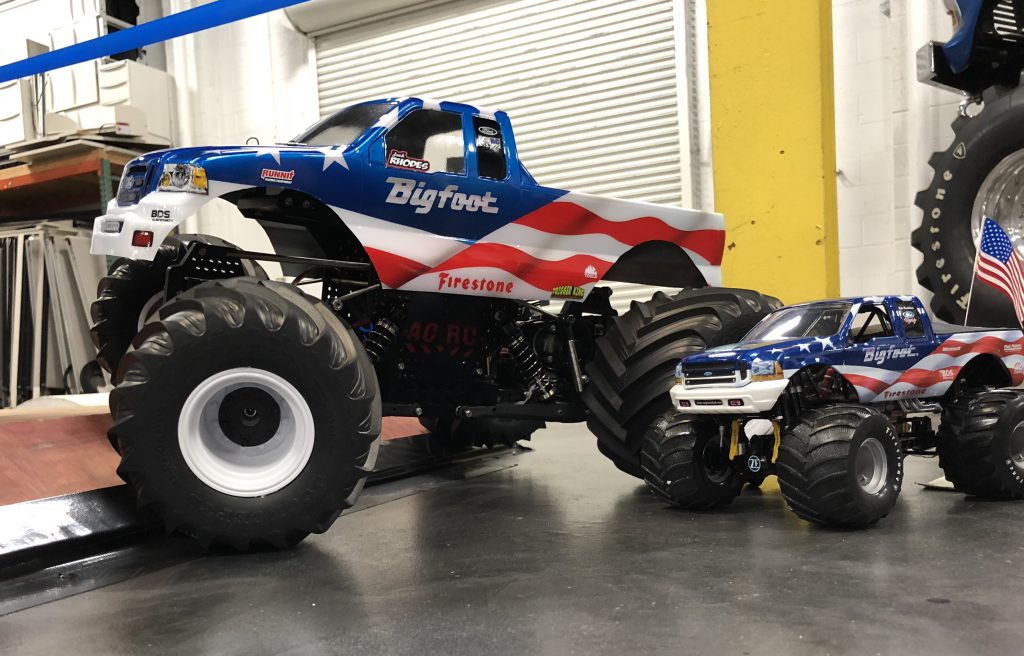 Flag Bigfoot, definitely another favorite of mine. I want to do my own soon with the 2005 Ford F-250 body.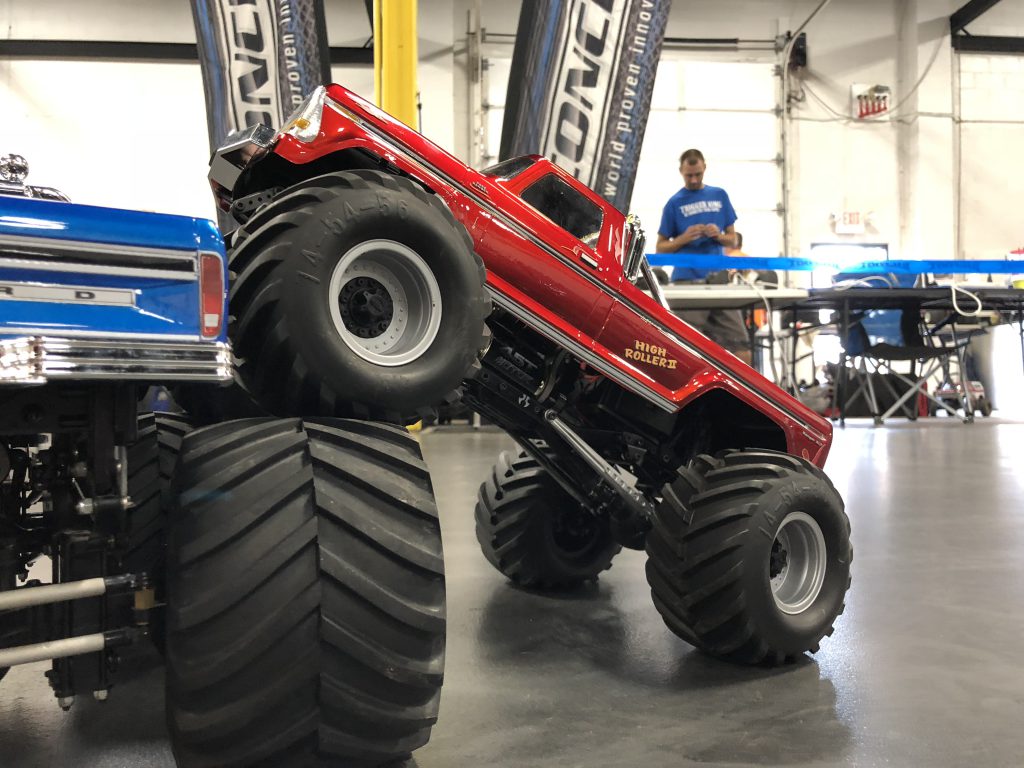 High Roller with 2.2's….eewww. I like it!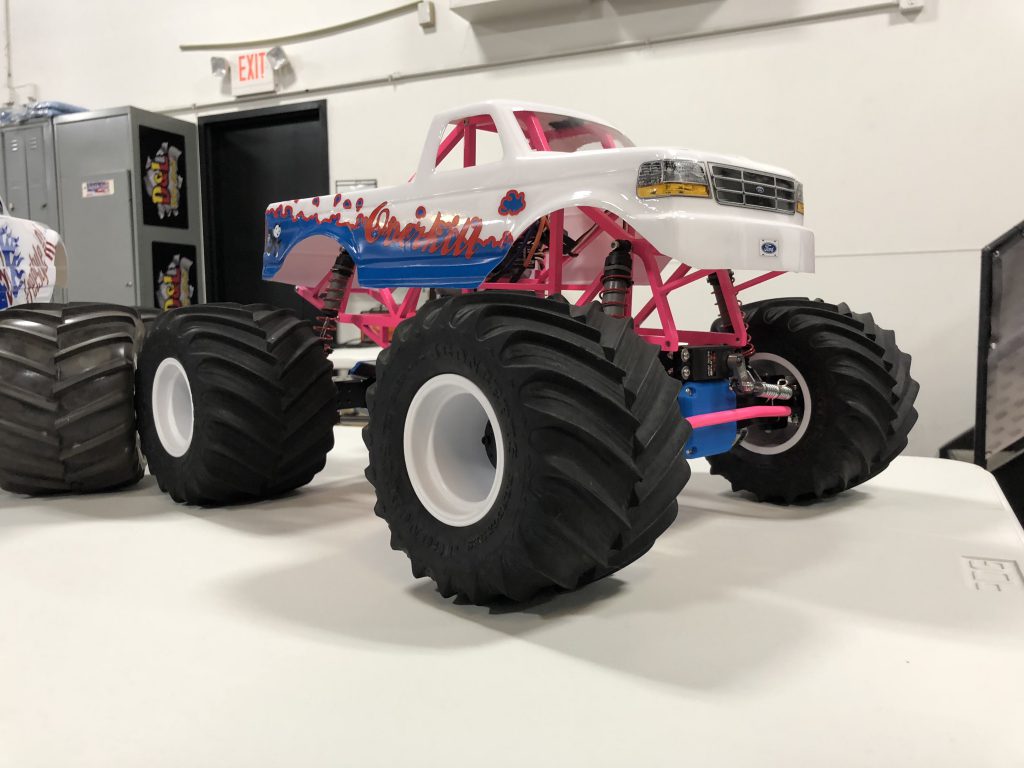 Overkill by Freestyle RC. I pretty much like all the Overkill trucks and especially this one by Josh.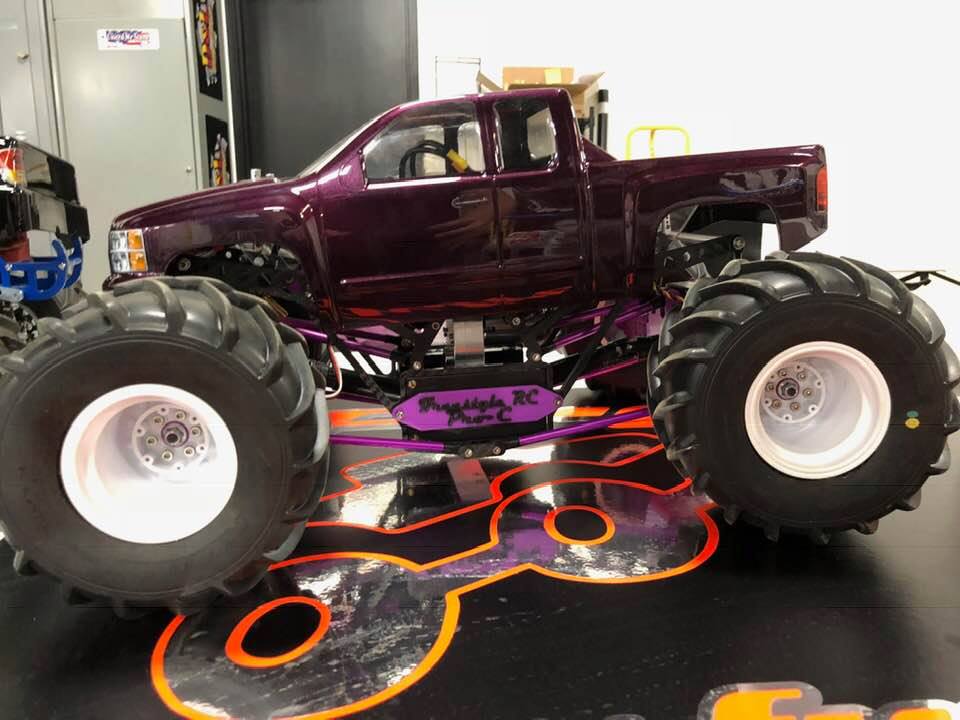 Those Freestyle RC race trucks with Cantilevers, softest and plushest rides on the workbench.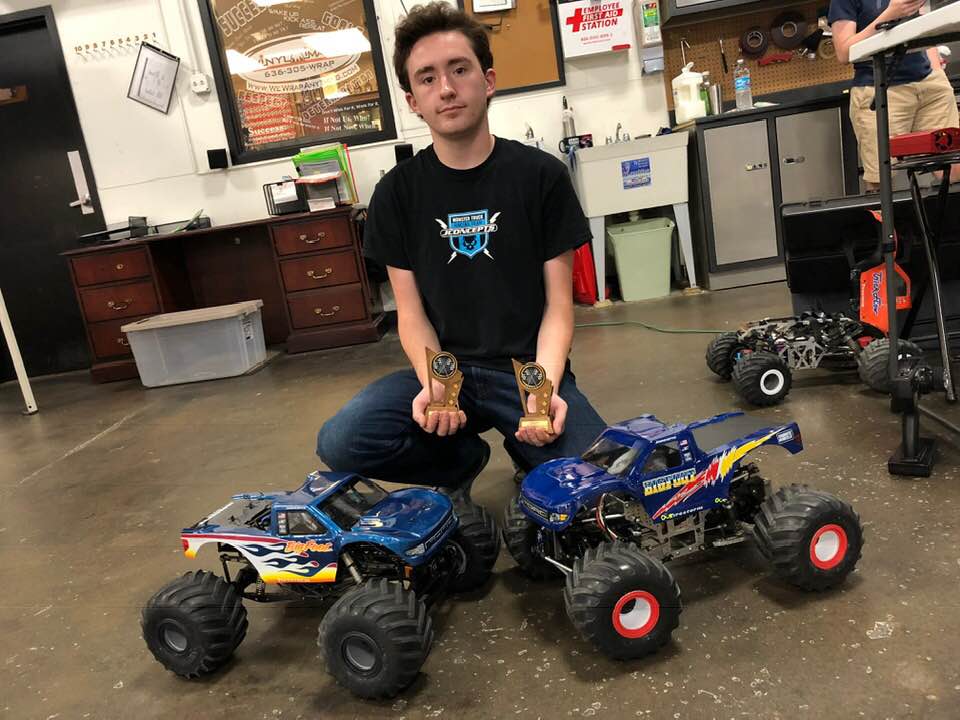 Thanks to Chris Tolbert for helping shoot photos and video while I was either judging or racing. Team help all the way.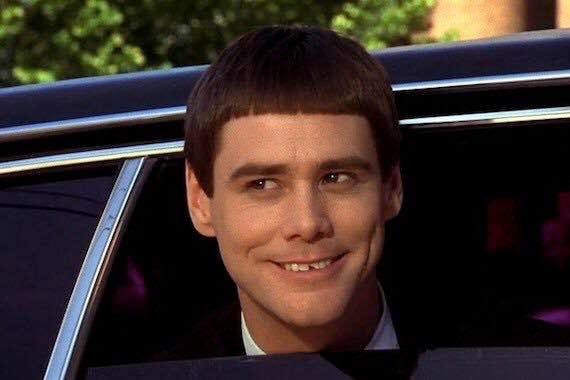 Arriving Saturday, the freshness in the air and anticipation for drivers eager for track time. It was time for qualifying.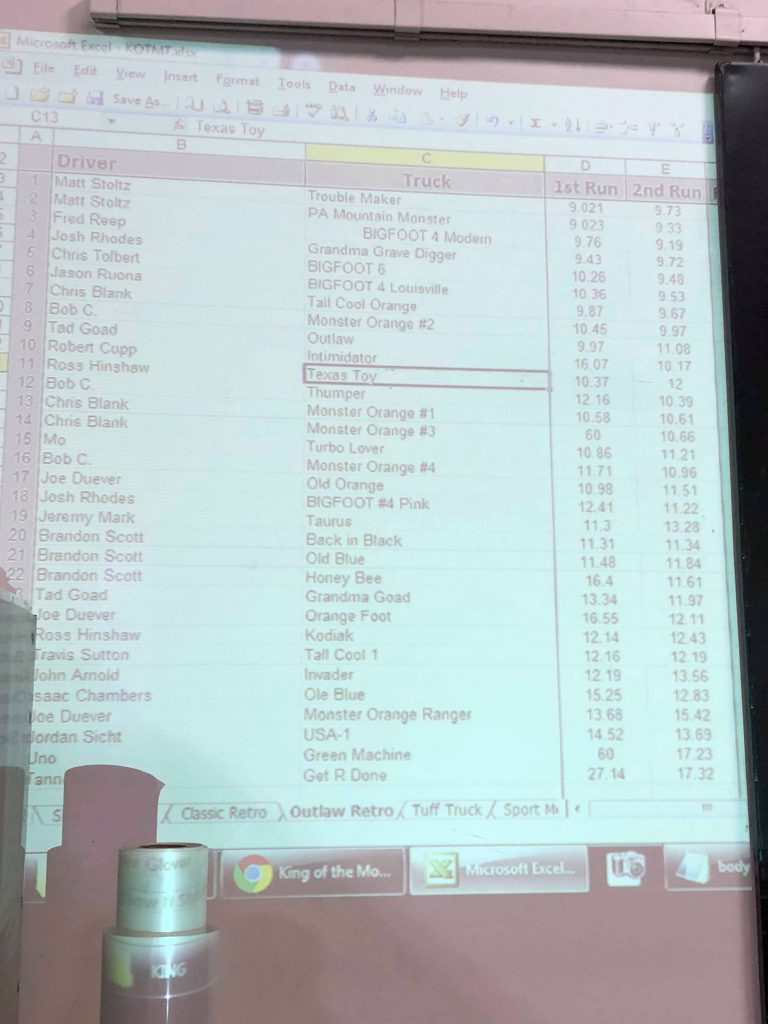 The format was fun, lineup and run a single qualifying pass in each lane. Your fastest time was used to determine your seeding into the racing brackets.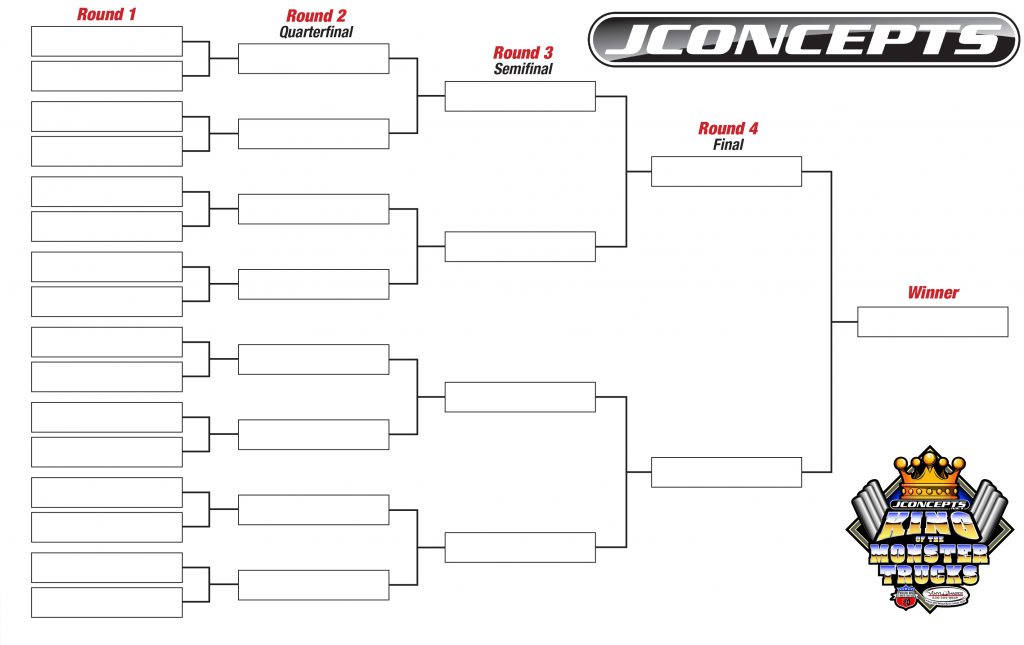 Bracket racing! Wow, what an experience for someone like myself coming from a traditional off-road racing format.

However, before the excitement of qualifying, there was some business to take care of in the Classic Retro class.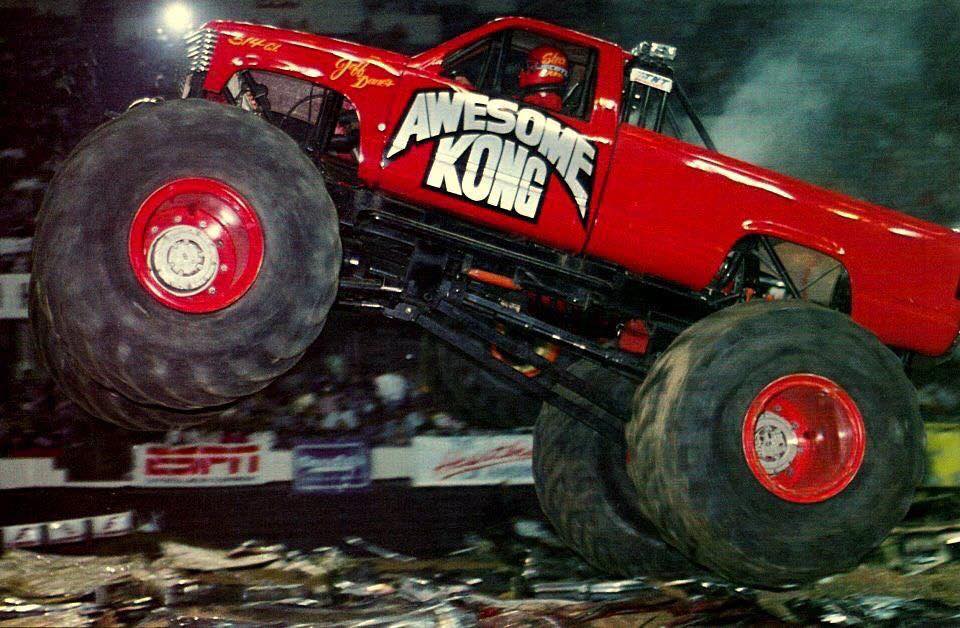 Some great classics in the line-up including Awesome Kong, Kodiak, Bigfoot 1, BIGFOOT Shuttle and High Roller.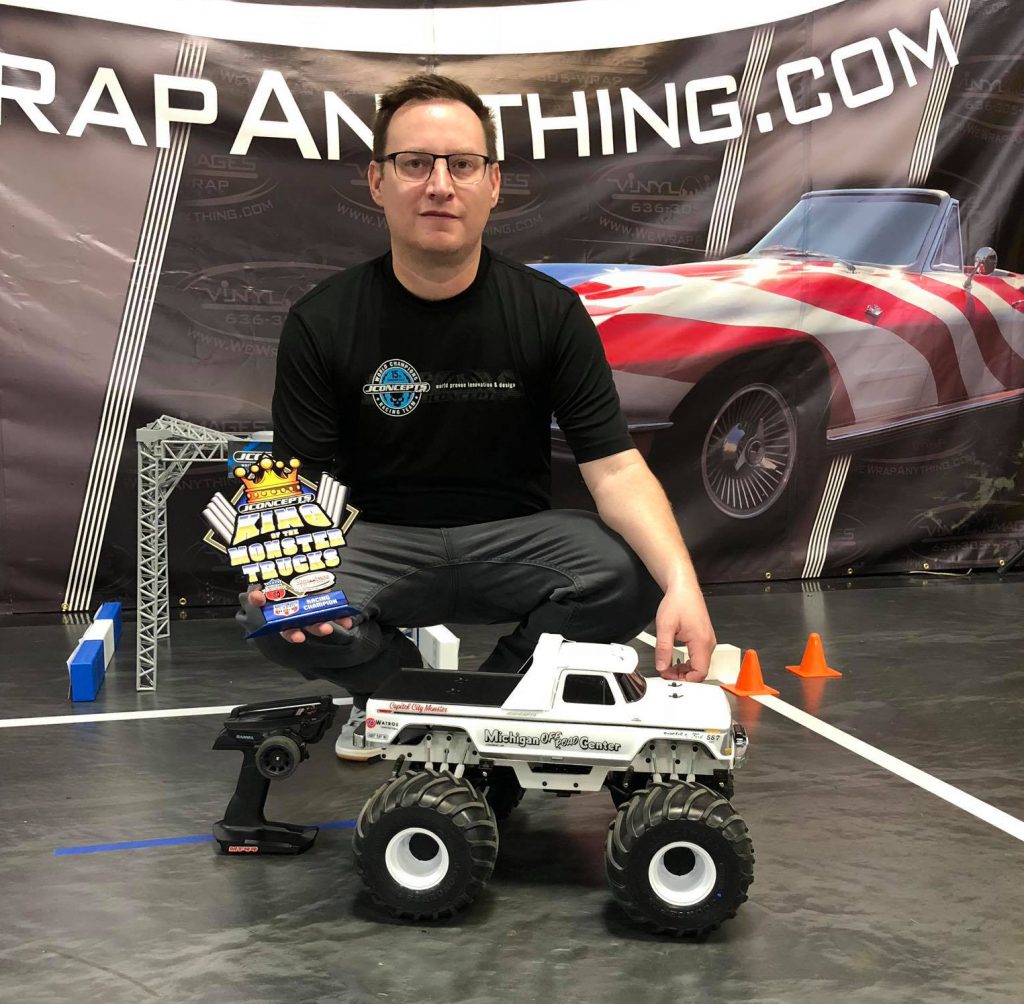 Tough races but Capitol City Monster comes out on top in the finals.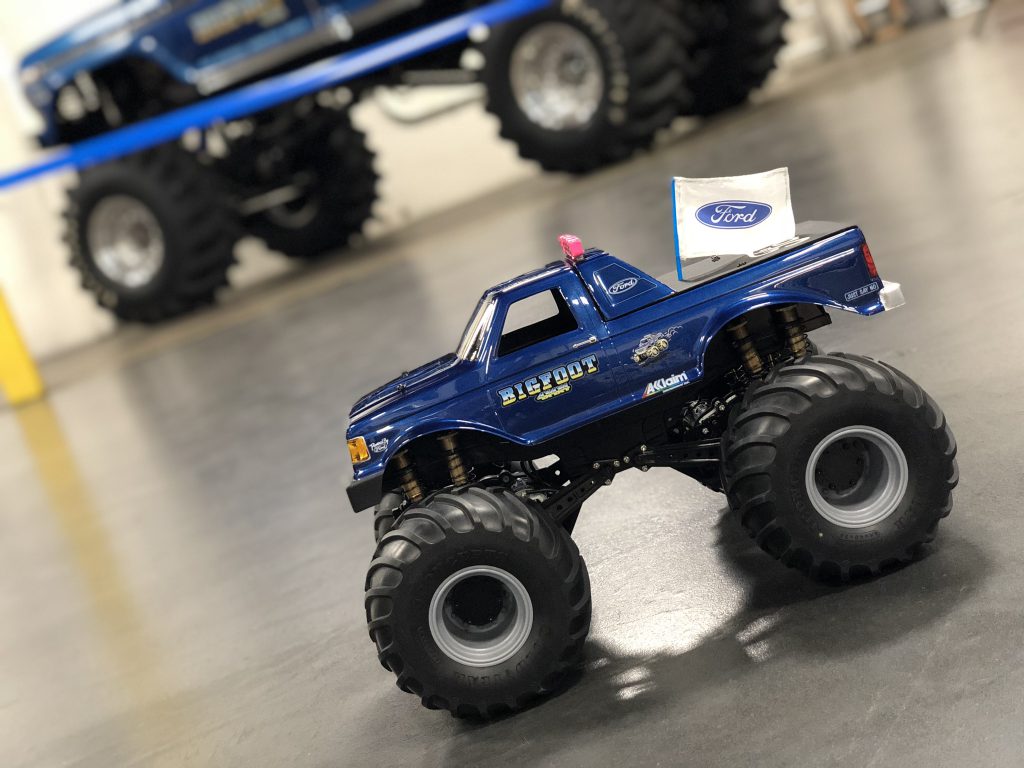 Moving on to the Outlaw Retro, I felt this was competitive and the trucks were very good for this track condition and layout.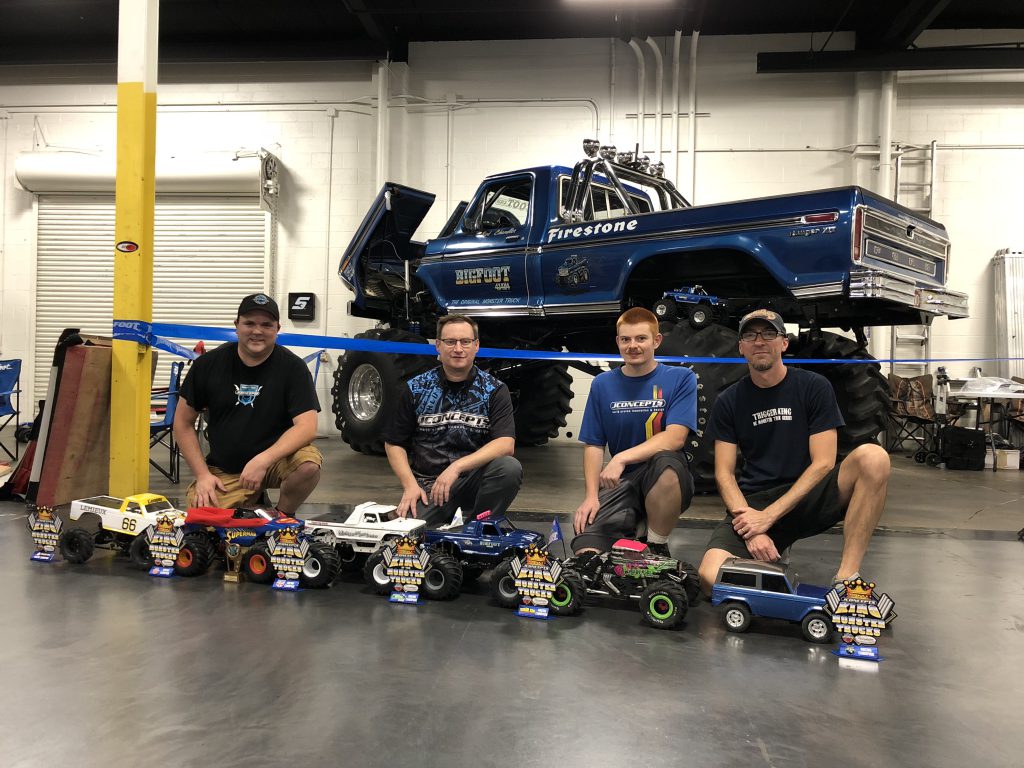 Qualifying was deep with 32+ trucks and Matt Stoltz scored the TQ run and looked poised for a deep run into the brackets.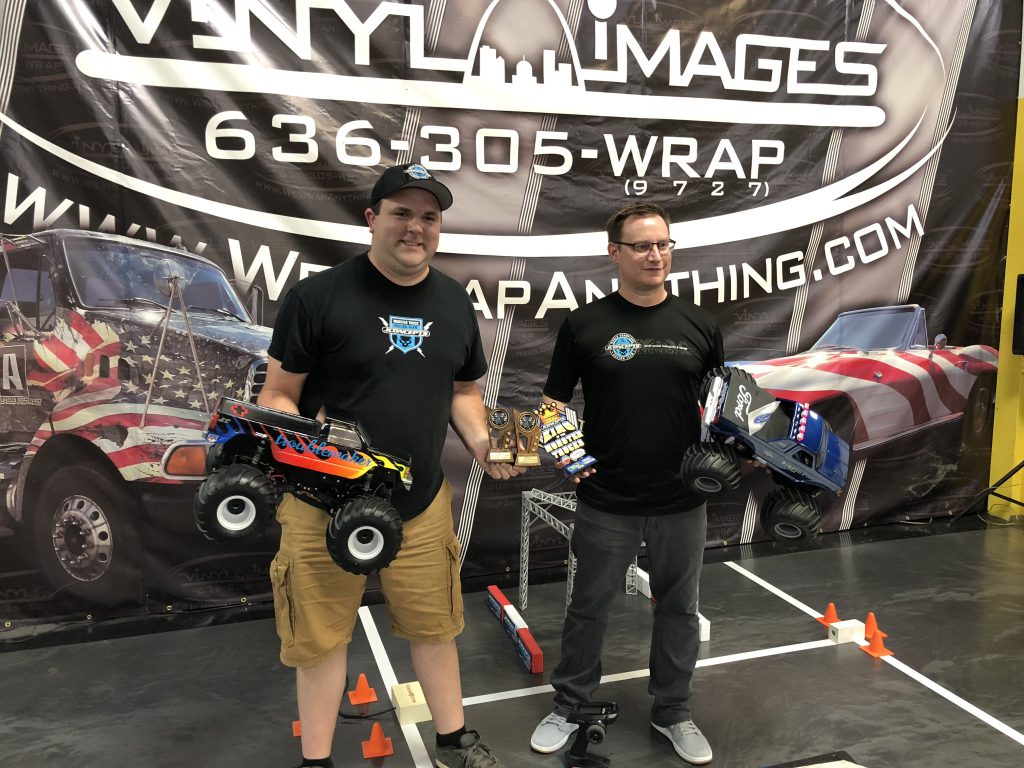 In the finals, I matched up with Matt and he was on a great lap but suffered an infraction giving the win over to BIGFOOT 4 Louisville.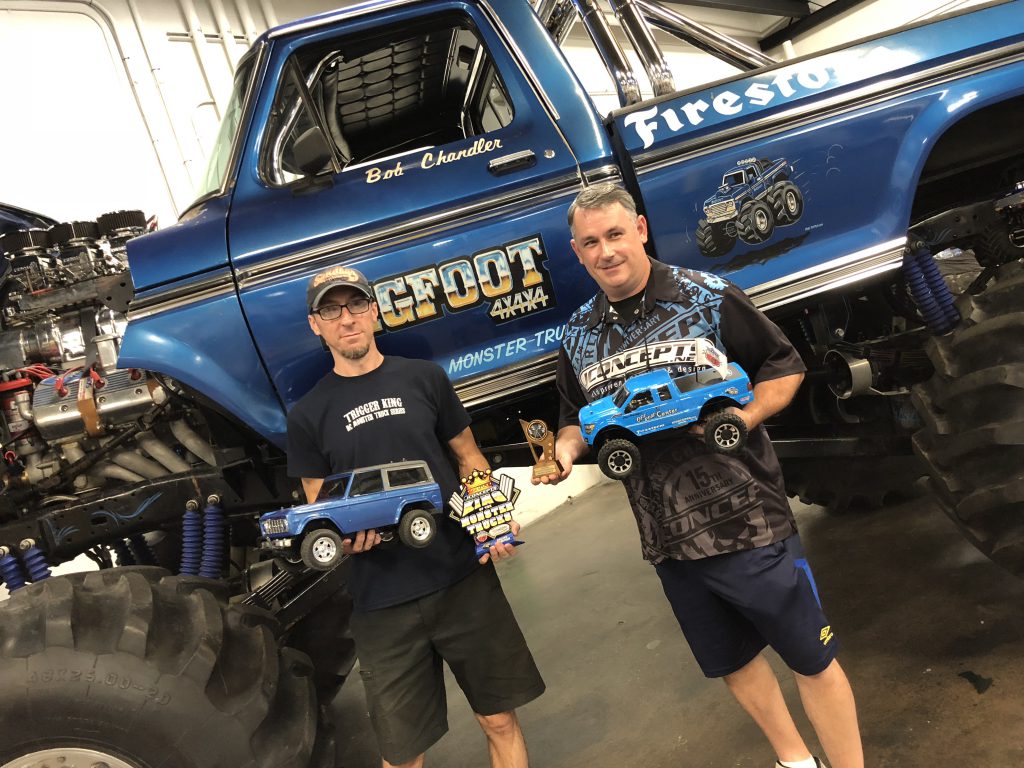 Tuff Truck was neat and a very simple class to compete in. Tamiya CC02 Truck with stock electrical is a great entry level class and handled the track pretty successfully. Bobby C Chandler took a great win with Blue Bronco in the finals over Fred Reep driving the Fast Freddy Off-Road Center F-250.
Mega Truck, a new fresh face class of 2018 was hotly contested. Matt Stoltz had his Lemieux truck on-point in qualifying taking the top spot. Bobby C in Mega Foot and Tad Goads Bigfoot 1 appeared to be front-runners as well. Fred Reep also pulled out the King Sling and battled with the crew. A great matchup in the Semi-Finals had Matt and Bobby C matchup. It was the consistent speed of Matt leading to victory and eventually, his trucks finished an amazing 1-2 in the class.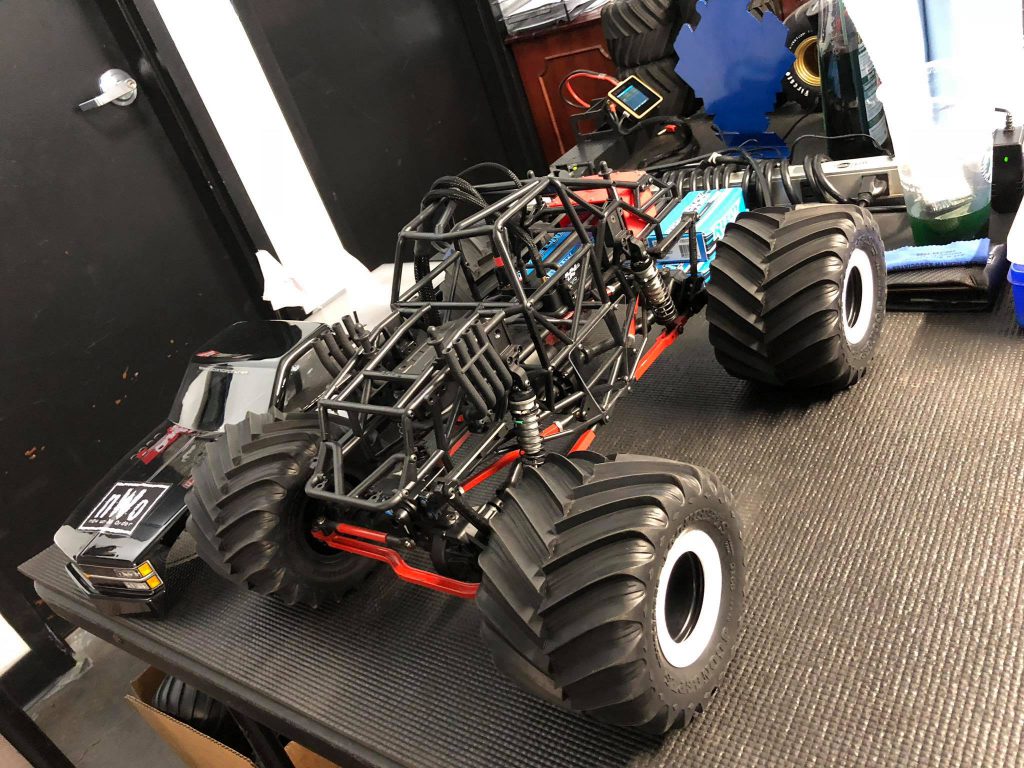 Sport Mod, which is easily one of the best classes in the race was rather simple but fun. The speed of the trucks was about right for the track using the controlled wind of 17×1. The price point of this class along with realism potential makes it desirable. The field of 44 trucks made things exciting and constant. Brandon Scott hit for a money run in qualifying taking the TQ. Matt Stoltz was running strong along with Morris Aschkenas and my nWo had some consistency.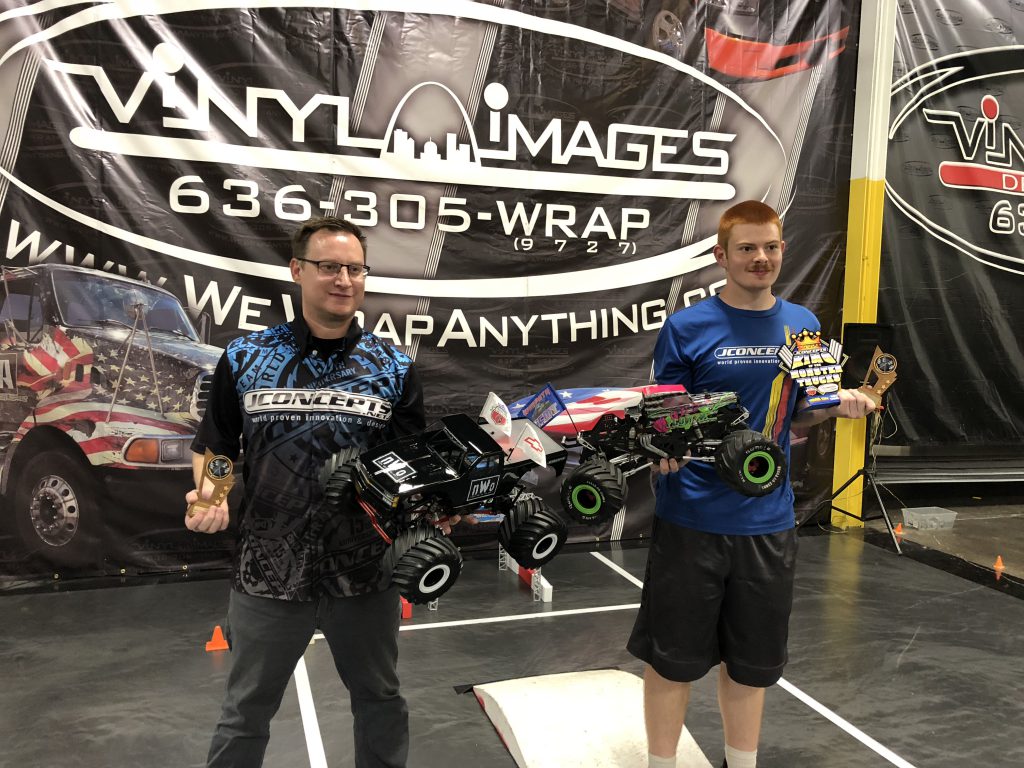 Matt worked his way through the brackets but encountered a setback allowing myself to move on and into the finals. nWo was running consistent but Brandon Scott was on it and put the pressure on. As nWo hit the 180-degree turn at the top of the track the inside tire locked up and caused a bobble or delay in time. The small error allowed Brandon a great win with the Warpath truck with Wild Flower body.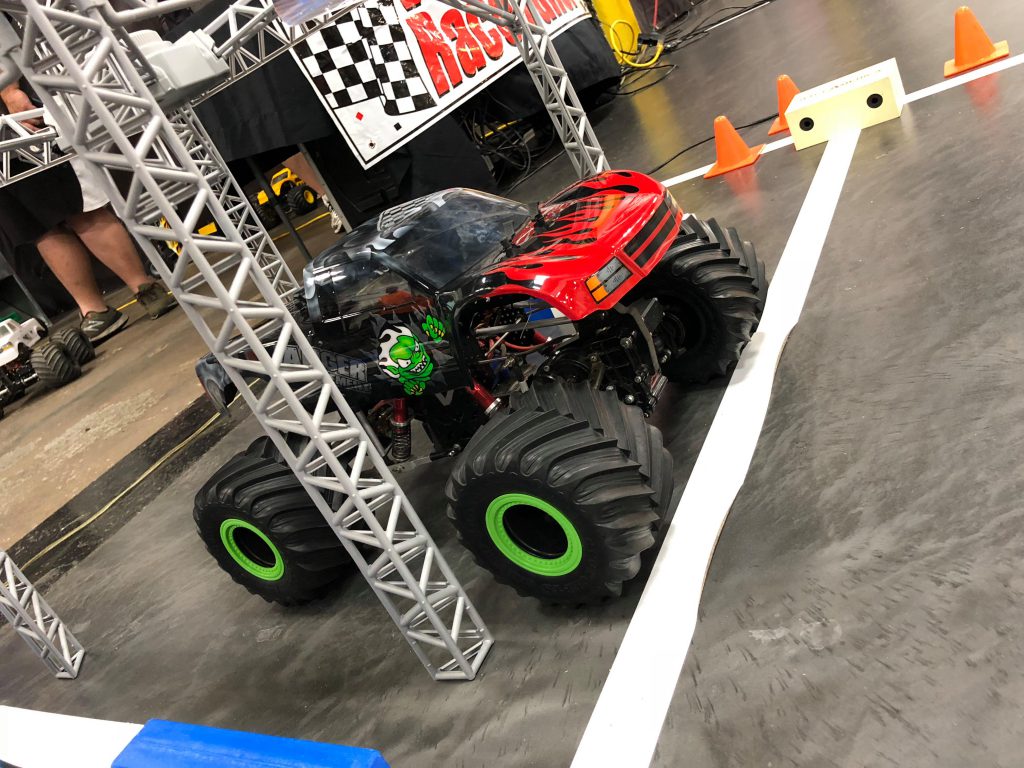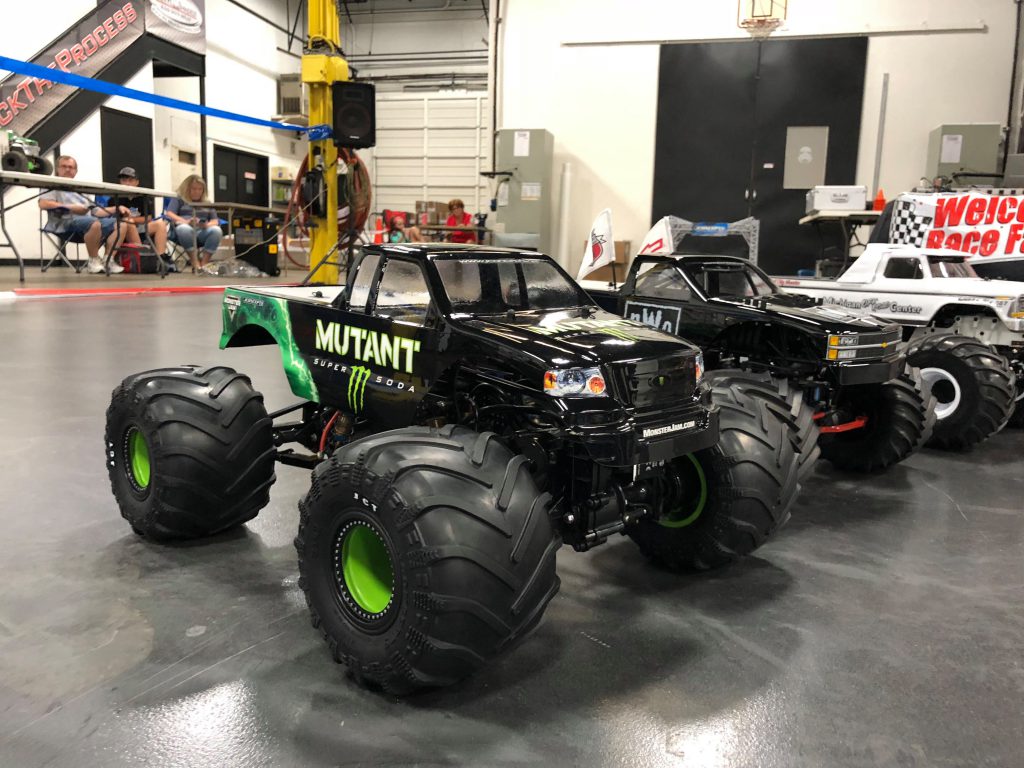 The big boys were up next, the Pro Mods. This was an extremely difficult class for me as the power of the trucks created some handling problems on the rather small and slick surface. I entered 3 trucks but after qualifying, I faced off against my own truck.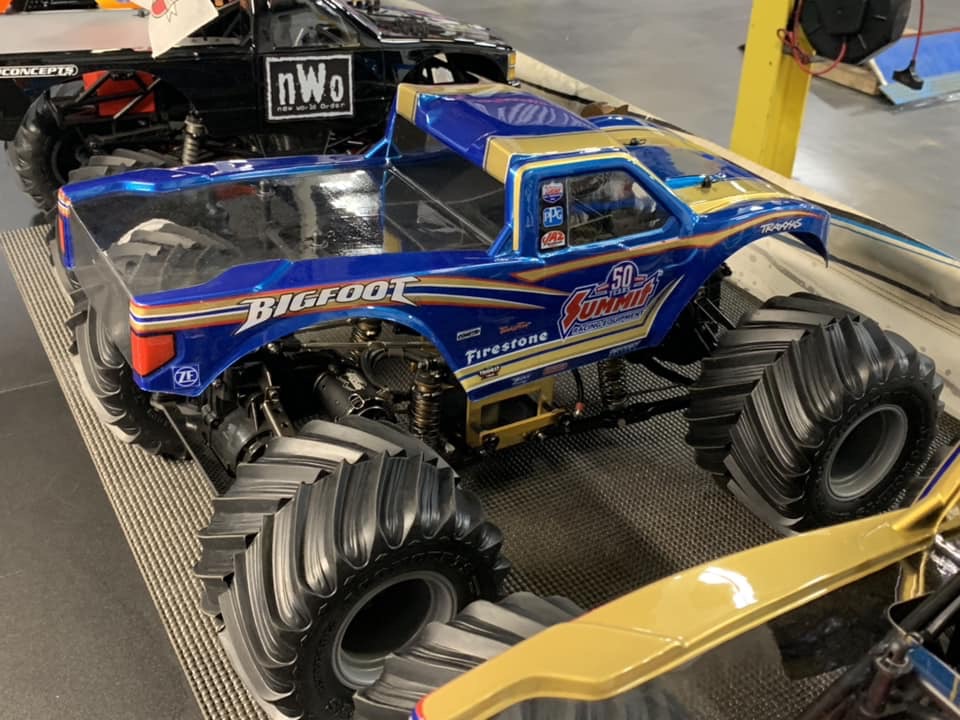 I thrashed in the pits, made some changes to the Cube as suggested by Matt and Morris. I made a bye-run and the truck felt much better. I made a choice to move the Bigfoot 21 Cube based truck on to the next round.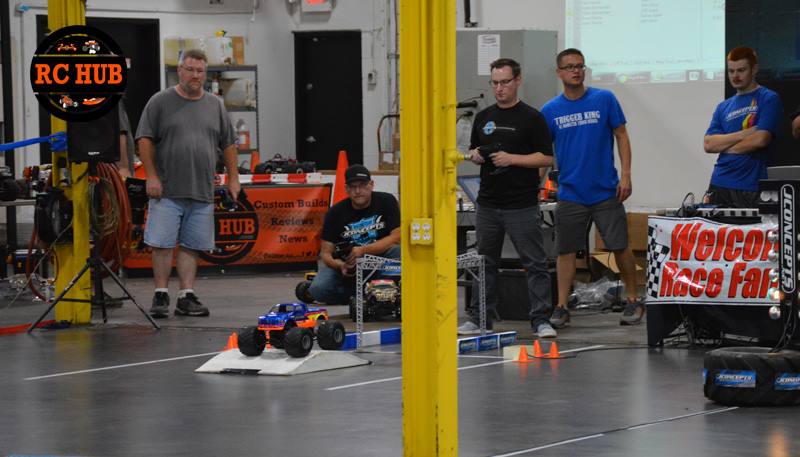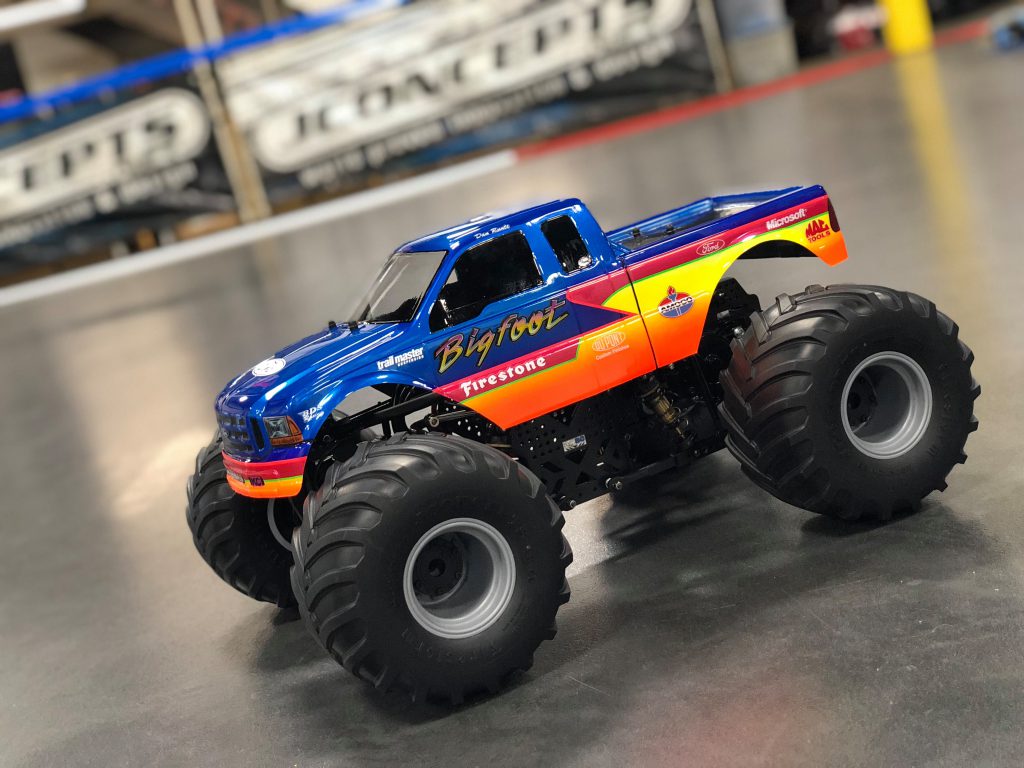 The Bigfoot Plane Jump Truck was pretty and with the new 2005 Ford F-250 body, it felt nice not to get any scratches on it. But, now I was down to only 2 trucks in a packed field of 50+ trucks.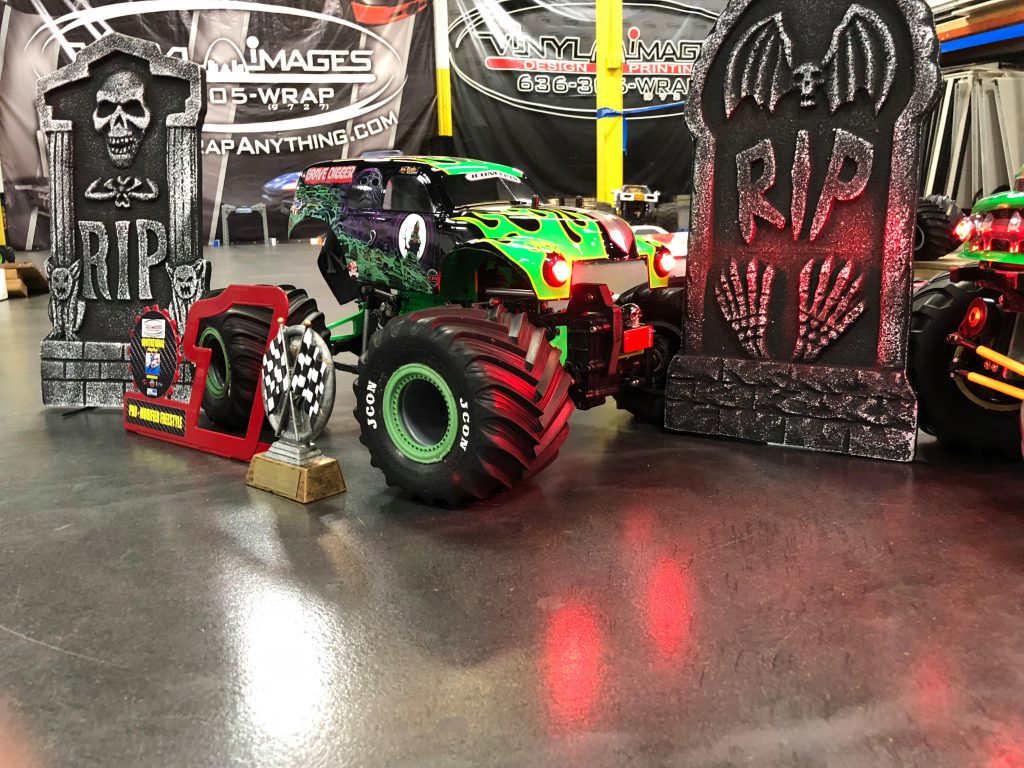 Matt Stoltz was on a tear and winning each race and moving his trucks through the brackets. Josh Rhodes, Bobby C and a host of others were also making it through narrowing the field down to the Quarter Finals.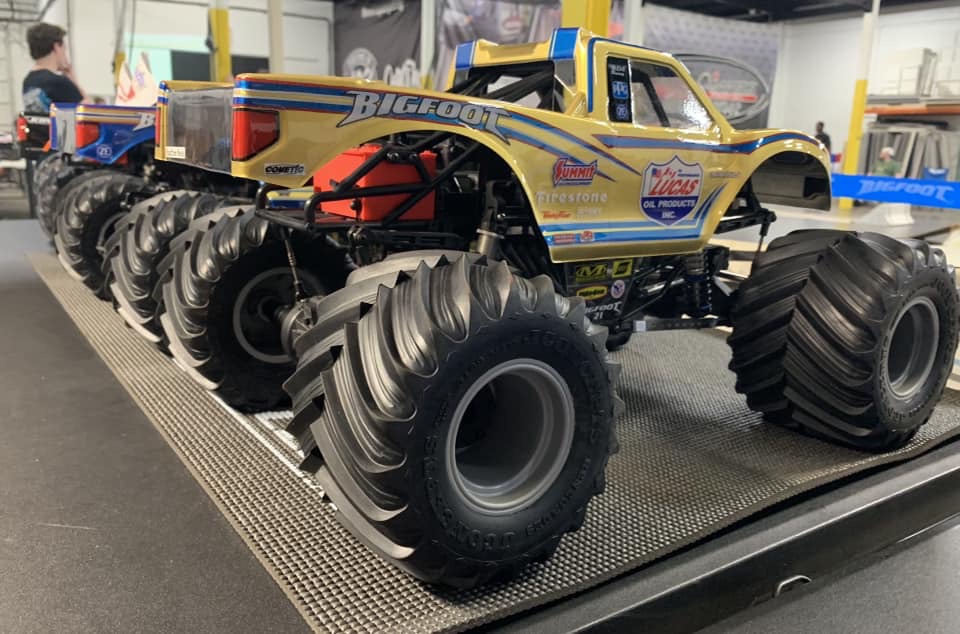 My Bigfoot 18 Lucas Oil Gold Truck was my most consistent earning a spot in the Semi-Finals. Bigfoot 21 got eliminated by Matt who took Super Man and Bigfoot 19 to the Semi-Finals.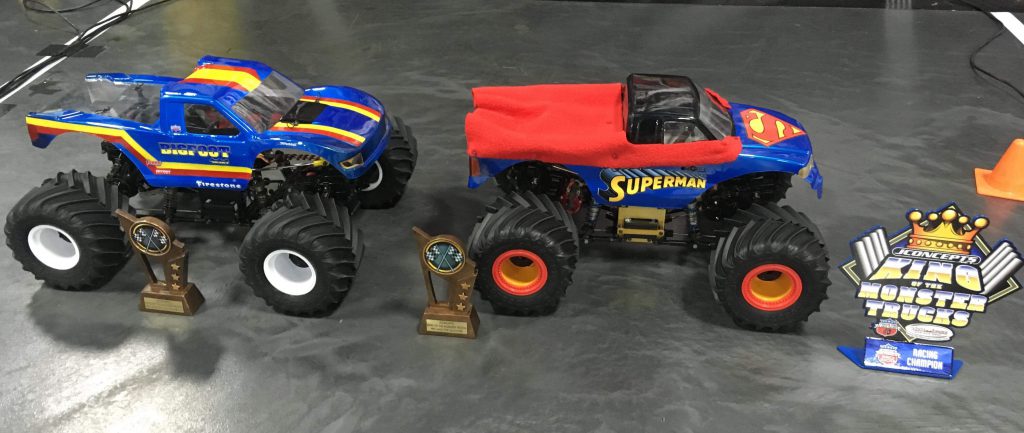 4 drivers left. Myself, Matt with 2 trucks and Mo were all poised to battle. Matt's trucks were split in the bracket so he was in both Semi-Finals. First, he eliminated my Bigfoot 18 Lucas with a great run and it was actually a fairly close race and I turned my best time of the event. However, Matt was flying and showing how it was done.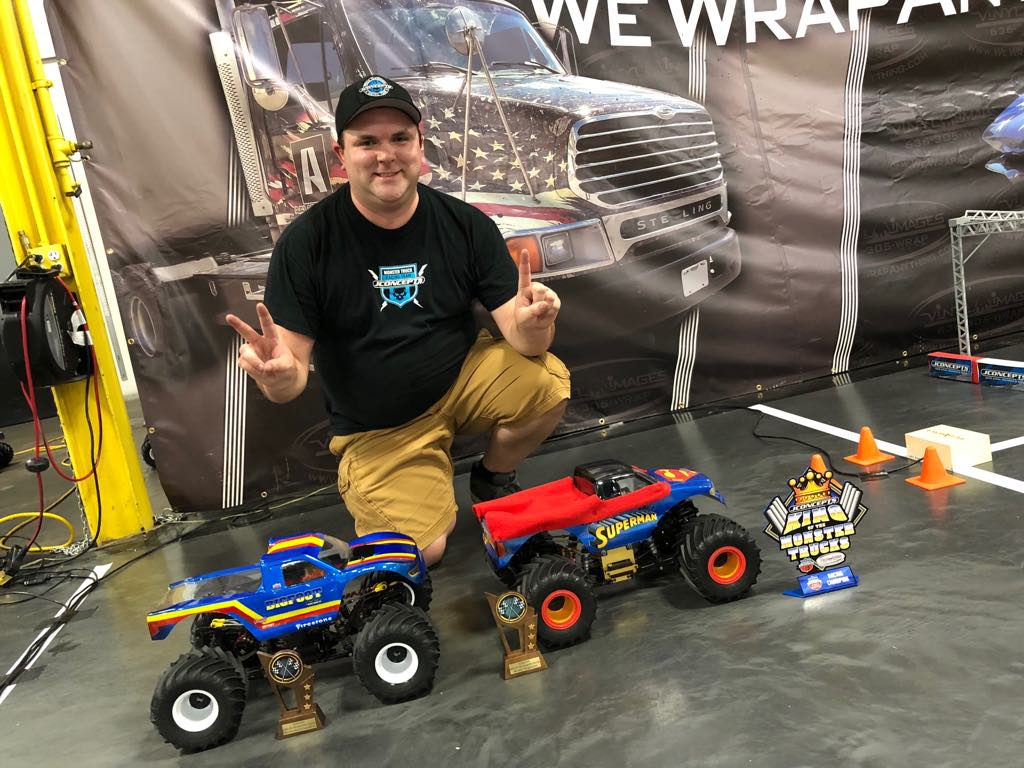 In the other Semi-Final, Matt took out his buddy Mo for another truck in the Finals. When you get both trucks in the finals, the win is yours and all that is necessary is to take the winning truck of your choice and perform a winning pass on your own. Matt put down an amazing run to seal the victory for the Superman truck and pull a 2nd with Bigfoot 19.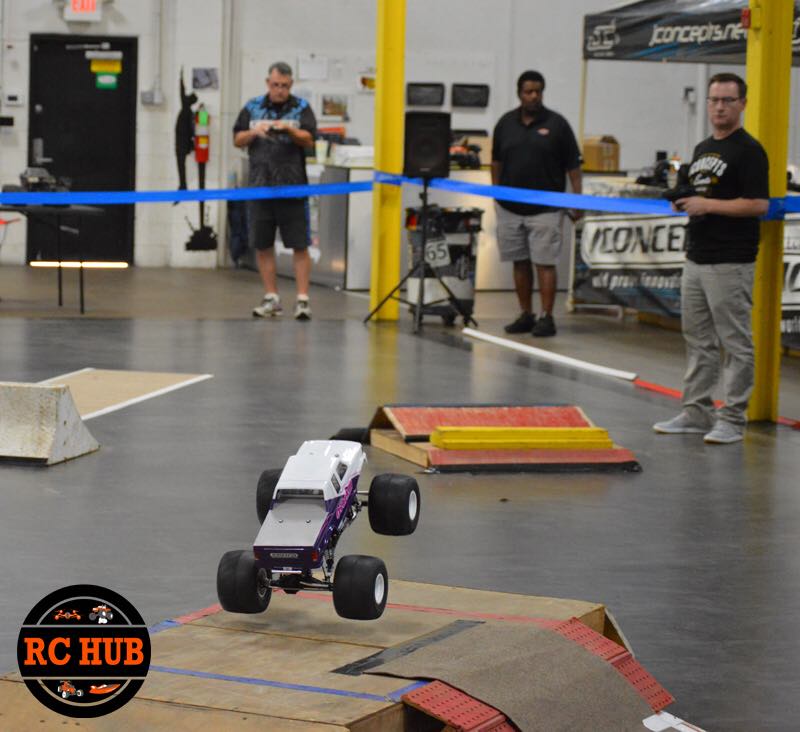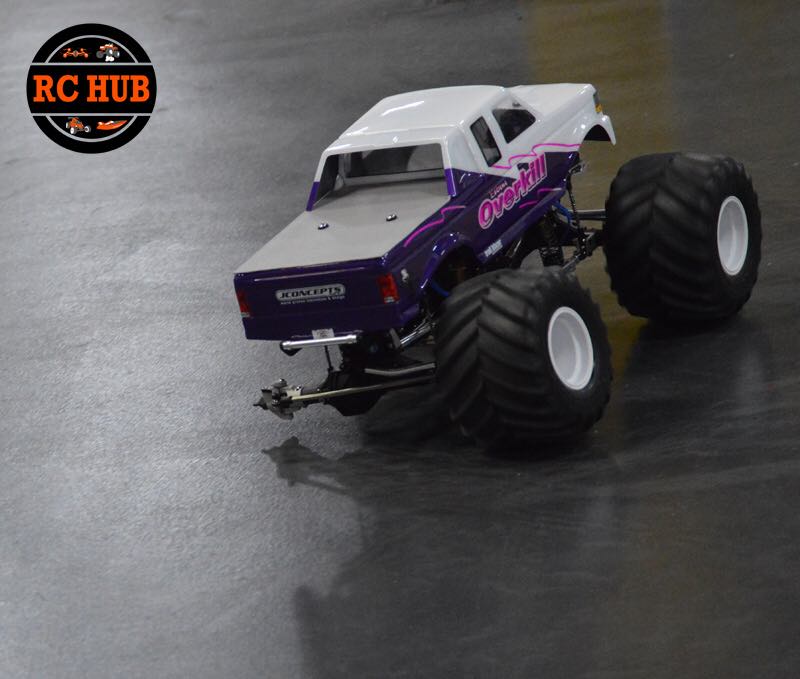 For freestyle, everyone was back to square one. The field was re-stacked and everyone in Sport Mod and Pro Mod took a shot at the clock. I chose to break out my Warpath chassis truck and took a few good hits around the track. I hit for big-time air and a few fun smaller jumps but my run was ended shortly after a mechanical error on my part.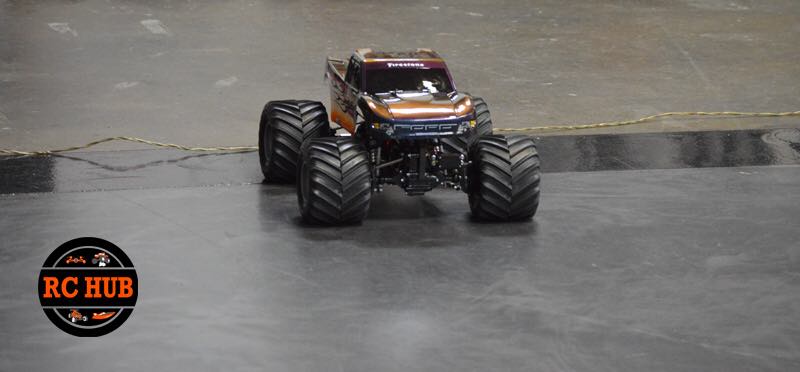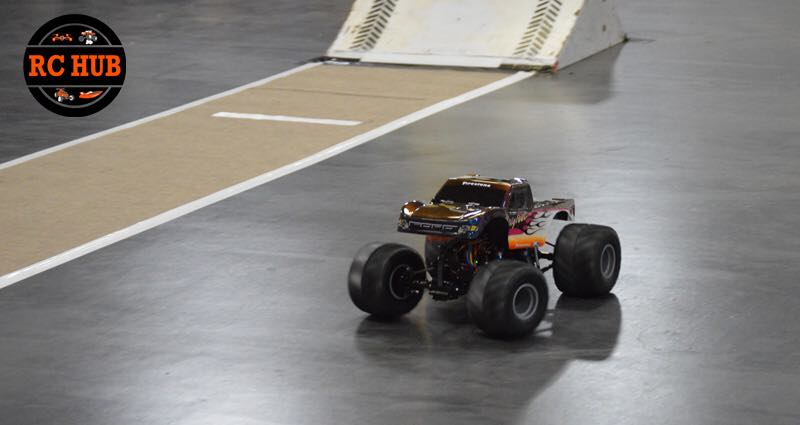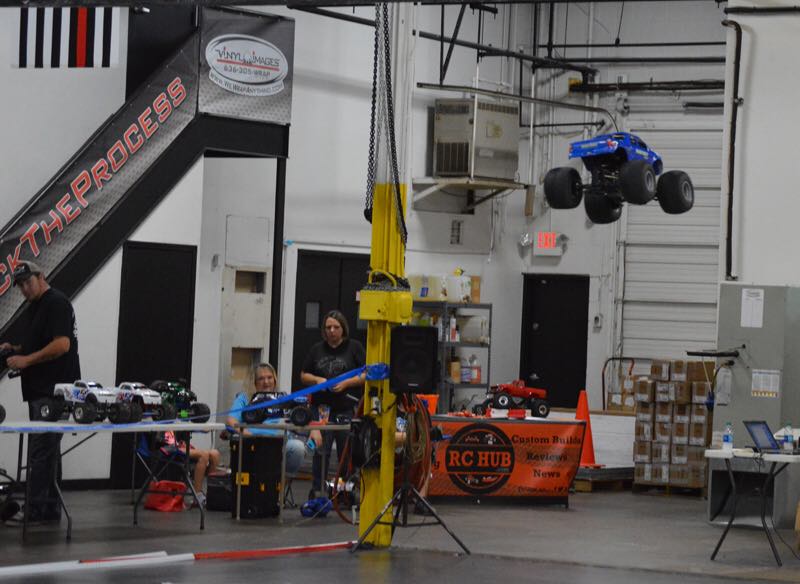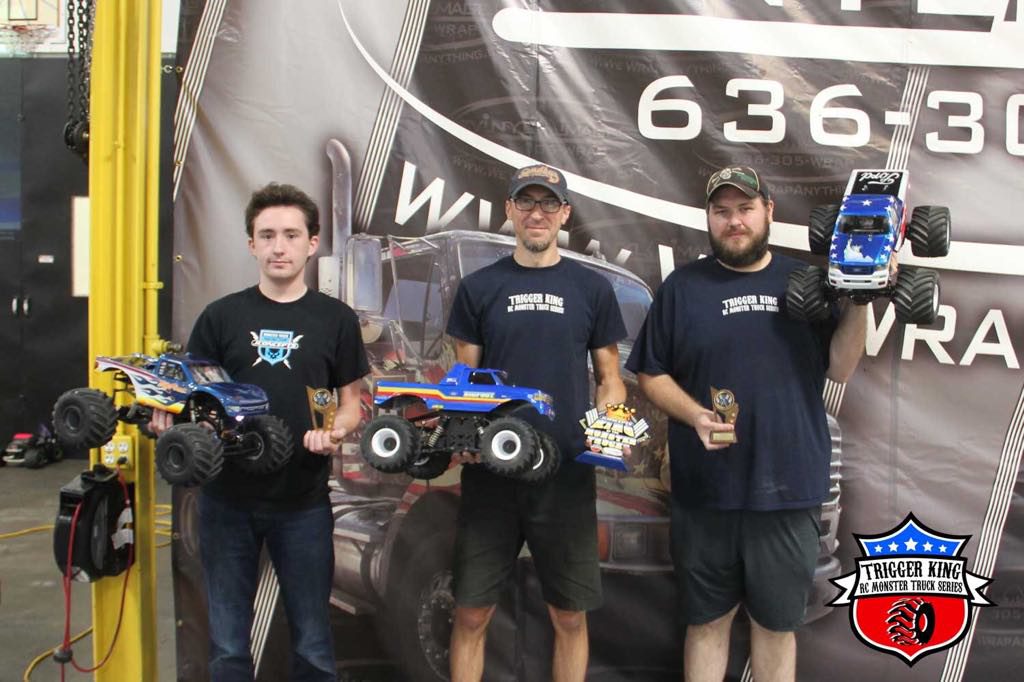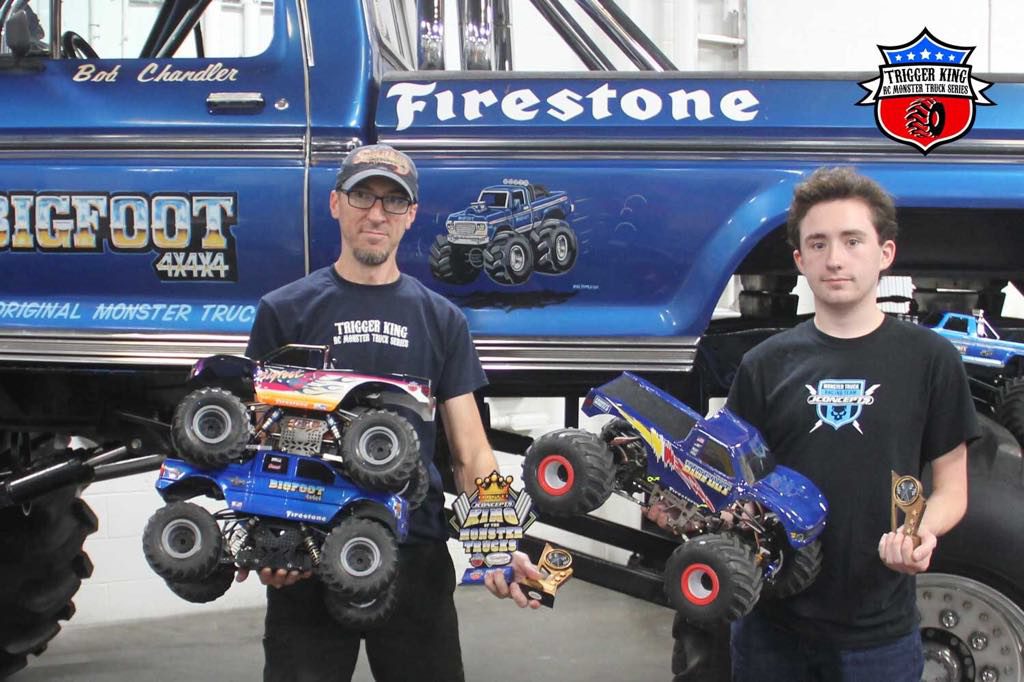 Sport Mods got a 60-second clock and Pro Mods got a 90-second clock to fill. You could see the experienced drivers right away and Bobby C with his Chaos trucks looked superior. Run after run, Bobby made clean and full passes in Sport Mod and then followed up with the same in Pro. Big air time belonged to the Bigfoot Super Duty and Chromeillusion on a way to a 2 class sweep of the competition.
To finish off the event, Fast "Freestyle" Fred clicked on the music, broke out the JConcepts converted Slash 4×4 and brought the house down with a special Freestyle Encore performance. Great job by Fred showing off the speed, agility and durability of the platform.
To say the event was a blast would be an understatement. Thanks to Trigger King RC, Vinyl Graphics and Images, Fred Reep and the entire helping cast and crew on a memorable event. See everyone next year!
Photo credits – JConcepts Inc, Trigger King RC, RC Hub, Matt Stoltz and Tad Goad.