JS Cup in Malaysia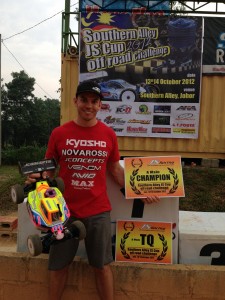 Ben Panic TQ's and Wins the JS Cup in Malaysia with JConcepts.
Event: JS Cup
Track: Southern Alley Raceway
Location: Johor Bahru, Malaysia
Date: 14th October 2012
The JS Cup was run this weekend in Malaysia with 90 drivers entering for the event. Qualifying kicked off at 8 am and round one went to Felix Tan round two would be a fight between Felix and JConcepts Driver Ben Panic as they both managed to complete 10 laps. In round 3 Ben locked TQ up with a solid run 4 seconds ahead of Felix. Kelvin Yong would put in a few solid runs for third overall.

Lower mains got underway just after lunchtime with the top 5 bumping up. In semi A Ben took the win from Daniel Law and Kelvin. Semi B would see Felix close out the win from David Lim and David Aw.
The 60-minute main got underway and Ben led from the front with Felix and David chasing. The guys were tearing up the track and all went to plan until David flamed out at the 9-minute mark. This gave Ben and Felix some breathing room and they proceeded to race and change the lead over the next 4 rounds of pit stops. Both drivers were pushing hard and clearly the race was between these two for the win.
Slightly different fuel strategies had the lead change at each pit stop, with 15 minutes to go Ben managed to string together some quick laps and was on Felix's bumper, both drivers raced wheel to wheel for the next 5 laps with Ben waiting and looking for a way past. Felix, super composed had his car positioned perfectly at each corner and did not open the door. Ben got by Felix at the next fuel stop and then subsequently Felix got by Ben when he pitted. So with 8 minutes to go these two were less than a second apart. Ben dipped up the inside of Felix and managed to pull a two second gap, traffic was playing a part for both drivers as they lapped the field. With a few minutes left on the clock Felix pushed as hard as he could to catch Ben but it would not be with the Kyosho driver putting in consistent laps in the closing minutes to take home the win.
Ben Used The Following JConcepts Products:
#3048-02 Hybrids Green Compound
#3304 Inverse Wheels
#0229 Finnisher Body Kyosho MP9
#2073 JConcepts Wheel Nuts Blue