JR Mitch Joins Team Losi Racing
Long time JConcepts Team Driver shows off his new TLR rides equipped with the latest from JConcepts for these popular vehicles.
The 22 buggy from TLR racing has been an immediate hit on and off the race track and JConcepts is quick to release direct fit wheels specifically for this new buggy. JConcepts replacement wheels are designed in the popular dish style and available in bright white and fluorescent yellow. When the TLR 22 strikes, JConcepts delivers.

Designed with aspects learned from the Punisher line of bodies, the Finnisher provides an even more aggressive look with included details which remain crucial to performance. The TLR 22 Finnisher body is a drop fit for a popular and National Championship winning TLR 22 buggy.
The TLR 22-T Finnisher body bears a stunning look with its massive front headlight and grill coverage. The side body panels have a strong and chiseled look, including a recessed area in the center that extends forward, ending near the front wheel well. The front hood has been simplified removing unwanted changes in height to neutralize the at-speed handling. The chassis side-guard to body fit has been tightened up by way of a bendable flap. Where applicable, the flap touches off against the side-guard which helps eliminate large empty voids that contribute to mid-flight directional changes. The rear of the cab has a featured 3 rail design which improves body durability and appearance. A small raised portion in the bed forms an area which can be trimmed to allow air to escape near the middle of the bed through its V-shaped design.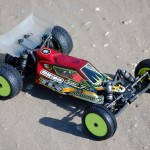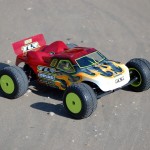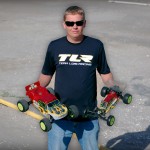 JR Mitch joins Team Losi Racing
Report From losiracing.blogspot.com
TLR announces the signing of JR Mitch to the TLR team, Spektrum, Orion, and Horizon Hobby. With JR's lively attitude on and off the track and long history of racing experience makes JR a perfect fit at TLR. JR will be a key driver in the Florida area along with the east coast racing scene. JR will attend both electric and nitro races for TLR throughout the year with his first big event being the upcoming Neo Buggy Race in England. JR will also attend the 1/8th Off-Road World Championship in Argentina later this year. TLR is very excited to have JR on board with the team this year.