JP Tirronen and JConcepts take round 6 of Florida State Off-Road series
Event: Florida State off-road Series round # 6
Date: April 2-3 , 2011
Location: Mills Pond – Ft. Lauderdale, FL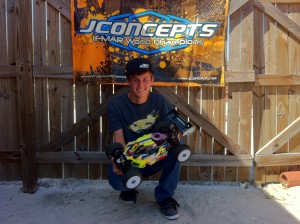 JP Tirronen and JConcepts take round 6 of Florida State Off-Road series.
Round 6 of the FSORS series made the way to Mills Pond in Ft. Lauderdale, FL for another stop on the popular Florida series. JP Tirronen put his stamp on the 1/8th buggy pro class in qualifying by earning the TQ in rounds 2 and 3, taking the number 1 position leading into the mains.

JP was having a magical weekend and from the tone JP put it on the rest of the drivers. Racing out to a large lead, JP kept consistent pressure on the field and maintained his hot hand on the track. JP's dad was in the pits making the proper pit strategy moves, performing great pit stops while JP increased the lead. Finishing with over a 2-lap lead, JP cruised in for his first win on the 2011 series. Joining JP in the A-main were drivers Luis Perez (3rd), Mike Mennella (4th), Nick Angelidas (9th) and Jader Lopez (11th).
JPs Serpent was decked out with JConcepts all weekend long. Using an assortment of Bar Codes and Sevens to Top Qualify then switching to the trusty Crossbows mounted on Mono wheels for the main, JConcepts tires were hooked-up all weekend long on the amazing Mills Pond track surface. Topping off the winning ride was a Punisher body and Illuzion HD rear wing.
A huge congratulations goes out to Bart Collins and the Broward County R/C facility on another outstanding track, surface and preparation. Another thank you goes out to the entire FSORS crew for an outstanding series.