Jörn Neumann Wins 3rd Euro Championship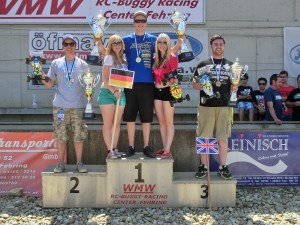 Jörn Neumann wins his third Euro Championship and holds onto his 4WD 10th off-road European Championship title. After taking a perfect score in qualifying, Jörn went on to win the opening two legs of the A main for the overall win at this years event in Austria.
Event: 2012 EFRA 10th Electric Off Road European Championships.
Dates: July 9-14, 2012
Venue: OFMAV Oesterreichischer Funk Modell Auto – Verband, Austria
The 10th electric Euros were held in Fehring, Austria, July 9-14, 2012. Practice began on Monday the 9th and things were going well for JConcepts Team Driver Jörn Neumann. The track did start to break up a bit and became real bumpy in some parts. That evening there was a little rain which did end up helping the track. The track crew was able to fix everything and the track was now perfect and ready for qualifying.

2WD qualifying didn't start that well for Jörn. His first run ended with a DNF but things did get better and Jörn ended up qualifying 4th for the Finals. Jörn had a close battle with the front drivers and after some bad luck with the wind on the last lap he finished 2nd in the 2nd A-Main. In the 3rd main Jörn tried everything but a few small mistakes cost a podium finish. Jörn finished 4th overall with his JConcepts equipped Durango.
For 4WD it was a whole new game. The weather changed the schedule to all practice on Thursday and qualifying on Friday, with all the finals on Saturday morning. The weather stayed great for 4 out of 5 qualifying rounds and all 3 A-Mains. Jörn was able to TQ 3 out of 4 Rounds, so he was the overall TQ. In the finals Jörns JConcepts equipped Durango flew around the track to win A1 and A2. A dominating performance, to win his 3rd European Championship title!

Video recap courtesy of RC Racing TV
Jörn used following JConcepts products:
#0228 – Finnisher Body DEX210
#0233 – Finnisher Body DEX410
#0124 – Hi Clearance Wing DEX210, DEX410
#3004-02 – JConcepts Groovy Tires – Green Compound
#2133 – JConcepts Pit Mat
#2012M – JConcepts Matte Car Stand
#2102 – JConcepts Striker Pit Board