Jörn Neumann Sweeps EOS Round 4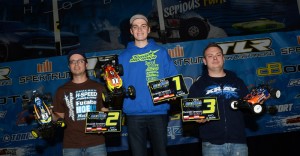 Neumann completes perfect EOS season.
Now in its 2nd year, the TLR/Spektrum Euro Off-road Series presented by Horizon Hobby kicked off in late October 2012 at the HOBBY Model Making and Games Exhibition in Poznan, Poland. Moving to Langenfeld, Germany for round 2 in early January 2013. Round 3 took place in Austria in mid March before moving back to Dortmund, Germany for the season finale at the Intermodellbau show April 12-14th where more than 85,000 visitors attend one of the biggest Hobby Shows in Europe.

On Friday there were 3 Rounds of controlled practice and 1 Round of qualifying. Durango/JConcepts team driver Jörn Neumann set the pace in all three classes 2WD, 4WD and 4×4 SCT. For Saturday, there were 3 more Rounds of qualifying and the lower finals. Jörn was able to TQ another 2 Rounds in each class to get the overall TQ positions in all 3 classes.
The Finals started first with all 3 2WD finals in the morning and 4WD and 4×4 SCT later in the afternoon. Durango/JConcepts team driver Jörn Neumann was able to win A1 and A2 in each class to sweep the final EOS Round and win all 3 classes at the overall EOS standings.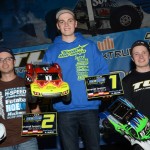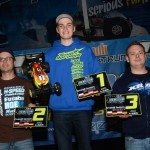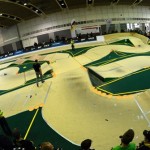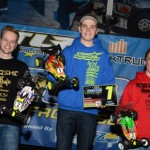 JConcepts products used during EOS season:
#0226 – Finnisher body DEX210
#0124 – Illuzion 6.5 wing
#0233 – Finnisher body DEX410 and wing
#0222 – Hi-Flow SCT body
#3322 – Rulux 12mm wheels black
#2226 – Fin titanium turnbuckles
#2133 – JC pit mat
#2102 – Striker Set-up board
2012/13 Final Championship Standings
4wd Buggy Class
1. Neumann Jörn – 468pts
2. Hönigl Hupo – 457pts
3. Bayer Martin – 455pts
4. Orlowski Michal – 448pts
5. Novotny Kája – 431pts
6. Nicolaisen Joakim – 425pts
7. Mára Jirí – 424pts
8. Scholz Oliver – 423pts
9. Hansen Martin – 417pts
10.Maquel Tom – 409pts
2wd Buggy Class
1. Neumann Jörn – 468pts
2. Hönigl Hupo – 454pts
3. Orlowski Michal – 446pts
4. Scholz Oliver – 437pts
5. Levin Oskar – 434pts
6. Ausfelt Otto – 432pts
7. Novotny Kája – 418pts
8. Lübke Marcus – 418pts
9. Maquel Tom – 414pts
10.Højfeldt Torben – 410pts
4wd SC Truck Class
1. Neumann Jörn – 465pts
2. Hönigl Hupo – 461pts
3. Levin Oskar – 457pts
4. Prümper Björn – 451pts
5. Novotny Kája – 449pts
2wd SC Truck Class
1. Bujara Tom – 465pts
2. Strenge Gerd – 459pts
3. Beck Eberhard – 454pts
4. Levetzow Rene – 448pts
5. Schilling Marc – 301pts