Jörn Neumann Dominates JBRL Round 1
JBRL Electric Series Round 1 at Hot Rod Hobbies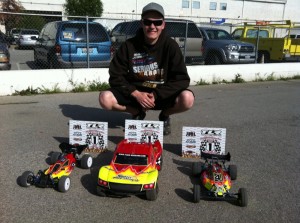 JConcepts Team Driver Jörn Neumann showed last weekend that he's ready for the upcoming Cactus Classic. The young German driver started his US race tour at the first round of the JBRL Series at Hot Rod Hobbies. Jörn used JConcepts Bar Codes every time he hit the track with his Team Durango rides. With warm weather and sunshine beaming down on the track, Jörn decided on Bar Codes (Orange) to dominate qualifying. With over 280 entries the track quickly grooved up and started producing very fast lap times. At the end of qualifying Jörn was able to capture the TQ spot in both Modified 4wd buggy, and Modified 4wd SC. In the ultra competitive Modified 2wd Buggy, Jörn would end up second on the grid sandwiched between TLR driver Frank Root and Mike Truhe. With so many entries in the one-day event, the Modified class wouldn't hit the track again for their mains until late in the night.
With temperatures dropping into the forties, Jörn switched to the JConcepts softer Blue compound to gain back some of the much-needed traction. Under the lights, Jörn put on a show by taking the win in all three classes. Jörn stated that he was extremely impressed with the Bar Codes, and couldn't wait for the Cactus Classic.
JConcepts young star driver Zack Rodgers also showed that he is ready to compete at next weeks Cactus classic, with a strong third place finish in Modified 4wd Buggy and a fourth place finish in 2wd Buggy.
Modified 2wd Buggy
1st Jörn Neumann Bar Codes V1
2nd Jonny Wachter
3rd Brian Mcduffie
Modified 4wd Buggy
1st Jörn Neumann Bar Codes V1
2nd Hupo Honigl
3rd Zack Rodgers
Pro 4wd Short Course
1st Jörn Neumann Bar Codes
2nd Mike Truhe
3rd Hupo Honigl