JConcepts Winter Indoor Nationals – Observations… by John Piant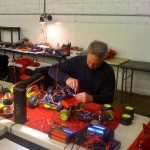 The "Show Me State" of Missouri, was the location of the JConcepts Winter Indoor Nationals. Smac Trac, located in St. Charles, twenty-five miles west of the Gateway Arch, is in it's fourth year of operation, and is quickly getting, or already has, the reputation of a great facility. With a strong local group of racers, turnouts for weekly races over 100+. Some of the fastest guys in the region, call this home. Challenging, and technical track layouts, that are changed frequently, are just part of the draw, and a top notch race program. This made the perfect setting for the first race in 2010 for JConcepts Events.
But unlike a race report, this is going to be random observations. I am not claiming to have seen it, heard it, or done it all, but just, observed.
With any event, most of the faster racers from the region are going to come. The only problem might be the weather. With the forecast of snow, no one knows for sure. But it worked out. There was only a few inches. Not the five they predicted. I was looking forward to taking Jason out, and giving him driving lessons. Rally drift anyone?
Another problem is, what if Jared Tebo lives in your region? Here is your race report: Jared Tebo TQ's and wins all Mod classes. The End.
First thing Friday, Jason up on the stand, looking at the layout. He says, "I sometimes forget how small of an area, you can make a really cool 1/10th scale track in."
First practice session, track builder and SMAC man Scott McDonald yells up to the driver stand, "You guys act like this is your first time on the track".
Big Hi-Five to who ever came up with the menu for Smac Trac Snacs, too funny.
Local fast guy, Justin Driemeier, who made all of the Mod A mains. Cherry picking in the Stock Buggy class, but, with a twist. He was running a loaner, from Rod Rippee's Vintage RC Rental Collection. A 1991 Associated RC10, Team car. Putting it number two in the Stock Buggy A. Maybe if he had an Illuzion body, instead of the stock shoe box. He could have TQed.
Tebo watching one of the vintage buggy qualifiers, said, " Should make everyone really wonder about their set up."
Four Wheel qualifier. After letting Jason past me, I tried my best to run a few laps with him. He had to "check up," on the double in the middle of the track, but I was already committed. As I jumped my JConcepts BJ4, over his B44. I thought "How weird that I am jumping over the guy that designed this car, with his car" How can your mind think that, mid flight, in about .07 of a second?
Tebo during the warm up for his Truck main, "This track is so fun to drive" As he did lap after lap.
Be thankful that you don't have a student in the Festus Missouri School system.
Watching a young kid from Florida, drive a technical indoor track for the first time. You did good Zach.
Scott – You build a great track. But you are the ugliest trophy girl. Ever.
The racing was great. Some very close, down to the wire mains.
This was a great event. Thanks to everyone. Period. JConcepts for doing what you do. Scott, for the track. Smac crew for the well run program. Smac Snacs. And the 191 racers. Same time next year?