JConcepts Wins At 2011 Hobby Haven Off-Road Shootout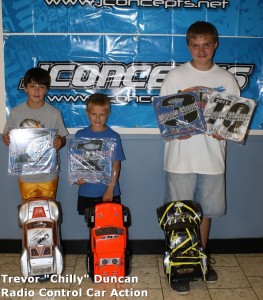 Event: 2011 Hobby Haven Off-Road Shootout
Date: September 2-4, 2011
Location: Urbandale, Iowa
Race Reporter: Trevor "Chilly" Duncan – RC Car Action Magazine
This year's Hobby Haven Shootout set a new attendance record with 225 entries for the three day event. The Shootout was electric only this year with 10 different titles up for grabs. Thanks to the very generous sponsors there was an estimated $6,500 worth of door prizes handed out over the weekend too.
Friday the 2nd was open practice for all classes and last minute registrations. The weather was great and racers from various states started to settle into the pits, and then hit the track for some practice laps.

The weather on Saturday took a turn for the worse as rain continued to fall throughout the day. The Shootout was officially in a rain delay so to pass the time and cheer up the racers the door prizes were raffled off. After a few hours of waiting the rain out the decision was made to pack up and move to the local indoor track, the Electric Pit.
Racers made the 20 minute drive South to Southridge Mall. The Pit is located right next to the mall's food court and provided many creature comforts for the drivers. The track was slightly dried out due to less maintenance performed on it during the summer months. Because of that outside tires like Double Dees and Subcultures in the sticky green compound worked really well on the track which was good since many didn't have indoor specific treads with them. After a brief practice session and re-registration, we ran 2 rounds of qualifying into the night.
On Sunday we ran one more round of qualifying starting at 9am and then stopped briefly to determine the mains. Young driver Alex Vanderbeek used the new JConcepts Hazard SC10 wheels to take the top qualifying position in the 4WD SCT class and qualified 2nd overall in the 2WD Modified SCT class.
Every class but Novice ran AAA mains for 5 minutes each, and 3 out of the 10 classes had to run all three mains to determine the overall winner. There was some exciting racing action in the mains, especially in the modified 4WD short truck class. Overall JConcepts took home wins in 8 of the 10 classes offered that weekend.
RACE RESULTS
DRIVER NAME – CHASSIS / BODY / TIRES
Stock 2WD Buggy
1. Sam Anderson (TQ) – B4.1 / Pro-Line / JConcepts
2. Justin Dewey – B4.1 / JConcepts / JConcepts
3. Jake Ward – B4.1 / AE / JConcepts / JConcepts
Stock 2WD SCT
1. Josh Fenton (TQ) – SC10 / Pro-Line / Pro-Line
2. Bubba Boggs – SC10 / JConcepts / JConcepts
3. Alex Eklund – SC10 / Pro-Line / Pro-Line
Modified Truck
1. Mack Vanderbeek (TQ) – T4.1 / JConcepts / JConcepts
2. David Fast – T4.1 / JConcepts / JConcepts
3. Brian Cox – XXX-T CR / Losi / Losi
Modified 2WD SCT
1. Chris Rus (TQ) – SC10 / JConcepts / JConcepts
2. Alex Vanderbeek – SC10 / JConcepts / JConcepts
3. Josh Fenton – SC10 / Pro-Line / Pro-Line
4WD SCT
1. Lee Conley Jr. – Losi / Pro-Line / AKA
2. Alex Vanderbeek (TQ) – SC10 4X4 / JConcepts / JConcepts
3. Eugene Ryder – Losi / JConcepts / AKA
Modified 2WD Buggy
1. Mack Vanderbeek (TQ) – B4.1 / JConcepts / JConcepts
2. David Fast – B4.1 / JConcepts / JConcepts
3. Chris Rus – B4.1 / JConcepts / JConcepts
Modified 4WD Buggy
1. Mike Sanders – B44.1 / JConcepts / JConcepts
2. Paul Sinclair (TQ) – X-7/ JConcepts / JConcepts
3. Lee Conley Jr. – B44.1 / Pro-Line / Hot Bodies
1/8 Electric Buggy
1. David Fast – RC8Be / JConcepts / JConcepts
2. Jeff Green (TQ) – MBX-6 / VP Pro / VP Pro
3. Sam Anderson MP9e / Kyosho / JConcepts
1/8 Electric Truggy
1. David Fast (TQ) – RC8T / JConcepts / JConcepts
2. Alex Eklund – RC8T / Pro-Line / Pro-Line
3. Eric Norris – MBX-6T / Pro-Line / Pro-Line
Pictures
Photos Courtesy – Trevor "Chilly" Duncan – RC Car Action Magazine
Videos