JConcepts Unchained Event UPDATES!!!
JConcepts is pleased to present an update on the Unchained Monster Truck event scheduled for this weekend in Circleville, Ohio. The Patrick family is setting up a tent for the R/C Monster truck racecourse. The weather forecast is showing a beautiful Saturday with highs of 76 degrees but thanks to the Patrick family, rain or shine, you are on the line.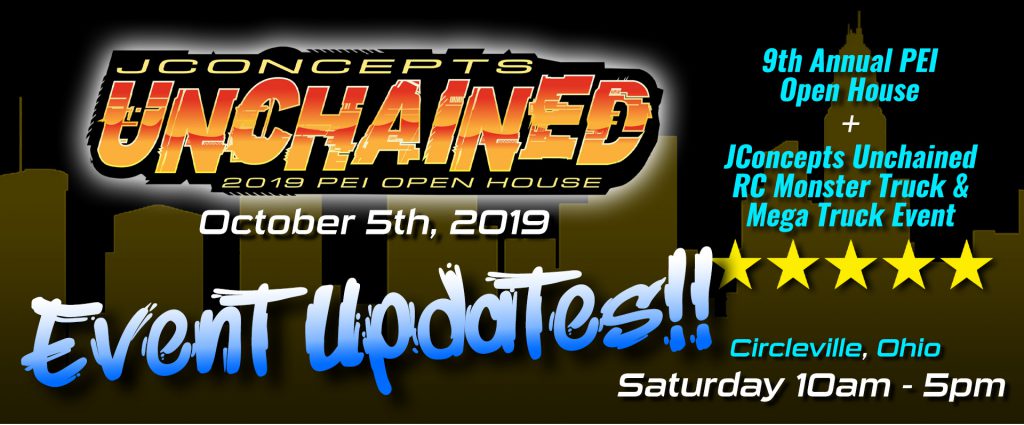 Pit space and tables will be limited. JConcepts will provide eleven- 6' tables for pit area at a first come first served basis. Two competitors per table. (table space only no chair). It is highly recommended that you bring a table and chair for yourself as pit space will run out fast.
There will be limited access to electricity. JConcepts will set up a charging station table so you can set up your charger and top off your batteries. It is highly recommended that you come with your trucks fully charged and ready to go.
We will be testing a new highly competitive qualifying/racing format. Qualifying and racing will be very similar to a 1:1 drag racing format. We will have 2-3 rounds of qualifying depending on-time schedule. Each round, you qualify once in each lane. All qualifying times will be added and averaged to determine the quickest top 16 trucks. The top 16 qualifying trucks make the final 16 truck elimination bracket.
Awards to include –
Limited edition JConcepts Unchained participation dash plaque for all registered trucks.
Top Qualifier for each class: (Pro Modified Monster Truck, Mega Truck, Retro Monster Truck)
First through Third Place for each class: (Pro Modified Monster Truck, Mega Truck, Retro Monster Truck)
Registration –
JConcepts is extending RC Signup pre-registration till 12am Friday