JConcepts Team Update: April Wk 1
Talent can only take you so far. There is no replacement for hard work and motivation and is the true 'X' factor in greatness and success. We're always delighted to get feedback from the team because it shows us their weakly performance and also a good way to measure their motivation and work ethic. Thanks to the guys and gals who put in a lot of time as their progress is definitely showing.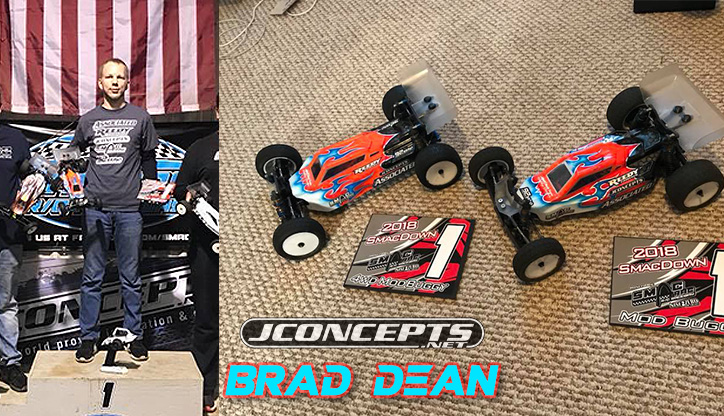 There aren't many racers out there that can match Brad Dean's work ethic. He hits the track and he hits it hard and the results definitely show. Attending SmacTrac's 11th Annual Smacdown race, Brad set the pace by TQ'ing both 2wd and 4wd Modified classes and took home the double wins. It seems as if Brad has found his winning combo in the JConcepts gold compound Dirt Webs providing the traction and the F2 bodies for styling and feel. Winner Winner!!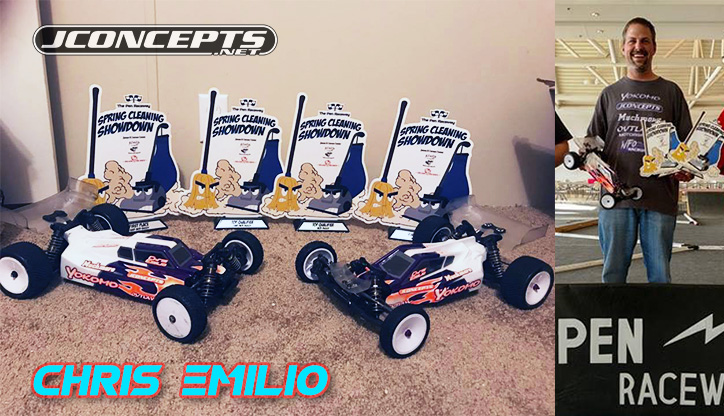 Finding the speed with JConcepts' Swaggers and Pin Downs last week was team driver, Chris Emilio, as he raced the Spring Cleaning Showdown in St. Clairsville, Ohio hosted by The Pen Raceway. Chris was able to walk away with the TQ and the double win in 2wd and 4wd Modified capping off a killer sweep weekend. S1 styling on the 4wd and P2 styling on the 2wd….what a combo!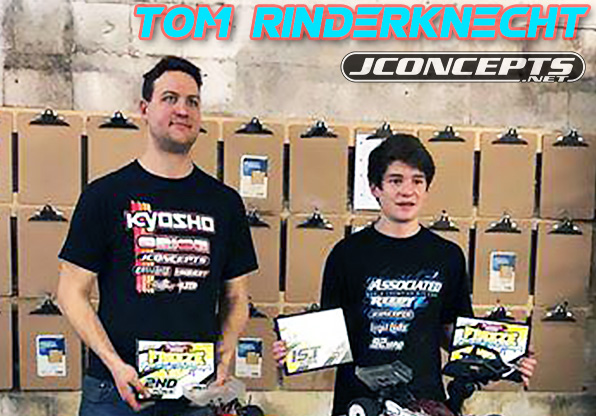 Tom Rinderknecht is no stranger to speed and the winner circle. This talented Iowa native crushes it every time he hits the track and last week Tom raced the Fastlane Winter Freeze indoor series and took home both the 2wd and 4wd TQ and wins and wrapped up an awesome weekend. The JConcepts gold Octagons and Dirt Webs provided Tom the grip he needed to work his way to the top of the box. Well done!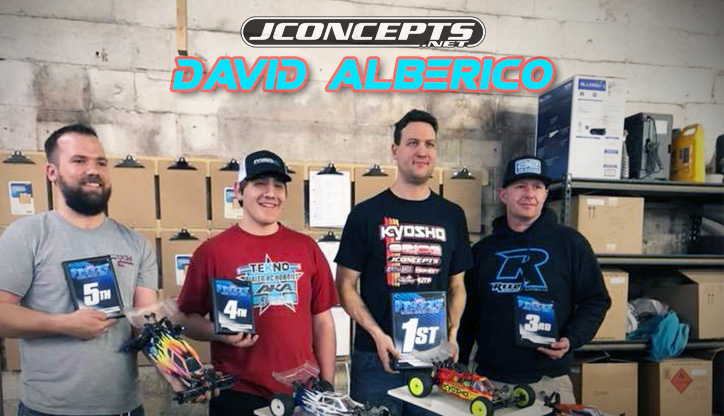 While Tom took home the weekend win, JConcepts teammate David Alberico, took home the Fastlane Winter Freeze indoor series titles in both 2wd and 4wd Modified using JConcepts. If you can take home the 1st place trophy in a tough points series race filled with fast drivers, you're doing something right! Congratulations David!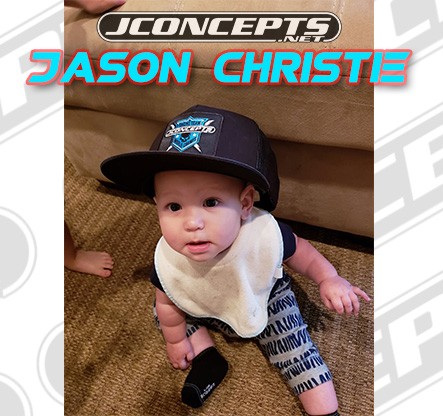 Proper rest and time away from racing can also be good. A break can keep you fresh and might just be the thing you need to have all the practice sink in. While on vacation with his family and friends, Jason Christie was still winning with JConcepts! Check out this cuttie decked out with JC!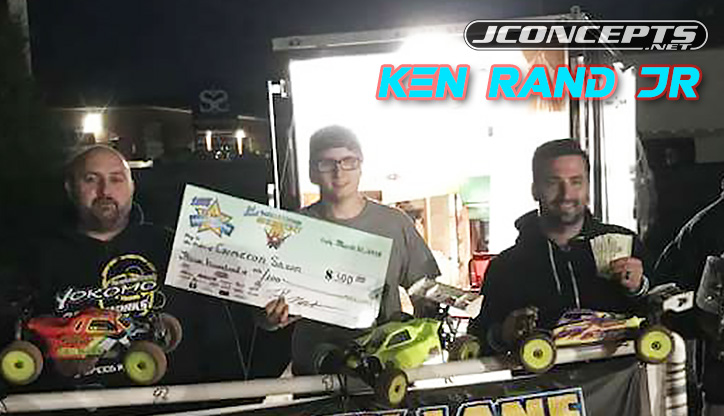 It never hurts to put some money back in your pocket…. especially if it comes from RC racing! Ken Rand Jr. was able to win $100 bucks by finishing 3rd in Ebuggy at round 1 of the NC SCT Series hosted by Zoo City R/C. 3rd place and $100 bucks for having fun with 1/8th scale? Sign me up!!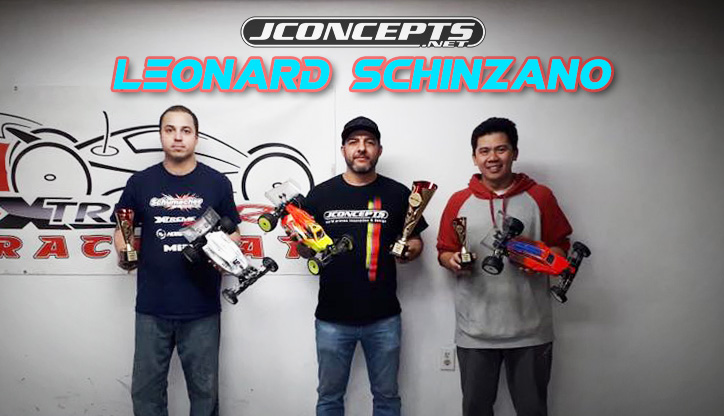 Adding more wins to the already super successful Swaggers and Pin Down tire combo, Leonard Schinzano completed the clean TQ and win sweep in 2wd and 4wd Mod at Xtreme R/C Raceway's Spring Challenge Trophy Race. While the competition was tough, Leonard was able to shine under the pressure with flawless performance!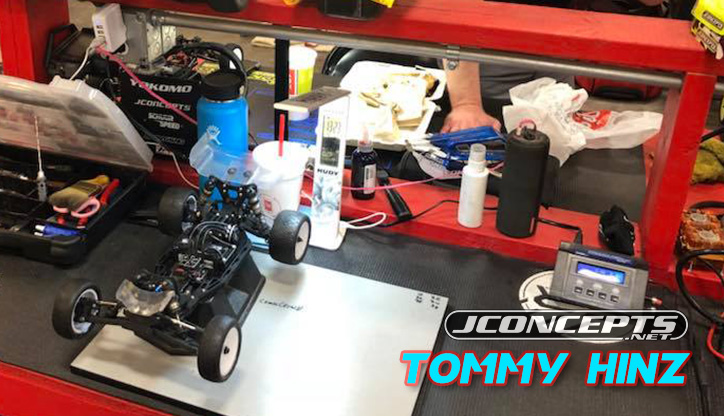 Searching for speed or trying to get faster sometimes requires you to push the envelope and think outside the box. Typically a gold compound tire will give you all the traction you will need at Hobby Action, but last week Tommy tested out the red compound Dirt Webs with BK Red Sauce and got the TQ and win in 2wd Modified buggy. It really is #tommytime.