JConcepts Takes E-buggy and 1/8th Pro Buggy at Force Series Rd2
The highly anticipated round 2 of the Force Series was held on March 25th, 2017 at Phil Hurd Raceway. Gather the region's best 1/8th nitro drivers, mixed with great weather and a fantastic outdoor track to race on is a recipe guaranteed for success. Setting a new entry count record at 244, round 2 of the Force Series was definitely one to remember and filled with good vibes and great racing.

The track crew did a fantastic job creating a track that was fun, entertaining, while still challenging for all the competitors on all levels. Many would state that this was the best layout they've raced on at Phil Hurd Raceway heralding the great effort and 30 years of operation. For indepth results, click here.
E-Truggy
It was JConcepts' Patrick Rossiter who took the overall win in the Open E-Truggy class. Patrick would go on to win A1 and finish 2nd in A2 along with Julien Oliveras, who finished 2nd and 1st. Rossiter would win the tie-breaker giving Julien Oliveras 2nd and John Allen Corry 3rd in the Open E-Truggy class.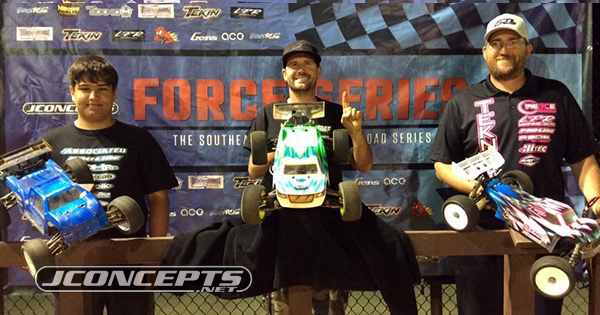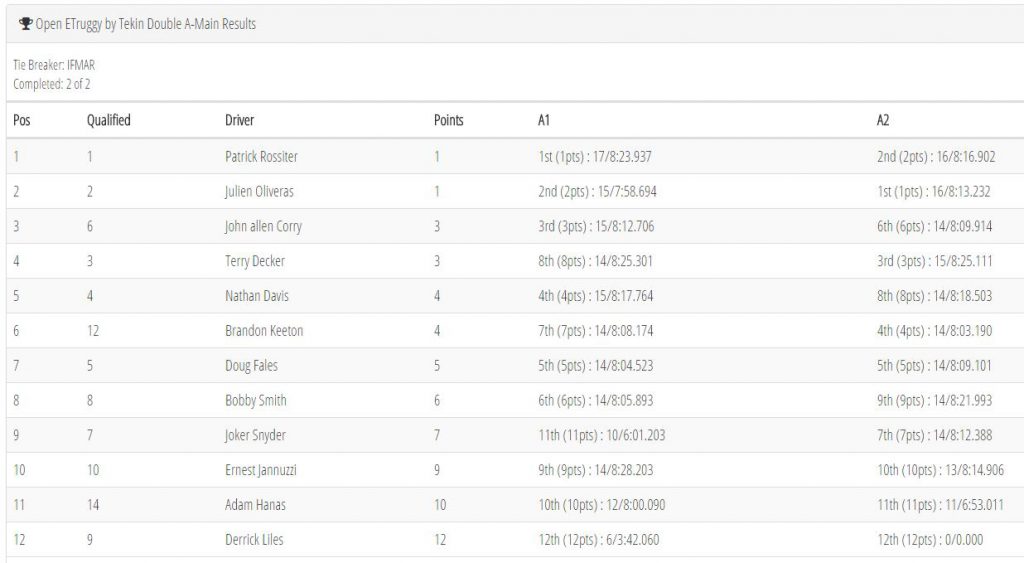 40+ E-Buggy
In the 40+E-Buggy class, Kevin Bullock was fast all weekend long and took wins in both A1 and A2 by a clean margin. JConcepts' Dave Duncan would put up a competitive fight to take home 2nd. Bobby Smith would round out the podium with a 4th in A1 and 3rd in A2 to wrap up 3rd overall.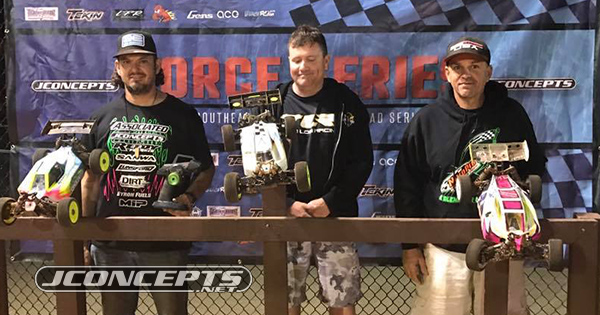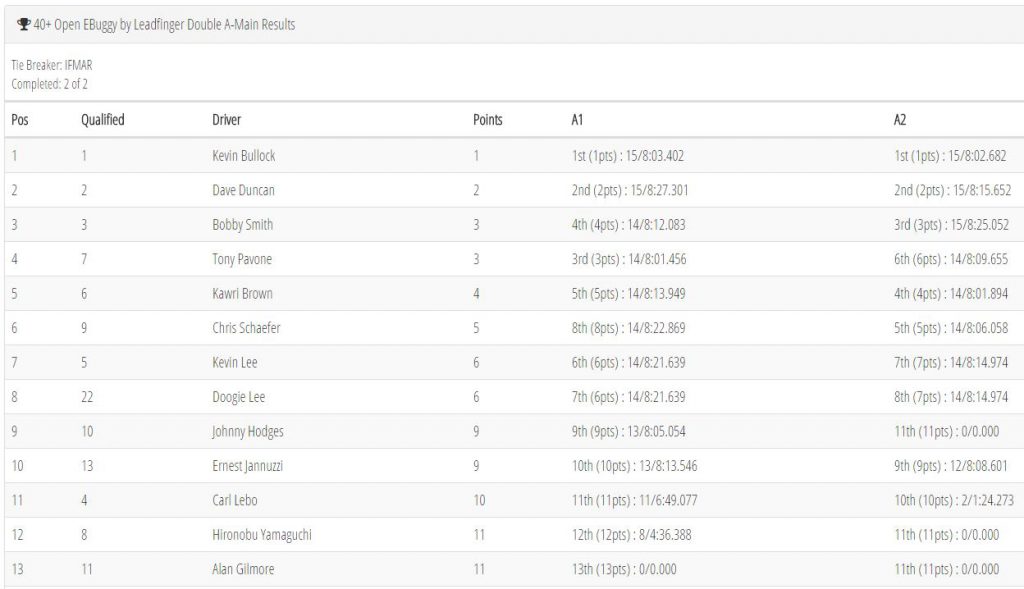 E-buggy
It would come down to the wire in the Expert E-Buggy class between Mugen/JConcepts' Cole Ogden and Serpent's Billy Easton. With Ogden finishing 3rd and Easton taking the win in A1, A2 would decide the overall with Ogden in a must win situation. Coming through in clutch, Ogden would take the win along with setting the fastest time of the evening in E-Buggy leaving the rest to Easton. If Easton could finish 2nd, the overall would go to Easton. However, JConcepts' teammate, Griffin Hanna would spoil the party by finishing 2nd behind Ogden and Easton 3rd in A2. This would ultimately give Ogden the overall by tie-breaker, Easton 2nd, and Griffin Hanna 3rd on the podium making it a JConcepts 1-3 podium finish in E-Buggy.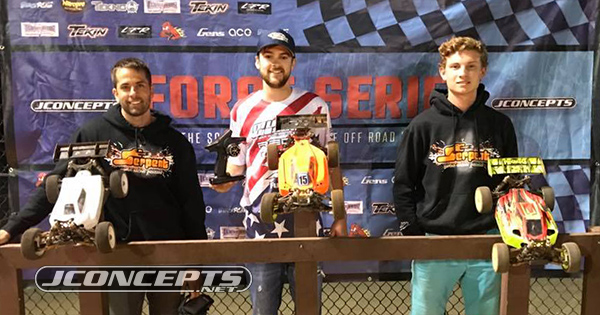 1/8th Nitro Truggy
The 35-minute A-Main saw Mugen/JConcepts Cole Ogden lead the field for nearly 50 laps until a series of late race flame outs would ultimately retire the young driver from Atlanta, Georgia. This would give Team Associated's Evan Vail the lead and Vail would cruise to victory. JConcepts' John McGinty III would put in a great effort to finish 2nd with Serpent's Justin Fales finding his way to 3rd on the podium.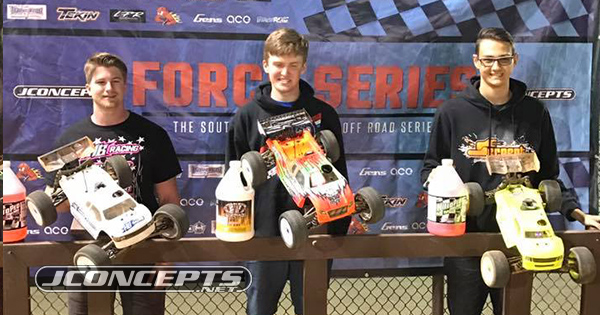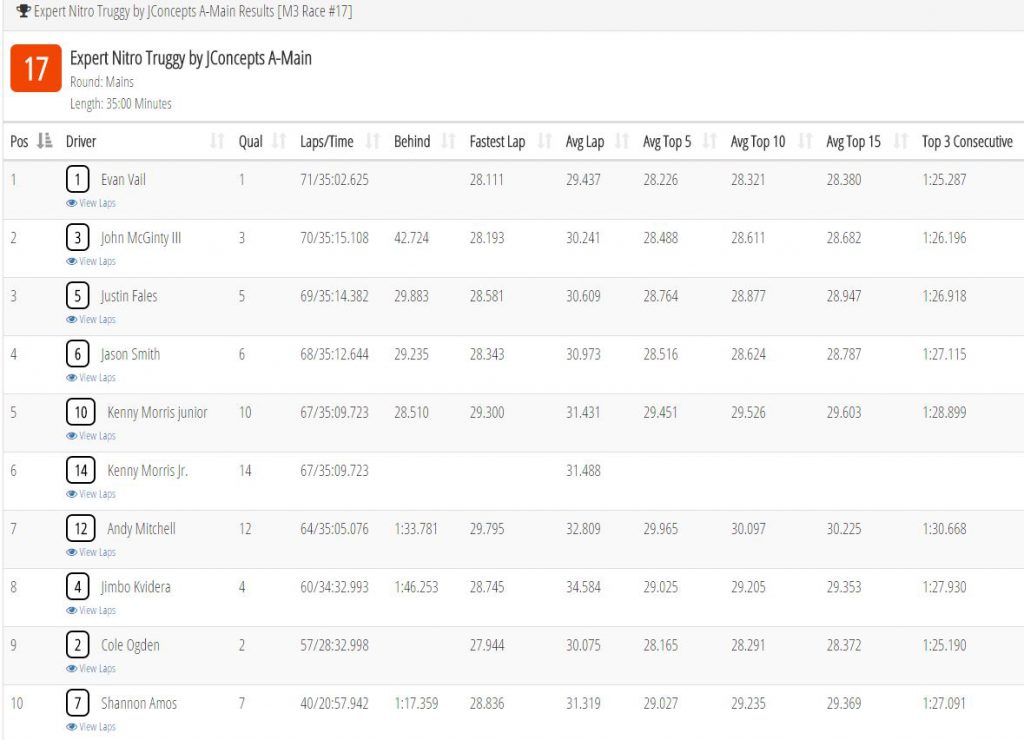 1/8th Nitro Buggy
The premiere class of 1/8th Nitro Buggy saw Mugen/JConcepts' Cole Ogden's speed really emerge as he was able to top qualify and lead a tone to tone victory after 35 long minutes. Unfortunately for his JConcepts teammate, Griffin Hanna, would retire just after reaching 2nd from an 8th place start. This would move JConcepts' Patrick Rossiter up to 2nd where Rossiter would hold his own against some of the best in the industry and finish 2nd. Serpent designer and former World Champion, Billy Easton, would round out the podium in 3rd.