JConcepts Takes 4 Classes at 2012 Psycho Nitro Blast

Barry Pettit, Max Flurer and John McGinty III win with JConcepts at 2012 Psycho Nitro Blast.
The 5th annual Insaniversary of the Psycho Nitro Blast was definitely one to remember. Located in Unadilla, GA the event features a 24-hour straight practice session carrying on from Thursday morning through Friday morning with a rock-star atmosphere that is second to none. Racers pack the drivers stand each year with hopes to tame the Psycho track while they put their hopes on the line in 3 rounds of qualifying which takes place around the clock. Checking in for a qualifier at midnight is of very little concern after visiting the Insomnia Coffee shop for a high-caffeine beverage or snack. The Psycho crew had everything to offer the racer who is living the dream for an entire weekend.
Race Directors Jimmy Babcock and Nick Black had things under control and racing started promptly at 3pm Friday afternoon and the insanity began. A small delay to the program allowed racers to catch-up on their wrenching and by 8pm the program was in full motion and racing was hot and heavy as the night fell upon the Southeastern Arena.

Qualifying –
The 1/8th buggy and truck nitro division was well attended in Novice, Open and Pro Classes. John McGinty III took the overall TQ in the 1/8th buggy and truck open classes taking 2 rounds a piece to secure the position. Hybrids in green compound were the ticket for John during the early wet rounds of qualifying and Subcultures became the favorite as the dry rounds of qualifying took place in rounds 2 and 3.
During the 1/8th Pro buggy and truck classes the TQ was seemingly always up for grabs between the front runners. After 3 hard fought rounds, the Pro buggy TQ went to Renaud Savoya with Adam Drake 2nd and JConcepts / Agama driver Jeremy Kortz in 3rd. JConcepts teammates Jason Smith, Barry Pettit, Josh Glancy and Brandon Melton joined Kortz in the Pro Buggy A-main. The Pro truggy TQ went to Serpent driver Billy Easton who found some serious truggy magic in the rough conditions taking TQ in 2 rounds of qualifying by healthy margins. JConcepts driver Josh Glancy qualified in the 4th position with teammates Brandon Melton, Jason Smith and Alfredo Arrieta also running well and qualifying straight into the final.
JConcepts drivers started to show their promise early in SCT qualifying with Max Flurer dominating qualifying in the 2wd and 4wd SCT classes. Max had his JConcepts equipped SC10 and SC10 4×4 on point during round 1 and 2 taking the overall TQ in those classes in straight qualifiers. Sewing up TQ early allowed experimental time in round 3 for the extremely quick driver from North Carolina.
In the 1/8th E-buggy class it was once again Max taking a TQ in the 2nd round which placed him 2nd on the grid behind only Adam Drake for the A-main on Sunday. JConcepts teammates Jeremy Kortz, Justin Cranford, Barry Pettit and Jamie Grayek joined Max qualifying directly into the A-main.
1/8th e-truggy was hotly contested as well with a battle for TQ between JConcepts / Mugen driver Barry Petitt and Shannon Amos. JConcepts / Team Associated driver Jason Ruona TQ'ed the final round of qualifying paving the way for Pettit to take the overall TQ with Ruona settling for 3rd overall.
Mains –
Sunday morning started very early and Jimmy Babcock blasted through many events very quickly. Short Course 2wd and 4wd A1-main events started early and Max Flurer took full advantage earning the early victory in both classes. The A-2 main in 2wd SCT featured Max pulling out to a straight away lead until a mechanical failure forced him out of contention handing an easy victory to Andy Smolnik. Max wasn't finished as he was determined to go out a winner in the SCT classes by dominating A-2 in the 4×4 SCT class with this JConcepts equipped SC10 4×4 taking home a well deserved 1st place. Max used a full assortment of JConcepts tires all weekend with a combination of Subcultures in the wet conditions and Double Dees and the all-new 3Ds for the dry track conditions.
The Open buggy and truggy classes belonged to John McGinty III. The 30 minute A-mains were no match for John's consistency as he continually paced the field leading on many occasions in and out of pit rotation. With the great pit work from his father, John, and Subcultures in green compound gripping the way around the track, John III took the victory in both classes in convincing fashion.
The 1/8th E-truggy A-main event featured Barry Pettit and Shannon Amos as the top 2 qualifiers. During A-1 Barry bolted out to a comfortable lead and put down some of the fastest laps of the weekend on his way to A-1 victory. With the pressure on to perform flawlessly, Barry started A-2 with speed and pulled away from 2nd place driver Jason Ruona. A battle ensued from 2nd – 4th as Barry cruised out in the lead. Shannon Amos emerged once again and crossed the finish line in 2nd place and Jason Ruona recovered from breakage in A-1 to take a 3rd place finish in A-2. Barry Pettit was able to be victorious, Shannon Amos finished 2nd and Chris Lopez 3rd. As he did all weekend Barry Pettit relied on JConcepts. Hybrids in green compound provided fast and durable traction while the Punisher MBX6-T body topped off the winning ride.
Congratulations to all the winners and race organizers, Dave Leikam and Oliver Aspinwall. Special thanks to race directors, Jimmy Babcock and Nick Black, for running a tight ship and all the racers and sponsors who continue to make the Psycho Nitro Blast a must attend annual event.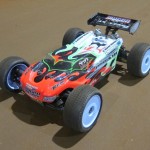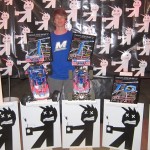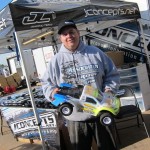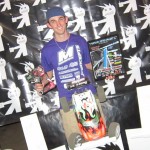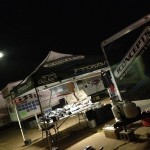 JConcepts products used –
· 3034-02 Subcultures – green compound (1/8th buggy tire)
· 3048-02 Hybrids – green compound (1/8th buggy tire)
· 3045-02 Hybrids – green compound (1/8th truck tire)
· 3046-02 Subcultures – green compound (1/8th truck tire)
· 3302 – Mono 1/8th buggy wheel
· 3334 – Elevated 1/8th truck wheel
· 0203 Mugen MBX6 Punisher body
· 0204 TLR 8ight 2.0 Punisher body
· 0224 RC8.2e Punisher body
· 0096 Mugen MBX6-T Punisher body
· 0066 TLR 8ight 2.0 Punisher body
· 0060-1 RC8T-CE Punisher body
· 0113B High down force rear wing
· 0120B Punisher rear wing
· 0205 Ford Raptor X-flow SCT body
· 2137 SC10 4×4 over-tray
· 2043M Advanced Formulated Tire Glue
· 2134 SC10 front clamping hex adaptor
· 2081 SC10 rear clamping hex adaptor
· 2076 – 8/32″ serrated wheel nuts
· 3042-02 Subcultures – green compound (SCT F&R tire)
· 3043-02 Double Dees – green compound (SCT F&R tire)
· 3061-02 3Ds – green compound (SCT F&R tire)
· 3344B Hazard +3mm offset SCT white wheels
· 2089 4mm serrated wheel nuts
· Silent Speed Spur Gear for AE – 81, 84 and 87