JConcepts Sweeps the Short Course Showdown Finals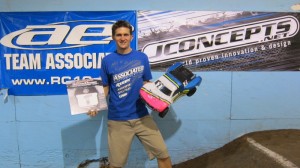 Race: Short Course Showdown Finals
Location: Mike's Hobby Shop Carrollton, TX
Date: Oct 19-21, 2012
Mike's Hobby Shop in Carrollton, TX played host to the 2012 Short Course Showdown Finals. Mike Darnell (owner/operator) and Scotty Ernst (race promoter/director) put on an amazing event that brought in 269 entries for some fierce side by side action. The track appeared to be a fairly simple layout by design, but with jump placement and slick conditions, this track turned out to be very technical and tire selection was of the upmost importance.

Short Course Showdown Finals 2wd modified A-main video

Qualifying (Saturday Oct 20th):
With qualifying under way JConcepts/MIP driver Matt Olson made a statement in the opening round by setting an amazing TQ run with the only 15 lapper of the event in the Stock division. Matt's TQ run held from start to finish of qualifying and put him on the pole position for the Main event. Next up was 2wd Modified SCT and this was a heavy weight battle throughout all three rounds between JConcepts/Team Associated driver Scott Brown and JConcepts/TLR driver Frank Root. Frank and Scott traded TQ positions each and every round with Frank finally taking the last round by 4 seconds and claiming the top spot for the A-main. Last up was the 4×4 Open SCT class and once again, we saw a fierce battle for the TQ spot. JConcepts/MIP driver Matt Olson was going head to head with JConcepts/TLR driver Frank Root round after round as they traded TQ spots each and every round, but once again Frank pulled out the TQ spot giving him the double TQ for both Modified classes.
Mains (Sunday Oct 21st):
Main day was full of action as the lower mains saw drivers battle it out for those 2 elusive bump-up spots. With the lower mains finished; the final A-mains were set and the 7min A-mains got underway with TQ holder Matt Olson dominating the stock class by leading wire to wire with his JConcepts equipped SC10.
The 2wd Modified SCT class proved to be a much closer battle as the top three positions changed several times between 4 drivers. Frank Root led the first lap with Scott Brown and Greg Hodapp close behind, but a small bobble by Root open the door for Brown and Hodapp to make a pass for 1st and 2nd. Root recovered quickly putting the pressure back on Hodapp and forcing him into a mistake on lap 5 allowing Root and 4th place driver Brian Kinwald by for the 2nd and 3rd position. With Brown still leading, Root put his head down and went to work with an impressive charge back to the front and on lap 12 made the pass on Brown for the lead. Root began to pull away slightly, but on lap 19 he made a costly mistake allowing Brown to regain the lead. Brown then put together a string of fast laps to open up a 3 second lead and secure the win with Root 2nd and Kinwald 3rd.
With almost no time to recover from 2wd, the final showdown in the 4×4 open class was up and it was clear that Frank Root and Matt Olson were the class of the field. Root and Olson got out early and quickly pulled away from the field, but by the halfway point Olson started to put heavy pressure on Root. Root handled the pressure very well and was running some great lines until lap traffic began to play a major factor. With 8 laps to go a lapper t-boned Root in the berm-turn allowing Olson to drive by and take home the win. Frank Root finished 2nd and Hunter La Flower rounded out the top 3.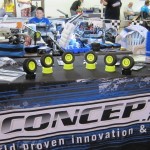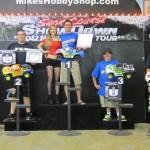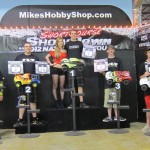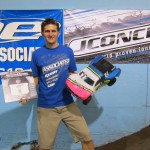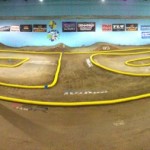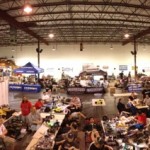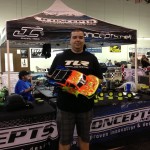 Scott Brown's winning combination SC10FT:
Front – JConcepts Blue Pressure Points (stock insert)/+3 Hazard wheels
Rear – JConcepts Green Pressure Points (stock insert)/+3 Hazard wheels
Body – Hi-Flow SCT
Matt Olson's winning combination SC10FT:
Front – JConcepts Green Double Dee (stock insert)/Hazard wheels
Rear – JConcepts Green Pressure Points (stock insert)/Hazard wheels
Matt Olsen's winning combination MIP Pro4mance 4×4 kit:
Front – Blue Pressure Points (stock insert)/SCT-E Hazards
Rear – Blue Pressure Points (stock insert)/SCT-E Hazards
Frank Root's TQ combination 22SCT:
Front – Blue Pressure Points (stock insert)
Rear – Blue Pressure Points (stock insert)
Frank Root's TQ combination SCT-E:
Front – Blue Pressure Points (stock insert)
Rear – Blue Pressure Points (stock insert)