JConcepts Reigns Supreme at Spektrum Off-Road Championships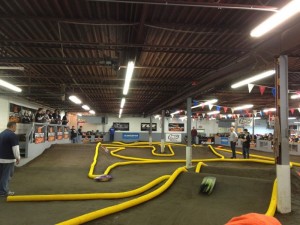 Event: 2011 Spektrum Off-Road Championships
Date: December 2-4 , 2011
Location: Trackside Hobbies and Raceway – Brookfield, WI
JConcepts reigns supreme at Spektrum Off-Road Championships. Bar Codes take all modified classes with world class talent in competition.
Scotty Ernst productions along with Spektrum teamed up for the 2nd year in a row to produce the increasingly popular Spektrum Off-Road Championships. 404 total entries packed the building with IFMAR World Champion Ryan Cavalieri in the house along with ROAR National Champion Dustin Evans. The best of the best were out and racing was serious business at Trackside Hobbies in Brookfield, Wisconsin. The tires of choice prior and during this annual event continued to be the JConcepts Bar Codes with drivers alternating between blue and green compound depending on conditions.

Qualifying started with JConcepts driver Chad Due taking a TQ run in the 4wd modified class. Kody Numedahl, fresh off the Hillbilly Invitational victory quickly got up to speed with his JConcepts equipped vehicles and rose to the top of the standings in SCT 2wd and 4wd modified as well as 2wd buggy modified.
TLR driver Dustin Evans took over the modified truck and 4wd modified class in round 2 and took the fastest time and most importantly a points advantage going into round 3. Dustin's TLR 22-T and XX-4 were equipped with JConcepts Bar Codes all weekend with blue compound gripping the dirt in each TQ run.
Going into rounds 3 and 4 Team Associated driver Ryan Cavalieri solidified the TQ position in 2wd modified and 2wd Short Course while TLR driver Dustin Evans took overall TQ in 4wd modified and modified truck. SCT 4×4 was controlled by TLR driver Dakota Phend who would sit on the pole position for Sundays A-main event.
Sunday morning kicked off the A-main events with Scotty Ernst doing what he does best behind the microphone, announcing exciting mains all day long.
Moving into the A-mains, Scotty had the crowd pumped and ready for the world class talent to hit the track. Ryan Cavalieri took the top spot in the 2wd modified class after 3 hard fought A-mains. Recording a 1st in A-1 and 1st in A-3, Cavalieri was able to be victorious. Dustin Evans finished 2nd and Chad Due 3rd and Kody Numedahl 4th. An amazing 9 of 10 drivers in the A-Main chose JConcepts Bar Codes.
The class that is once again on a rise, the modified truck class featuring TQ driver Dustin Evans took the track. Dustin's prototype TLR 22-T hooked the track flawlessly in A-1 and A-2 to secure another victory for the new TLR vehicle. Team Associated's Ryan Cavalieri battled hard but finished just short of victory in the 2nd position and Mike Truhe finished in 3rd overall, after winning A-3 in style. The top 7 drivers all chose JConcepts Bar Codes in blue compound.
The last triple A-Main class featuring the fastest vehicles on the track were up next. 4wd modified took the track at Trackside Hobbies and TQ Dustin Evans with his TLR XX-4 lined up at the top of the field. Chad Due and Brent Thielke started 2nd and 3rd respectively with their B44.1 buggies. In the triple mains and with the fluid nature of the track, Dustin was in firm control very early. Mikey Paige delivered a slight challenge as Dustin kept his cool and delivered an A-1 and A-2 victory taking home his 2nd championship of the day. Paige took 2nd overall by finishing 2nd in the first 2 mains while Chad Due recovered in A-3 taking the victory and earning a great podium spot in 3rd place. Dustin once again chose the JConcepts Bar Codes in blue compound to take the victory.
The 2wd Short Course A-main belonged to Ryan Cavalieri who found his groove in the extended main and launched a large sized lead. Chad Due and Kody Numedahl had a great battle for the 2nd position with many lead changes throughout the 7 minute A-main. Cavalieri continued to stretch the lead and took a relatively easy victory with his SC10 Factory Team. JConcepts / Team Associated drivers Kody Numedahl and Chad Due finished 2nd and 3rd respectively. The top 3 drivers all chose JConcepts tires in green compound.
TLR's Dakota Phend sat on top of the field in the 4×4 Short Course class. At the sound of the tone, the 4×4 drivers went wild and jostled for position. JConcepts / Team Associated driver Kody Numedahl emerged in the lead and looked comfortably in control. Kody was on a mission and it was clear his driving has improved tremendously as he maintained a steady gap back to IFMAR World Champion Ryan Cavalieri in 2nd place. Mike Truhe eventually pulled up into the 3rd position and held it to the finish line. The finishing order was Kody Numedahl in 1st, Ryan Cavalieri 2nd and Mike Truhe 3rd. All of Kody's vehicles were equipped with JConcepts all-weekend. The winning SC10 4×4 used Bar Codes tires in blue compound mounted on Hazard +3mm wheels and topped off with a JConcepts Raptor X-Flow body.
What an event, what else can be said about the crew from Trackside Hobbies and Scotty Ernst productions. Thanks to Scotty Ernst Productions, and the main sponsor Spektrum, for making things possible and to the racers who participated and made this annual event one to remember.
JConcepts products used –
· 3016-01 Bar Codes blue compound (2wd-4wd rear)
· 3033-01 Bar Codes V2 blue compound (2wd-4wd rear)
· 3017-01 Bar Codes blue compound (2wd front)
· 3021-01 Bar Codes blue compound (1/10th Racing Truck)
· 3044-01 Bar Codes blue compound (SCT)
· 3044-02 Bar Codes green compound (SCT)
· 0212 Finnisher +8mm B4.1 body
· 0122 Hi-Clearance wing
· 0216 Punisher T4.1 body
· 0222 Hi-Flow SCT body
· 0205 Raptor X-Flow body
· 3206-2 Profiled closed cell inserts
· 3217-1 Profiled closed cell SCT inserts
· 2043M Advanced Formulated Tire Glue
· 2134 SC10 front clamping hex adaptor
· 2135 B4.1 front clamping hex adaptor
· 2081 12mm SCT hex adaptor
· 2091 B4.1 rear clamping hex adaptor
· 3344B Hazard +3mm 12mm hex SCT wheel
· 2076 – 8/32″ serrated wheel nuts
· 3347 and 3348 – Mono 12mm hex wheels
· 2089 4mm serrated wheel nuts
· Silent Speed Spur Gear 81, 84 and 87