JConcepts Race Team Update – January, Wk 4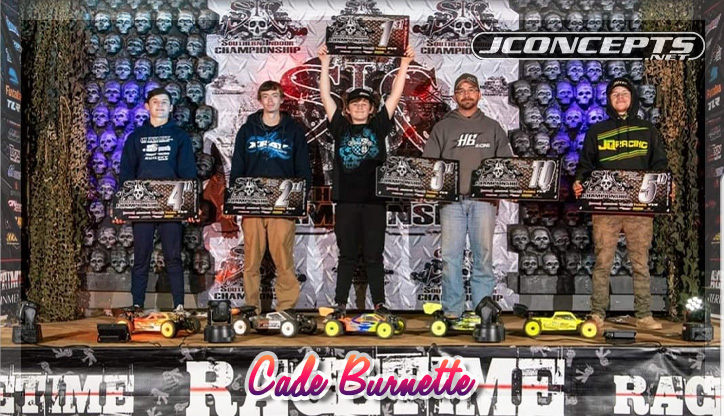 It was a huge weekend for JConcepts' Cade Burnette, as he made the trip to join in on the Southern Indoor Championship action by Racetime Entertainment. From the very start, Cade showed race-winning pace! The talented youngster made the big leap to race 4 classes and come home with the 15U Junior Ebuggy win, Open Ebuggy win, and the Open Nitro Truggy win. Cade also managed to finish 2nd in 15U Nitro Buggy class making it 4 for 4 on podium finishes! Great job by Cade at the first major 1/8th scale race of the year!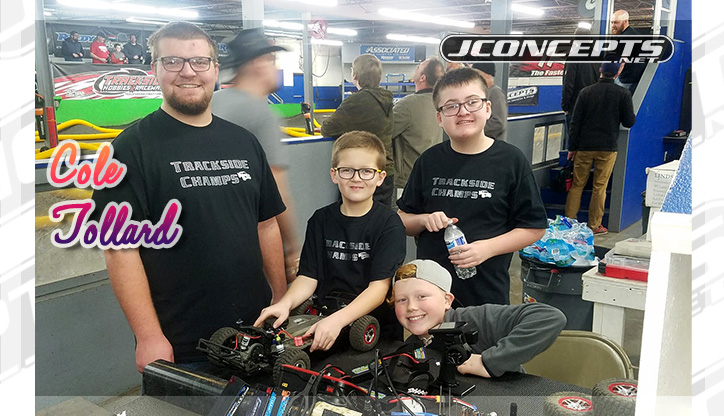 Cole Tollard is back at it, but this time enjoying some fun enduro racing fun at Trackside Hobbies. While Cole and Jim were on different teams, they managed to only finish 10th overall and 6th, but this weekend wasn't about winning. It was about giving back as they helped many of the local young racers at Trackside and got them even more stoked on the hobby. Congrats and great job helping today's youth out b/c that's a win in our book.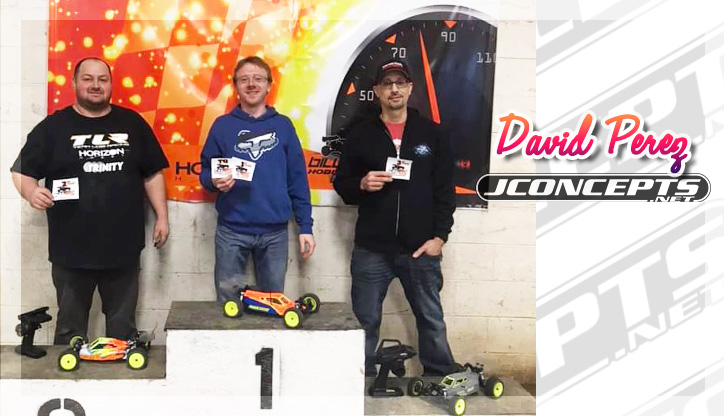 Good to hear from David Perez as he had an awesome race weekend at Bill's RC track running both 17.5 2wd and 13.5 4wd. Using the new silver Ellipse tires, David was able to make both podiums finishing 3rd on the box in both classes! Anytime you finish on the podium…. it's a solid race weekend.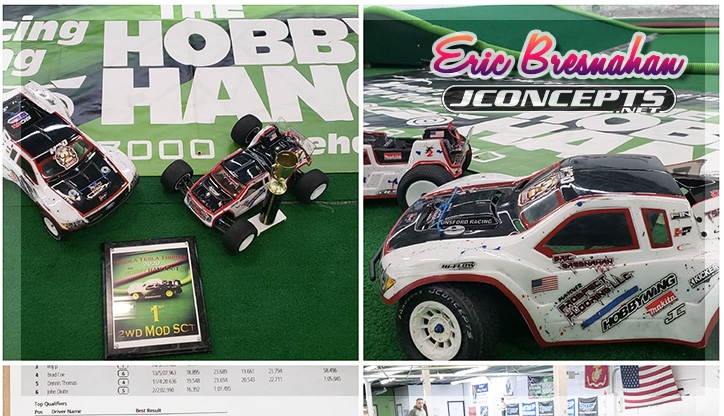 There's no stopping Eric Bresnahan on the green rug. Eric keeps racking up wins and has already started doing his thing in 2020. With his Swagger fronts and Pin Down SCT and Truck tires, Eric set both class TQ's and took home the double wins. Nice job sir!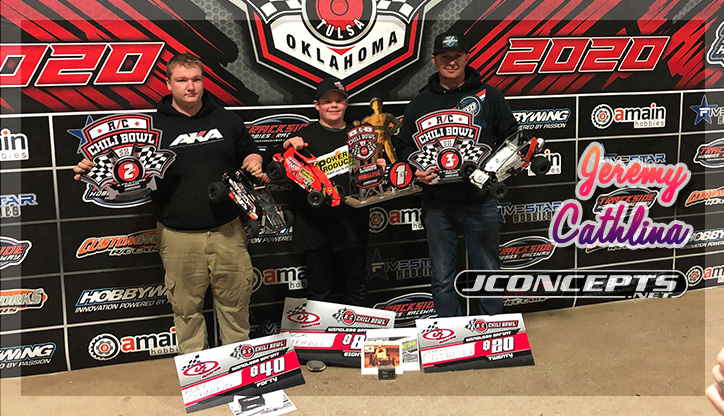 Amazing job by Jeremy Cathlina at this year's RC Chili Bowl race in Tulsa, Oklahoma. Jeremy put on quite the performance against, perhaps, the nation's fiercest oval racers. With a total entry count nearing 400, saying the competition was stiff is putting it lightly. Congrats on your 3rd place finish in the Wingless Sprint class, Jeremy!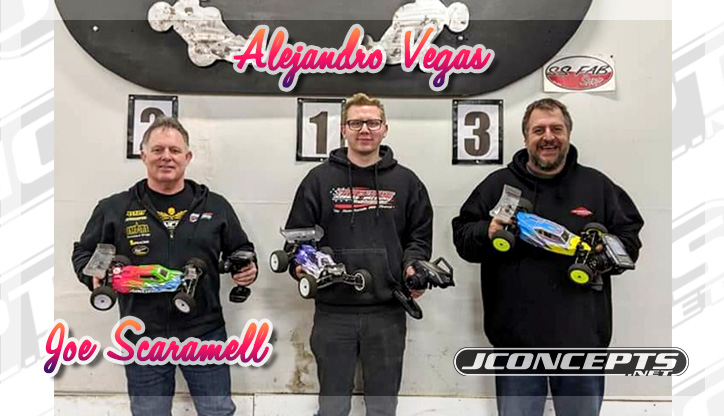 What a busy week for JConcepts team driver, Joe Scaramall, as he club raced twice in one week! At Wednesday night worlds, Joe finished 2nd in 17.5 2wd and 3rd in 13.5 4wd. Come Saturday, Joe was dialed in and finished 2nd in 13.5 wheeler giving the silver Ellipse tires and Joe another podium finish. Great job Joe!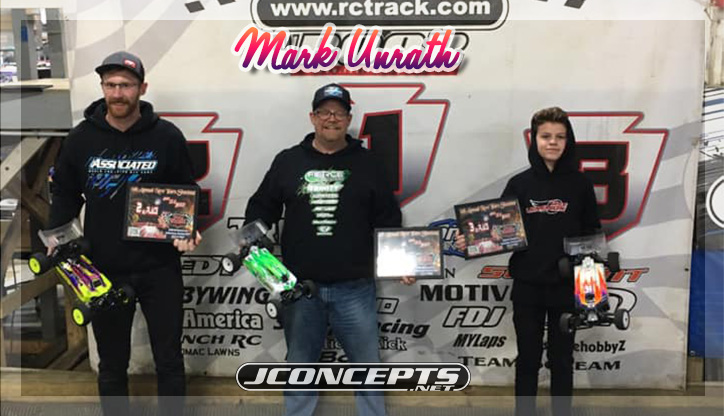 Terrific job and congrats to Mark Unrath as he took a terrific win in the 13.5 4wd class at the 6th Annual New Year's Shootout hosted by The Track in Gaithersburg, Maryland. Awesome driving Mark and congrats! Oh and that green and white color combo on Mark's F2 body looks killer and totally stands out on the track!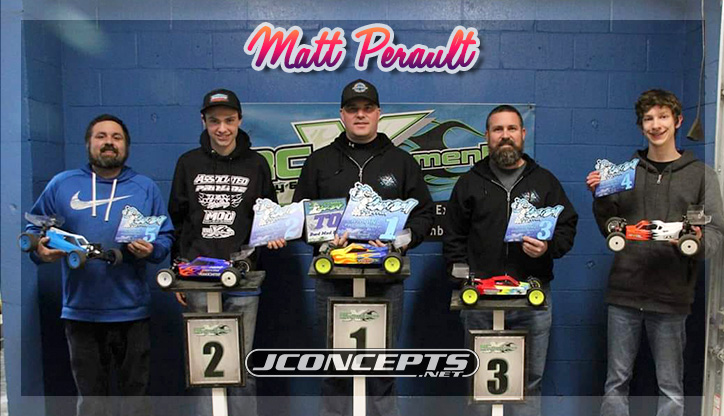 2019 was a great year for JConcepts' Matthew Perault as he noted that 2019 was his best racing year to date. Making a ton of podiums at almost every race he entered, Matt has been on quite a roll. This weekend, Matt attended the 15th Annual Snowball Race at RC Excitement and found the speed to win a few classes and continue his winning streak. Matt won the 40+ 2wd class and also finished 2nd in 4wd Mod using a combination of black compound Octagons and slicked out Ellipse tires.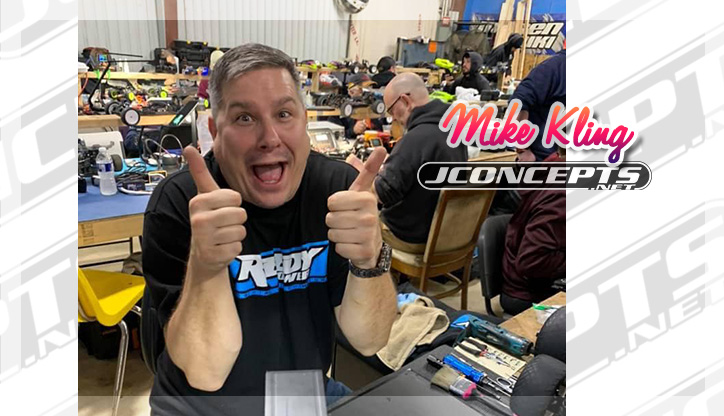 2020 hit and it's time to get out there and race! Thanks to Mike Kling for doing exactly that as he also attended the New Year's Race at The Track in Gaithersburg, MD. Mike competed in 3 classes and was able to finish 2nd in Stadium Truck, 6th in 17.5 2wd, and 3rd in 40+ Ebuggy. Keeping Mike glued to the track was silver Ellipse tires that work well with FDJ Dew, according to the podium finishing Mr. Kling.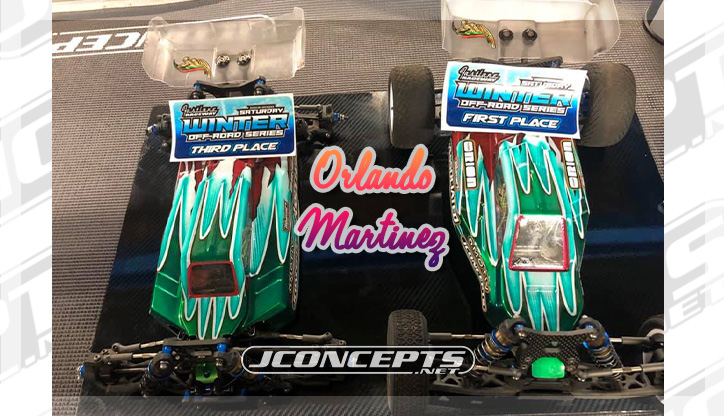 Orland Martinez flies under the radar, but on the track, he is a beast. Finishing 3rd in 4wd and 1st in 2wd, Orlando closed out the weekend with great speed and consistency while racing at the Winter Off-Road Series hosted by Fastlane Raceway.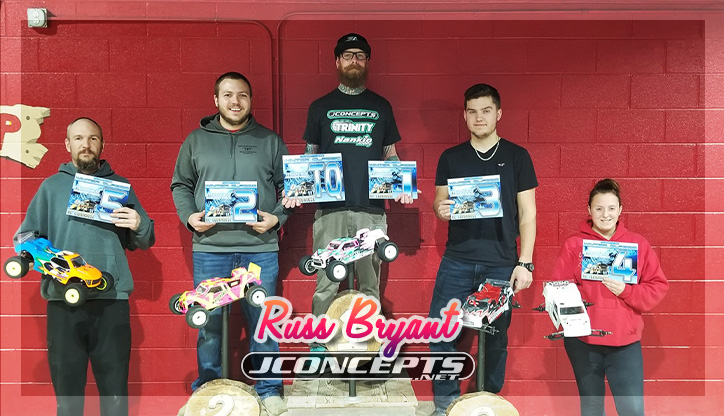 Always on the move, Russ "The Ruckus" Bryant, made big moves last week in the Stadium Truck class where he set the TQ and went on to finish 1st in the A final. With silver slicked out Ellipse tires on his truck, Russ was hooked up at The RC Clubhouse! Way to go Russ.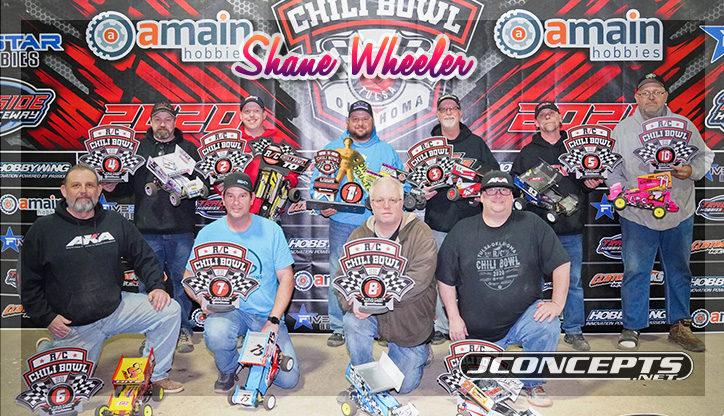 The 2020 RC Chili Bowl is big and the bigger the race usually means the stiffer the competition. Great job by Shane Wheeler on his outstanding run in the Masters Outlaw Sprint Class where Shane drove furiously fast, super smart, and took a popular win. Congrats on the Golden Driller trophy!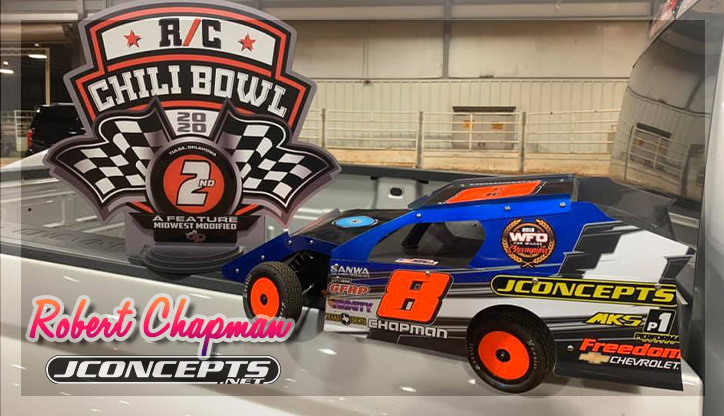 Locked and loaded and one of the quickest guys around an oval track, Robert Chapman went head to head with some of the best drivers at the RC Chili Bowl and did awesomely. Robert took home 2nd place in the Midwest Modified class, where he battled it out with some of the fastest oval drivers in the nation. Great job Robert!!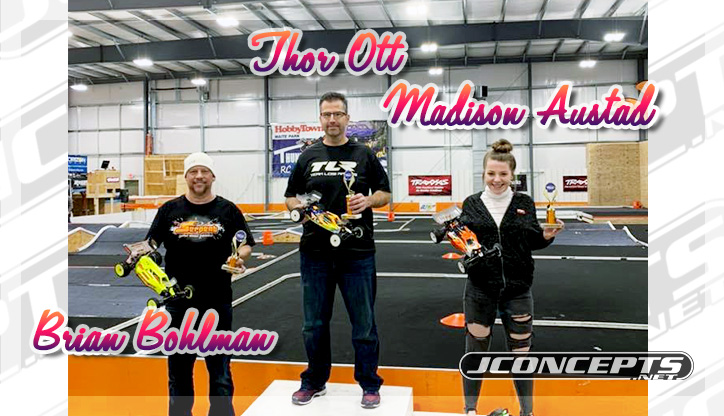 The Thunder Road Trio is growing and getting faster! Thor Ott, Brian Bohlman, and now Madison Austad brought the house down last weekend at Thunder Road's monthly trophy race. The JConcepts crew battled it out on the track and all three finished on the podium going 1-2-3. Swaggers and Twin Pins are the quickest tires at Thunder Road!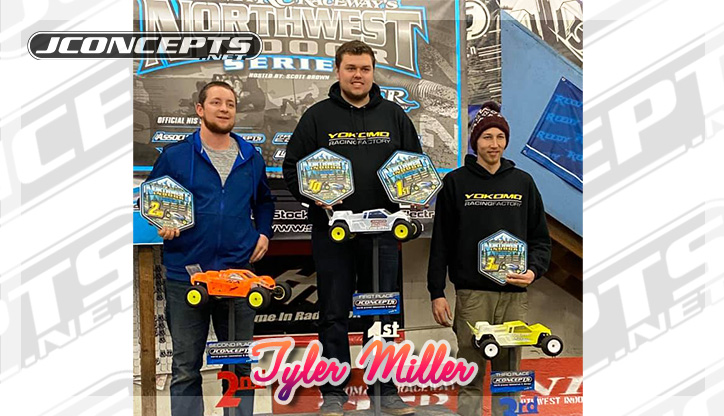 Thanks for the awesome recap, Tyler Miller! Always great to hear from Tyler as he's been racing more frequently and it shows! This is what Tyler had to say about his weekend at the NIS hosted by Tacoma RC Raceway, "I raced the 3rd round of the Northwest Indoor Series hosted by Tacoma RC Raceway over the weekend. I TQ'd 13.5 truck with my Yokomo YZ2T. Won A1 on the last lap. I barely made it 5 minutes in A2 with an idler gear that started to strip just 2 laps in. On the last 2 laps, I had to roll everything but managed to hold on for the win after building a small lead. My truck was gripping and ripping on gold compound Ellipses tires." Wow, glad you were able to hang on for the win! Great job Tyler.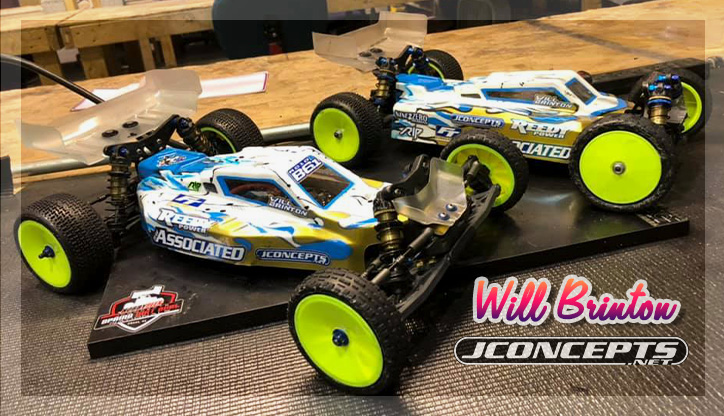 Rockin' and rollin' on carpet at Hobbyplex, Will Brinton has found the racer's edge on his Swaggers and Twin Pin tires. Last week, at round 3 of the ProTek Carpet Off-Road Racing Syndicate, Will TQ'd and won both 2wd and 4wd Modified classes in dominating style. With these two class wins, Will is sitting pretty with the points lead going into round 4. Let's roll Will!!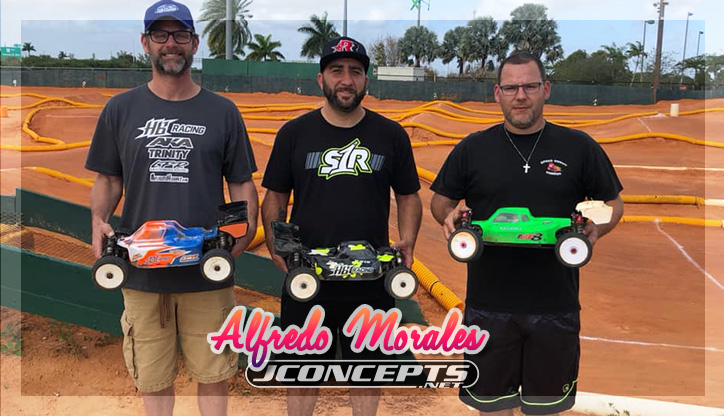 It was a killer weekend for Mill's Pond track manager and JConcepts' own, Alfredo Morales, as he competed in Tuesday and Saturday's club race at Mills Pond RC Speedway. While on blue compound Detox tires, Alfredo took the win in both the Ebuggy and nitro buggy classes. Then on Saturday, Alfredo saw the top step of the podium in the Ebuggy class. Busy as he is, he's still killing it. Nice work Alfredo!
Congrats to our Northwest JConcepts team with reports coming in from one JConcepts' newest talent, Austin Cracknell and from our veteran ace, Jack Leighan. Both drivers competed at round 3 of the Tacoma RC Raceway series, aka Northwest Indoor Series. Jack fought hard against a fast group of 40+ 2wd drivers and finished 2nd in the A-main. Austin Cracknell has been impressive lately and has shot his way to the front of the stock classes in the NW. Austin finished 1st 13.5 Short Course, 1st in 13.5 4wd, and 2nd in 17.5 Expert 2wd to complete a very impressive weekend of racing. Also finishing 1st in 17.5 Expert 2wd was another talented NW youngster, Andrew Beauchamp, who impressively won both mains from tone to tone. Check out the sweet picture below!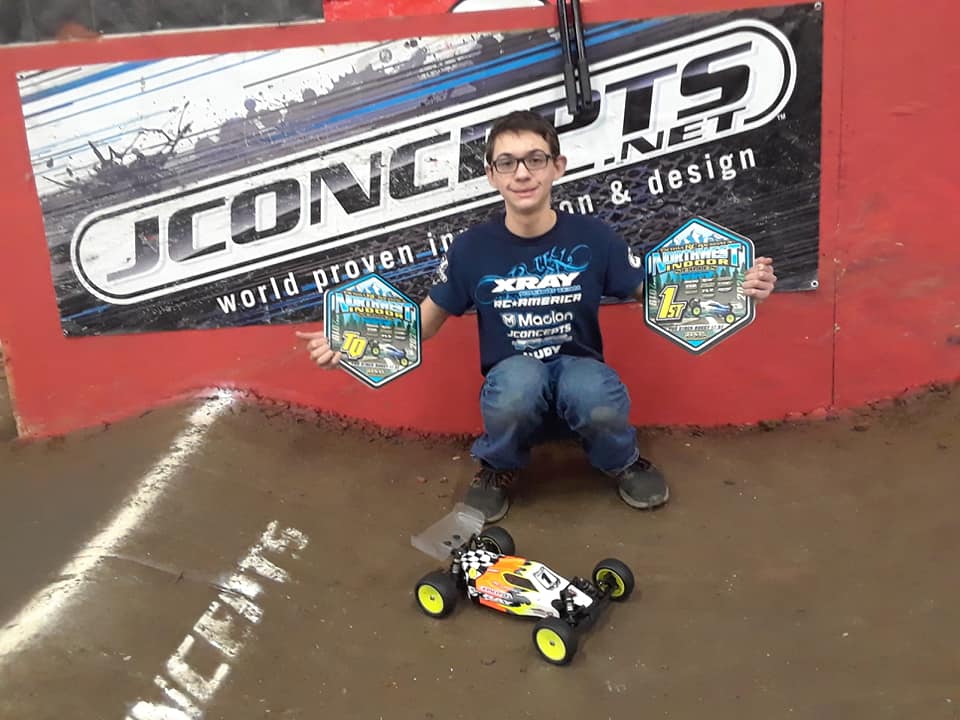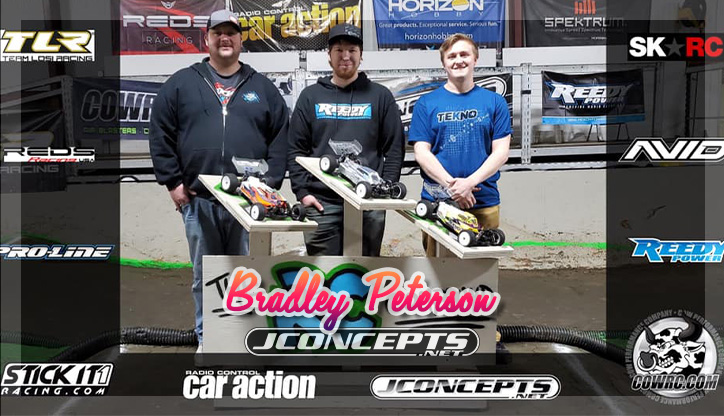 Having an outstanding weekend of racing, Bradley Peterson attended round 4 of the RC Compound Winter Points Series and had a blast. This is what Bradley had to say about his weekend, "This weekend, I attended round 4 of the RC Compound Winter Points Series. I was very confident in my cars about halfway through Friday night's practice session. My cars felt great, I was turning fast and consistent laps and my JConcepts tires were absolutely hooked. I ran gold Compound Dirtweb fronts, and Ellipse rears in both cars. My Reedy Powered 510r escs, S+ motors, zapper batteries, and servos were performing flawlessly. I was able to set an early, round 1 TQ in 17.5 Pro 2wd that would hold all day giving me the overall TQ. While in 13.5 4wd, I was able to set TQ in round 2. An early mistake in the 17.5 Pro A-Main sent me back to 7th, but I put my head down and made a hard charge to get back up and finished 2nd. In the 13.5 4wd main, I got out early, but a traction roll put Rubes Chad right on my bumper and we battled it out most of the main. I was able to edge out the win in the class. Overall, I was super happy with my performance this weekend! Time to go back through the cars and get them ready for the 2020 OffRoad Jam at Fastlane next weekend!" Now that's how you race and write a race report about your weekend. Great job Bradley and good luck at the Jam!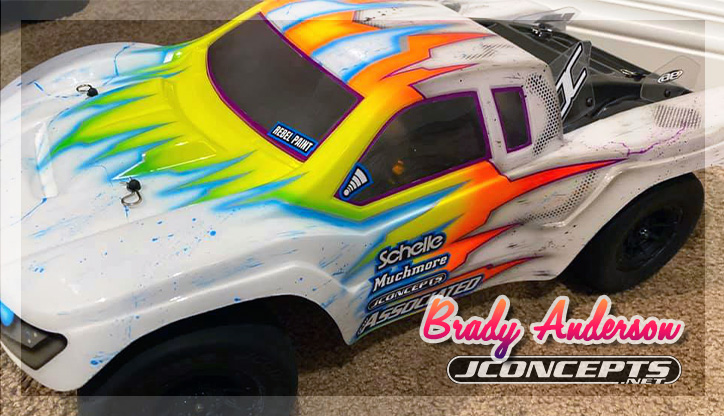 Choosing the awesome looking High Flow 2 body, or HF2, for his short course, Brady Anderson took the TQ and win at IR/CR last weekend. Brady's tire of choice that helped him get the win was the silver Octagons. Now check out that wicked paint!