JConcepts Race Team Update – February, Wk 2. Records Broken!!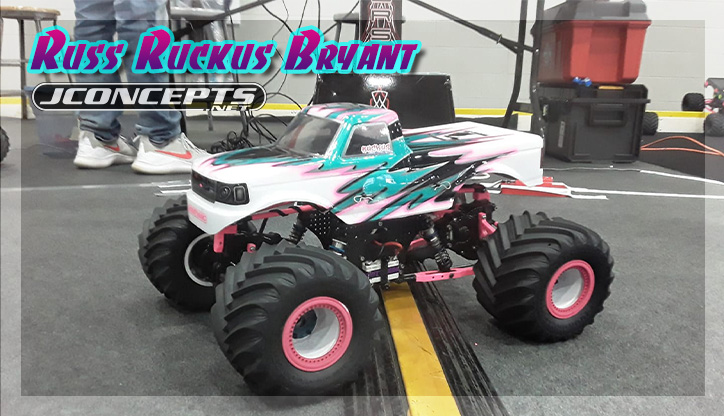 Joining the action at the Michigan Monster of RC's Race #6, the Ruckus brought down the house with two mega wins. First, it was a win in Sport Mod class and then, in the Pro mod class. Russ used the JConcepts Renegades, Tribute Wheels, and Tribute Mock Beadlocks for added flair. Slammin' it home Ruckus style!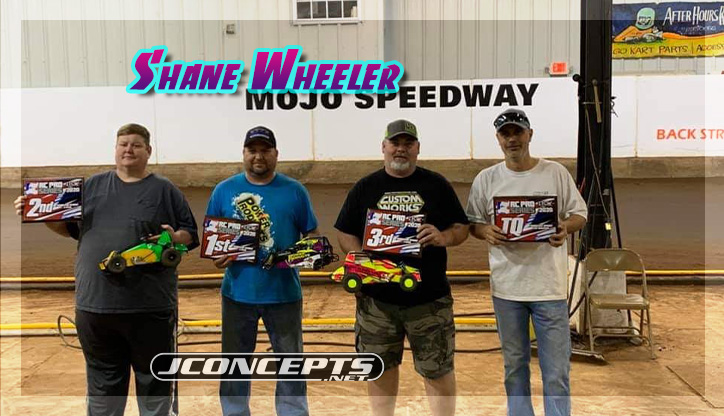 Congrats to Shane Wheeler on his winning weekend as he attended the first race of the RC Pro Dirt Oval Series at Mojo Hobbies. The turnout was awesome with 168 entries as Shane took the win in the Wingless Sprint A-Main and finished 4th in the Midwest Modified classes. Excellent!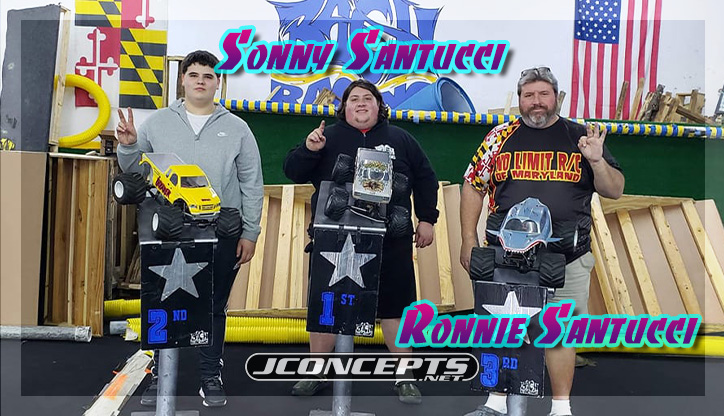 JConcepts' Sonny Santucci pulled off a flawless weekend at the No Limit R/C of MD's Point Series Race #3 in Maryland. Using the Renegades and Ranger tires in gold compound, Sonny took home the win in three of the major classes including ClodBuster, Shafty, and 2.2 classes! What a weekend! Congrats to Ronnie Santucci as well as he took home a 3rd place finish to cap off an amazing Santucci weekend of racing.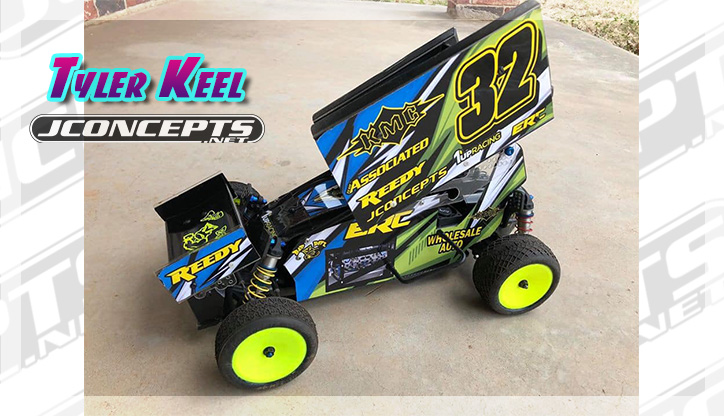 Spending a weekend in the dirt oval scene, Tyler Keel attended the "Did it for Dale" race hosted by Mojo Hobby in OKC, OK for round 1 of the RC Pro Oval Series. Rollin on aqua Ellipse and Dirt Web front tires, Tyler qualified straight into the A-Main and finished 7th overall in the Outlaw Sprint class. Not a bad weekend for a race with 160+ entries! That's one sick looking paint scheme!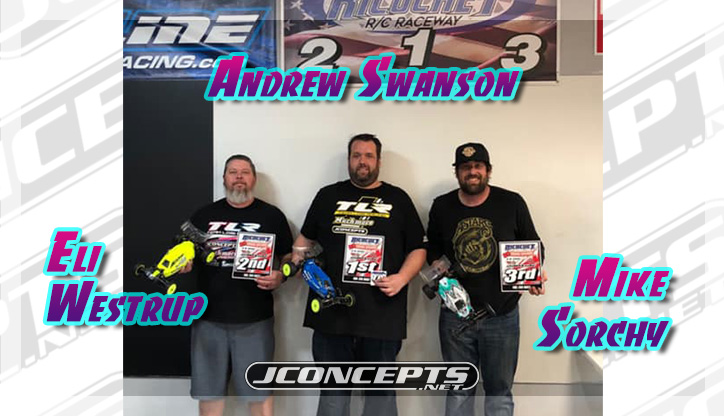 It was a huge weekend for the JConcepts race team as they attended the grand re-opening of Ricochet Raceway. Congrats to Andrew Swanson, Eli Westrup, and Mike Sorchy on their 1-2-3 podium finish in the 2wd Modified class. It's great to hear that Richochet is back up and running at a new location! Great job guys.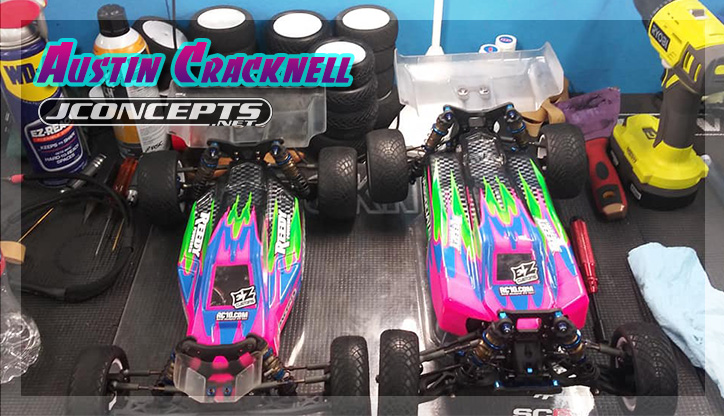 JConcepts' young gun, Austin Cracknell, made his first travel trip and traveled his way to MHOR RC Raceway for the 25th Annual Rumble in the Rockies Race. Despite the challenges that come with attending a big race at a new track, Austin qualified 4th in 17.5 2wd and 8th in 13.5 4wd. When it was all said and done, Austin finished 5th in 2wd and 7th in 4wd…. not a bad start at all and results we're totally proud of.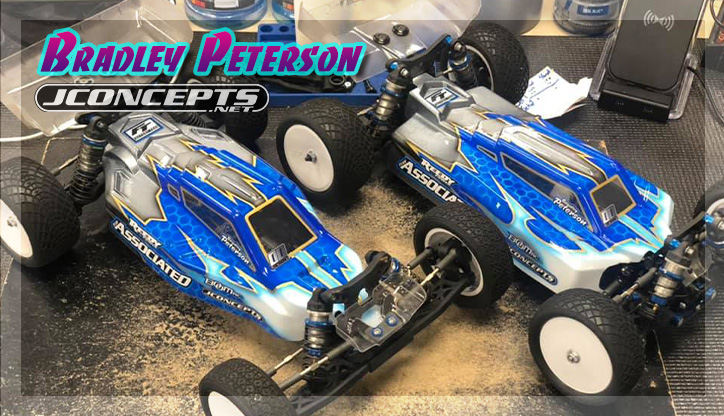 It wasn't the perfect weekend for Bradley Peterson at the Winter INS10, but attitude is everything. Having finished 15th in 13.5 4wd and 24th in 17.5 2wd with nearly 70 entries in each class, Bradley actually did quite well given the stiff competition. He noted that he was happy that he improved upon last year's result. Progressing is the key to racing… each day, each race, you hope to get better and that to us means a lot. Great job Bradley!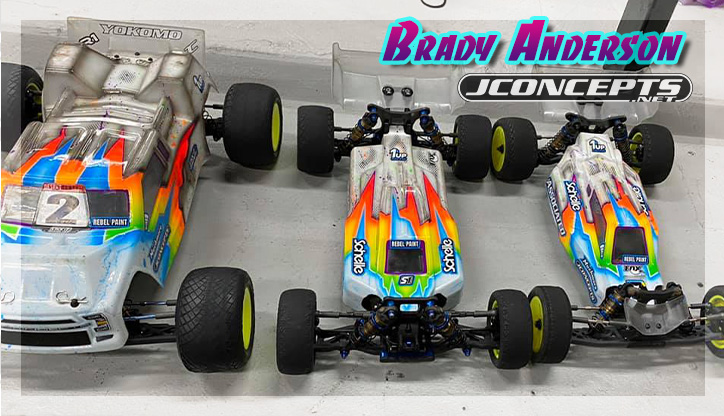 Brady Anderson showed great speed last weekend at IR/CR's club race as there were 125 total entries. The first time out with the T6.1 on silver Ellipse tires, Brady got the TQ and won! Brady also managed to finish 2nd in 13.5 4wd using gold compound Ellipse tires. Killer Job Brady and we're glad both silver and gold compounds were dialed!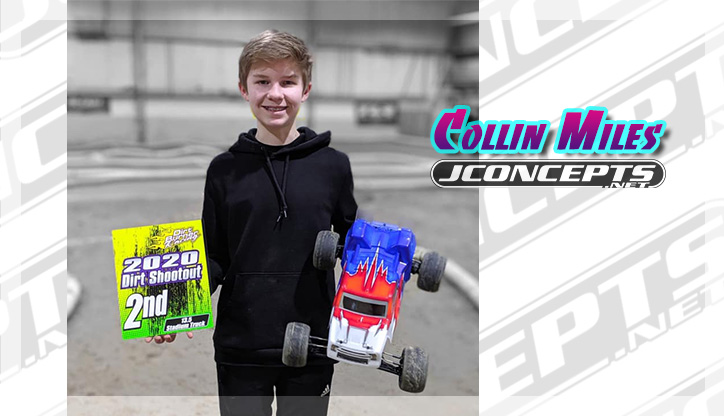 Last weekend, it was a 2nd place finish for the ever-improving Collin Miles, as he raced round 2 of the DBRL in Michigan. Collin found speed in 13.5 Stadium truck with a TQ and finished 2nd overall. Next time, we have a feeling that Collin is going to come out on top!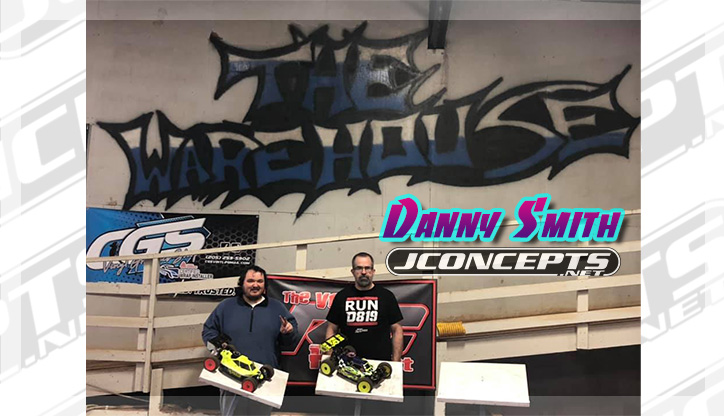 Holding it down at The Warehouse Hobby Raceway for team JConcepts, Danny Smith took another win in Pro Nitro Buggy and finished 2nd in Ebuggy. Both rides were hooked up, but interestingly enough, Danny ran two completely different tread patterns on both rides. In nitro buggy, Danny ran green Rehabs while on his Ebuggy, he ran Ellipse tires. Either way, both were getting the job done for Danny.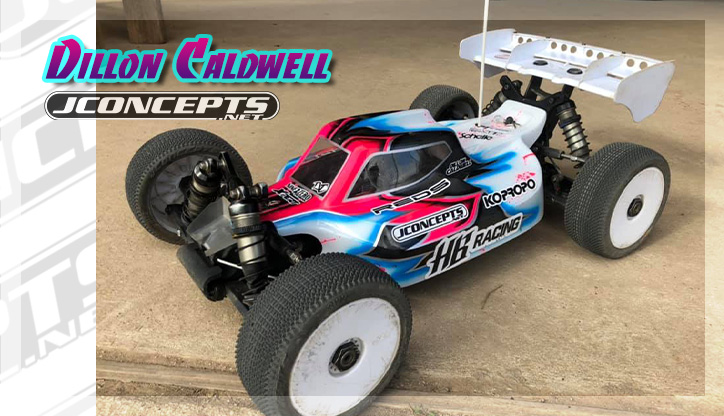 Did you know that Dillon Caldwell is flying these days? Yep, another terrific race weekend for DC as he set the TQ and took the win at Mike's Hobby Shop last weekend. Using blue Detox in qualifying and green Reflex on his Ebuggy, Dillon set the TQ and took the double A-Main win! DC be Jammin'!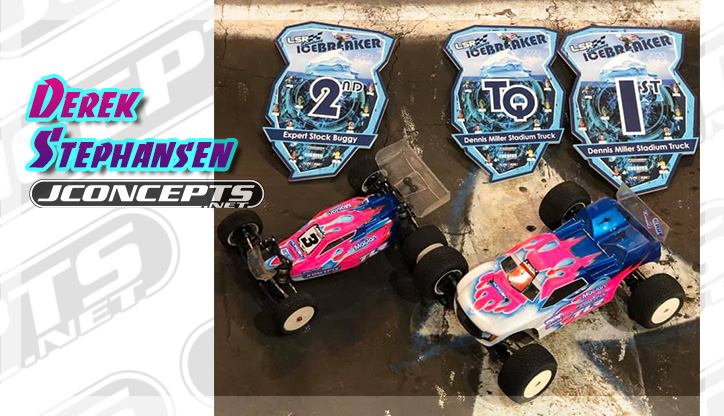 Congrats to our Icebreaker crew and thanks for sending in the report! As you can see from the above picture, Derek Stephansen, had a grand weekend finishing 2nd in 17.5 Expert 2wd and a TQ and win in Stadium Truck! Tires of choice were silver Ellipse on truck and gold Ellipse in 2wd. Below, we had Doug Lariviere take a terrific TQ and win in 13.5 4wd with Lucas Wedsted finishing 2nd just behind Doug. Nice job crew and it looks like you guys had a blast!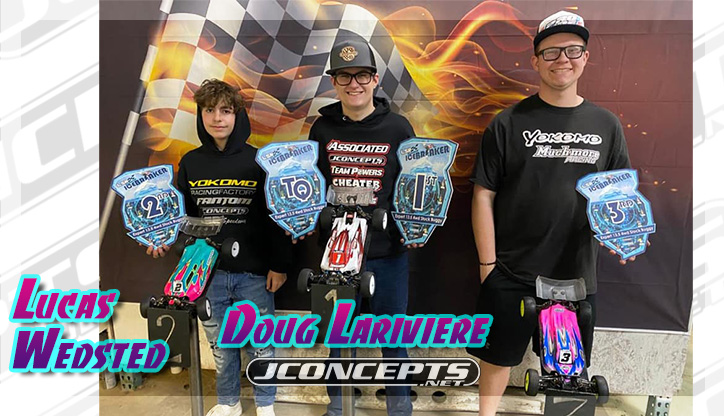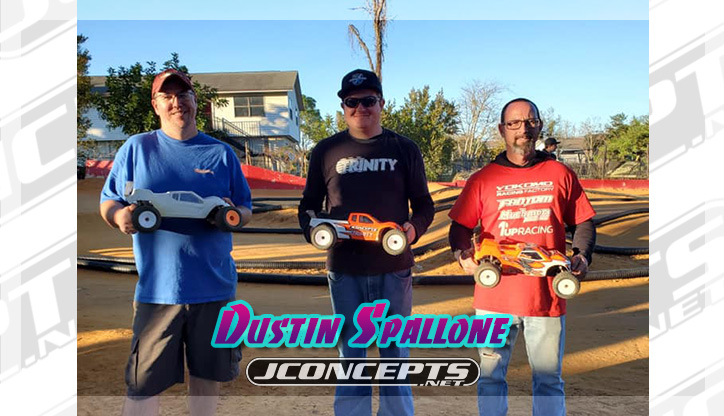 Thanks to Dustin for sending in his report. This is what he had to say about his race from last weekend, "Qualified 2nd and finished 1st in Mod Truck on blue Barcodes. Qualified 5th and finished 3rd in Expert 17.5 Buggy on blue Sprinters for A1 and green Sprinters for A2 at the JConcepts Super Cup." Keep it going, Dustin!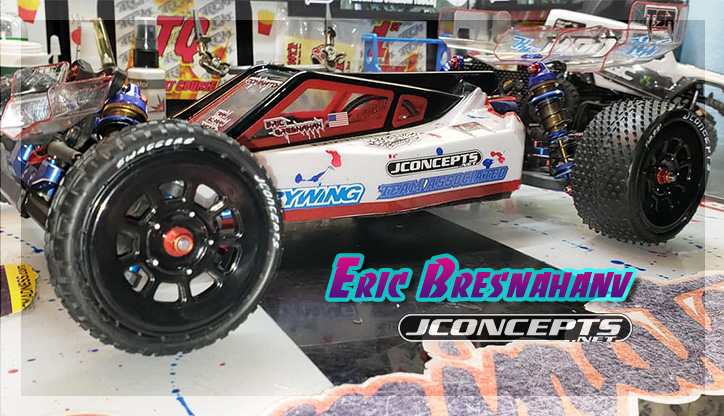 Check out Eric's 2wd weapon with the new 9-Shot wheels! Definitely something different for the carpet and turf track at RC Madness! Oh, and Eric took a nice TQ and win at RC Madness' point series in Stadium Truck!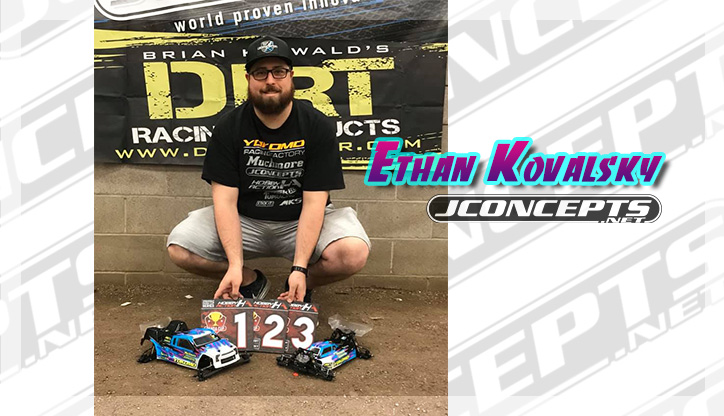 Congrats to Ethan Kovalsky and he completed an amazing race week at Hobby Action's Panda Cup. Competing on Wednesday, Ethan took the win in Stadium Truck and finished 3rd in 13.5 4wd. Then on Saturday, he was back at it finishing 2nd in 13.5 4wd. Good things happen when you keep making podiums! Nice job Ethan.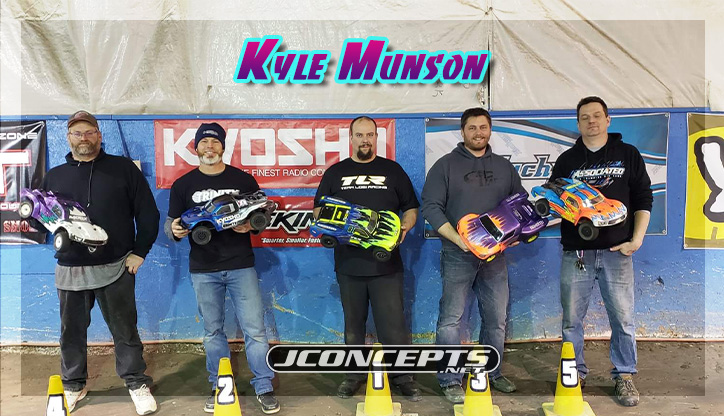 Great job by JConcepts' Kyle Munson last weekend as he attended the GRRC's Friday Night Club Race. Here's how it went for Kyle, "Friday night club racing from GRRC and 2nd to last race of our SC Showdown points series. I've won all 4 of the races we have had so far. TLR cars on JConcepts rubber were on point as always. In 2wd 17.5 buggy, I qualified P2 and finished P2 after a close race at the end. I used silver Ellipse rears, silver Dirt Webs up front. In 2wd SCT, I TQ'd and won by a pretty sizeable margin. I used gold Dirt Webs all around on the SC." Keep the fire going, Kyle… Nice work!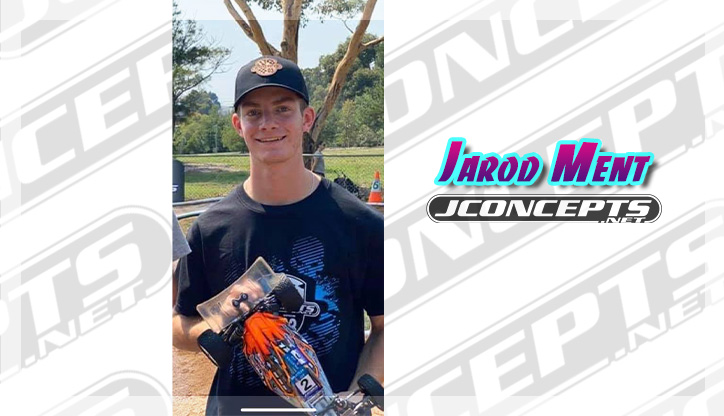 Huge congrats to our Australian team that gets stronger day by day. We had mega results from the 2020 Keilor Invitational, which is basically Australia's version of the Reedy Race of Champions. In the photo above, Jarod Ment placed 7th in 2wd and 4th in 4wd giving him the 6th overall spot at this prestigious event. Jarod ran green Ellipse on his 4wd and green Dirt Web fronts and Ellipse rears on his 2wd to score an awesome result.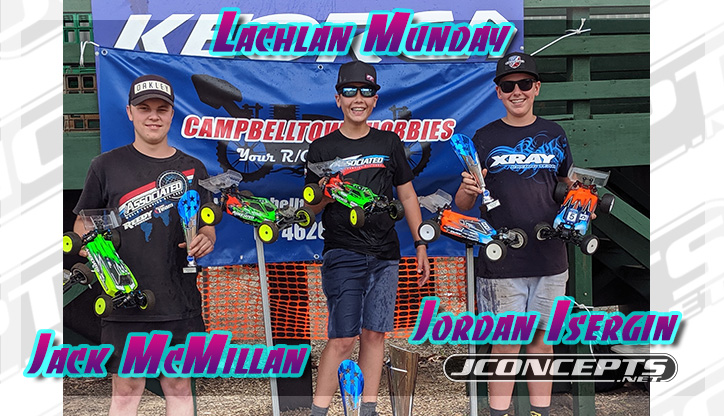 The results keep coming in for the JConcepts team as they finished 1-2-3 at the 2020 Keilor Invitational. Congrats to the super-fast Lachlan Munday on his amazing performance and took the overall combined 2wd and 4wd victory. Australian front runner, Jordan Isergin, drove with excellence to finish 2nd while Jack McMillan closed out the all JConcepts podium in 3rd for the modified invitational group. Can it get any better?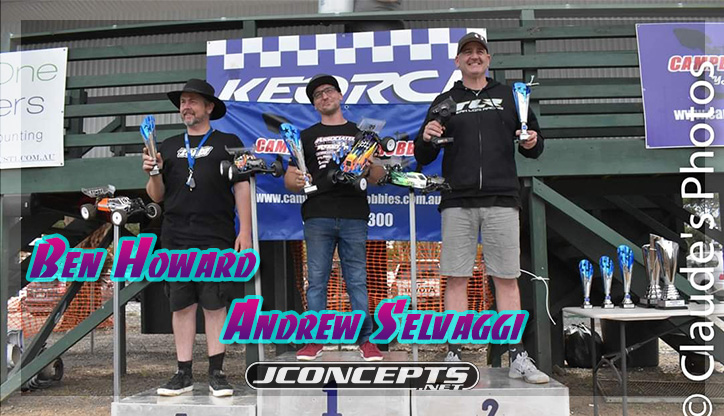 Making waves since focusing on the intricacy of stock racing, AE/JConcepts' Andrew Selvaggi finished the event on the top step with a performance he can be proud of. Ben Howard was also able to join Andrew, as he finished the stock invitational portion of the 2020 Keilor Invitation in 3rd. What a finish, what a result!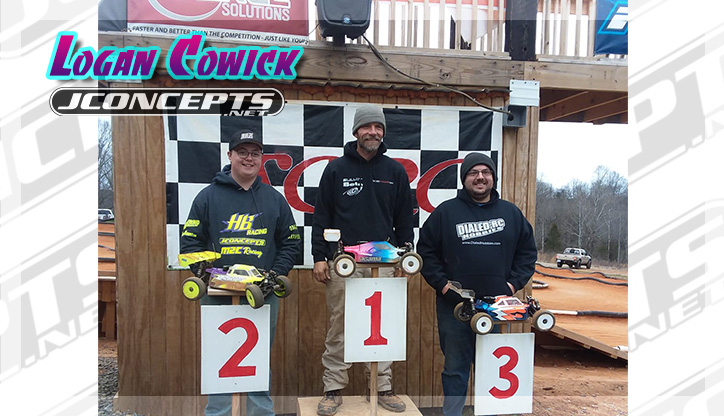 It was a great race weekend for Logan Cowick as he club raced at Silver Creek in Danville, VA. Logan was able to set the TQ and finish the weekend in 2nd place using green compound Reflex. We're excited for Logan as he keeps showing great speed and constantly improving! Nice podium finish, Logan!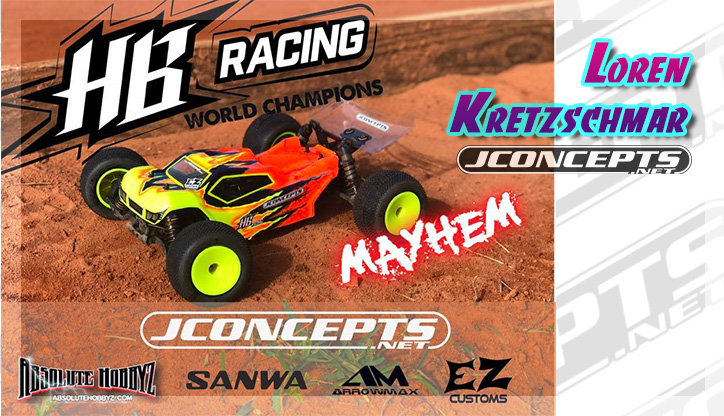 It was a banger weekend for Loren Kretzschmar, who took the TQ and won the Mayhem Series race at Coral Springs RC Track in Coral Springs, FL. Loren took full advantage of the green Flip Outs and finished on top in the 4wd Mini Truggy class, but check out that Finnisher body and paint on his wicked Tekno ride. Nice job Loren.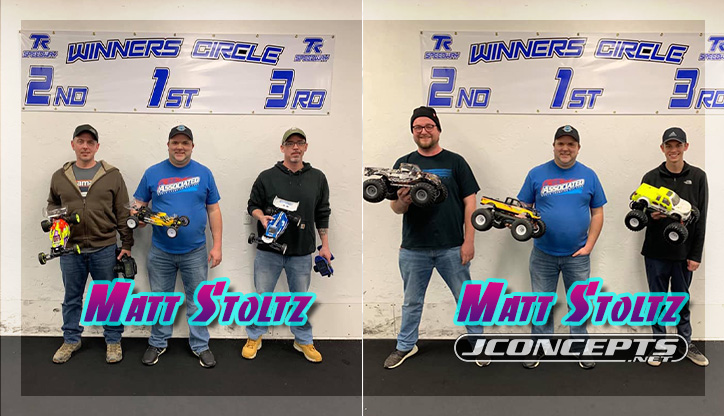 Matt Stoltz gets it done in 2 classes, but not your regular 2 classes. Matt took 1st in 2wd Modified buggy at TR Speedway while attending their winter points series race, but also got the TQ and win in the Monster Truck class to boot. Say what?! Monster truck and 2wd Mod win on the same day? That sounds like a lot of versatility and talent!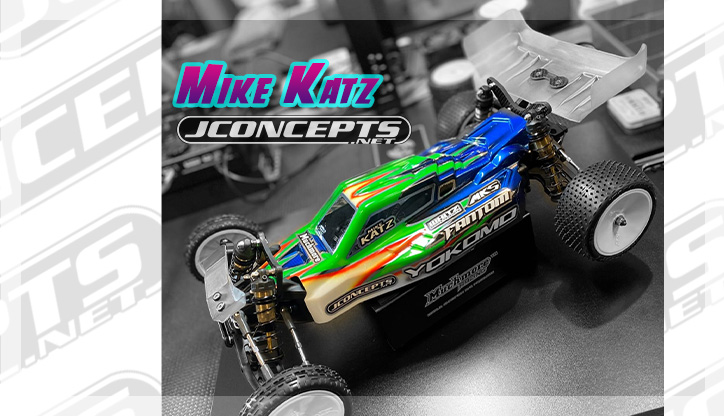 Also attending the grand re-opening of Ricochet Raceway, Mike Katz turned in an awesome weekend with a 3rd place finish in 17.5 2wd and a TQ and win effort in 13.5 4wd. Miked used Nessi rear tires and Swagger fronts to get the job done. But check out Mike's YZ-2 equipped with the F2 body, High Clearance wing, and Aero front wing… now that's a dialed looking whip!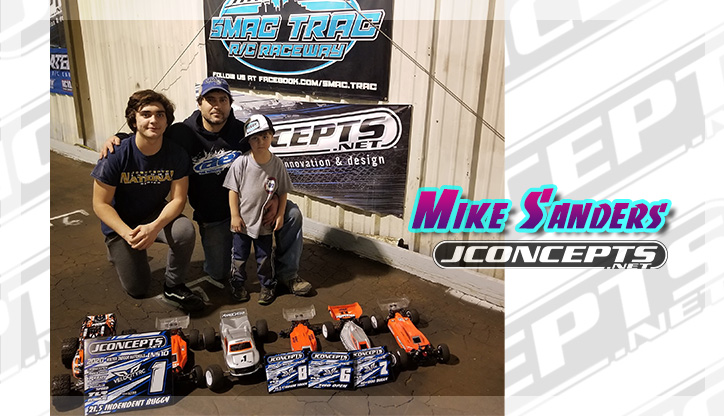 It's always a good weekend when you get to race with your family. Mike Sanders attended the Winter INS10 and had a great time. He noted that it was even more special as he got to watch both of his son's race and congrats to Caden Sanders on his big win in the 21.5 Independent 2wd class! Nice job team Sanders!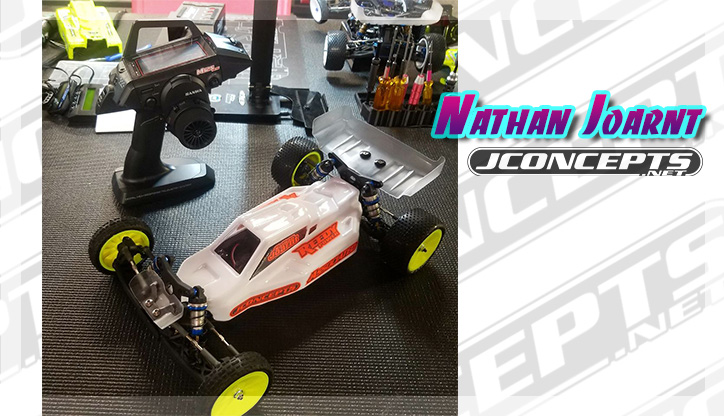 Nathan Joarnt (top) and Tyler Johner (bottom) make us proud every time they hit the track as they have a passion for racing. First, Nathan attended last Friday's club race at MMR3 in Saint Louis Park and finished 2nd with his B6.1 on Swaggers and Twin Pin tires. Then on Saturday, Nathan raced at Dollar Hobbyz and was able to set the TQ and took the win in the 17.5 2wd class. Here, he used Nessi rear tires and Swagger fronts to finish out in front.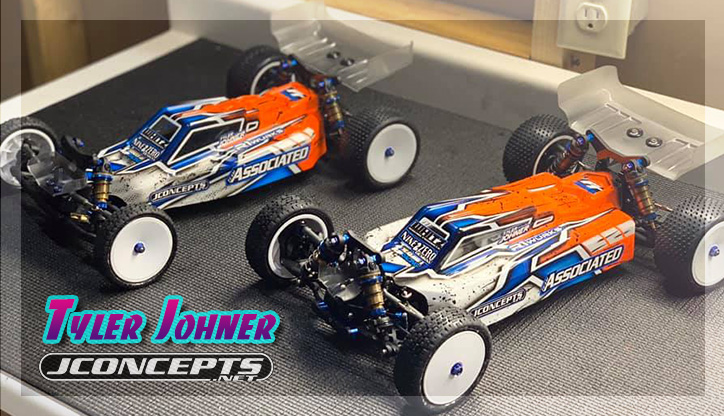 Tyler Johner also attended the club race at Dollar Hobbyz in Woodbury, MN, where Tyler finished 2nd in 17.5 2wd with his new B6.2. In 13.5 4wd, Tyler TQ'd and came home with the win. Tyler was dialed on Nessi rear tires and Swagger fronts on both of his rides and paired it up with the F2 body and High Clearance wing for speed and style. Go Tyler go!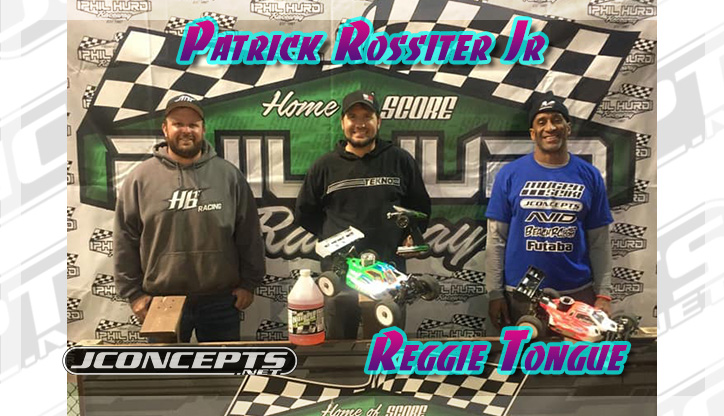 Congrats to Patrick Rossiter Jr., Jason Smith, and Reggie Tongue on their outstanding finish in the 1/8th Nitro Buggy class as they attended the Deans Discount Hobbies' G-Force race hosted by Phil Hurd Raceway over the weekend. Patrick carefully chose his tires and it paid off as he started the weekend on Blockers, then switched to Teazers, and finally moved to the Ellipse tires on main day and took the "W". Here's what he had to say about the weekend, "I can honestly say this is the first weekend in a very VERY long time, especially at home, where I truly enjoyed myself. The atmosphere had a sense of liberation about it and it's really refreshing. Good vibes from here on! I wanna thank Dean Lloyd for his continued support, to John Bernard for helping wrench on my car, to my Dad, to Wesley Dean for the moral support, and so many others!" Keep it up team!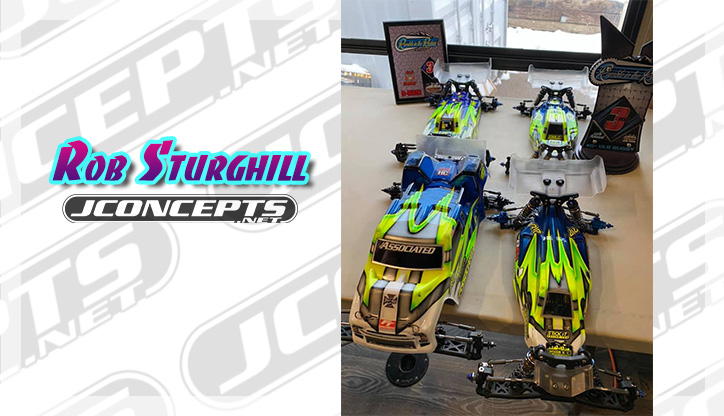 Also attending the 25th Annual of the Rumble in the Rockies, Rob Sturghill turned out a very nice weekend as he finished 3rd overall in the 40+ 2wd class, 4th in 13.5 Stadium Truck, and 3rd in the B in 13.5 4wd. Keep it smooth, keep it steady Rob, nice job!