JConcepts Race Team Update – February, Week 2!
We start off the JConcepts Race Team Update – Feb, Wk 2 post with a pretty unique team post that speaks volumes. We all know that RC racing is a whole lot of fun and while the system isn't perfect, we can always make it better and help grow the hobby. On this #TeamThursday, we are reminded that racing is better with friends so get your friends involved! Thanks to Ross McDonald and the rest of the race team for being involved with one of the best hobbies in the world!

The update from team driver Ross McDonald is what we need more of. He was out racing at Thornhill last weekend using Detox tires and yes, had a decent result but more importantly, he was helping his friends race Ebuggy for the 1st time! If RC racing is so fun, wouldn't others want to try it too? Invite a buddy, show a friend or family member, and next thing you know we're all helping to grow the community together! Thanks Ross!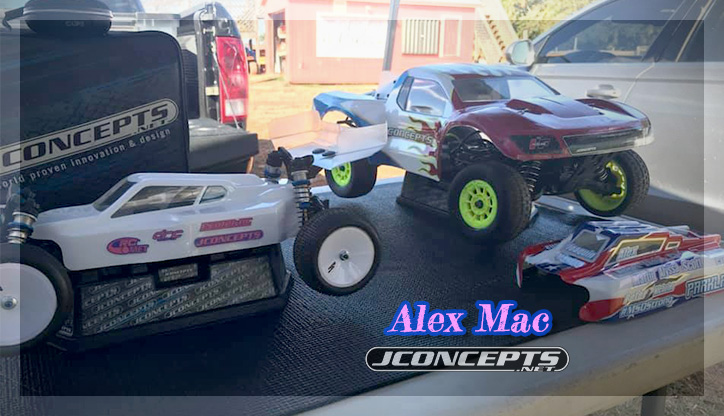 Alex Mac is an up and coming racer from Florida and is constantly learning from some of the best drivers the Sunny Southeast has to offer. Last weekend, Alex did a little club racing at Coral Springs R/C Track where he not only got the TQ and win in the 2wd Stock Class, he also won the Ebuggy class using his 4×4 SCT because of low turnout in the 4×4 SCT. Keep focused young Padawan!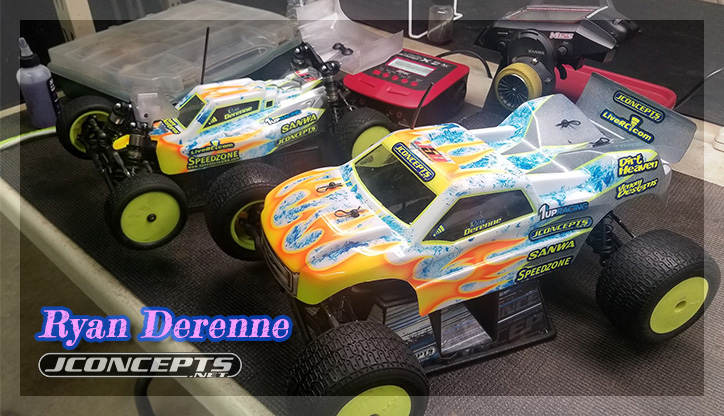 Ryan Derene is no stranger to the winner circle. In fact, last weekend he made another trip to the circle at Dirt Heaven Hobby and Raceway's winter point series race rocking the F2 body on his new 22 5.0. Paired up with a combination of Dirt Webs and Ellipse tires in gold, Ryan was lights out taking all 3 qualifiers and won the A-Main by a lap! Unfortunately for Ryan, lap traffic was a bit brutal to him as he finished 4th in Modified Truck, but still a very nice weekend of racing.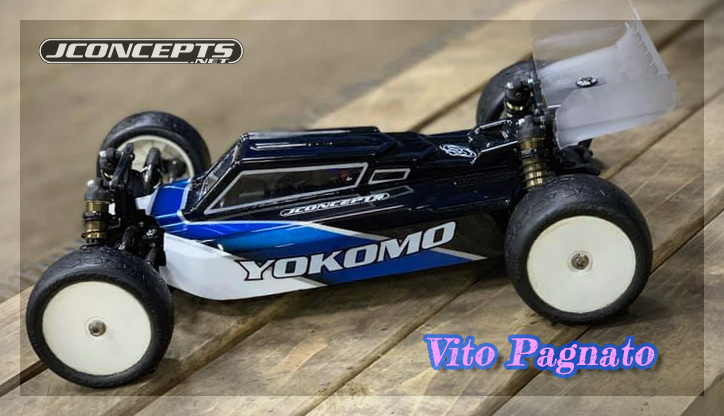 Attending the KO Propo race at The Track in Maryland, Vito Pagnato turned in a great effort to land himself 3rd place in the 4wd Modified class using Octagons. There's something pretty cool about Vito's classic stripe paint job isn't there? Keep on rockin' on Vito!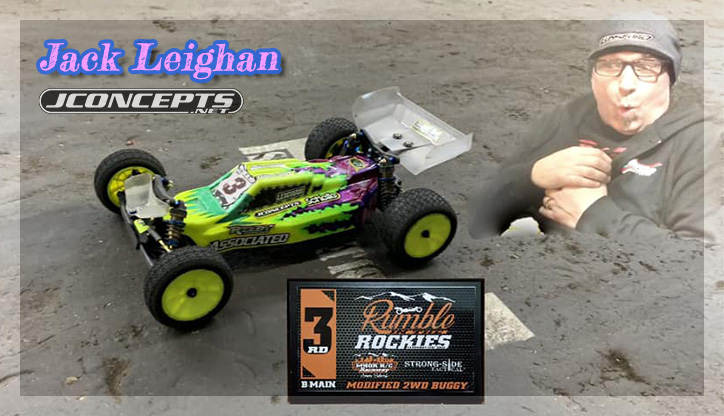 One of the friendliest guys you'll ever meet at the track, Jack Leighan is a Northwest legend and has been involved in the NW scene for a long time now. So it's great to see Jack venture out and rep the NW where ever he goes and last weekend he attended the Rumble in the Rockies race at MHOR RC where he finished 4th in the 40+ 2wd, 5th in Mod Truck, and 11th in 2wd Modified. Thanks for the update Jack and keep on rockin'!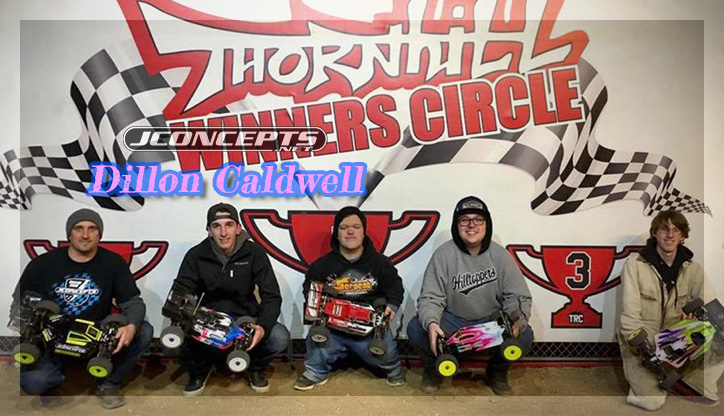 Having rejoined the JConcepts team for 2019, Dillon Caldwell is hitting it hard this year and is coming out swinging. Adding another great result to his growing list of accomplishments, Dillon was locked up 2nd place in the Pro Ebuggy class at round 2 of Thornhill Racing Circuit's winter series race.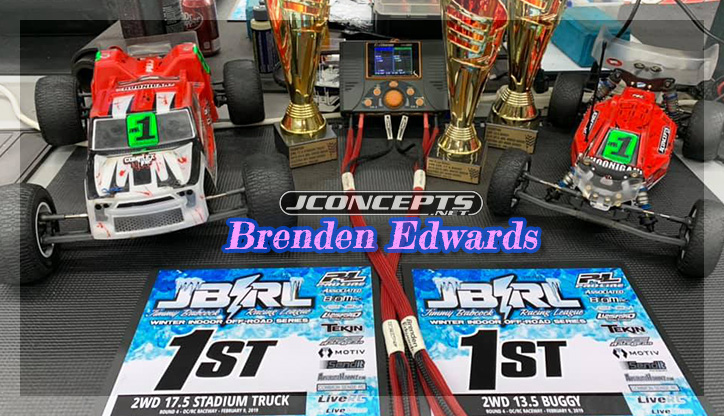 It's nice to see our team do well with any of the JConcepts tires, bodies, and accessories, but it's even cooler when you buy Jason's old M12s radio and drive like the man himself. Brenden Edwards TQ'd both the 13.5 2wd class and the 17.5 stadium truck class and went on to win both classes with authority. Last weekend's results gave Brenden enough points to earn himself the series overall championship in the 17.5 2wd class and the 13.5 buggy class. Brenden's tire of choice was the gold Dirt Web and Ellipse combo, but for this round, he used gold Space Bar fronts with Ellipse rears. In truck, the gold Dirt Webs held it down to provide Brenden the winning grip he needed to stay out front. Talk about good JUJU!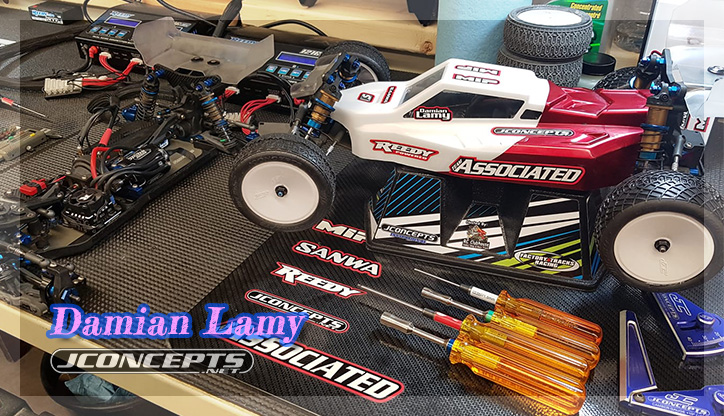 Our Canadian star, Damian Lamy has been quietly doing work in Quebec as he TQ'd and won both the 2wd and 4wd Modified buggy classes during last weekend's club racing adventures. Damian used green compound Dirt Web fronts and Ellipse rears to tear up the timesheets. Keep an eye out for this Canadian ace as the results will keep pouring in all year long.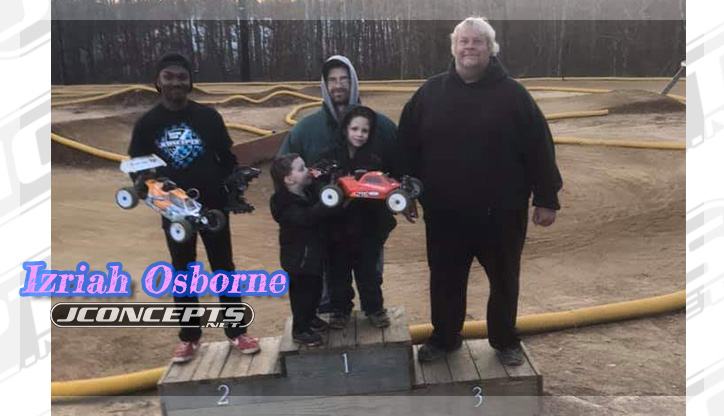 Practice makes perfect as Izriah Osborne has been at it weekly getting the most out of his time at the track. Last week, Izriah raced at Chuckles Raceway in Crossville, Tennessee where young Izriah TQ'd and took home 1st place in Ebuggy and finished a very respectable 2nd in Nitro Buggy. Keep at it Izriah, it's only going to get better!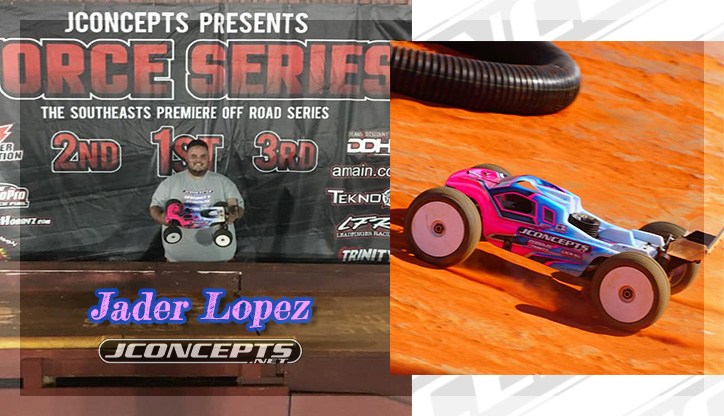 You can always count on Jader Lopez to hold it down in South Florida. This man was on fire last weekend at the Force Race hosted by Sundancers RC Tracks. Using green compound Triple Dees in Truggy, Jader took command of round 1 at the Force Series in the Pro Nitro Truggy class with a big win. Unfortunately, a flameout in the pits dropped Jader out of contention for the win in Pro Nitro Buggy, but managed to recover back to 5th.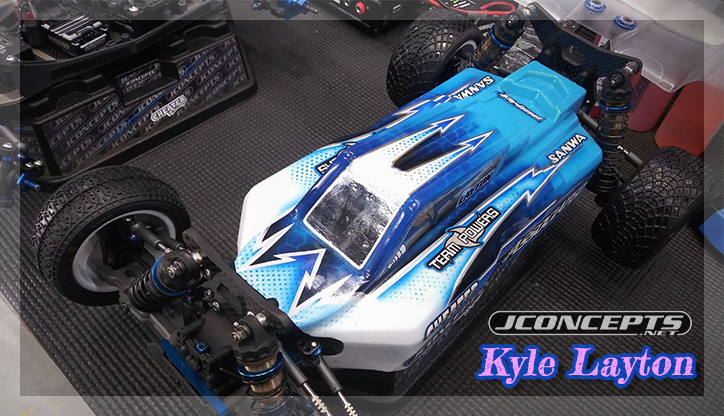 The very talented and versatile, Kyle Layton, is a beast in all classes including stock classes, 2wd, 4wd, and short course. He can drive it all and drive it very effectively. Last week Kyle put another tick down in the win column as he piloted his 2wd and 4wd Modified buggy out front and to the win. Both wins came using the JConcepts Dirt Webs fronts and Ellipse rears while fully utilizing the Aero wing package and F2 bodies.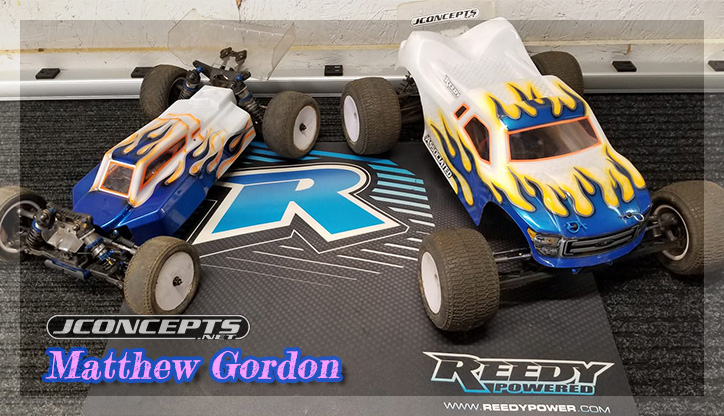 Taking top honors in 2wd Modified at the Snap Hard Racing League in the Modified Stadium Truck was our very own Matthew Gordon. Round 2 of the Snap Hard Racing League was hosted at the Warehouse Hobby Raceway and the dialed tire of choice was Dirt Web fronts Ellipse rears in 4wd and the trusty Dirt Webs in Stadium Truck. Nice job on getting that win in truck Matt!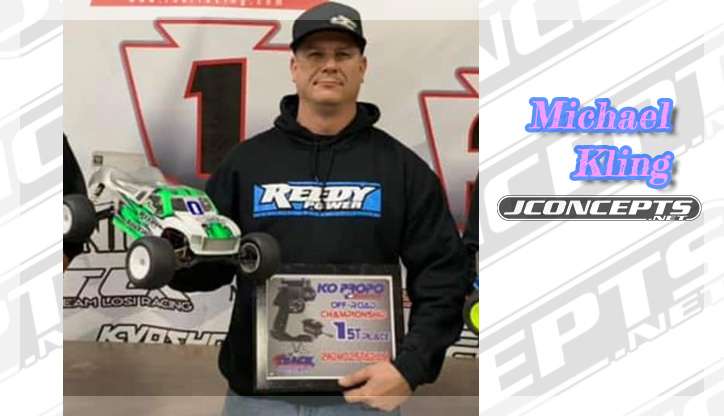 Thanks to Michael Kling for sending us his race update and here is what he had to say about his race weekend last week, "I attended the KO Propo race at The Track in Gaithersburg, MD last Saturday. I won Modified Truck, got 2nd in 4wd SCT, and 5th in stock Buggy. Green octagons with FDJ "Dew" additive made the difference as the track broke in and grooved up." Thanks for the info and advice on tire sauce!
Making a cameo appearance at the 2019 Rumble in the Rockies, JConcepts' Rob Sturghill showed some real speed as he had a great weekend of racing finishing 1st in the 13.5 Masters 2wd class, 4th in 13.5 2wd, and 12 overall in 13.5 Stadium Truck. As you can see, there seems to be a winning trend of Ellipse rears and Dirt Web fronts! Nice job Rob!