JConcepts' Race report from the 2017 JConcepts Indoor Off-Road Championship
Over this past weekend, the 2017 JConcepts Indoor Off-Road Championship was held in Rockford, Illinois, at Race 'Em R/C. This event was highlighted with some of the best Team Associated drivers in attendance raising the level of competition to elite status. Temps were below freezing, but the action was hot in Illinois!
2wd modified was led by newly signed Team Associated driver, Dustin Evans, who was able to set the fastest qualifying times in rounds 1 and 3 to take the overall TQ. In the triple A-mains, Evans would go on to win A1 while AE/JConcepts' Chad Due would take victory in A2 to set up for a final showdown in A3. However, Evans proved to be too strong and would go on to win a decisive A3 and take the overall win in 2wd modified class. The Wisconsin legend, Chad Due, would finish 2nd using his A1 and A2 scores consisting of a 3rd and 1st while AE/JConcepts' rising star, Cole Tollard would round out the podium in 3rd with excellent driving from 5th on the grid. Also, JConcepts' Tyler Whitt and Will Cushing would go on to take 4th and 5th, respectively, making it 4 out of the top 5 drivers on JConcepts.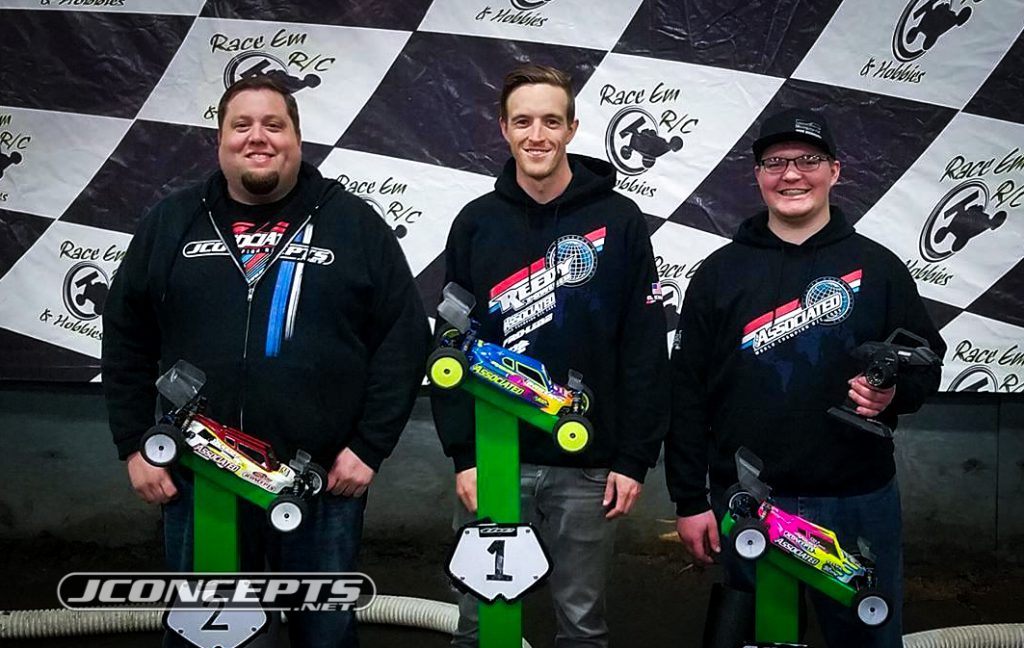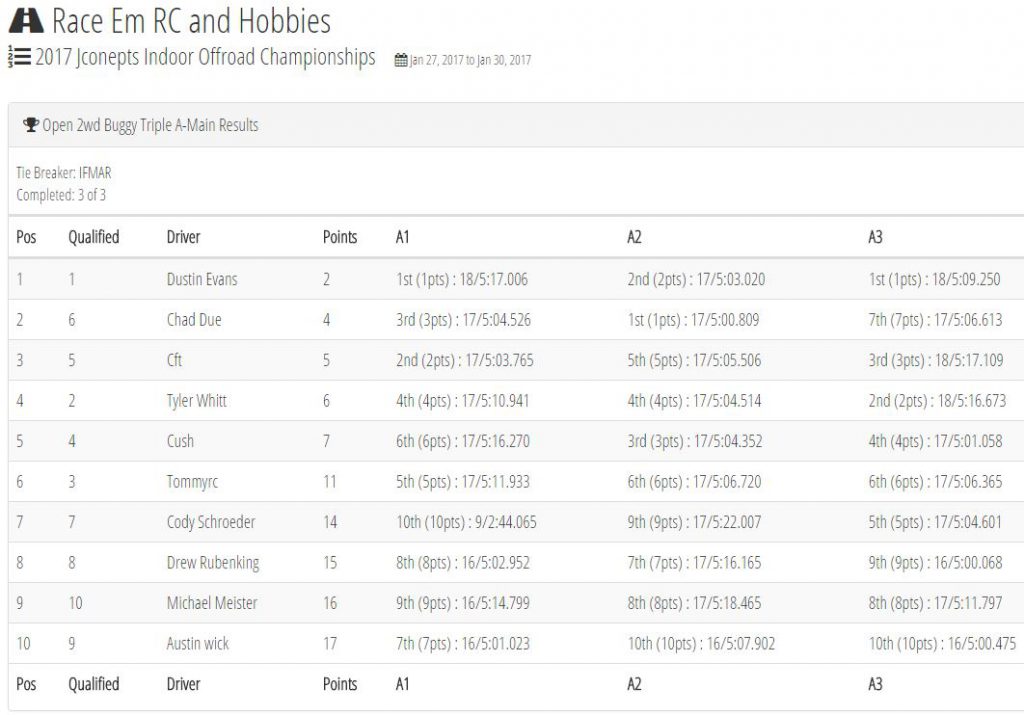 In the 4wd modified class, it was AE/JConcepts' hot shoe, Cole Tollard earning the overall TQ position with amazing runs in qualifying rounds 2 and 3. The stage was set for exciting action in the triple A-mains as the top 5 cars were all very close. Winning A1 was Evans, which put an extreme amount of pressure on the class TQ, Tollard. However, Tollard would not be phased and rose to the challenge. The two would put on one of the best shows of the weekend in A2, with Tollard taking the win over Evans with a gap less than 2 seconds. With both drivers having one win, it came down to A3 to decide the overall champion. Saving the best for last, Tollard would deliver a near flawless run to win A3 in style and solidify himself as the 4wd modified overall champion. Evans would finish 2nd with a 1st and a 2nd while AE/JConcepts' Chad Due would finish 3rd on the podium with two 3rd place finishes. Also making the top 5 was JConcepts' Alejandro Vegas, who displayed great speed with two 4th place finishes in A1 and A2 to finish a terrific 4th overall.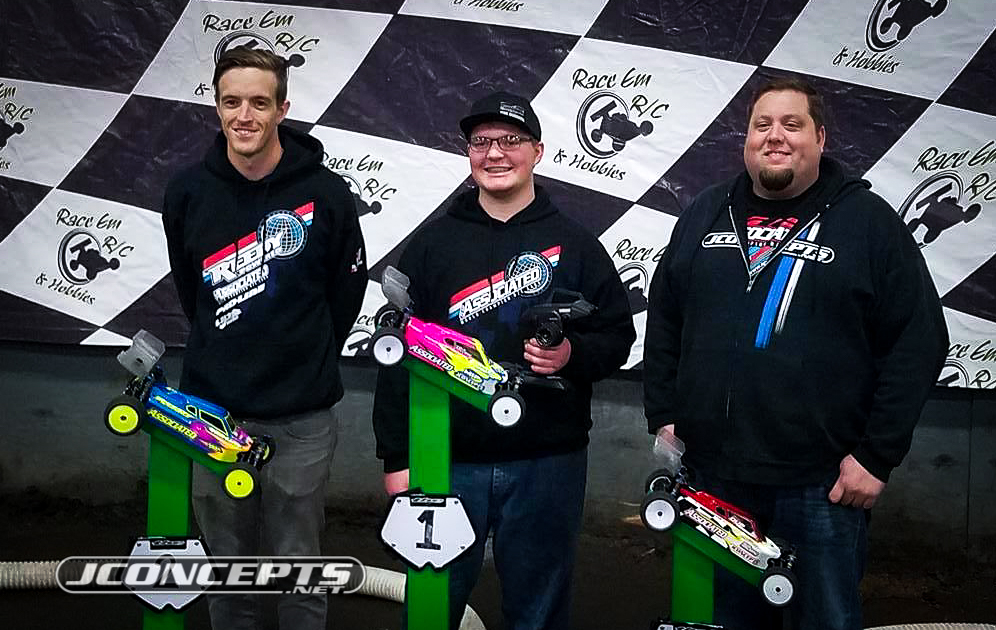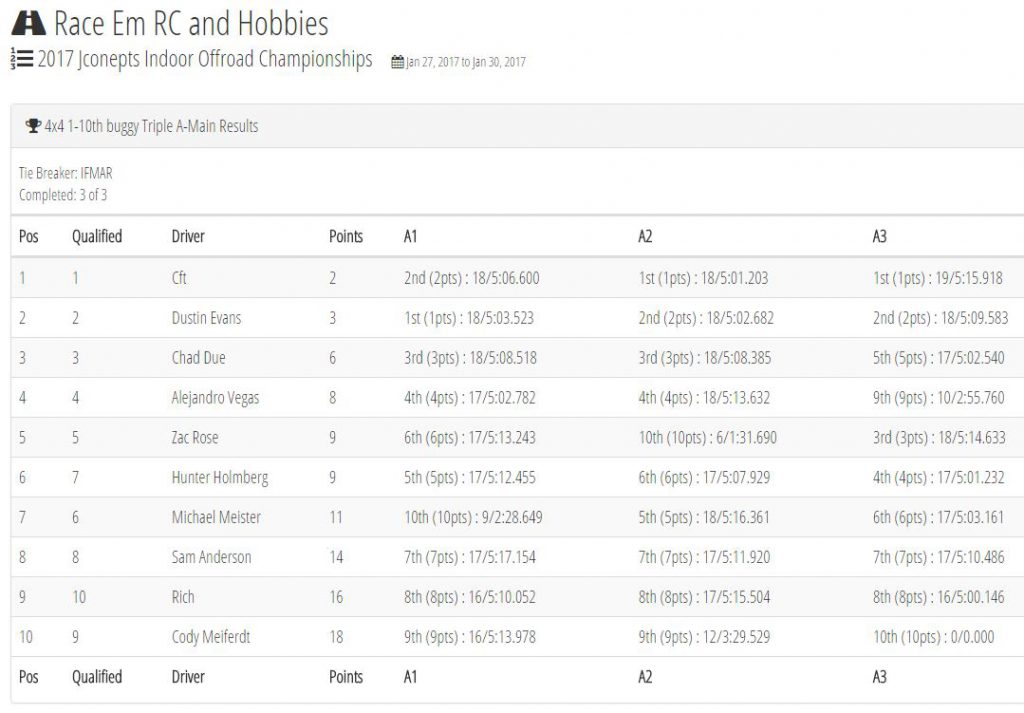 Other JConcepts notable was in the 2wd blinky stock class and the 13.5 4wd superstock class. Much like earlier at the CRCRC, Factory Tracks/JConcepts' Dreighton Stoub would put his driving skills on display and go on to win both classes in the first 2 mains. Dreighton has been making a name for himself and proving to be a force in the stock and superstock classes and we're excited to see him perform at future events later in 2017.
JConcepts' David Fast would finish 2nd in the 1/8th scale E-Buggy class getting JConcepts on the podium.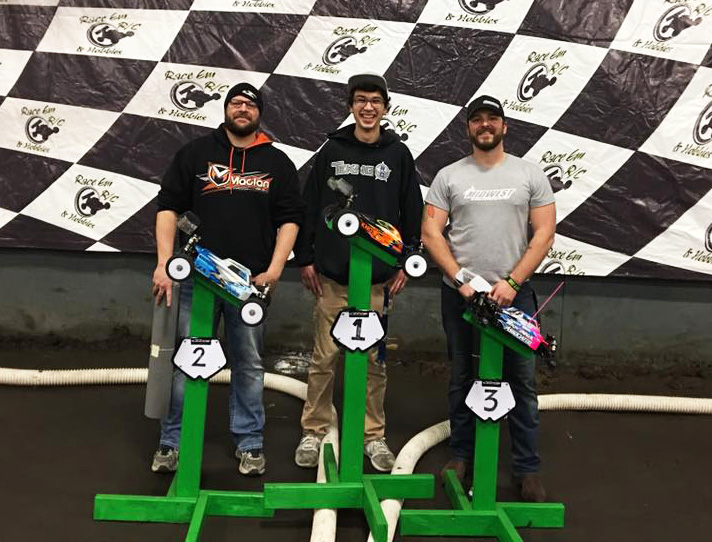 Taking the win in the modified short course class was JConcepts' own, Tyler Whitt. Whitt would check out in the first two mains to take the overall