JConcepts 'Punishes' The Competition Down Under!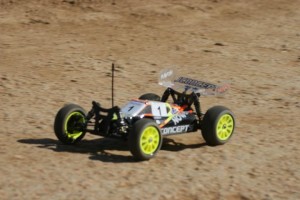 Event: 2011 Victorian Titles
Dates: August 5-7, 2011
Track: Mildura, Victoria, Australia
JConcepts products have once again dominated Down Under, this time at the 2011 Victorian State Titles. With just under 200 entries received from all around Australia, this was the biggest electric race held this year with deep fields in all classes.
Held at the regional Mildura club, the challenging track was perfectly prepared with weather varying wildly from 30c and hot to 11c and rain.

In the highly competitive Mod Buggy classes, JConcepts Punisher bodies took a clean sweep of all podium positions as Matt Griffin made a highly successful return to EP racing after some strong recent results in the nitro scene.
4WD Mod:
In qualifying, JConcepts Factory driver Ray Munday took TQ after winning 3 out of 4 rounds with his Punisher bodied B44.1. In the finals however, it was Multi-time national champ Matt Griffin (also Punisher / B44) who took out the first 2 A finals after some close racing to take the title, Ray winning A3 to claim 2nd overall. Andrew Abbott rounded out the podium with another Punisher / B44.1 combo, making it a clean sweep for the Punsiher bodies!
Rays TQ B44.1 was also fitted with Rulux Wheels and JConcepts 6.5″ V-Wing.
2WD Mod:
2wd was a carbon copy of 4wd. Ray Munday took TQ taking 3 out of 4 rounds with his Punisher / B4.1, but it was Matt Griffin coming out on top in the finals with his Punisher / B4. Andrew Abbott again made it a clean sweep for the Punisher / B4.1 combo with a fantastic drive.
With the rear tyres controlled, Ray and Matt chose JConcepts front tyres to give their cars the winning edge. Blue Bar Codes were used in the finals, with Ray using Rips and custom Double Dees throughout the event to tame the changeable conditions.
Rays TQ B4.1 was also fitted with B4 front scoop, Rulux Wheels and JConcepts 7″ V-Wing.
Truck Mod:
Ben Sterling made ammends for missing the Mod Buggy podiums by dominating Truck Mod qualifying with his brand new RT5 with JConcepts Double Dee front tyres. In the finals, Ben didnt have it quite as easy with Ray Munday (JConcepts / T4) and Scott Cameron (Team C) each winning a final to make it a three-way tie for the win. Ben took 1st on countback from Ray and Scott.
Bens winning RT5 used JConcepts Double Dee front tyres.
Rays T4 was shod with Blue Bar Code front tyres, Rulux Wheels, T4 Hi-Flow Body and JC Ballcups.
Stock Classes:
JConcepts products had strong results in the stock classes. In 4wd stock John Watkins took TQ using the Punisher / B44.1 combo, while in 2wd stock Scott Giles took a popular win with the Punisher / B4.1. Shaun Thiel (Team C) took out the 4wd stock and truck stock classes.
More Pictures, full race results and Ray's setups can be found on keilorrc.com.au.
Thanks to the Mildura club for putting on a great event!
Thanks to Peter Brady for the photos.
Products Used/Notable Happenings:
B4.1 Punisher Body, B44.1 Punisher Body, T4 Illuzion Hi-Flow Body
6.5″, 7″ Wings, B4 Front Scoop
B4/B44/T4 Rulux Rims
JC Ball Cups
Green Compound Double Dees
Green Compound Rips
Blue Compound Bar Codes