JConcepts presents the Southwest Indoor Grand Prix
The 2013 JConcepts Southwest Indoor Grand Prix has been officially announced.
For 2013, the Southwest Indoor Grand Prix is going big-time. The 10th Annual event held at the famous Competition Hobbies track in Tucson, AZ, will feature the very best indoor off-road racing in the Southwest, drawing from a deep pool of Arizona, California and national drivers coming in to wage battle. Racers will compete on a freshly built 110×62' layout at the direction of Richard "Zippy" Lake on the grippy, smooth indoor surface. Reserve the date, October 19-20, 2013 and come race with the best in the Southwest on Arizona's premier indoor circuit since 2003.

The 2012 event attracted the largest turnout in the 9 year to date history of the event making it a smashing success. Competition Hobbies is conveniently close to the Tuscon International Airport, a short 15 minute drive. Racers will receive an official JConcepts Events t-shirt with their first entry and have access to a select amount of top-shelf prizes throughout the weekend courtesy of event sponsors. Reserve the dates, book the trip and signup via RCsignup for the 2013 Southwest Indoor Grand Prix today. Stay up-to-date by visiting and liking Competition Hobbies on Facebook.
What – 2013 JConcepts Southwest Indoor Grand Prix
When – October 19-20, 2013
Where – Competition Hobbies – Tucson, AZ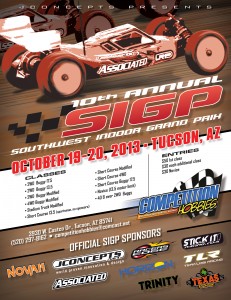 Available classes:
· 2wd buggy 17.5
· 2wd buggy 13.5
· 2wd buggy modified
· 4wd buggy modified
· Stadium Truck modified
· Short Course 13.5 (sportsman, no sponsors)
· Short Course modified
· Short Course 4wd
· Short Course buggy 17.5
· Novice (13.5 motor limit)
· 40 & over 2wd buggy
Scheduled to attend the 2013 Southwest Indoor Grand Prix:
Richard Lake
· Famous race director / announcer
Ryan Maifield
· 2011 IFMAR Worlds TQ and ROAR National Champion
Dustin Evans
· 2011 ROAR National Champion
Brian Kinwald
· 2-time IFMAR World Champion
Jason Ruona
· JConcepts
2013 JConcepts Southwest Indoor Grand Prix – location address
3930 W. Costco Dr.
Tucson, AZ 85741
Email: competitionhobbies@comcast.net
PH: 520-297-8162
Host hotels –
Holiday Inn Express & Suites
8373 N. Cracker Barrel Rd.
Tucson, AZ 85743
PH: 520-572-4777
Comfort Inn & Suites
8425 N. Cracker Barrel Rd.
Marana, AZ 85743
PH: 520-579-1099
La Quinta Inn & Suites
6020 W. Hospitality Rd
Tucson, AZ 85743
PH: 520-572-4235
Nearby restaurants –
Texas Roadhouse
Chilis
Applebee's
Cracker Barrel,
Native New Yorker
Hooters