JConcepts OC/RC Stock Nationals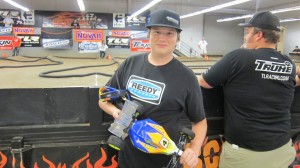 JConcepts OC/RC Stock Nationals
April 28-29, 2012
OC/RC – Huntington Beach, CA
OCRC located in Huntington Beach California was the location for the Stock Nationals, presented by JConcepts. OCRC came up with the idea for a stock only race format. Every class was a 17.5, non timing, with the exception of a late addition of 4Wheel buggy, that included timing. With a stock friendly layout, meaning no huge jumps, but plenty of technical sections, it was going to be up to the drivers, and not luck, to determine a winner.

Going with 4 rounds of qualifying on Saturday, and the mains on Sunday, ensured a good weekend of racing for all that attended. For a first year event, and a stock only race, a good crowd of 151 entries competed in the Classes of Buggy, Truck, and SCT. The surface at OCRC is a perfect match for JConcepts Bar Codes in Gold compound. The frequent squeal of the tires as cars went through the sweeper, was prevalent all weekend long.
TLR sponsored all three Rookie classes with the winners of each class receiving a TLR or Losi car kit. The big TLR prize of the weekend went to the Sportsman buggy winner as they would receive a TLR team sponsorship for one year. The big winner was Casey Becica who secured the Sportsman Stock Buggy title and received a one year sponsorship from TLR. Great job Casey on your win.
TLR Slideshow

On-Road legend Barry Baker running the 40 and over Buggy class, TQ'ed and won the main event. Actually Barry TQ'ed the Expert class as well. But pressure from JConcepts Steven Hartson in the A main had him take a wide corner, and Steven shot to the inside, never to look back. Behind Hartson, was a freight train of JConcepts drivers to fill up the podium, and then some. Reedy Race winner Josh Numan took second, with Jimmy Barnett in third, and Jake Thayer in fourth.
In Truck, it was Jimmy Barnett with the TQ. But a mistake dropped him back, and Josh Nuwman was in control. Running quick, consistent laps, Jimmy drove some quick laps and tried to get close enough to put pressure on Newman, but Josh wasn't having any of that, taking the win, with Barnett second.
The 4Wheel class, TQ Jake Thayer held the lead, but one mistake dropped him back behind Brent Fiege. Each driver had his favorite side, as the lead would shrink, and grow lap after lap. Thayer started putting pressure on Fiege with a push as time was running out. With one lap to go, a mistake by the leader allowed Thayer to retake the lead, and go on to win.
With the races of Sportsman Stock, and the SCT classes, the JConcepts Stock Nationals was a great event, at a great facility.
Thank goes out to OCRC, Robert, Nick, and crew for a great weekend of racing. And to the OC locals, and not so locals who made this a fun event to attend.