JConcepts New Releases – T5M Accessories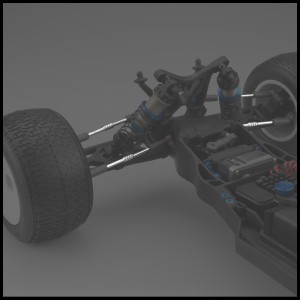 With the recent release of the new Associated T5M, JConcepts is ready with even more accessories for this new 1/10th scale racing truck.
JConcepts – T5M precut chassis protective sheet – black
Part# 2436
A high-end item used for many years on the performance side of R/C racing is the chassis protective sheet. For years, drivers have hand-cut and fitted their chassis with a clear material protecting the new chassis look and also providing a smooth or slick surface to decrease friction between chassis and dirt surfaces. JConcepts has hit the easy and glamour button at the same time and is now offering a precut and graphically pleasing chassis protective sheet for the most popular 1/10th off-road vehicles on the market. With 2 pieces included per package, the durable and low-resistance material fits each chassis layout like a glove and adds protection and style in one easy package.

Style, protection and performance, that's JConcepts.
JConcepts – T5M generation Fin titanium 67mm turnbuckle set – 6pc.
Part# 2441
JConcepts is Titanium with the introduction of the Fin turnbuckle sets designed specifically for style, durability and performance. The base of the shafts design is centered around a .143" titanium hex size which gradually tapers down into a 3mm thread base design which accepts the standard Team Associated 5 series of vehicle ball cups. The focus of the styling surrounds the lengthened adjustment hex area and the "finned" cuts that rotate about the center. The fin turnbuckles are lightweight and the original design brings out the glamour and quality that makes titanium one of the most sought after exotic materials in the world. The JConcepts turnbuckles are produced with left and right hand threads with the left being conveniently marked for easy orientation.
​JConcepts turnbuckle adjustment wrench is offered separately as Part# 2234.
Features:
· Original JConcepts design and "Fin" styling
· High-grade, machined titanium material
· Standardized 3mm thread base
· Left and right hand threads with conveniently marked left
· Aesthetic jewelry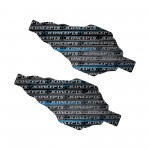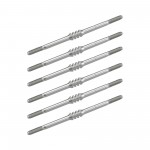 JConcepts – T5M precut chassis protective sheet – black
Part# 2436
UPC Code – 845937013330
Retail price – $15.00
(Fits – Team Associated T5M)
JConcepts – T5M generation Fin titanium 67mm turnbuckle set – 6pc.
Part# 2441
UPC Code – 845937013316
Retail price – $45.00
(Fits – Team Associated T5M)