JConcepts New Releases – Radio Bags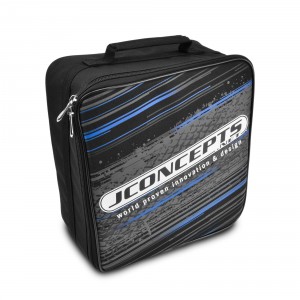 One of the single most expensive purchases in R/C is the purchase of the radio system chosen for competition. In many instances, radios are abused during racing conditions and not properly stored when they are inactive. Storage choices for radios are quite slim and once priced and evaluated some racers prefer not to have them simply because they do not travel very well in their luggage or typical race gear.
JConcepts introduces the radio bag designed with travel, cushion, ease of use and protection in mind. The lightweight design consists of a rugged outer bag which has a convenient and easy access zipper closure and inside has a Velcro closure pouch for additional easy access items. Inside, a high-density, form fitted foam, pre-cut for your radio of choice cushions all sides of your pricey possession while a lower stage foam insert cushions the bottom. The bag is travel friendly and sized to fit inside most luggage or racing carrier bags. JConcepts Striker logo and graphic imagery is printed on the outside for the most authentic look.

Protect in style, choose the form fitting, convenient radio bag by JConcepts.
Features:
· Protective, inner foam liner specifically catered to each radio
· Small footprint design, fits easily into luggage or carriers
· Inner pocket with Velcro closure for easy access
· Contoured, inner compartments for additional storage
· High impact Striker print design and graphics
· Zipper closure for security and quick access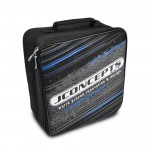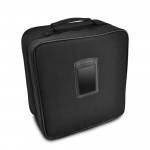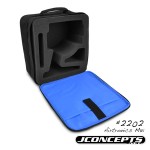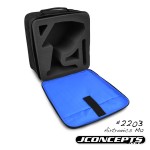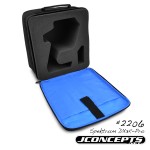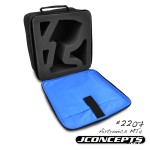 JConcepts radio bag – Airtronics M11X
Part # – 2202
UPC Code – 845937009241
Retail price – $45.00
(Fits – Airtronics / Sanwa M11X)
JConcepts radio bag – Airtronics M12
Part # – 2203
UPC Code – 845937009258
Retail price – $45.00
(Fits – Airtronics / Sanwa M12)
JConcepts radio bag – Futaba 4PK
Part # – 2204
UPC Code – 845937009265
Retail price – $45.00
(Fits – Futaba 4PK)
JConcepts radio bag – Spektrum DX3R-Pro
Part # – 2206
UPC Code – 845937009289
Retail price – $45.00
(Fits – Spektrum DX3R-Pro)
JConcepts radio bag – Airtronics MT4
Part # – 2207
UPC Code – 845937009296
Retail price – $45.00
(Fits – Airtronics / Sanwa MT4)