JConcepts New Releases – Carbon Fiber – Kyosho RB6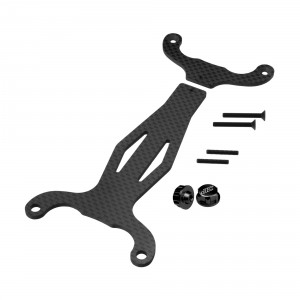 Battery braces are a highly visual and critical part of any electric R/C vehicle. They provide the security of the main power source on the vehicle as well as provide a look and feel to each vehicle while giving the user a quick way of accessing and performing a battery change or routine maintenance to the vehicle. The Monroe battery brace by JConcepts is highly functional and aesthetic eye-candy, designed from genuine 2.5mm Carbon Fiber, it performs as good as it looks. With so much variety in today's batteries and with most vehicles having a flexible mounting position forward and aft, functionality is always a top priority. With the Monroe battery brace, running different battery positions is possible while maintaining the necessary terminal clearance and providing a healthy holding force to keep everything intact even in the most demanding conditions or the inevitable crash. The voluptuous shape, combined with exotic material and surface finish, tops off an all important look to the vehicle from the inside out.

Carbon Fiber is a conductive material, always neatly route wiring and keep terminals as far away as possible from material. Running battery terminals in the rear position provides the most clearance and peace of mind and is highly recommended.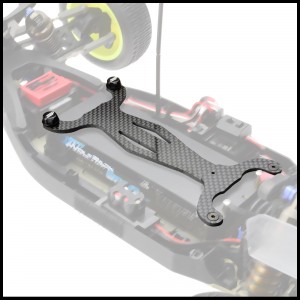 Features:
· JConcepts exclusive "Monroe" style and design
· 2.5mm Carbon Fiber material
· Includes JConcepts thumb nuts
· Specific design for Kyosho RB6
· Designed to accept standard and short battery configurations
· Design allows battery movement forward and aft
· Aesthetic eye-candy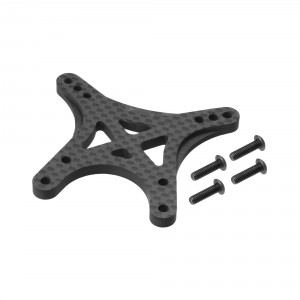 JConcepts has developed a front shock tower for the Kyosho RB6 utilizing genuine 4mm Carbon Fiber material. A light-weight, durable and high-grade option for the popular vehicle, JConcepts has set out to bring some brilliance to the front-end of the already race winning vehicle. Starting with 4mm Carbon Fiber material, JConcepts has located and plotted the exact geometry locations while trimming the outer border of the tower in a low-profile and slim configuration. Additional reinforcement ribs have been added where needed for extra strength. The front tower includes front 4 – 3x10mm mounting screws for a secure hassle free attachment.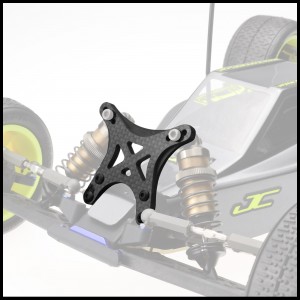 Features:
· Original JConcepts design
· Reinforcement ribs added for strength
· 4mm genuine Carbon Fiber material
· Aesthetic eye-candy
JConcepts – Kyosho RB6 2.5mm carbon fiber Monroe battery brace set
Part # – 2257
UPC Code – 845937009494
Retail price – $22.00
(Fits – Kyosho RB6)
JConcepts – Kyosho RB6 4mm carbon fiber front shock tower
Part # – 2258
UPC Code – 845937009500
Retail price – $22.00
(Fits – Kyosho RB6)