JConcepts New Releases – Carbon Fiber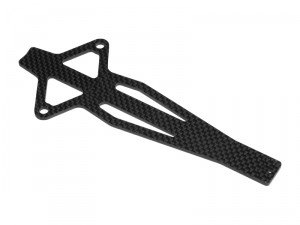 Monroe Carbon Fiber Battery Braces
Battery braces are a highly visual and critical part of any electric R/C vehicle. They provide the security of the main power source on the vehicle as well as provide a look and feel to each vehicle while giving the user a quick way of accessing and performing a battery change or routine maintenance to the vehicle. The Monroe battery brace by JConcepts is highly functional and aesthetic eye-candy, designed from genuine 2.5mm Carbon Fiber, it performs as good as it looks. With so much variety in today's batteries and with most vehicles having a flexible mounting position forward and aft, functionality is always a top priority. With the Monroe battery brace, running different battery positions is possible while maintaining the necessary terminal clearance and providing a healthy holding force to keep everything in tact even in the most demanding conditions or the inevitable crash. The voluptuous shape, combined with exotic material and surface finish, tops off an all important look to the vehicle from the inside out.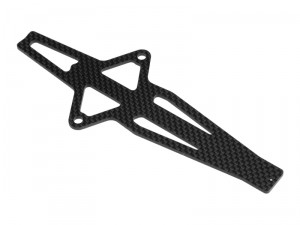 For best results use JC #2160 or AE #1787 thumb screws for the most secure placement and quickest installation. Carbon Fiber is a conductive material, always neatly route wiring and keep terminals as far away as possible from material. Running battery terminals in the rear position provides the most clearance and peace of mind and is highly recommended.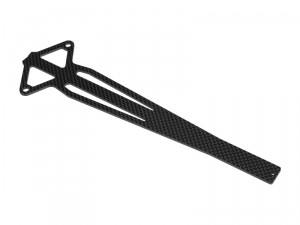 Features:
JConcepts exclusive "Monroe" style and design
2.5mm Carbon Fiber material
Available for B4.1, T4.1 and SC10
Design allows battery movement forward and aft
Aesthetic eye-candy
SC10 Rear Body Mount Brace
Short Course trucks are very body sensitive. The proper body style, cut-outs, overall weight and roll characteristics can determine a properly handling vehicle. The SC10 has a very flexible rear body mount which provides several durability advantages but when it comes to performance, having a sturdy base to the body is critical. JConcepts rear SC10 body mount brace performs just as the description suggests and supports the body mount in high-force situations.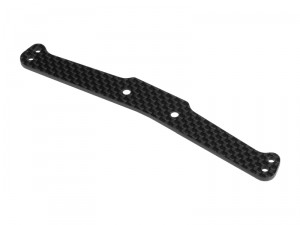 While in the turns, the weight of the body hangs down in the rear and allows the body to flex toward the tires which cause unwanted handling and aero changes which may contribute to an ill handling vehicle. Simply install the brace as instructed and the body will now remain in a more standardized position on high-bite conditions and during hard corning.
Features:
Original JConcepts design
2.5mm Carbon Fiber material
Fits on all SC10 trucks
Includes 2 – flathead screws for clean installation
Aesthetic eye-candy
Associated Carbon Fiber Hub Towers (A, B and C)
One of the more critical adjustments on the rear of the Associated 1/10th off-road vehicles is the rear hub carrier roll-center adjustment. Associated conveniently makes 3 different bolt-on rear hub towers for these vehicles in the A,B and C configuration. JConcepts now offers the A,B and C hub towers as Carbon Fiber components to slim out the rear hub carrier assembly while still providing the strength, simplicity and look that carbon fiber is known for. Each Carbon Fiber hub tower is machined with identification bumps near the outer edge with 1 bump identifying the A tower, 2 bumps for B and 3 bumps for C. Adjust with confidence, style and easy identification with JConcepts.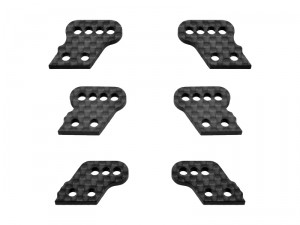 Features:
6 hub towers included in each package
2.5mm Carbon Fiber material
Easily identification bumps for A,B and C configurations
Fits on all Team Associated .1 generation rear hub carriers
Aesthetic eye-candy
Part Numbers
JConcepts – B4.1 +8mm Monroe Carbon Fiber battery brace
Part # – 2161
UPC Code – 845937007117
Retail price – $25.00
(Only compatible with Team Associated B4.1 WC or B4 with +8mm chassis)
JConcepts – T4.1 Monroe Carbon Fiber battery brace
Part # – 2162
UPC Code – 845937007124
Retail price – $25.00
(Only compatible with the Team Associated T4.1)
JConcepts – SC10 Monroe Carbon Fiber battery brace
Part # – 2163
UPC Code – 845937007131
Retail price – $30.00
(Compatible with all Team Associated SC10 models)
JConcepts – SC10 rear body mount brace
Part # – 2164
UPC Code – 845937007148
Retail price – $20.00
(compatible with all Team Associated SC10 models)
JConcepts – Associated Carbon Fiber Hub Towers (A, B and C)
Part # – 2165
UPC Code – 845937007155
Retail price – $30.00
(compatible with B4.1, T4.1, SC10 and B44 models with aluminum .1 generation rear hubs)