JConcepts New Release – TLR 8ight-E 3.0 Body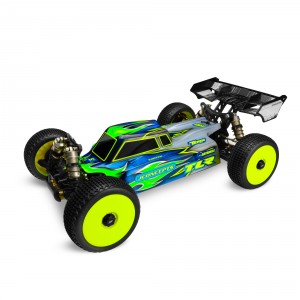 JConcepts, out to Silence the competition, debuts new Silencer body design for TLR 8ight-E 3.0
The JConcepts design team has spent many hours in development with leading team drivers to develop a new high-speed style body, specifically for the latest circuits. One of the most recognizable items dropped during the busy racing season, the Silencer body style, has now been designed for perfect fit and finish on the TLR 8ight-E 3.0 buggy.
A brand-new, ground up design, the Silencer, has new elements created for the highest speed circuits. A narrowed, Finnisher stance cockpit allows for smoother high-speed transition and increased flow in and out of the body for electrical air-flow. A deep recess behind the cab features dual channeling out the rear providing air escape along with rear-end stability. The Silencer side-pods have a clipped rear-end, narrowing the rear by angling just in front of the rear tires. The extended runner features on the rear-end of the body enhance the force placed on the rear pods during high-speed acceleration.

The main pods are heavily chamfered and a more heat-shrink design over motor and speed control area are highlighted features. The end result has the body looking extremely low-profile with heavy JConcepts edginess and appeal. The Silencer is capped off with a cock-pit "shark fin" for more high-speed tracking stability and increased roof stiffness.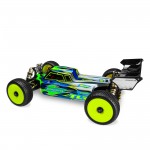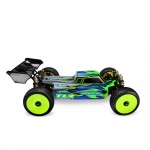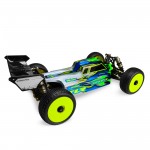 Features:
· JConcepts Silencer styling
· Forward cab bias, dual channeling rear escape
· Clipped side-pods with extended runners
· Cock-pit "shark fin" for added stability
· Clear polycarbonate with protective film
· Includes window mask and decal sheet
· 2013 Dirt Nitro Challenge Champion styling
Silencer – TLR 8ight-E 3.0 body
Part # – 0245
UPC Code – 845937009920
Retail price – $31.00
(Fits – TLR 8ight-E 3.0)