JConcepts New Release – Tekno EB410 Carbon Fiber Upper Deck
JConcepts adds to the list of performance parts for the EB410 with a carbon fiber upper deck. The new upper deck offsets the position of the fan mount which allows several benefits. The first is the ability to use the #0354 JConcepts F2 body as the new carbon fiber part shifts the fan over to clear the low-profile cab of the body.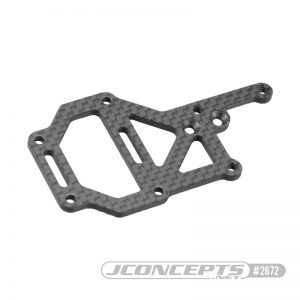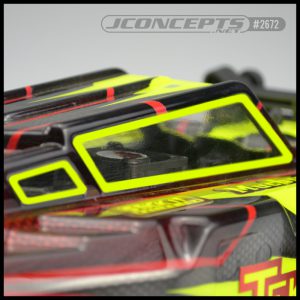 The secondary benefit realized after testing the new upper deck is the ability to use a taller fan. This is a benefit not exclusive to the JConcepts body but to all low-roof body shell types because taller fans are typically more powerful and move more air. Another positive to the JConcepts carbon fiber upper deck is the slight position change of the fan allows some lower power fans to work better without the force of the motor magnets affecting the fan, bearings or rotation.
Features:
• JConcepts design / function
• Genuine carbon fiber material
• Advantageous fan positioning
JConcepts – Tekno carbon fiber upper deck, off-set fan mount
Part# 2672
UPC Code – 845937019332
Retail price – $22.00
Map price – $18.70
(Fits – Tekno EB410)