JConcepts New Release – T5M, Titanium Knurl Tip Front Axle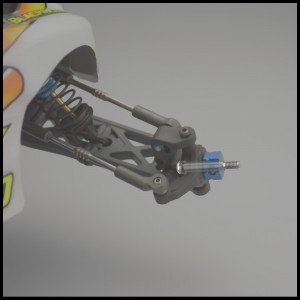 One of the best upgrades you can make to any R/C vehicle is to reduce weight. JConcepts has been on top of weight saving items since the beginning and are now making those items available to the Team Associated T5M vehicle. A critical point of the axle weight revolves around the front axle itself along with surrounding geometry, hexes and pins. Within the steering block the space is very tight and especially between the 2 front bearings where the front axles rests. The cleverly designed JConcepts axle is quite simple, straight-forward and eliminates ~25% weight over a stock steel axle.

The JConcepts front axle design is based around high-quality Titanium construction, and a knurled axle tip for finger control and access. Finger control gives the mechanic a grippy place to rest a finger so the front tire doesn't rotate easily during changes making the process quicker and with less frustration. The design also eliminates screws and other items which are hard to inspect for issues which limit performance and add additional weight. The light-weight, free spinning design includes axle roll-pins to allow easy assembly of a necessary but (not included) clamping hex adaptor.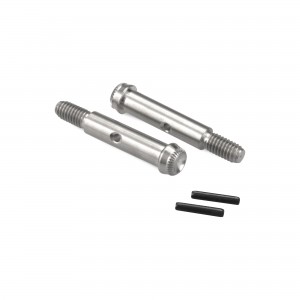 Assembly –
Assembly is built from the inside out. Slide the axle through bearings and install included roll-pin and center on the axle. Complete by installing (not included) JC #2449-1 (blue) or 2449-2 (black) or AE #71014 hex adaptor. For added security use (available separately) #2341-1 (blue) or #2341-2 (black) JConcepts large flange serrated wheel nuts.
Stock steel front axle with screw – 6.0gms
JConcepts Titanium front axle with hex adaptor – 4.5gms
Features:
· JConcepts design and function
· Knurl tip for finger control
· High-quality titanium construction
· Design eliminates frustrating components
· Includes roll-pins
JConcepts – T5M, Titanium knurl tip front axle
Part# 2440T
UPC Code – 845937013323
Retail price – $36.00
(Fits – Team Associated T5M)