JConcepts New Release – Stadium Truck and SCT Smoothies
JConcepts remains committed to 1/10th off-road and SCT off-road racing by releasing the Smoothies. In some conditions in off-road racing, there is no denying that a slick tire is the fastest way around the track. Throughout the racing calendar year, there are several tracks where slicks in gold or green compound are the go-to tire. In damp weather, indoor clay surfaces become so tacky that the lower the tread or to the point of zero tread is an advantage. For years drivers have sanded, ground and hand sculpted tires in search of that elusive slick carcass for racing.

Now, with JConcepts, racers have the slick option straight out of the package. Released as a 2.2" bead mounting diameter and a 3.0" x 2.2" bead mounting diameter, the JConcepts Smoothies mount straight to the latest generation wheels for that all important reactive feel. The carefully profiled tire carcass rolls through the turns with efficiency while the maximum smooth surface area grips the specialty surfaces like no other. The Smoothies include Dirt-Tech 2.2" and SCT inserts which have made an immediate presence on the racing scene since their release. The identifiable gray color with custom sculpted features, are blended into the newly developed insert material which provide racers a durable option capable of being used in medium to extremely high-traction conditions.
After completely mounting the tires to wheels, it is recommended to scuff the slick tires with sandpaper or scouring pad to have a slightly dull or rough finish to begin practice or racing.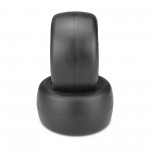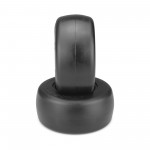 2.2 Truck Features:
· JConcepts design and function
· Designed in conjunction with Brian Kinwald and Jason Ruona
· 2.2" Stadium truck bead mounting size
· Carefully shaped carcass = rolling speed
· Includes 2.2" Dirt-Tech (gray) inserts
Smoothies – green compound (fits 2.2″ truck wheel)
Part # – 3130-02
UPC Code – 845937013620
Retail price – $25.00
(fits 2.2″ truck wheel)
Smoothies – gold compound (fits 2.2″ truck wheel)
Part # – 3130-05
UPC Code – 845937013637
Retail price – $25.00
(fits 2.2″ truck wheel)
SCT Features:
· JConcepts design and function
· Designed in conjunction with Brian Kinwald and Jason Ruona
· SCT 3.0" x 2.2" bead mounting size
· Carefully shaped carcass = rolling speed
· Includes SCT Dirt-Tech (gray) inserts
Smoothies – green compound (fits SCT 3.0″ x 2.2″ wheel)
Part # – 3131-02
UPC Code – 845937013644
Retail price – $25.00
(fits SCT 3.0″ x 2.2″ wheel)
Smoothies – gold compound (fits SCT 3.0″ x 2.2″ wheel)
Part # – 3131-05
UPC Code – 845937013651
Retail price – $25.00
(fits SCT 3.0″ x 2.2″ wheel)