JConcepts New Release – Speed Fangs – Platinum Compound, Belted Tires
The rush of a speed-run vehicle is intense and wildly popular, the Speed Fangs by JConcepts are here for a belted, rubber tire option for the fastest crowd in the RC world. There was a missing wheel in the market of speed-run RC vehicles and JConcepts has hit bullseye once again with the Cheetah wheel set. An adjustable 83mm outer diameter wheel that has interchangeable adaptors for 12mm and 17mm hex vehicles is a must have. Now, pre-mounted to the Speed Fang belted tires, the Cheetah wheel can also be used with just about any speed-run or 83mm bead mounting diameter tire on the market.
When uncovering the pre-mounted combination, it is important to choose the application type of your vehicle. Using the included hardware, bolt-on either a 12mm or 17mm adaptor which suits your vehicle and secure the hubs. The wrenching effort will pay off once all screws are attached and a durable Cheetah wheel is assembled. Speed-run vehicles are unique, and with the JConcepts combination, the driver can choose the spoke look of standard or spice it up with the included dish covers.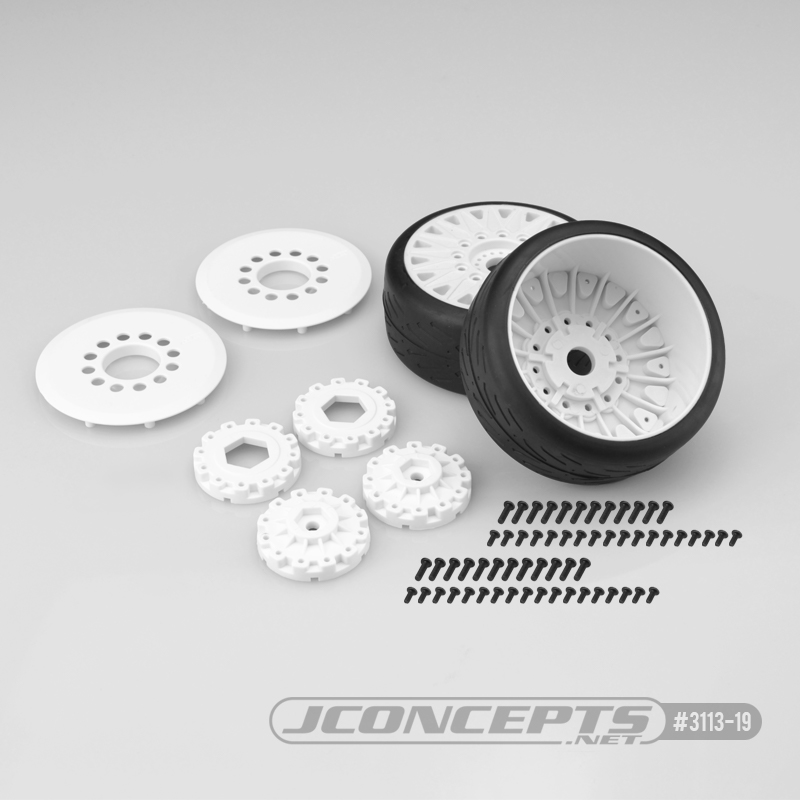 The dish cover options bolt to the wheel from the inside out giving a legendary Salt flat look of a 1:1 speedster. Once the 12mm vs 17mm choice has been made and assembled, the tire is already glued and mounted for your convenience and the combination is ready to bolt to the machine of choice. JConcepts wheels are manufactured using advanced techniques to ensure trueness and durability and are branded with the small JC logo for brand identification and authenticity. The Speed Fang pre-mounts are available in white and black colors to match an existing paint scheme or show vehicle.
When your vehicle hits the speed-trap, it looks good with JConcepts.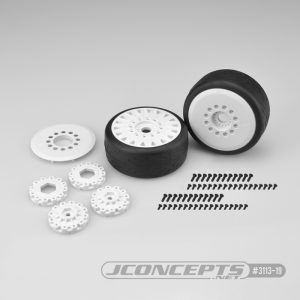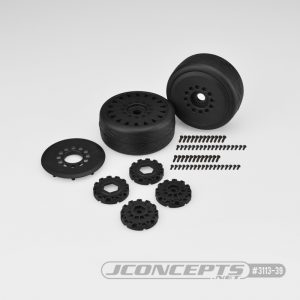 Notes from the team –
The Speed Fangs are rated for up to 6s power and up to 100mph. Higher power output to the vehicle and longer more power boosted runs are not recommended. Due to the nature of the product, there will be no guarantee against failures.
Features:
• Original JConcepts Speed Fang | Cheetah 83mm design
• Belted, Speed Fang with embossed tread
• Cheetah wheels with interchangeable 12mm and 17mm hex adaptors, included
• Durable design, finish, and material
• Spoke or dish appearance options
• Available in white and black color finishes
• Faasssst
Speed Fangs – platinum compound, Belted, pre-mounted on white #3395 wheels
Part# 3113-19
UPC Code – 845937020697
Retail price – $43.00
Map price – $32.25
(Fits – adjustable for 12 and 17mm hex based vehicles)
(Vehicles – Slash 4×4, Stampede 4×4, Rustler 4×4, Arrma Infraction / Limitless)
Speed Fangs – platinum compound, Belted, pre-mounted on black #3395 wheels
Part# 3113-39
UPC Code – 845937020703
Retail price – $43.00
Map price – $32.25
(Fits – adjustable for 12 and 17mm hex based vehicles)
(Vehicles – Slash 4×4, Stampede 4×4, Rustler 4×4, Arrma Infraction / Limitless)