JConcepts New Release – Slash 4×4 Machined Spur Gear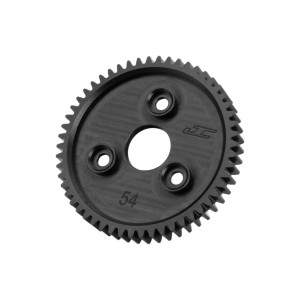 Gear-up or Shut-up. JConcepts introduces Silent Speed spur gears for Traxxas Slash 4×4, Stampede 4×4 and Rally.
The heart of any R/C vehicle is the transmission, at the top of the transmission lies the spur gear; an integral part of racing performance. Designed with several key aspects in focus, JConcepts introduces the Silent Speed line of spur gears for select Traxxas vehicles.
Spur gears or straight-cut gears are some of the simplest forms of gears; however they directly influence the ratio, speed and sound of R/C vehicles and they are extremely important. These gears when meshed together correctly provide the transfer of power from the motor to the transmission and are one of the key elements in the versatility and sound of the vehicle.

Silent Speed Spur Gears for Traxxas vehicles
Test and confirm, trial and prototype makes JConcepts products great performers. The Silent Speed precision machined spur gears from JConcepts specifically designed for the popular Traxxas vehicles are now available. All details are considered so they are a direct bolt-on piece with the convenience of the tooth marking and security of the precision design, pack a meticulously packaged product. Silent Speed for the Slash 4×4, Stampede 4×4 and Rally are hot off the development line and ready to hop-up the most popular assortment of vehicles on the market.
Features:
· JConcepts simple design and function
· Precision machined for durable and concentric design
· Machined to indicate size
· Fits, Slash 4×4, Stampede 4×4 and Rally
· JConcepts – World Proven Innovation and Design
JConcepts – .8M, 54T, SS Machined Spur Gear
Part # – 2154
UPC Code: 845937007476
Retail price – $11.00
(fits Traxxas Slash 4×4, Stampede 4×4, Rally)