JConcepts New Release – SC10 Carbon Fiber Front Body Mount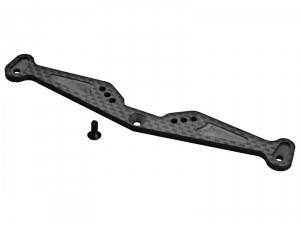 JConcepts adds another top quality carbon fiber accessory to the already hefty list for the SC10 line of vehicles with the SC10 front body mount. Support of the body mass is very critical in SCT performance and shoring up the front body mount flexibility was a major focus with this new front body mount. Heavy-duty but light-weight, 3mm carbon fiber is the base of the design which follows along the geometry and stock mounting holes on the SC10 front shock tower. Recessed portions allow for the adjustable mount towers to drop straight into place and fasten with the stock socket-head hardware. Some aesthetically pleasing pockets have been machined into the face of the mount, lowering the overall weight of the part and for brand recognition.

Secure the carbon front body mount to the shock tower by sliding the shock mount screws back through the carbon fiber mount and reattach the shocks. Pin the carbon fiber mount to the tower with the included 4-40 x 5/16" screw. In just several short minutes a driver can disassemble the stock plastic front body mount assembly and replace with a more rigid carbon fiber mount for more body support and a higher performance on-track feel.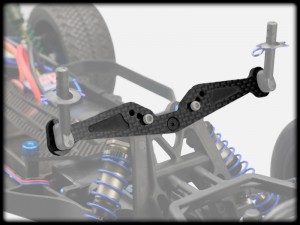 Features:
· Original JConcepts design
· 3mm Carbon Fiber material
· Fits on all SC10 trucks
· Includes 1 – flathead screw for clean installation
· Aesthetic eye-candy
JConcepts – SC10 Carbon Fiber front body mount
Part # – 2233
UPC Code – 845937008817
Retail price – $20.00
(Fits – Team Associated SC10 vehicles)