JConcepts New Release – Reflex – 60mm 1/10th Buggy Tires
The Reflex tire is designed to bridge a gap between the popular Double Dees and other options such as 3Ds and Hybrids. The Reflex has square, angled pins that are stacked vertically to flex and fold evenly across the tire. Typically a stacked tread will wear less and provide more forward bite while the aligned space helps rotation in the turns and gives a snappy release to square up quickly.
Starting with the new tread, the team focused on durability and performance to bring a rear tire option to market that competes on loose surfaces which are wet or dusty. With the popularity of mid-motor buggies and the focus on steering and corner speed, the Reflex releases and bites hard during corner exit for straight line acceleration. The blended tread to tire body is supported with a generous radius which promotes "pin snap" and also resists tearing or separation.

Horizontal traction bars connect several pins near the center of the tire which bonds a critical area for increased push at high-speed. The sidewall area blends nicely into a step-spike feature which helps smooth the transition in bumpy sections and also create side-bite. The Reflex are built on the 60mm bead and carcass design making them interchangeable with all 60mm | 2.4" wheel combinations. The interior ribbing features the double-hatch pattern that helps maintain a comfy ride while each set of tires includes the Dirt-Tech closed cell inserts.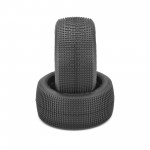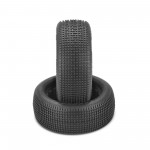 Features:
· JConcepts original tread, available in multiple compounds
· Square, angled pins with horizontal traction bars
· 60mm | 2.4" bead mounting size
· Carefully shaped carcass = smooth driving characteristics
· Includes Dirt-Tech closed cell inserts
---
Reflex – blue compound (fits 60mm 1/10th buggy rear wheel)
Part # – 3118-01
UPC Code – 845937013095
Retail price – $21.00
(fits 60mm 1/10th buggy rear wheel)
Reflex – green compound (fits 60mm 1/10th buggy rear wheel)
Part # – 3118-02
UPC Code – 845937013101
Retail price – $21.00
(fits 60mm 1/10th buggy rear wheel)
Reflex – black compound (fits 60mm 1/10th buggy rear wheel)
Part # – 3118-07
UPC Code – 845937013118
Retail price – $21.00
(fits 60mm 1/10th buggy rear wheel)
---
Reflex – blue compound (fits 60mm 1/10th 2wd buggy front wheel)
Part # – 3119-01
UPC Code – 845937013125
Retail price – $21.00
(fits 60mm 1/10th 2wd buggy front wheel)
Reflex – green compound (fits 60mm 1/10th 2wd buggy front wheel)
Part # – 3119-02
UPC Code – 845937013132
Retail price – $21.00
(fits 60mm 1/10th 2wd buggy front wheel)
Reflex – black compound (fits 60mm 1/10th 2wd buggy front wheel)
Part # – 3119-07
UPC Code – 845937013149
Retail price – $21.00
(fits 60mm 1/10th 2wd buggy front wheel)
---
Reflex – blue compound (fits 60mm 1/10th 4wd buggy front wheel)
Part # – 3120-01
UPC Code – 845937013156
Retail price – $21.00
(fits 60mm 1/10th 4wd buggy front wheel)
Reflex – green compound (fits 60mm 1/10th 4wd buggy front wheel)
Part # – 3120-02
UPC Code – 845937013163
Retail price – $21.00
(fits 60mm 1/10th 4wd buggy front wheel)
Reflex – black compound (fits 60mm 1/10th 4wd buggy front wheel)
Part # – 3120-07
UPC Code – 845937013170
Retail price – $21.00
(fits 60mm 1/10th 4wd buggy front wheel)