JConcepts New Release – Red | Yellow Racing Stripes T-Shirt
JConcepts drops the Red | Yellow Racing Stripes t-shirt into the hardcore community of R/C Racers. Just in time for the summer racing season, the JConcepts Racing Team will be sporting the new t-shirt during the largest events of the year. An off-shoot of the original racing stripes T, the newly designed version pops with flare while featuring the JConcepts.net logo and original tag line, World Proven Innovation and Design.
For warm weather racing, the shirt is also available with a moisture wicking athletic shirt material to keep outdoor racing enjoyable.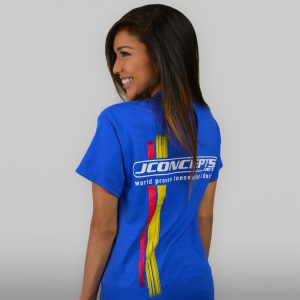 Features:
· Available in 100% cotton or Athletic based, moisture wicking material
· Vibrant, blue shirt with Red | Yellow stripes
· 2016 JConcepts.net logo front and rear
· Available in adult sizes: M, L, XL, XXL & XXXL
*Photos show 100% cotton version
---
JConcepts – Red | Yellow racing stripes t-shirt – blue, medium
Part# 2576M
UPC Code – 845937015594
Retail price – $22.00
Map price – $18.70
JConcepts – Red | Yellow racing stripes t-shirt – blue, large
Part# 2576L
UPC Code – 845937015600
Retail price – $22.00
Map price – $18.70
JConcepts – Red | Yellow racing stripes t-shirt – blue, x-large
Part# 2576XL
UPC Code – 845937015617
Retail price – $24.00
Map price – $20.40
JConcepts – Red | Yellow racing stripes t-shirt – blue, xx-large
Part# 2576XXL
UPC Code – 845937015624
Retail price – $26.00
Map price – $22.10
JConcepts – Red | Yellow racing stripes t-shirt – blue, xxx-large
Part# 2576XXXL
UPC Code – 845937015631
Retail price – $26.00
Map price – $22.10
---
JConcepts – Red | Yellow racing stripes, moisture wicking t-shirt – blue, medium
Part# 2577M
UPC Code – 845937015662
Retail price – $26.00
Map price – $22.10
JConcepts – Red | Yellow racing stripes, moisture wicking t-shirt – blue, large
Part# 2577L
UPC Code – 845937015679
Retail price – $26.00
Map price – $22.10
JConcepts – Red | Yellow racing stripes, moisture wicking t-shirt – blue, x-large
Part# 2577XL
UPC Code – 845937015686
Retail price – $26.00
Map price – $22.10
JConcepts – Red | Yellow racing stripes, moisture wicking t-shirt – blue, xx-large
Part# 2577XXL
UPC Code – 845937015693
Retail price – $28.00
Map price – $23.80
JConcepts – Red | Yellow racing stripes, moisture wicking t-shirt – blue, xxx-large
Part# 2577XXXL
UPC Code – 845937015709
Retail price – $28.00
Map price – $23.80