JConcepts New Release – Nissan Armada SCT Body

JConcepts introduces the Nissan Armada SCT body. Say hello to style and substance.
Built on a muscular physique that is capable of handling extreme conditions, the Armada is traditionally rugged, yet modern. JConcepts has released an all new body platform to the community by offering a distinctively robust, stylist alternative to the Short Course world of R/C racing. With both brains and brawn, the SUV racing body drops into an already bold lineup of championship winning Short Course bodies by JConcepts.
The exterior of the Armada is built to cater to racer demands. Aggressive, high-impact headlight and grille treatment has an unmistakable straight-on look. Included in the front hood design are reverse louvers which are built-in to allow 2 air-escape passages. The famous Nissan fender treatment has an additional raised section which allows plenty of front tire clearance under load. The raised section is double purpose and also functions as an additional air escape feature.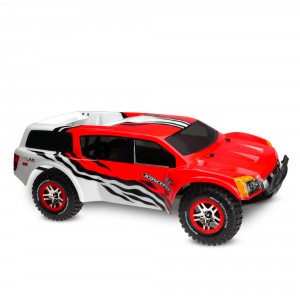 The high-performance body has a 1:1 inspired cab with a large, rear black-out decal to give that elusive side view. A low-profile roof line helps maintain a low center of gravity allowing the SUV to transition the turns like a JConcepts heritage truck design. The recessed roof of the Armada is packed with all the Hi-Flow features that have become synonymous in the industry. Two, rear, easy to trim, Hi-Flow cut-outs chiseled between the SUV rear windows along with upper access for ream-able hole cut-outs complete a polished air release package.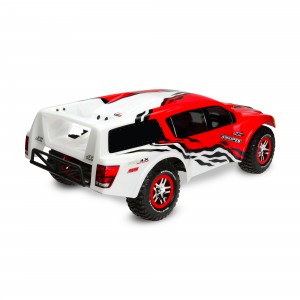 A detached, rear spoiler / winglet is included with hardware to improve rear forward traction and increased straight-line stability. The tail end of the body has built-in race trim lines which provide handling benefits and allow many combinations of rear bumper packages. Add the aggressive, Armada rear fender flare looks to the mix – enhanced by the included decal sheet with rear taillights and front grille treatment – and you've got the total package.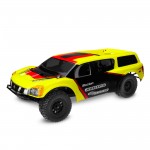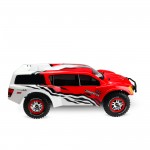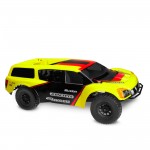 Features:
· Fits most all 1/10th SCT's – 8 direct and over 9 different trucks overall
· Officially licensed by Nissan to JConcepts
· Scale inspired hood, core, cab and SUV window design
· Hi-Flow regions to minimize parachute affect
· Aggressive, "high-impact" headlight and grill treatment
· Rear spoiler / winglet is included with mounting hardware
· Innovative, rear air-release details
· Full fender flares for maximum clearance and detail
· Clear polycarbonate with protective film
· Window masks and detailed Nissan Armada decal sheet
Nissan Armada SCT body
Part # – 0263
UPC Code – 845937009944
Retail price – $43.00
(Fits – Slash, Slash 4×4, SC10.2, SC10 4×4, Losi XXX-SCT, TLR SCT-E and Tekno SCT 410)