JConcepts New Release – Light-Weight B5M Bodies
Due to popular demand JConcepts unveils light-weight bodies specifically for the Team Associated B5M buggy kit. The hottest new bodies on the market are now available lighter than ever making them ideal for 17.5 stock racing. All bodies still include standard weight wings to maintain durability in a key area. The light-weight versions, unpainted without decals tip the scales at ~12-15gm lighter than their standard counterparts in the same condition. For identification purposes, the LW bodies feature a green protective film.

Caution: Due to the thin gauge material, be aware during painting and handling of the body how much pressure is applied. Specifically, while cutting liquid mask or masking tape be careful not to scar deeply into the body.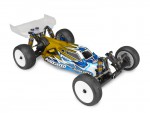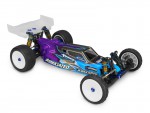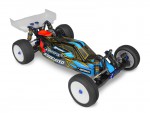 S2 – B5M body w/ 6.5 Finnisher rear wing – light-weight
Part# 0293L
UPC Code – 845937014887
Retail price – $30.00
(Fits – B5M generation)
S2 – B5M Worlds body w/ 6.5 Finnisher rear wing (Fits – lay-down transmission) – light-weight
Part# 0294L
UPC Code – 845937014894
Retail price – $30.00
(Fits – B5M generation)
Warrior – B5M body w/ 6.5 Finnisher rear wing – light-weight
Part# 0299L
UPC Code – 845937014900
Retail price – $30.00
(Fits – B5M generation)