JConcepts New Release – Kyosho Aluminum Motor Mount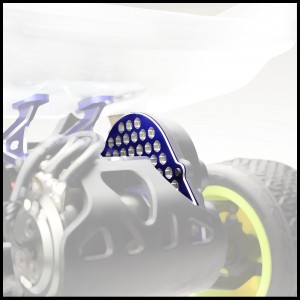 Having available option parts for a popular vehicle makes the hobby just that more interesting and fun. JConcepts has rolled out a sweet looking replacement motor plate for the popular Kyosho RB6 and RT6 vehicle line. With the evolution of race tracks, high flying jumps are becoming the normal obstacle. It's inevitable that a driver will have a miscue and challenge the rear-end durability of their vehicle. Your racing friends over at JConcepts have taken a lot into consideration while designing and developing a replacement motor plate.

Looking at the typical construction of the second operation processes on standard motor plates, it easy to see why bending is sometimes an issue. The design team at JC has incorporated a honeycomb milling affect with placement more suited to surrounding geometry making the plate lightweight and very rigid in multiple directions. The honeycomb features add a 3D look especially as they remain natural aluminum while the rest is available black or blue in color. Slight chamfering on the 3mm thickness material allows the rather beefy plate to look quite skinny. Honeycomb it out with JConcepts.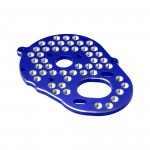 Features:
· Precision machined aluminum
· Lightweight / durable honeycomb milling
· 3mm thickness material
· Chamfer highlight edging
· Available in blue and black colors
· Aesthetic jewelry
JConcepts – Kyosho RB6 / RT6 Aluminum honeycomb motor mount – blue
Part # – 2262-1
UPC Code – 845937009807
Retail price – $25.00
(Fits –Kyosho RB6 / RT6)
JConcepts – Kyosho RB6 / RT6 Aluminum honeycomb motor mount – black
Part # – 2262-2
UPC Code – 845937009814
Retail price – $25.00
(Fits –Kyosho RB6 / RT6)