JConcepts New Release – Inverse 2-piece 12mm Hex Wheel.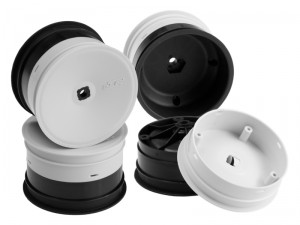 JConcepts is rocking the world once again with the debut of the Inverse, 2-piece 12mm hex wheel for the B4.1 and B44.1. The 2-piece design provides several benefits for maximum performance and ease of use. The inner wheel comes standard in a stealth, black matte finish providing the driver a look and feel never seen before. In addition, the inner wheel is designed as a completely smooth surface for the cleanest fit and finish which resists debris build-up. Previous industry standard designs with heavy ribbing have a tendency to catch debris which affects balance and weight and especially on surfaces with a lot of surface loam or loose dirt.

The outer dish, available in bright white or fluorescent yellow is creatively interlocked with the wheel and with the addition of inner screws and interior ribbing provide tuned rigidity. While utilizing the 4 screw combination from the inside, the Inverse wheel provides a stable and highly rigid wheel which allows the transfer of power through tire, wheel and insert minimizing overwhelming wheel flex characteristics. The Inverse wheel face also incorporates a user friendly wheel face shaped to promote a smoother gluing, wiping and drying experience. Wheels are branded with the JC logo for brand identification and authenticity. The Inverse wheel package forms a light-weight, clean design that is pure JConcepts style and function.
Secure the wheels to the vehicle, use only the included flanged steel locknuts for B4.1 / B44.1 or JConcepts #2075 (blue) #2076 (black) serrated wheel nuts. Flanged nuts completely cover the interlocking tabs located near the center of the wheel which correctly connects the 2-piece design. Using this wheel on any buggy requires a flanged lock-nut or washer to cover the center tab configuration.
Features:
· Available in bright white and fluorescent yellow color combinations
· Inner wheel comes standard in a stealth, black matte finish
· 4 inner and outer wheel pieces with screws
· Durable, light-weight material and design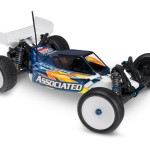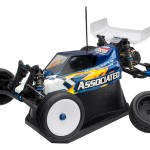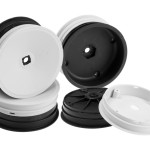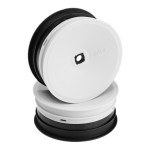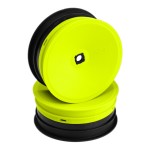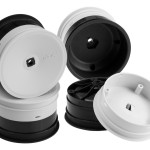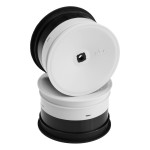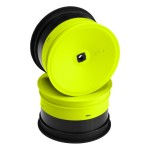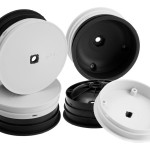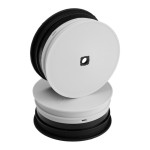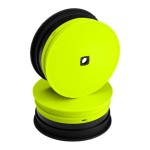 Inverse – B4.1 – 12mm hex front wheel (white) – 4pc
Part # – 3337
UPC Code – 845937005885
Retail price – $12.00
(fits B4.1 front with 12mm hex conversion kit)
Inverse – B4.1 – 12mm hex front wheel (yellow) – 4pc
Part # – 3337Y
UPC Code – 845937007032
Retail price – $12.00
(fits B4.1 front with 12mm hex conversion kit)
Inverse – B4.1 – 12mm hex rear wheel (white) – 4pc
Part # – 3338
UPC Code – 845937005892
Retail price – $13.00
(fits B4.1 rear with 12mm hex conversion)
Inverse – B4.1 – 12mm hex rear wheel (yellow) – 4pc
Part # – 3338Y
UPC Code – 845937007049
Retail price – $13.00
(fits B4.1 rear with 12mm hex conversion)
Inverse – B44.1 front wheel (white) – 4pc
Part # – 3339
UPC Code – 845937005908
Retail price – $12.00
(fits B44.1 front)
Inverse – B44.1 front wheel (yellow) – 4pc
Part # – 3339Y
UPC Code – 845937007056
Retail price – $12.00
(fits B44.1 front)