JConcepts New Release – Hi-Flow T5M Body
JConcepts pulls the tarp off a brand-new design. The 2016 Hi-Flow, built as a proud stadium truck body.
Never one to relax, JConcepts introduces the 2016 Hi-Flow body for the Team Associated T5M. Starting with its low-profile design, beefy fenders and noteworthy appearance, the all new race body is inspired by the looks of a class leading pick-up, loaded with performance features. Fitting directly on the popular T5M vehicle, the Hi-Flow is the exact race-able / realistic-inspired body you have been looking for.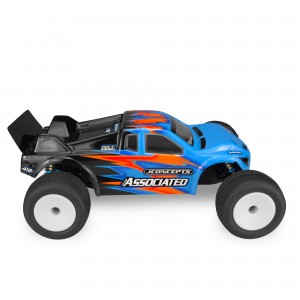 The JConcepts body is a racer starting with the slammed look and blended 1:1 inspired appearance. The HF body pops out as a high-voltage performer and packs in the detailed design you have come to expect from JConcepts. Extruded front and rear fender flares offer maximum tire clearance. The slight hood-scoop raised portion helps bulk up the front-end and provides clearance for the T5M geometry. The rear bed has built-in clearance for the massive big bore shocks and tower to help maintain that sleek appearance. The body includes a spoiler on the back of the body mold which can be trimmed and detailed to drop right on to the rear and secured with 2 included JConcepts button head screws.
As an added performance benefit, JConcepts has included several "trim-zone" areas on the rear of the bed which can be removed to help reduce the slight parachute affect brought on by open wheel trucks. Whether you start your day on the race track or in the backyard, the Hi-Flow packs a serious punch straight out of the package. The head-light and grill treatment, highlighted by included decal sheet, scream out like a billboard. With a race-prepped vehicle, trimmed out in a professional fashion, the Hi-Flow inspires a class of competition.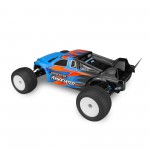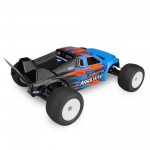 Features:
· Original JConcepts race blended styling
· Racing inspired body, cab and window design
· Aggressive headlight and grill treatment
· Extruded front and rear fender flares
· Clear polycarbonate with protective film
· Window masks and detailed decal sheet
Hi-Flow – T5M body w/spoiler
Part# 0290
UPC Code – 845937013231
Retail price – $32.00
(Fits – Team Associated T5M)