JConcepts New Release – Hazard and Rips for SC10B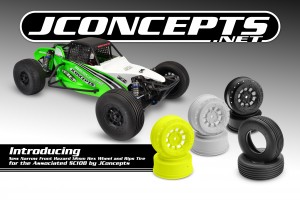 JConcepts Hazard wheel in narrow width now available for the SC10B front.
Short Course buggies are high-performance racing vehicles and adjustability is always the key to success. Introducing the Hazard 12mm hex wheel for the front of the SC10B by JConcepts. A powerful new look that combines the winning combination of a 10 spoke design, bead-lock appearance and center lug nut detail with a hint of inspiration from yesteryear. The Hazard will make an immediate impact on the performance of the SC10B by widening the stance by 6mm in overall width. The increased width will maximize the SC10B and bring it up to the SCT ROAR maximum legal limits in dimensional width.

By nature, Short Course vehicles have a high center of gravity and tend to feel light or tippy in high-speed sections. There is no better way to improve on-track stability than to add width, and with the Hazard wheels, sweeping through the high-speed corners gets a little easier. Wheel profile, interior and exterior ribbing and spoke design were all areas of focus while creating the combination of durability, clearance, functionality and appearance. With the black color and a matte face appearance, being unique is worry free as practically any paint scheme can be matched to these exciting new wheels. The hassle-free and lightweight 1-piece design creates the ultimate race and show wheel for any competition.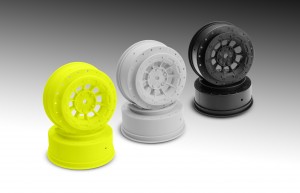 Features:
· Original 1:1 inspired JConcepts Hazard 12mm hex design
· 3mm per side additional width in offset
· Direct bolt-on fit for the SC10B
· Durable design, finish and material
· Available in Black, White and Yellow with matte face appearance
· Hassle free and lightweight 1-piece design
· Devastatingly handsome
Steering control and consistency is one of the most important aspects of 2wd buggy racing. With the Rips front tire, JConcepts has optimized a 5 rib front tire design by altering the rib depth, attack angle and multiple radius corners to give 2wd SCB racers a smooth new option. Tiny ribbing has been added on the upper sidewall to provide a fresh edge during hard and high impact corners.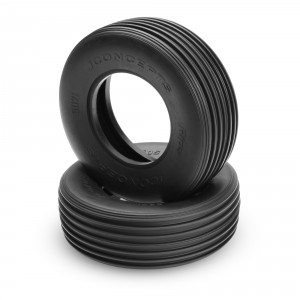 Features:
· Available in Soft (Blue) and Super Soft (Green)
· Compact tire body with optimized 5-rib design
· Sharp attack angle ribs with multiple radius corners
· Includes firm And-1 inserts
Hazard – SC10B – 3mm wider off-set – 12mm hex wheel – 2pc. – (white)
Part # – 3356W
UPC Code – 845937008930
Retail price – $9.00
(Fits – Team Associated SC10B)
Hazard – SC10B – 3mm wider off-set – 12mm hex wheel – 2pc. – (black)
Part # – 3356B
UPC Code – 845937008947
Retail price – $9.00
(Fits – Team Associated SC10B)
Hazard – SC10B – 3mm wider off-set – 12mm hex wheel – 2pc. – (yellow)
Part # – 3356Y
UPC Code – 845937008954
Retail price – $9.00
(Fits – Team Associated SC10B)
Rips – blue compound – SC10B front tire
Part # – 3071-01
UPC Code – 845937008923
Retail price – $24.00
(Fits – JConcepts Hazard and Team Associated SC10B front wheel)
Rips – green compound – SC10B front tire
Part # – 3071-02
UPC Code – 845937009142
Retail price – $24.00
(Fits – JConcepts Hazard and Team Associated SC10B front wheel)